Humans have been interacting with Cannabis for at least 10,000 years, using it for medicine and recreation, and turning hand-harvested and sifted trichomes into beautiful hash that has helped shape the history of time.
As we celebrate the lost art of hash being rediscovered by companies like Sitka, we must mention that the Cannabis community lost a beautiful soul this month in the passing of Frenchy Cannoli – teacher of the Lost Art of the Hashishin workshops. You can read his memoriam piece in this issue, and check out the July 2021 issue of the Leaf online to read the Cannthropology History of Hash piece that references this lost art in detail, and explores hash's impact on world trade and culture.
Given the loss of a true hash historian, we decided to feature the intoxicatingly mysterious and beautiful concentrate Frenchy dedicated his life to, and that Sitka has perfected through a blend of passion and Cannabis artistry. Made traditionally from hand-selected flower that is dry sifted into kief and then pressed to create a thick, cured hash, it is much the same as hashish smoked thousands of years ago along the original Silk Road.
We started with the Lebanese Gold fully cured dry sift hash, a sativa blend that has a rich, earthy-citrus freshness that emulates the plant, as well as a thick and aromatic haze when consumed through a hash pipe or hash dome. Also consumable as a bowl topper, the hash slowly transforms into a slightly melted, white ash blob as the sweet earthy smoke delivers a robust, full-spectrum high with sativa benefits, but is entirely consuming and stoney all at once – covering the body and mind in a foggy-happy-smiley high that feels like your first time smoking hash all over again.
Once we recovered from the daytime journey propelled by the Gold, we turned our minds to an indica experience with the Lebanese Red. Knowing the notoriously heavy effects, we prepared for the multi-hour long bakedness that follows a hash sesh with a selection of tasty food and beverages close at hand. Almost like an opium user of the distant past, we prepared to be horizontal with all our immediate needs within reaching distance. Finally ready, we loaded a soft, crumbly chunk into our hash pipe and slowly melted it – and ourselves into a blissful state of mind.
Sitka Lebanese Gold Fully Cured Dry Sift Hashish
51.5% THC
0.1% CBD
58.5% Total Cannabinoids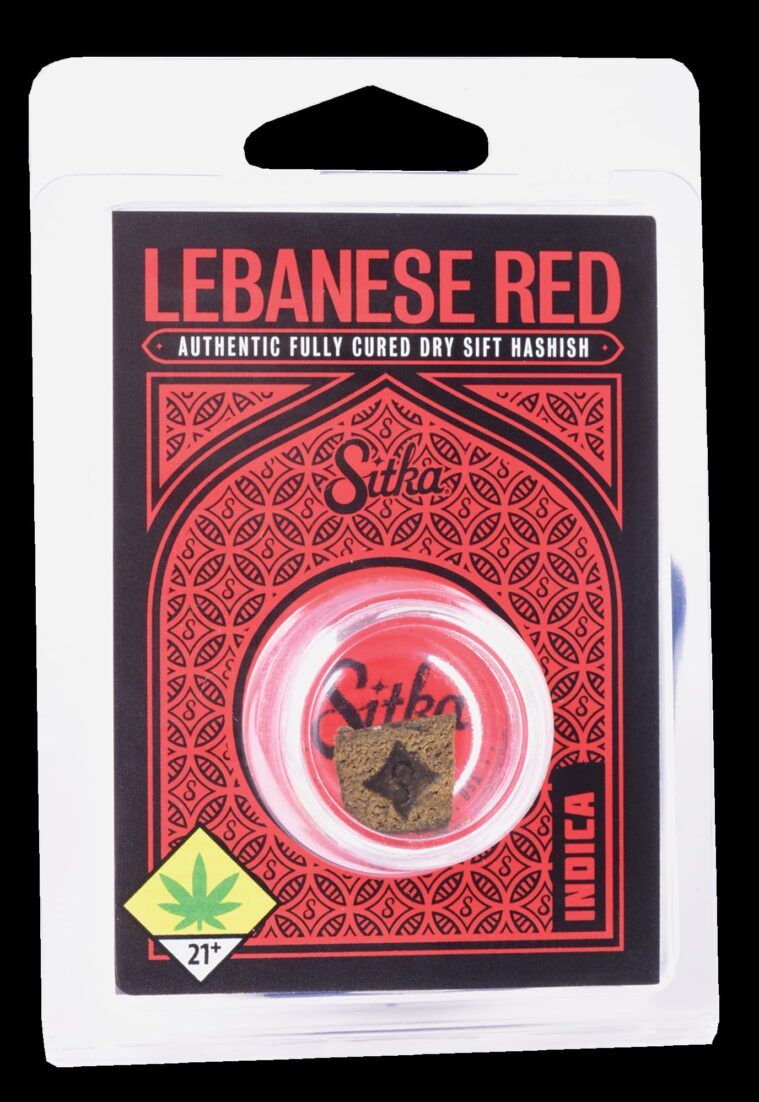 The Red has a lot more bold and spicy terpenes than the Gold, with a floral and rosey, mineral, and earth background that tickles at the nostrils. The smoke produced is thick and grips the lungs in a firm hashy hug, but exits with a surprisingly easy exhale that becomes a ritual of inhale-exhale-repeat, until the hash bowl has fully consumed itself. At that point our eyes were droopy and crossing, the mind lost in a rush of euphoria – floating somewhere above a wondrously sedated body.
We know Frenchy is looking down on us and the plant we all love from the great beyond, so let's make sure his legacy lives on by celebrating his knowledge and passion for hash by consuming quality concentrates from companies like Sitka.
Lebanese Red Fully Cured Dry Sift Hashish
52.3% THC
0.1% CBD
59.4% Total Cannabinoids