Compared to everyone from Betty Crocker, Mrs. Field and Sara Lee, to Florence Nightingale, Mother Teresa and Harriet Tubman, Brownie Mary wasn't just a pioneer of Cannabis edibles – she was a selfless, spirited activist who many consider the mother of the medical marijuana movement.
Humble Origins
Brownie Mary was born Mary Jane Rathbun on December 22, 1922, in Chicago, then raised in Minnesota. She was a social justice warrior from the get-go: At 13, she fought back against a nun at her Catholic school for trying to cane her; in her teens, she traveled to Wisconsin to campaign for the unionization of miners; and in the '40s she fought for abortion rights in Minneapolis.
During World War II, Rathbun and a few of her girlfriends moved to San Francisco hoping to marry a military man … which she did – giving birth to a daughter named Peggy in 1955 – but divorced soon after. She moved into a public housing unit not far from Haight Ashbury and got a job as a waitress at the local IHOP. Coming of age in the 1960s, her daughter befriended many gay men in the predominantly LGBTQ Castro district. Which is why, after Peggy was tragically killed by a drunk driver at the age of 22, Rathbun began mothering young gay runaways as her new "adopted" children. It was through her embrace of the gay community that she eventually connected with her future friend and partner-in-crime, Cannabis activist Dennis Peron.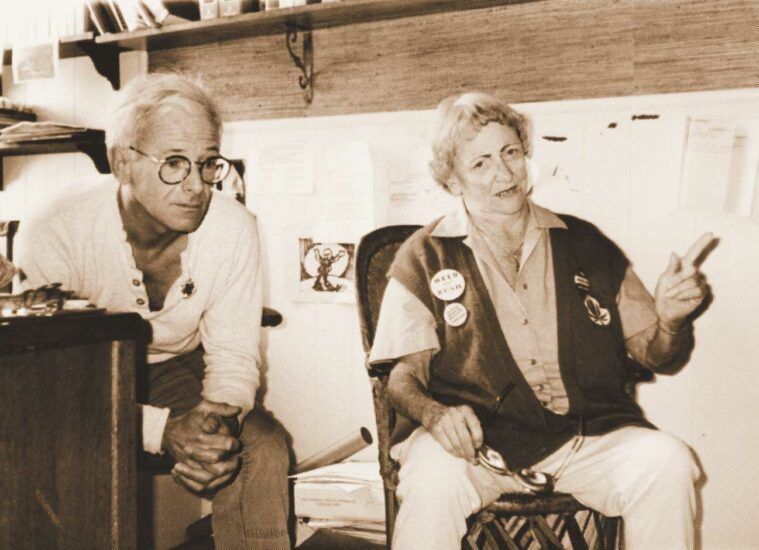 Intro to Cannabis
Rathbun first met Dennis Peron in 1974 when they shared a joint at the Castro's Cafe Flore. Inspired by Peron, and a copy of Alice B. Toklas's infamous Cannabis cookbook, Rathbun started baking weed-laced cookies and brownies as a side hustle to make ends meet using ingredients purchased with her $650 per month Social Security check and grower-donated Cannabis (often left anonymously on her doorstep). She sold her "magically delicious" brownies for a few dollars each out of a napkin-lined basket (and later, at Peron's Big Top pot market) and advertised them with flyers posted on local bulletin boards. Before long, she was churning out hundreds of brownies a day, with customers reportedly lining up along the stairs to her apartment to order them by the dozen. By the decade's end, she'd become a folk hero in the Castro known as "Brownie Mary."
Brownie Busts
Eventually, Brownie Mary's endeavors came into the crosshairs of law enforcement when a narc from the SFPD came across one of her flyers. On the night of January 14, 1981, Det. Sgt. Robert Bullard showed up at her apartment posing as a customer and placed her under arrest … to which the feisty, foul-mouthed 57-year-old in the flowered apron reacted by saying, "Oh shit."
After searching her home, police found and confiscated 18 pounds of Cannabis and 54 dozen brownies. To cover her legal defense, it's rumored she had to sell most of her belongings – including the kitchen table on which the brownies were made. She pled guilty to nine counts of possession and sale of marijuana, but the judge liked her and sentenced her to just three years probation and 500 hours of community service – which, it turned out, she was happy to do. In fact, she found her service so rewarding that she finished her sentence in a record 60 days and kept on volunteering thereafter.
Despite her probation, Rathbun went right back to baking – except this time, instead of selling the brownies, she gave them away to AIDS and cancer patients for free. On December 7, 1982, while on her way to deliver some brownies to a friend undergoing chemotherapy, Rathbun had the bad luck of running into one of the cops that had arrested her the year before. After he discovered the four dozen brownies she was carrying, she was arrested again and charged with several counts of possession and a probation violation. Luckily for her, the charges were later dropped – but not before she received a stern warning at her court hearing.
"The judge said, 'You have to stop the Brownie Mary shtick – it's over,'" Peron's husband John Entwistle told Bon Appetit magazine in 2019. "'If you do it again, we'll send you to jail.'"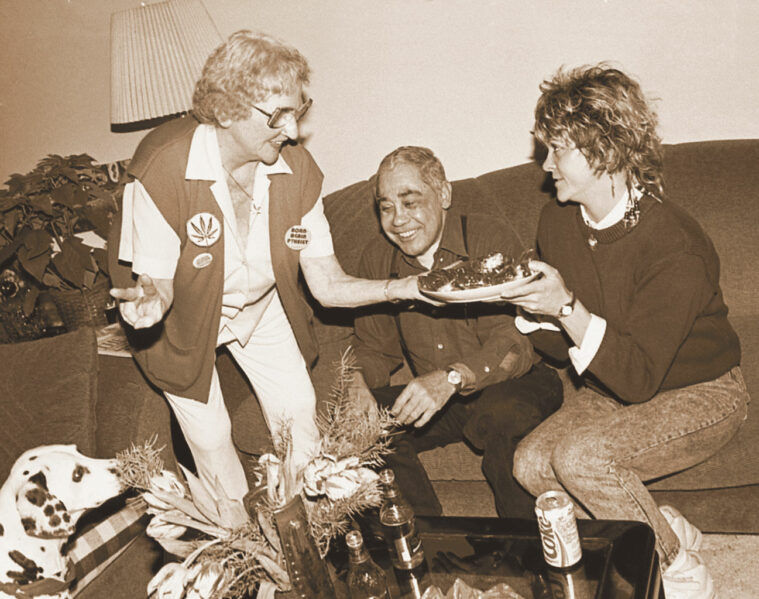 Undeterred, for the next decade she made weekly visits to Ward 86 at San Francisco General Hospital, where she spent thousands of hours volunteering with AIDS patients and supplying them with her brownies at no charge.
"She called them her kids," Peron recalled. "Many of them were dying alone and despised. Their families wouldn't even visit them. She baked them something that helped ease their pain, and she also dispensed friendliness and resilience. A lot of those patients called her an angel of mercy."
Mary became so beloved at the hospital that in 1986 they gave her a "Volunteer of the Year" award.
Activism & Another Arrest
In addition to helping the sick, Rathbun also got more involved in Cannabis activism. At Peron's invitation, she spoke to the ACT UP organization about the effectiveness of Cannabis in treating HIV patients. And in 1991, she helped him with Proposition P – an initiative to protect doctors in San Francisco from criminal penalties for prescribing medical marijuana – which passed that November with an overwhelming 80% support.
In 1992, Rathbun helped Peron and Entwistle launch the San Francisco Cannabis Buyers Club (the first public medical marijuana dispensary in the country) in Peron's house, which included a Brownie Mary's Cafe in the basement. Apparently, the club's organizers were actually hoping it would get busted so they could take their case for medical marijuana to court, but police wouldn't take the bait. Rathbun, however, did get busted again on July 19, 1992, in the town of Cazadero, where she was caught baking brownies at a grower friend's house and charged with felony possession of two-and-a-half pounds of marijuana. Initially, the Sonoma County district attorney attempted to prosecute her, but that didn't exactly go as planned.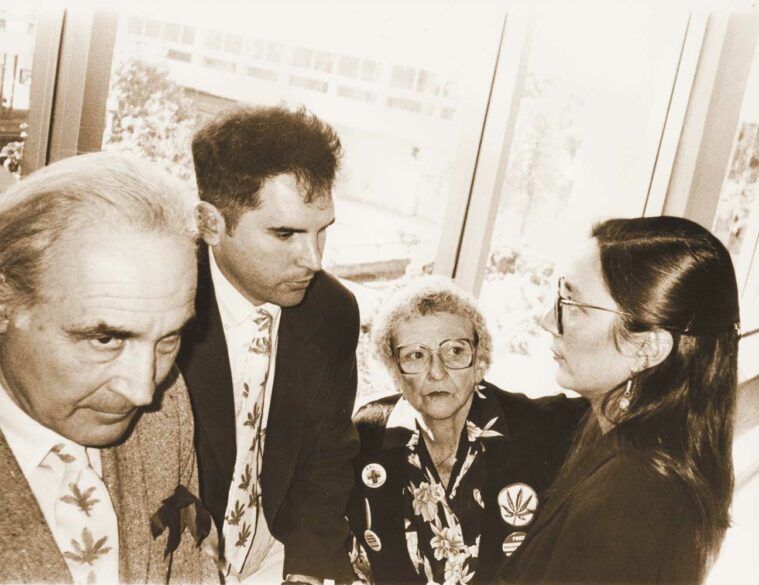 On August 25, Rathbun testified at a medical marijuana hearing held by the San Francisco Board of Supervisors at City Hall. By the end of that hearing, the Board had not only passed a resolution making possession or cultivation of medical Cannabis law enforcement's "lowest priority," they also voted to honor Rathbun's humanitarian work – officially declaring August 25 "Brownie Mary Day" across the city. Addressing the 5,000-plus crowd outside after, Brownie Mary raised her fists and shouted: "If the narcs think I'm gonna stop baking brownies for my kids with AIDS, they can go fuck themselves in Macy's window!"
The People V. Rathbun
Like that SF rally, Rathbun's pre-trial hearing – held two months later at a small Santa Rosa courthouse – became a huge media event.
"We marched to court. The radio and television stations all covered it. The court and the halls were filled with everyone from flower children to medical specialists," explained famed Cannabis attorney Tony Serra in the book "Lust for Justice: The Radical Life & Law of J. Tony Serra."
With her new high-profile lawyer at her side, Rathbun showed up in her trademark bifocals, polyester pants, and sweater adorned with various pro-pot pins and pleaded not guilty. Serra then presented her defense: submitting a flurry of affidavits from doctors, psychiatrists and activists, and positing that she did not profit from her "crimes" – that they were acts of conscience and compassion and that "the nobility of her actions outweighed the reprehensibleness of her offense." The judge offered her a "slap on the wrist" plea deal carrying a fine of $10,000, but Rathbun refused – instead insisting on a jury trial. Eager to avoid the negative publicity of putting this saintly septuagenarian on trial, the DA dropped the charges.
As a cause célèbre for medical marijuana, Brownie Mary helped broaden sympathy for the movement and pass Proposition 215 in November 1996. That same year, she and Dennis released the book they'd co-authored: "Brownie Mary's Marijuana Cookbook and Dennis Peron's Recipe for Social Change." Notably absent from the book, however, was her famous brownie recipe – because, as Rathbun once told the NY Times, "When and if they legalize [Cannabis], I'll sell my brownie recipe to Betty Crocker or Duncan Hines and take the profits and buy an old Victorian for my kids with AIDS."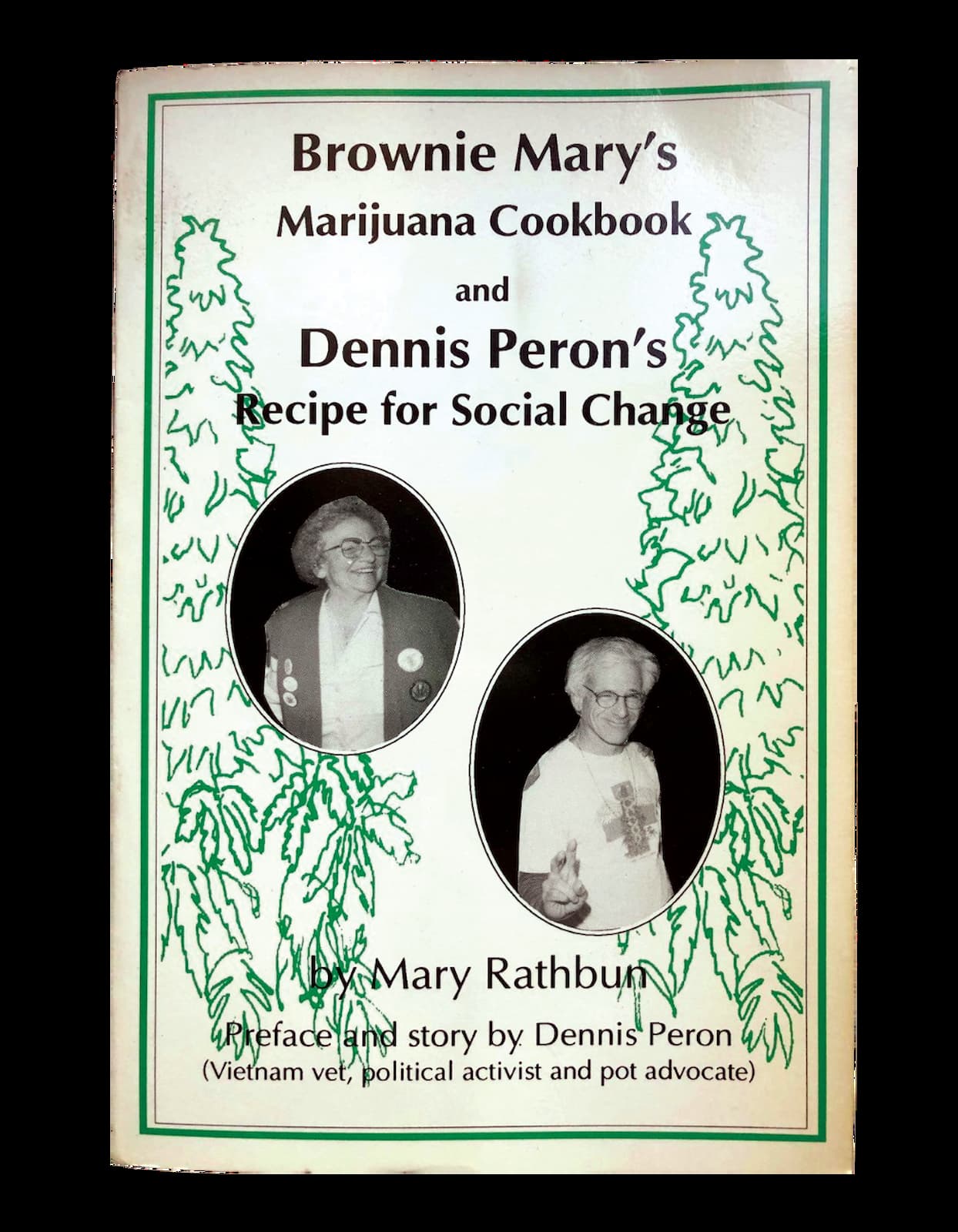 Death & Legacy
Unfortunately, Mary never got that opportunity. Sadly, by the time Prop 215 was passed, Rathbun was in so much pain from her numerous ailments that she considered contacting Dr. Kevorkian to arrange for assisted suicide. After suffering a fall in August 1998, she underwent surgery on her neck and spine, after which she was confined to a wheelchair. Finally, on April 10, 1999, Brownie Mary suffered a heart attack and died at Laguna Honda Hospital. She was 76.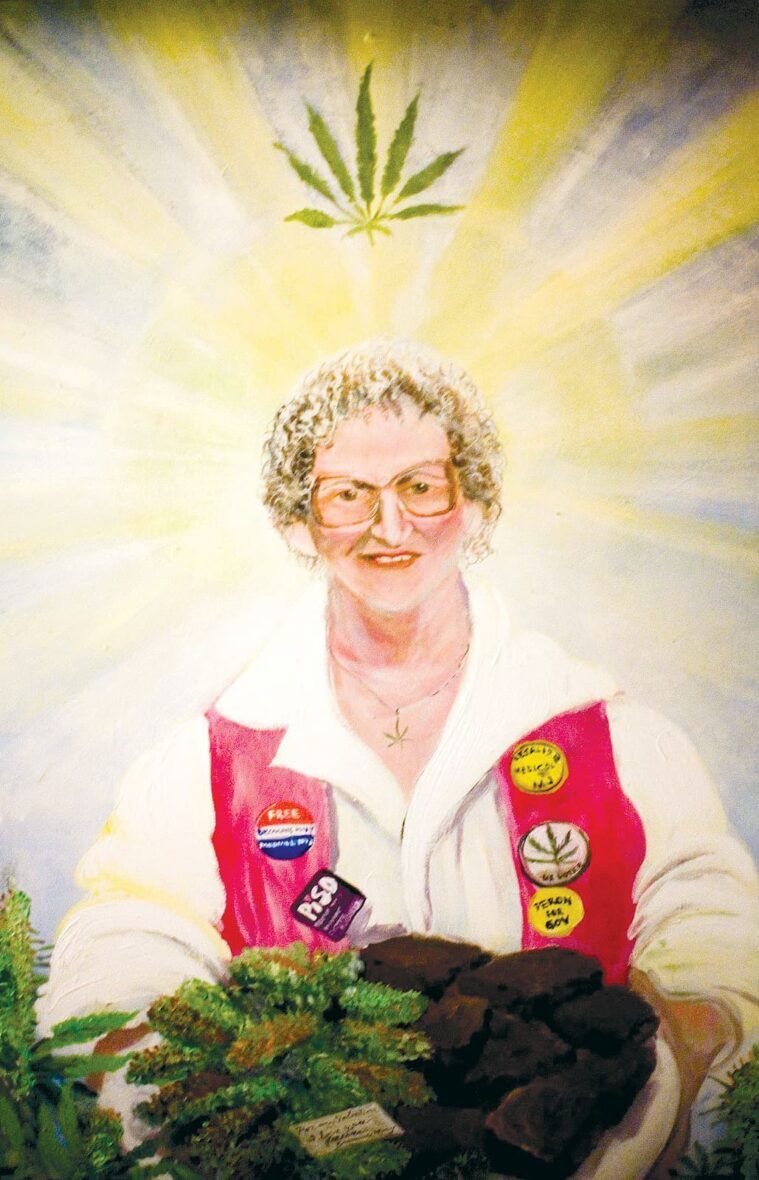 A week after her death, a candlelight vigil was held in her honor in the Castro, where nearly 500 people paid their respects by leaving candles, flowers, photos, news clippings, pot leaf leis and of course, brownies. Among those who spoke at the memorial were Peron, Serra and SF District Attorney Terence Hallinan, who told the crowd:
"Brownie Mary was a hero, and will one day be remembered as the Florence Nightingale of the medical marijuana movement."
"Brownie Mary is a heroine in the eyes of many," Serra once aptly attested. "She won herself a place in history."
Photos @ Maureen Hurley