Despite describing himself as "too young to be a beatnik, too old to be a hippie" – author Ken Kesey and his band of Merry Pranksters played a pivotal role in bridging the gap between the two and launching the psychedelic revolution.
MK Ultra
After earning a BA in journalism from the University of Oregon in 1957, aspiring author Ken Kesey moved to the hip Perry Lane neighborhood of Palo Alto, California to enroll in Stanford University's graduate writing program. There, he forged friendships with fellow writing student (and future BFF) Ken Babbs and a psych major named Vic Lovell – who informed him that the nearby Menlo Park Veterans Hospital was paying volunteers $75 a day to participate in a series of drug experiments, which Kesey immediately signed up for.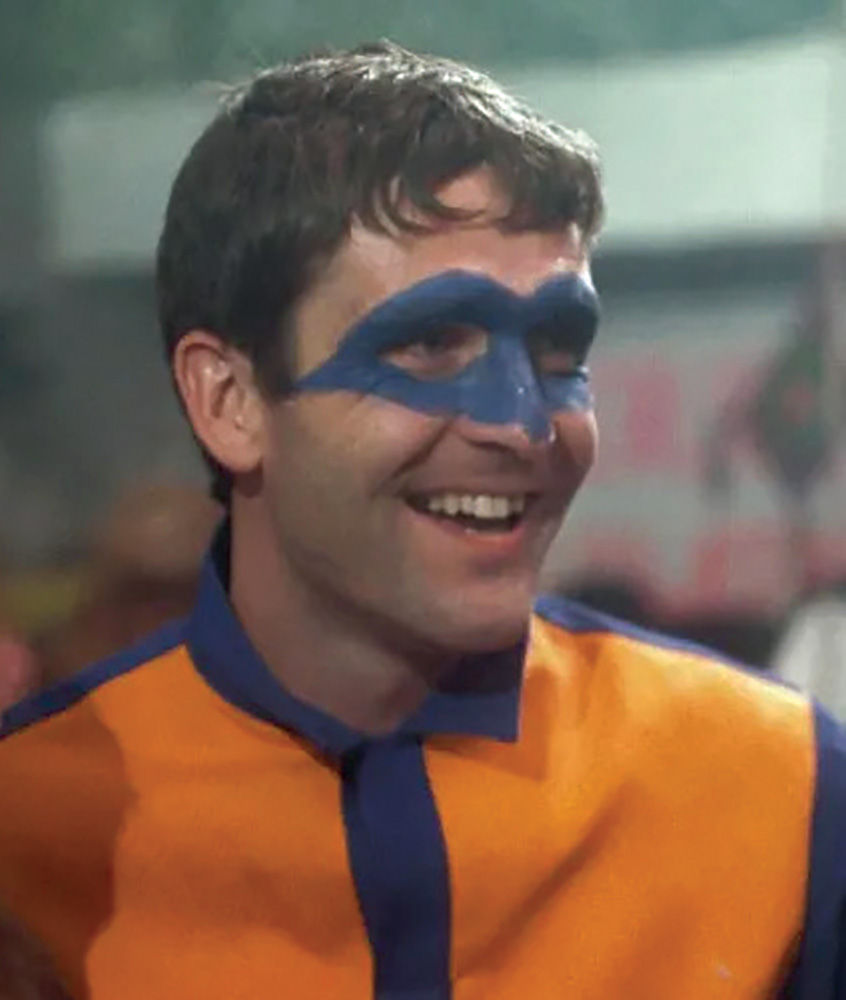 Codenamed Project MK Ultra, it was a military research program designed to study the effects of mind-altering substances. Over several weeks in 1959, Kesey ingested various psychedelics – including LSD, psilocybin, mescaline, peyote and others (all of which were still legal) – then underwent physical and psychological testing afterward. Through these experiments, Kesey realized the potential of psychedelics to transform society.
Kesey landed a job as a night attendant at the hospital so that he could smuggle the drugs out to share with his friends and the rest of the world. His interactions with patients there (often while tripping) inspired his best-selling novel, "One Flew Over the Cuckoo's Nest." Published in 1962, the book was an instant success – adapted into a Broadway play, then an Oscar-winning film. The money he earned from "Cuckoo's Nest" funded the next phase of his life as a counterculture icon.
The Merry Pranksters
Word about MK Ultra soon made its way to Beat legend Neal Cassady (the basis of Dean Moriarty in Kerouac's "On the Road," which Kesey loved) – who, in 1960, also came to Palo Alto to partake in the experiments.
The growing influx of bohemians, coupled with psychedelics Kesey was supplying them, led to huge orgiastic parties in Perry Lane (aka "Sin Hollow"). But in summer 1963, Kesey relocated to nearby La Honda – buying a ranch in the mountains and starting his second book, "Sometimes a Great Notion." By the time it was finished in 1964, he'd attracted an entourage of beatniks and freaks to his property – including his buddy Babbs, who after returning from Vietnam, allegedly came up with the moniker "Merry Pranksters" for their menagerie of miscreants.
The core cadre of Merry Pranksters consisted of 14 people, each of whom adopted new Prankster nicknames: Babbs became "Intrepid Traveler," Cassady became "Sir Speed Limit," and Kesey took on the title of "Captain Flag." Kesey's goal was to "explore what would happen when hallucinogenic-inspired spontaneity confronted what he saw as the banality and conformity of American society." To manifest that vision, the Pranksters would embark on an epic entheogenic odyssey.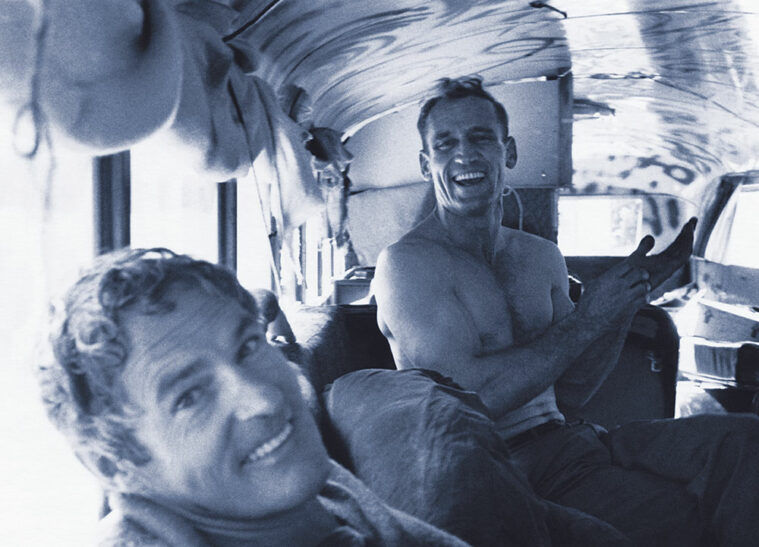 On The Bus
With the release of his second novel and the World's Fair both happening in New York in the summer of '64, Kesey decided to lead his band of Merry Pranksters on a cross-country road trip. To accomplish this, he purchased a 1939 International Harvester school bus converted into a camper, and Pranksterized it: installing cameras and microphones, placing a stage on the roof, and painting it inside and out with psychedelic Day-Glo artwork. They christened their new magic bus "Further" (or "Furthur") – a cryptic reference to expanded consciousness.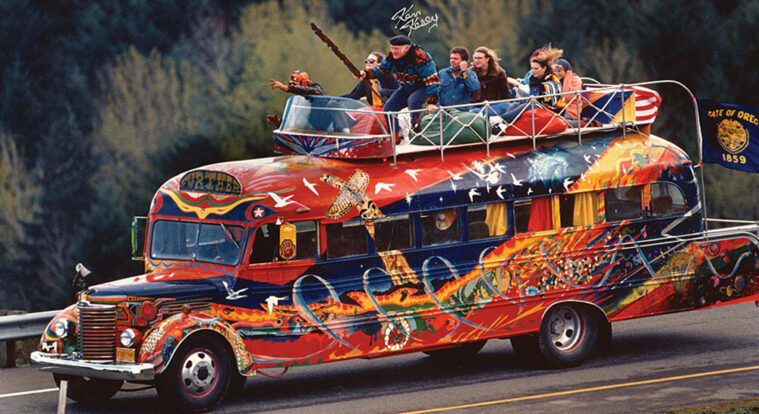 On June 17, 1964, with Cassady at the wheel, the Pranksters set off with a lysergically-laced jar of orange juice on their own madcap version of "On The Road." Along their trip, the Pranksters dosed as many willing recipients as possible, played a bunch of improvised pranks, and filmed the entire experience. Their mantra became: "You're either on the bus, or you're off the bus."
Further arrived in "Madhattan" on June 29, where Cassady introduced the Pranksters to his beat buddies Jack Kerouac and Allen Ginsberg. Kerouac was apparently unimpressed with their antics and distanced himself from the group. Ginsberg, however, embraced them – even making arrangements for them to drive upstate to meet fellow LSD pioneers Timothy Leary and Richard Alpert in Millbrook. Unfortunately, like Kerouac, Leary was not "on the bus" – he'd not yet embraced the dissemination of acid to the masses, believing it should remain a controlled scientific pursuit.
By August, Further was back in La Honda with 40 hours of footage. Their two-month, cross-country sojourn – immortalized by several books and films, including Tom Wolfe's 1968 classic "The Electric Kool-Aid Acid Test" – is rumored to be the inspiration for The Beatles' "Magical Mystery Tour" and is considered by many to be the launching point of the psychedelic 1960s movement.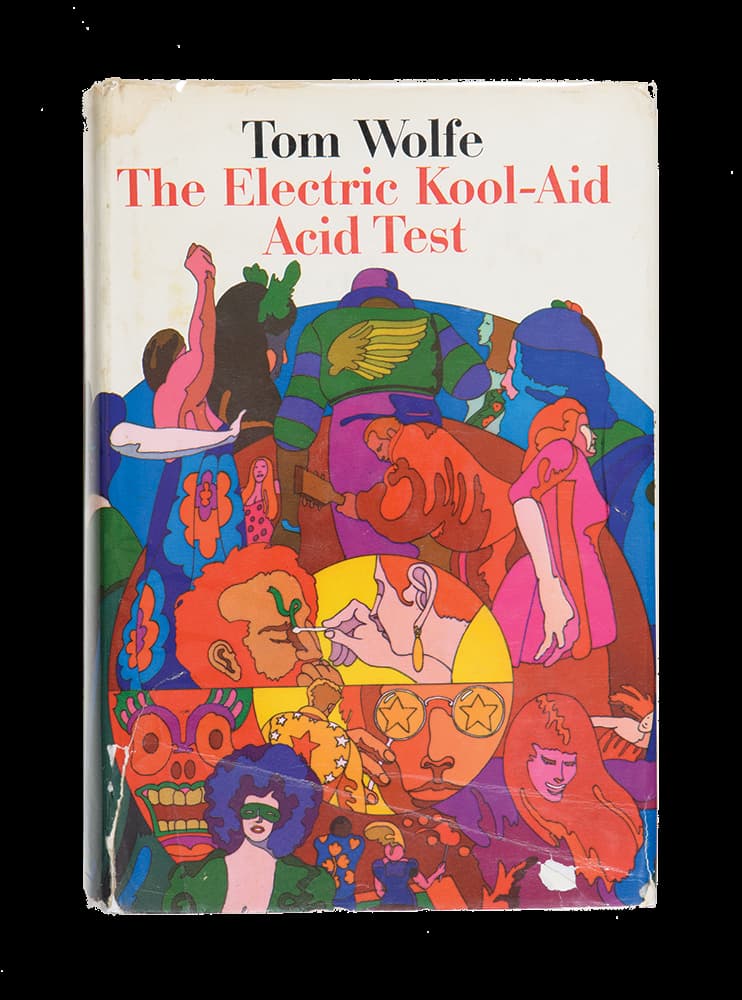 The Acid Tests
Once home, Kesey launched the next stage of his plan to turn on America: a more inclusive version of the MK Ultra experiments they dubbed the Acid Tests. The Acid Tests were multimedia "happenings" featuring spoken word, art, music, projected video, fluorescent paint, funky lighting and of course, loads of acid distributed in cups of Kool-Aid. The goal was to "usher in a societal paradigm shift" – away from egoism towards what they called "intersubjectivity." After a few trial runs – including a three-day party in August 1965 at La Honda at which Hunter S. Thompson and the Hells Angels first tripped on acid – they were ready to take their message to the masses.
The first semi-public Acid Test party occurred on November 27, 1965 at Babbs' ranch in Soquel, known as "The Spread." The gathering was promoted via handwritten handbills asking "Can YOU pass the Acid Test?" distributed at Babbs' Santa Cruz bookstore, The Hip Pocket. Around 50 attendees were dosed with acid and treated to hours of immersive sensory stimulation – including live music by a local bar band called the Warlocks (who, mere days later, would change their name to The Grateful Dead).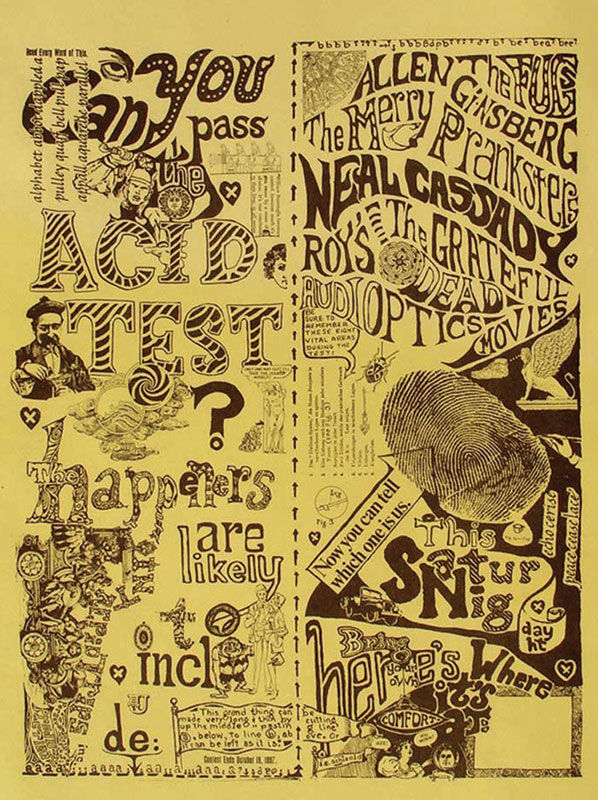 The following year, more Acid Test parties followed at various locations around California (then later Oregon, Canada and Mexico). The Grateful Dead became the unofficial house band of these events, although other psych rock legends (such as Jefferson Airplane and The Doors) also made appearances – as did other counterculture figures who quickly became part of the Prankster entourage, including performance artist Wavy Gravy and Carolyn "Mountain Girl" Adams (who would eventually have a daughter with Kesey, then later marry Jerry Garcia).
Marijuana Arrests / Trips Festival
Unfortunately, their parties attracted the attention of authorities, who began surveilling Kesey's home. On April 23, 1965, DEA agents raided Kesey's ranch, where they caught him flushing a jar of weed down the toilet. Ultimately, 14 people were arrested on marijuana charges, including Kesey, Cassady and Mountain Girl. Kesey was later found guilty and sentenced to six months at the San Mateo County Jail. Just two days after his sentencing, Kesey and Mountain Girl were again arrested on marijuana charges while smoking a joint on the roof of a house on Telegraph Hill. Kesey posted bail and returned to preparing for their biggest Acid Test yet, set to take place two days later: the Trips Festival at San Francisco's Longshoreman's Hall.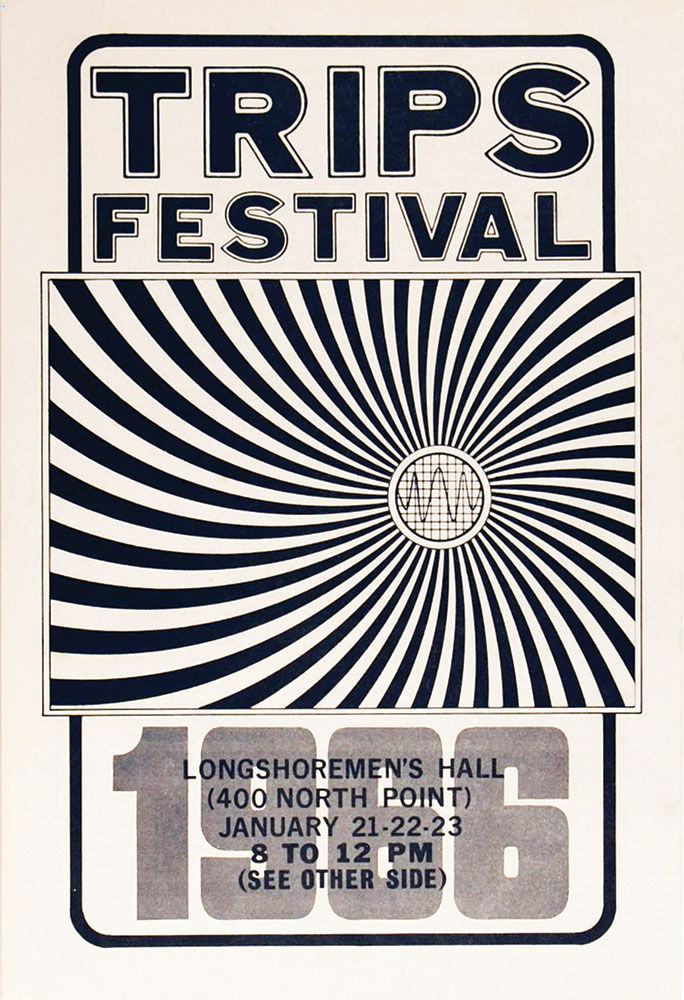 Held on January 21-23, 1966, the three-day Trips Festival featured mime and acting troupes, dancers, avant-garde artists, light shows, and live music from The Dead and Big Brother and The Holding Company in their debut performance (pre-Janis Joplin). Over 10,000 people reportedly showed up, drank the Kool-Aid, and partied with the Pranksters. Considered the first true hippie event, the Trips Festival is credited with kick-starting the psychedelic scene in San Francisco.
Of course, since Kesey had just been arrested two days prior, he was forced to attend in disguise – wearing a spaceman suit and helmet (pictured above). And with fears of a possible five-year sentence now hanging over his head, Kesey made a desperate decision.
The Fun-Loving Fugitive
On January 31, 1966, Further was found abandoned on a seaside cliff outside Eureka, along with what appeared to be a suicide note. Kesey hadn't actually committed suicide – in another prank to misdirect police, he'd jumped bail and escaped into Mexico. The media seemingly bought into the ruse; the FBI, however, did not – they launched a manhunt for the "fun-loving fugitive" but couldn't locate him.
Meanwhile, the Pranksters were hosting more Acid Tests in Los Angeles, where Wavy Gravy filled trash cans with LSD-laced fruit drink and began handing out 300-microgram-dose cups – coining the term "Electric Kool-Aid" for the beverage (hence the title of Wolfe's book).
After the LA tests, the Pranksters – along with Kesey's family – drove Further down to Mexico to meet up with him. It wasn't until after making their clandestine return to the Bay in the fall of '66 that authorities finally apprehended Kesey. Luckily, he was offered a plea deal that allowed him to spend only six months (including the Summer of Love) in a work camp, but the deal reportedly had one unfortunate stipulation: Kesey allegedly agreed to publicly denounce LSD.
Graduation & Dissolution
With LSD becoming illegal in California on October 24, 1968, the Pranksters planned their last big hurrah for Halloween night at a warehouse in San Francisco: The Acid Test Graduation. They all wore caps and gowns, Cassady handed out "Acid Test Diplomas," and Kesey delivered a "commencement address" in which he encouraged attendees to "graduate" beyond needing LSD. It was essentially an Acid Test party without the acid, which predictably didn't go over very well: Only a couple hundred attendees showed up, and many reportedly grew bored and left early.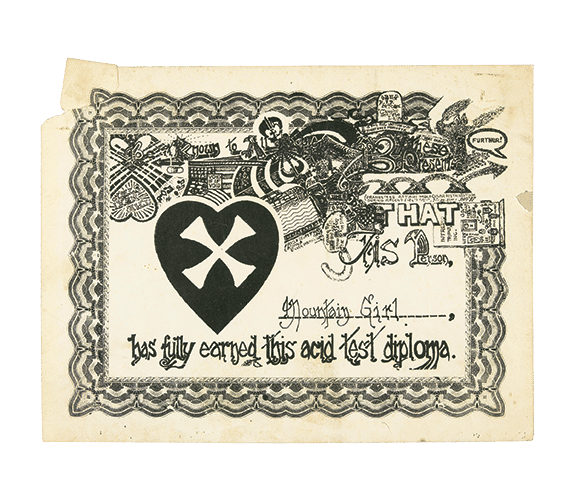 Sadly, the Graduation party proved to be the Merry Pranksters' swan song. They held a few more minor events and took Further to Woodstock in 1969 … but after that, Kesey disbanded the group, took his bus and moved back to Oregon, where he spent the remainder of his life on a farm with his family. Kesey died of complications arising after liver surgery on November 10, 2001, at the age of 66.
While Ken Kesey and his Merry Pranksters may not have ushered in the utopian America they envisioned, the impact of their exploits created cultural shockwaves that still reverberate to this day.