In a November 21 press release, Oregon Governor Kate Brown announced a move to pardon 47,144 Cannabis convictions from individual records. The action relieves roughly $14,000,000 in (unpaid) fines for state-level possession charges of "one ounce or less of marijuana, in pre-2016 cases in which the person was 21 years of age or older, where this was the only charge, and where there were no victims."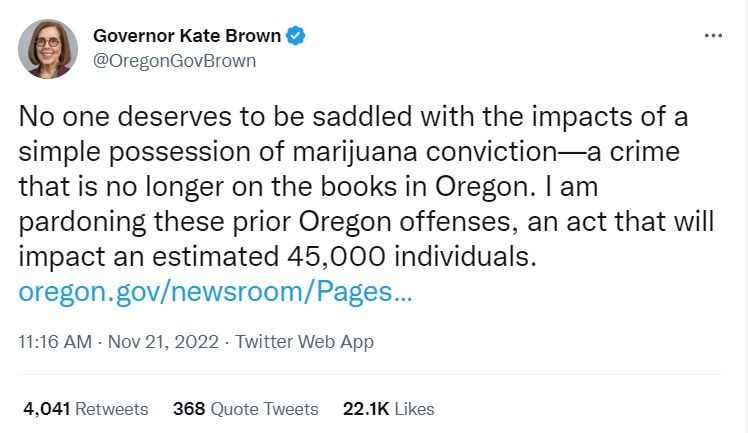 The move comes on the heels of President Joe Biden's announcement in the beginning of October 2022 that the White House would grant a pardon to all citizens who have been punished at the federal level for simple Cannabis possession offenses, a move which many vocal critics denounced because of its lack of direct impact (there were no citizens in federal prison for simple possession at the time), but supporters praised for its potential to inspire action at the state level.
Governor Brown describes the pardon as a move toward social equity. It's an effort to break down a financial, social and employment obstacle faced by many Oregonians, particularly those marginalized by the war on drugs:
"While Oregonians use marijuana at similar rates, Black and Latina/o/x people have been arrested, prosecuted and convicted at disproportionate rates. We are a state, and a nation, of second chances. Today, I am taking steps to right the wrongs of a flawed, inequitable, and outdated criminal justice system in Oregon when it comes to personal marijuana possession."
According to the release, all records related to these offenses will be sealed subsequent to the pardon.