Euphorium is a "Cannabis lifestyle" shop selling serious heat and heady accessories with locations in Covington, Lynwood, Vashon and Woodinville. This month we chatted with Riley Sessions from the Woodinville location – a self-proclaimed sneakerhead and hashhead – about her smoke stash, glass collection and custom shoe art! Check out Riley's rad creations at @weednerd!
What are some of your favorite products on shelves at your shop right now?
Fugu Farms, PNW Roots, Torus and Gabriel Cannabis are some of my favorite brands we're carrying right now. Rosin in some form or another will always be my favorite product on the shelf. They will probably be sold out soon because they're both limited drops, but right now, the Malibu Marsha rosin by House of Cultivar and the One Piece by Svin are the current favorites in my headstash.
This is The Glass Issue after all, so when you're smoking, what is your favorite type of piece to pack?
Anything with solid water function.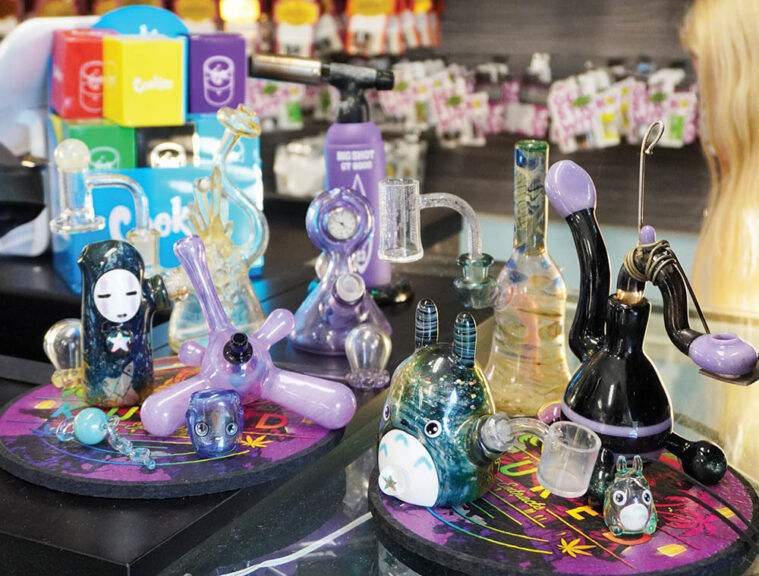 Speaking of, we hear you have quite the glass collection. Who is your favorite glass blower?
That's such a hard question because I want to say all of them! Out of the artists in my personal collection, I'd have to say Northern Waters. Her work is just absolutely gorgeous. Overall though, I think Buck Glass makes some of the most jaw-dropping pieces and Stormin Norman makes some of my favorites when it comes to form and function.
And you're also an artist yourself, creating your own custom sneakers and bags! Can you tell us a bit about that?
Well, my sneaker habit was getting a little out of hand and at the time I felt like Nike had done a disservice to the female sneakerheads by not dropping any good pink Jordans. So I decided to start making my own!