History and Values
Opening in August 2019, Burnt River Farms has been a pillar in the Ontario Cannabis community for quite some time. Their goal is rather simple: to deliver a quality product at an affordable price. Everything you can find at their shop has been quality tested through and through. Owners Shawn and Robyn McKay both believe that every day is a chance to improve and get better. "If you're not learning, you're losing," said Robyn. Golden Pineapple, Chem Dawg and Sour Diesel are their staple strains, found at the sungrown farm in Huntington. In addition to Cannabis cultivation, this location is home to their single-source extraction lab, producing various extracts and concentrates.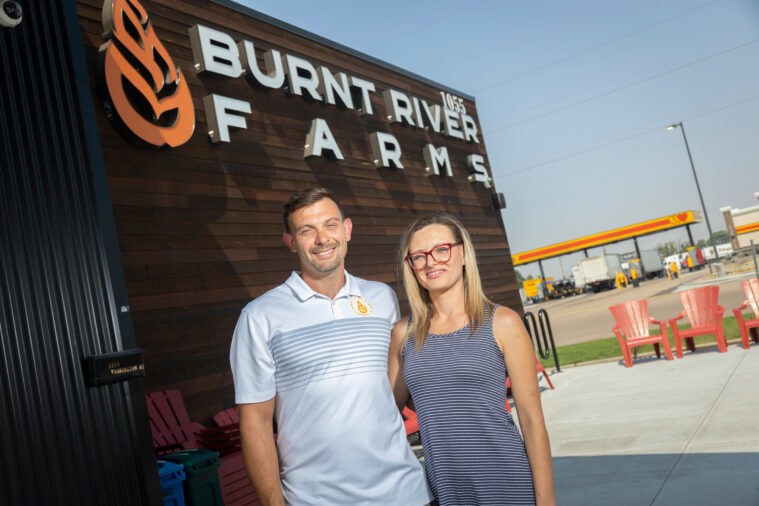 Environment/Vibe
Unlike any other dispensary we've been to before, Burnt River Farms has a super unique design for its showroom floor. Each side of the shop features a different budtender station, five in total offering individual services and expertise. During our visit, we encountered a healthy amount of customers coming in and out of the shop. The vibes were high, as Slightly Stoopid and other rad music bumped throughout the store. Their beautiful walls displayed flower ranging from $6-$15 per gram (with $9 and $12 options in between) on one side, and dabs/edibles/cartridges on the other. Once you have placed your order with your budtender specialist, you wait for your order to be fulfilled and then check out. With a high volume of people daily, this shop knows how to work as efficiently as possible. Another fantastic offering this dispensary provides is a drive-thru option!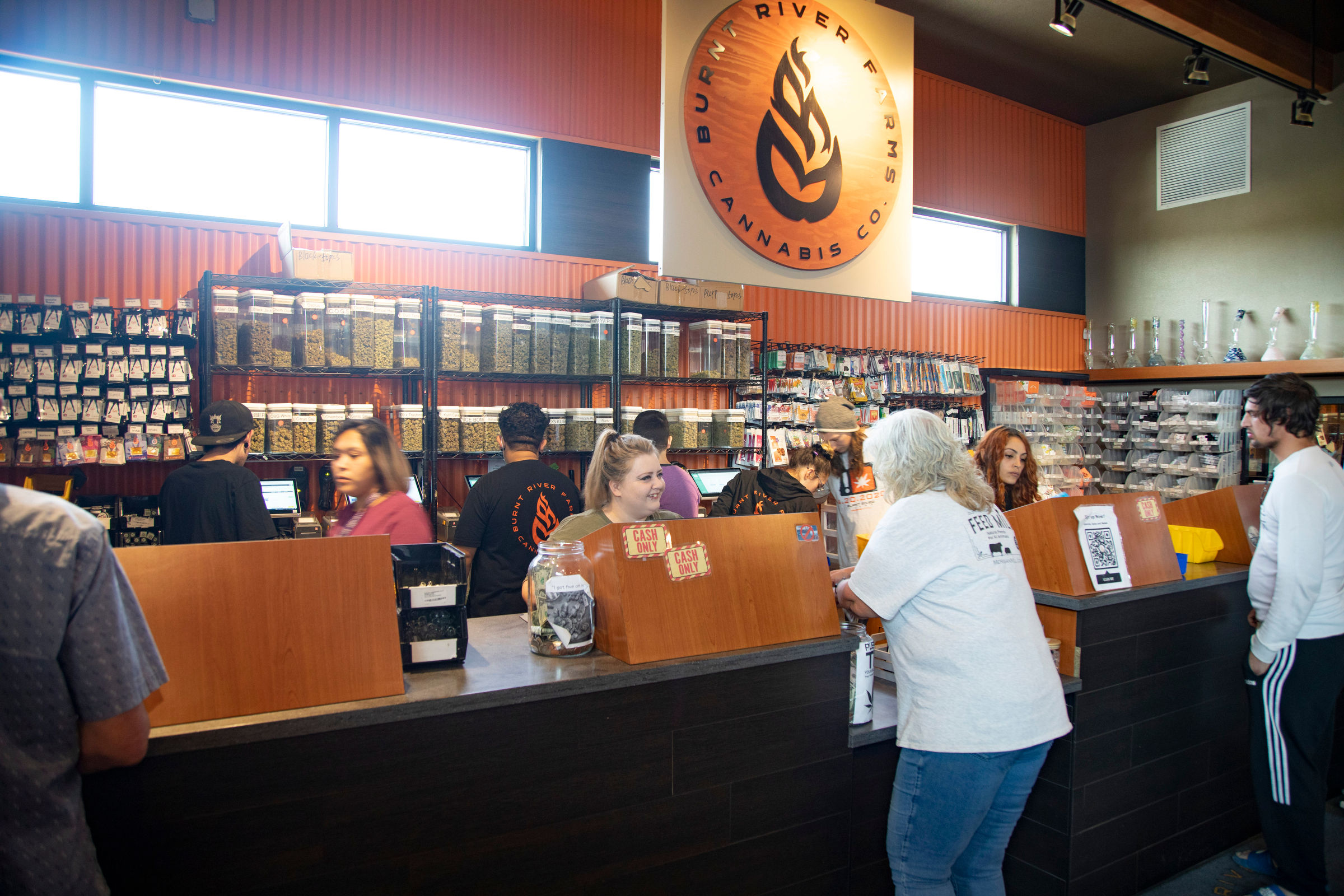 Product Selection
When it comes to product selection, we aren't even sure where to get started. You can be sure to find in-house brands including Burnt River's flower, pre-rolls, and single-source extracts, Split. You can also find other high-quality brands like RE-UP Farms, Happy Cabbage, Decibel and Funk Extracts, to name a few. With 500+ orders per day, this shop constantly puts new products on the shelves. If edibles are your cup of tea, stop by to find companies like Wyld, Laurie & Mary Jane, and Chalice! There are also a ton of fun drinkables like Sips, Cannabull and Muleshine for those looking to go that route.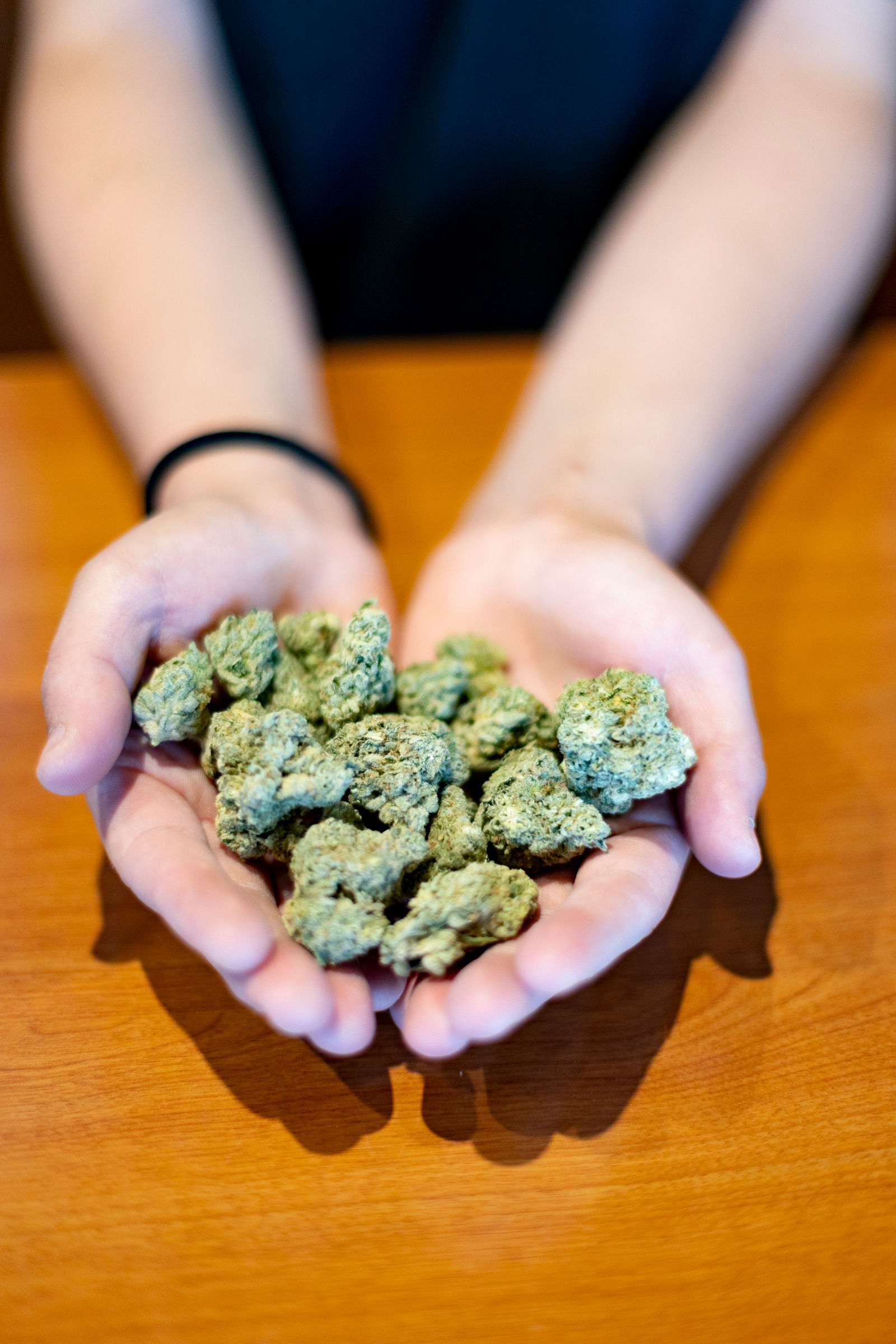 Budtenders
Employing a total of 50+ people, Burnt River Farms has provided an incredible service to the local community. Everyone here has a "can do" attitude and can count on one another to bring their A-game every day. Overall, this makes their team very interconnected, relying on one another for insight and support. Each budtender here is a specialist for a different type of product – are you interested in scoping out the latest batch of dank flowers? Check in with your flower specialist and get caught up to speed. Are you looking for the most recent hash drop? Tap in with your extract specialist to find out what's the latest and greatest.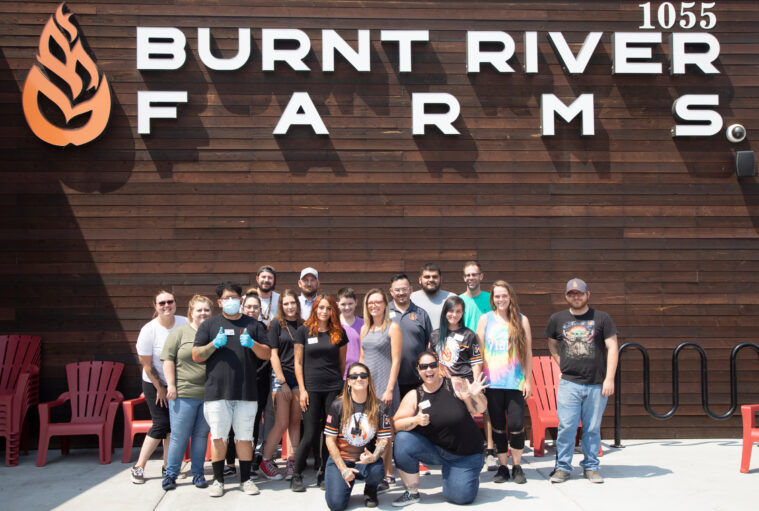 ---
Product Review
Garlic Smash by Virgin Cannabis 
25.78% THC 1.23% CBD
This classic garlic strain is rank, stinky and beyond fragrant. The fat and chunky nuggets showcase a beautiful light green hue accompanied by a smell that is too loud to ignore. Packing a few bowls will have you lit like a candle and heading off to bed. Keep this cultivar around for nighttime relaxation usage.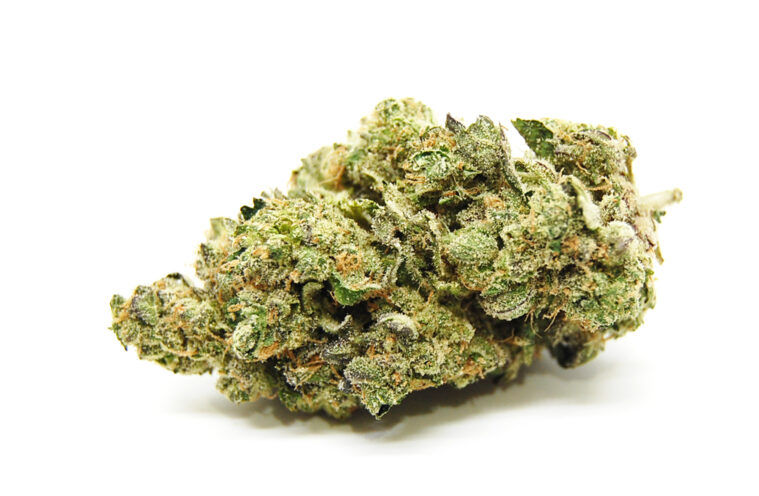 Mendo Breath Bubble Hash by Burnt River Farms 
53.6% THC
Who doesn't love some classic water hash? This finely crafted Mendo Breath bubble hash is ideal for bowl topping and can be smoked on its own as well. Pro tip: Roll the whole gram into a snake and place it into the middle of a fat joint for maximum lift-off.