Platinum Intentions
Owner Adam Schmidt launched Clear Choice Collective in 2012 with the mindset that Cannabis could help people who suffer from opioid addiction – a determination made after sadly losing his brother to that affliction. Then in 2014, he made the transition to the legal recreational market with Clear Choice Cannabis in Tacoma, which currently displays one of the finest functional glass blowing collections in the state of Washington. In fact, Adam is a renowned collector and his open-door policy at his private residence holds true for admirers of the art form from all over the world.
Divine Intervention
The story of how this Bremerton location came together is one of serendipity. After Adam propositioned Chad Ritter – a donor of the original collective and a revered cultivator in the industry – to come on board for the expansion, the two realized something very special. While discussing where they had grown up, the delightful realization was made that they went to the same elementary school, at the same time, with the same teacher. Adam went to his archives and pulled up a class photo from second grade, and there were the two of them, side by side. In fact, they were best friends, but then Adam moved after the school year and was left to wonder what ever happened to his buddy. And through the miracle of this plant, they have reunited as it was meant to be, forever joined now as partners 'til the end.
Top Shelf Ambience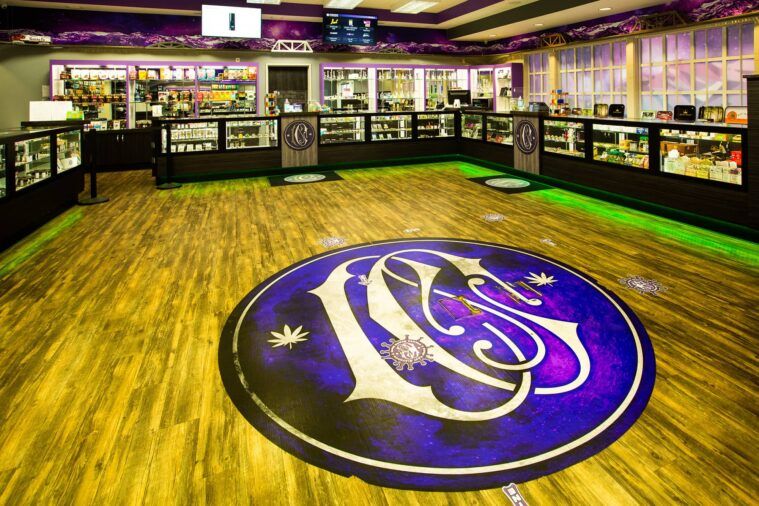 With a giant emblem in the middle of the showroom, you'll feel that you're in the center of Bremerton's solar system. In fact, like the earth circling the sun, there's a large electric train meandering around the perimeter, above your head in front of a purple wallpaper backdrop of the nearby Cascade mountain range, imparting the confident assuredness of PNW pride. And with a shiny, polished glimmer that is professionally balanced, this Cannabis curation certainly brings class to the grass.
Positive Attitudes
The crew here are visibly stoked. Greg lost his job at Disney Orlando as a server and headed west for a change of scenery. After crashing in his Navy buddy's trailer, he felt at home on the peninsula and decided to plant seeds long term. Shay worked at a dispensary in Massachusetts before relocating as well, while Bre and Sophia are the veterans who've been holding the guard since opening in August of 2018.