Consistently Unique Retail
With a beautiful design and fresh displays that are different at each store, the uniqueness of each Catalyst location ties into the consistent vibe and high quality experience customers find at all three locations. "We want to help destigmatize the plant by making it feel like a regular outdoors store, with Cannabis being the adventure," said Brand Manager Joe Stolz. "We also focus on education, with wall graphics explaining cannabinoids and terpenes and knowledgeable staff to answer questions. I view my job as bigger than this store – we want to make Catalyst an elevated brand that leads the way for the industry."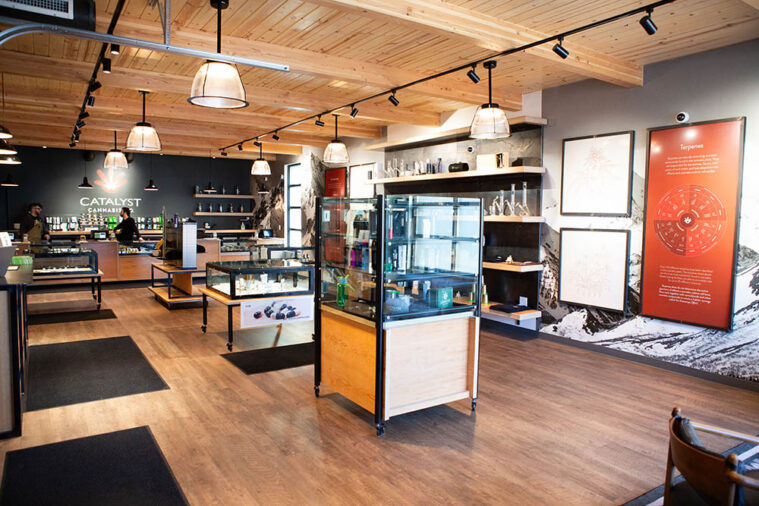 Sustainable Growth
Catalyst is leading the charge for sustainable packaging by using only recycled and reusable cardboard, which lowers the impact of buying Cannabis on the environment. They also have a reusable jar program – just make a deposit for your eighth jar (like a growler at a brewery) and when you return to fill it, there's a discount! This small step literally saves tons of plastic waste each year.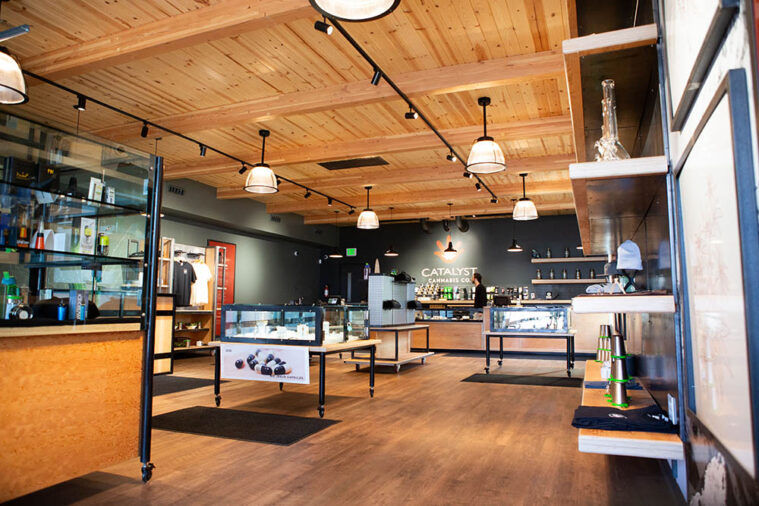 In-House Strains & Top Shelf Selection
As a vertically integrated operation, about half of the Cannabis on Catalyst shelves comes from the in-house garden. This includes the award-winning Critical Mass, a tasty high-CBD strain, and delicious dankness in the form of high-THC strains like Rain Dance and Pancakes. The buying team curates a solid selection of edibles and concentrates, displayed in beautiful flat top cases that make gazing into the terps a visually pleasing experience. With deli-style flower selection and unique daily deals, the friendly team at Catalyst is ready to power your next adventure.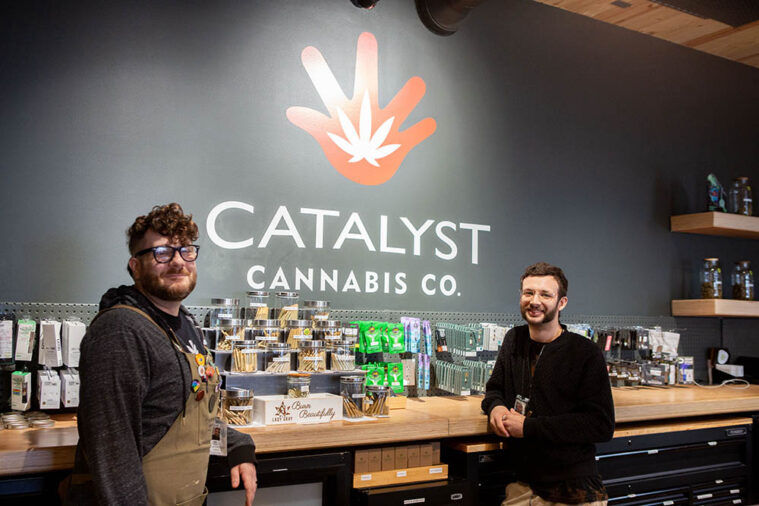 Staff Picks
By Budtender Kane Rosemann
Baked Alaska Brownie Bites
"I like that they use Cannabutter, not distillate."
Hashade 100mg Drinks
"I enjoy having a drink without scarfing a lot of sugar."
Critical Mass Strain
"It's great to have an award-winning CBD strain on the shelf regularly."
Locations:
Muldoon (Northeast Anchorage)
317 Muldoon Rd Anchorage, AK 99504
(907) 222-NUGS
8AM-Midnight Daily
Old Seward (South Anchorage)
9900 Old Seward Hwy #4, Anchorage, AK 99515
(907) 344-0668
9:30AM-Midnight Thurs-Sat | 9:30AM-10:30PM Sun-Wed
Spenard
4707 Spenard Rd, Anchorage, AK 99517
(907) 339-WEED
8AM-Midnight Daily