GREEN GO-GETTER
Like many people who've made a life around Cannabis, owner Gareth Kautz sold weed in college, which afforded him a first-hand look into his future. Shortly after, growing became a hobby – so when the legal days hit, he had applicable experience for starting an operation with the intent to hyper-focus on quality. And that is a guy you want to buy from! Eventually, after waiting three years for the proper licensing from the state while dialing in the perfect location, the green light was finally bright. And with the intention of providing the best, clean products for the friends and family he grew up with in the area, there was no deterring the "High End Difference."
UNRIVALED STANDARDS
Flavor, frost and funk – these are the three criteria for products to appear on these exclusive shelves. So, if the bud is supposed to taste like blueberry, then it better taste like it was recently picked off the vine. Frost is important because of the closed jar policy in Washington, so you need to know those trichomes are glistening. With super-standard buying practices, this is the guarantee of quality everyone is looking for. Gareth won't buy from a farm with a closed-door policy. He believes that the integrity of the people running the operation is a direct telltale of how they treat their plants, so if he can't get inside to see things for himself, he won't carry the brand.
YOU'RE WELCOME HERE
After years of success in downtown Vancouver, on the first day of the new decade the transition was made to a bigger house with the intention of doubling the offerings with a nearly 4,000-square-foot showroom. With exceptionally high ceilings that lead to a cedar plank lining the top, this place is pure PNW. The color of tall evergreens accentuates the indigenous comforts of clean air and indelible offerings. You'll witness creativity abound with original local art lining the walls and an entire room dedicated to superior glass. It's easy to see at first entry that this is not the low price/high THC shop, but the #1 medical spot in the city where every single budtender is a certified medical consultant. WOW!
TEAM EFFORT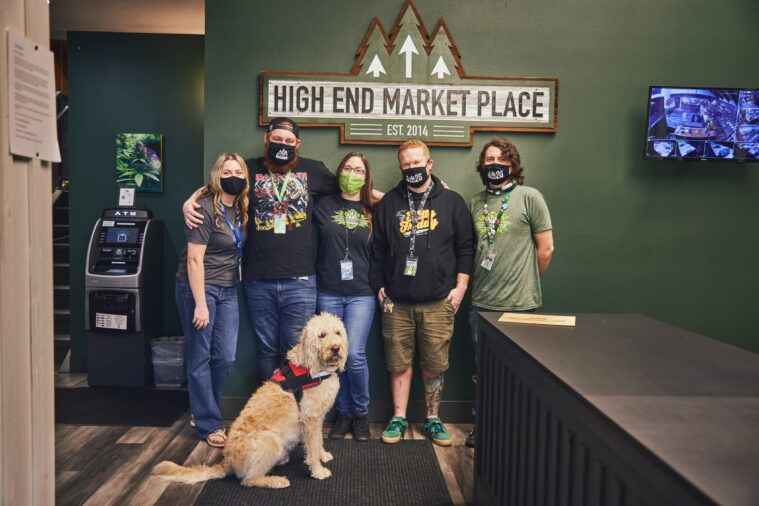 Antoine has been here since day one, having grown up with the shop and currently running the paraphernalia department. On top of that, he's got exceptional knowledge with a very good nose. Brian does the inventory and has a side hustle distributing rolling papers, providing H.E.M.P with probably the best selection in the state! Jeff is currently writing a book about Cannabis, so he's always making sure everyone has the requisite educational materials. Erin is passionate about animals and left for a short time to do dog grooming, but returned shortly thereafter due to the sadness of having to leave the animals every day. She keeps the shop tidy and is well-versed on products. Finally, Cynthia is a Cannabis photographer – running social media and shooting farms around town.