Most Oregon residents are familiar with the TJ's brand, named after founders Travis MacKenzie and James Opreza. And if you aren't familiar, then get ready to learn about one of the most popular, ethical, and sustainable companies in the state. Most notably, their dispensaries feature their prominent in-house farm, TJ's Gardens, and sister company Yerba Buena, alongside other amazing partnerships and exclusive drops unique to their stores. Aside from providing some of the best overall selection in the state for recreational consumers, TJ's also dedicates itself to the Forrest Initiative – a nonprofit that benefits some of the most vulnerable members of our community. TJ's on Powell perfectly showcases everything TJ's has to offer as a whole, and I was happy to review one of my personal favorites.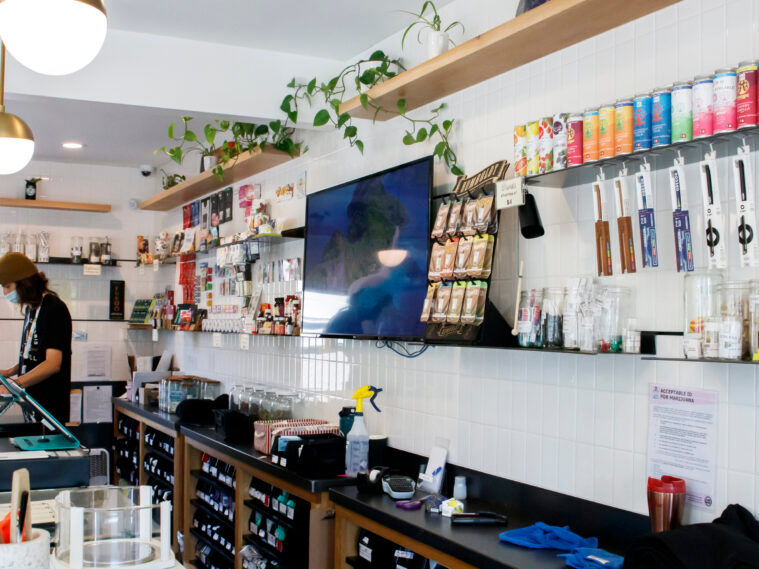 Located near the busy 82nd Ave and Powell Blvd intersection, TJ's on Powell is in the heart of the SE Portland neighborhood. Directly in front of a bus stop, and with street parking and dedicated curbside pickup zones, it's an easy stop when commuting across town – though the shop is normally busy, so expect a small line. Though the outside of the store is a low-key dark grey, the inside features bright white tones and tile, and light wood accents with various plants speckled throughout the store. 
Upon entry, a posted security guard normally checks IDs before letting guests pass through to begin shopping, providing that necessary safety at all times of the day. TJ's has a free coffee and tea bar, so you can caffeinate before you medicate, also providing free water to their guests and advocating to "Stay High and Hydrated" amid the hot summer months. While waiting in line, customers can also browse the flower menu while looking at carefully placed display jars, or see the exclusive cartridge varieties neatly tucked into the large display cases just before the main shopping area. Here you'll find a decently sized display refrigerator full of every extract or concentrate you could ever desire, strategically positioned between both budtending zones so everyone can see from a generally safe distance. Hanging along the white tile behind the budtenders are the market's most popular edibles, infused beverages, and pre-rolls, leaving plenty of time to shop around or ask questions while your budtender finishes weighing flower or packaging product. 
TJ's offers amazing flower, most notoriously from their own brand TJ's Gardens, and sister company Yerba Buena. They showcase beautiful strains like Darkstar, MK Ultra, and Platinum Cookies. Alongside these amazing farms, they source flower from other ethical companies like Indigo Gardens and Benson Arbor. As far as extracts and concentrates go, TJ's on Powell is known throughout town as the best source for the most selection. They partner with exclusive brands and get the hottest drops on the freshest hash from companies like Happy Cabbage, Bo's Nose Knows, Tao Gardens, and Highland Provisions, all of which can be hard to find in the competitive Portland market. They also feature a large variety of the most sought-after extracts like Echo Electuary, Funk Extracts, Beehive Extracts, and many more. If you're a dabbing connoisseur, make sure you browse TJ's online Dutchie menu so you can see exactly what they have before making your selection.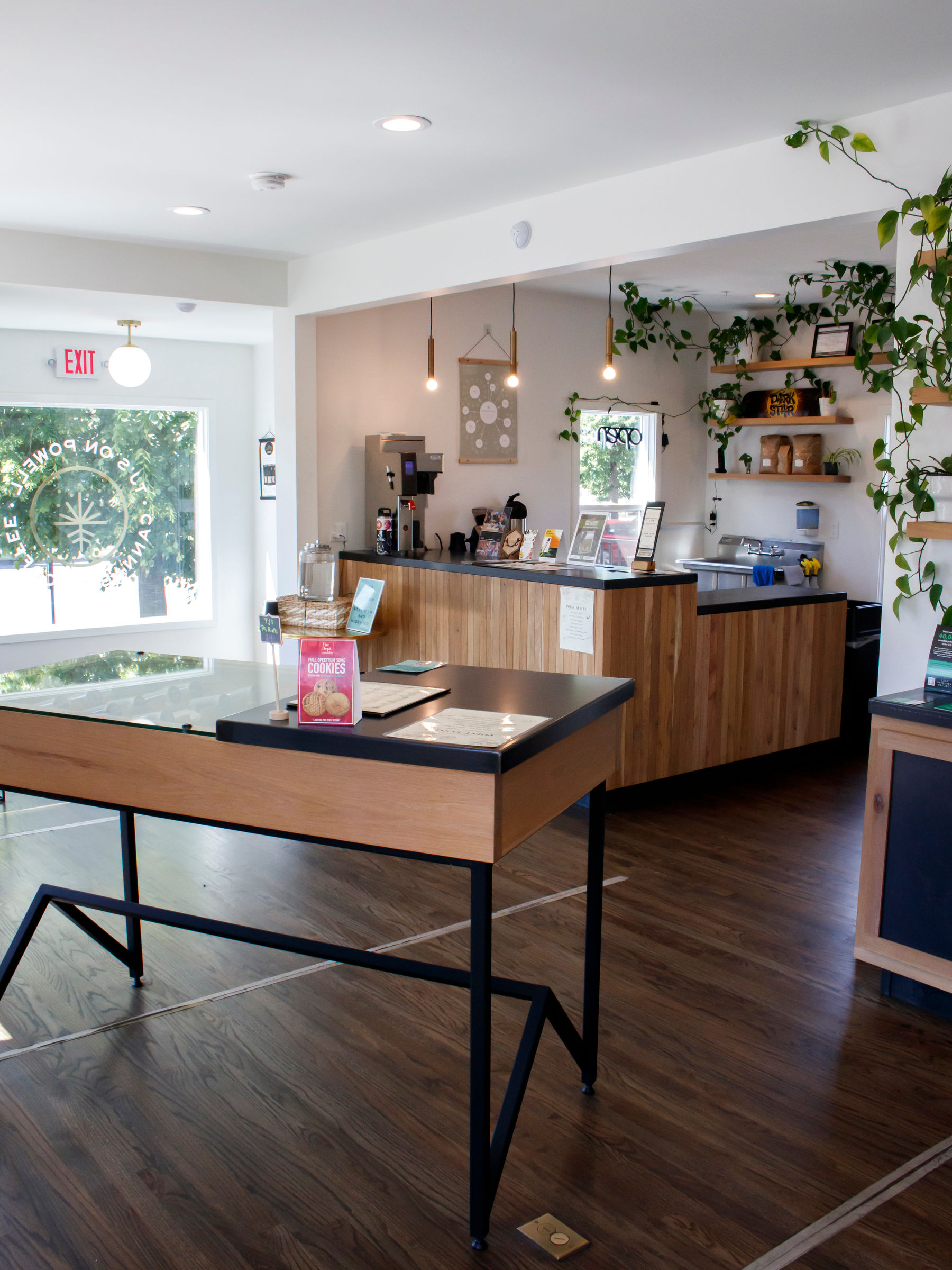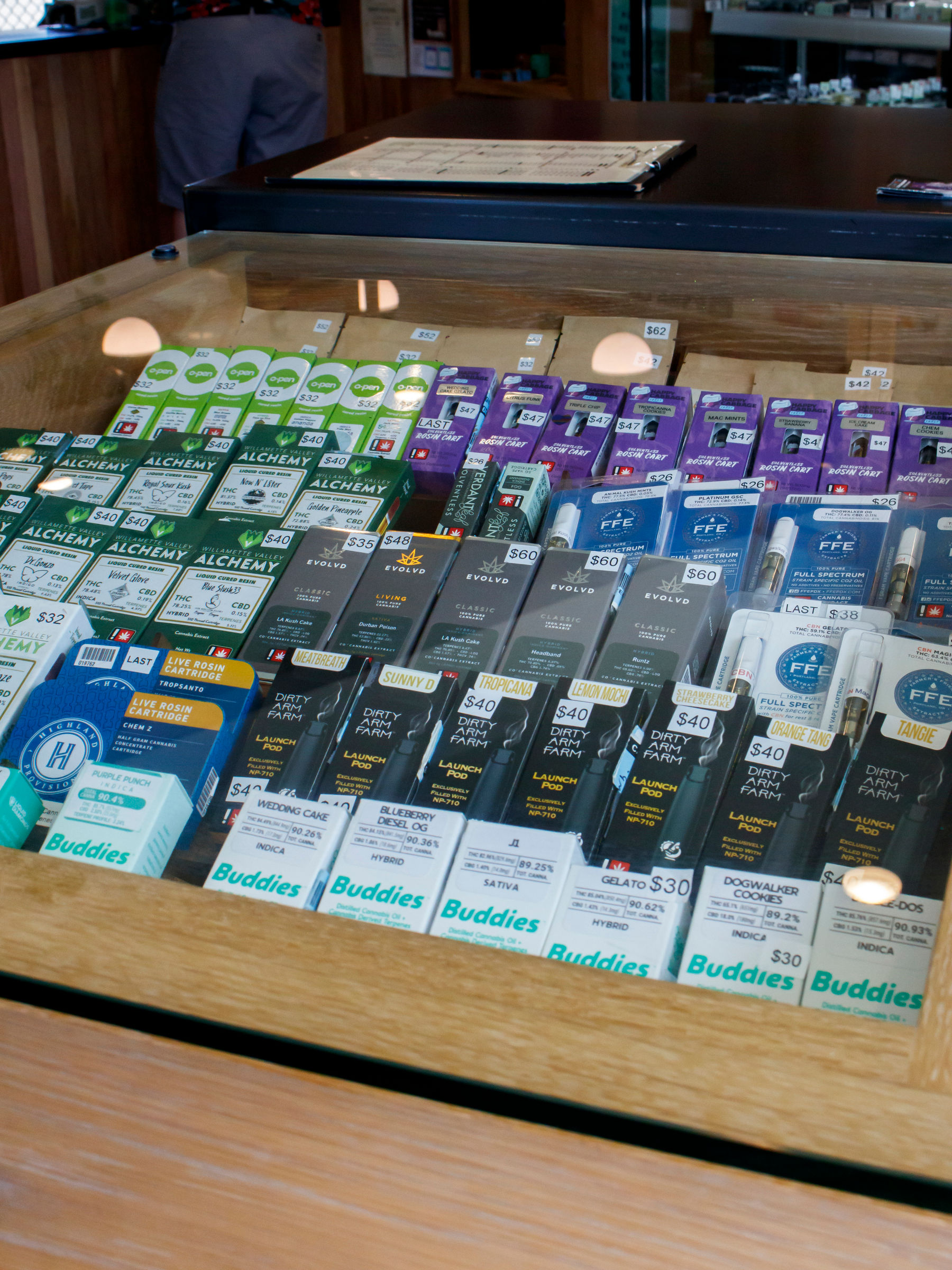 TJ's budtenders are always friendly and efficient, especially considering the large customer volume they see on a daily basis. They're happy to help with any questions and most budtenders have tried the product on the shelf, so they can offer a first-hand opinion about the product being discussed. And I have to say, as someone in the industry, the budtenders here never try to "custy" me and always let the customer shop for themselves, without being overbearing. Daily deals include discounts on top-shelf flower, dabs, edibles, and pre-rolls, and their ever-popular industry discount for those of us that have heavy tolerances that don't quite match our wallets.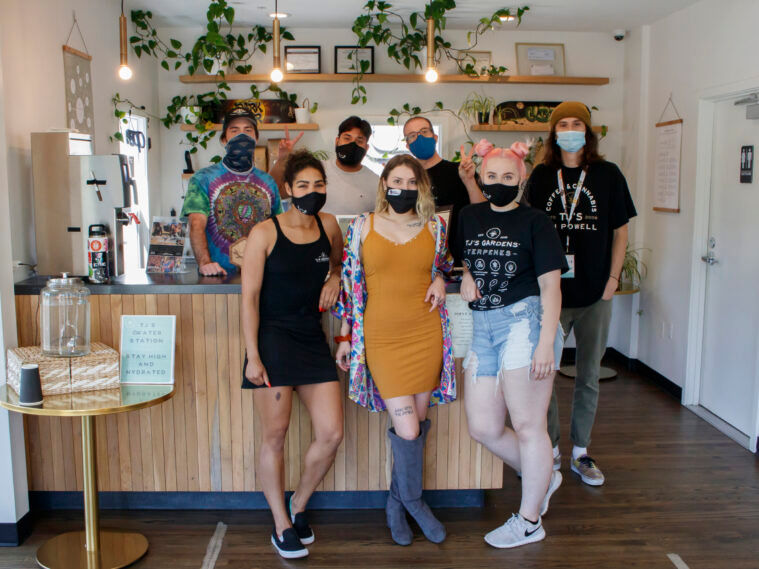 TJ's is proud to provide high-quality CBD oil to under-resourced families in the community through the Forrest Initiative, originally founded in 2014 as the TJ's Kids and Families Program. With medicinal issues comes the all-too-familiar high cost of medicine, and TJ's aims to make that a thing of the past when it comes to medicating with CBD oil. For children and families that have their medical marijuana card, TJ's provides their own high-quality CBD oil at no cost, benefiting the community in immeasurable ways through such kindness. 
TJ's on Powell is a one-stop-shop for all kinds of consumers, offering top shelf flower at a competitive price and the most exclusive hash drops on the market, all while benefiting the community in a positive way. With ethics at the forefront of their brand instead of just their profit margins, TJ's is a one-of-a-kind brand that everyone should be familiar with.
Product Reviews
Deadhead OG Live Rosin 90-149u by Tao Bubble
76.79% THC & 11.48% Terpenes
@tao.bubble | taogardens.com
True to its heavy lineage, this Chemdog 91 x SFV OG cross hits the dome hard. Don't let its light and creamy consistency fool you into thinking it'll be a light and fluffy high, because one taste of the OG, chemy funk, and you know what's about to happen. This was my first try of Tao Bubble and I'm truly impressed. Color, flavor, high – it's all there. It's perfectly heavy behind the eyes and the funky profile is right up any Chem lover's alley. Just make sure you dab when you're ready to relax, or it may put you to sleep a little sooner than you wanted.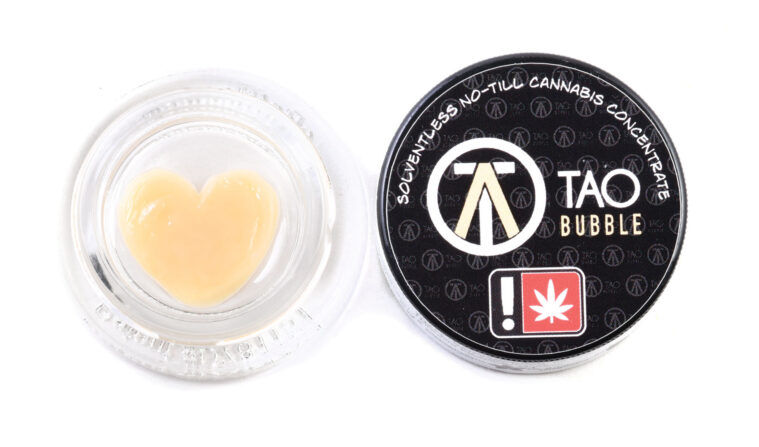 Tally Mon 90u Rosin Badder by Bo's Nose Knows
96.94% THC & 7.8% Terpenes
@bosnoseknows
You can just smell the terps as soon as you crack the jar. Fruity, creamy and slightly funky, this Banana OG x Dosidos and Papaya lineage shines through like a fruit basket on a sticky, hot summer day. Perfect to consume any time of day or night, this beautiful badder stinks up a room in the best way possible and fills the lungs with nothing but pleasure. You can taste the flavor from inhale to exhale, and the high is amazingly stoney without overpowering the eyes.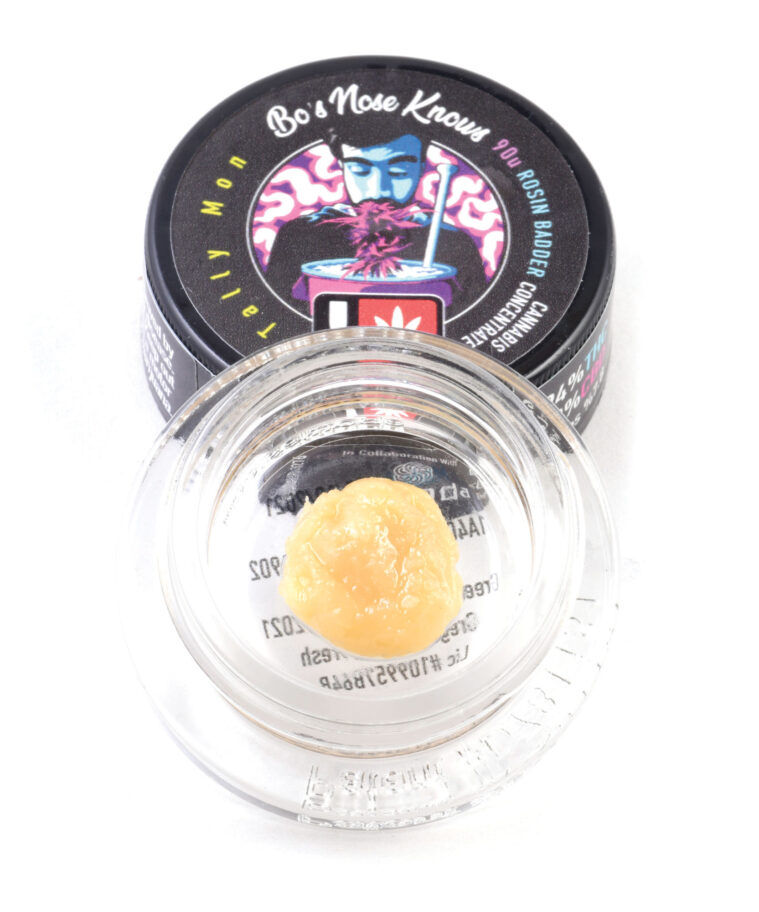 Papaya Cake 6* by Happy Cabbage Farms
@happycabbagefarms | https://happycabbagefarms.com/
Processed using TJ's Gardens own flower, the Papaya Cake 6* hits smoother than most. It's beautifully light and malleable consistency makes scooping any dab from the jar effortless. The citrusy Papaya profile provides a euphoric taste and the creamy Wedding Cake profile seals the deal when it comes to balancing this flavorful powerhouse. A low temp dab melts perfectly in the banger, making clean-up as easy as ever, while still providing that solid high that melts any frustrations away with ease. The Papaya Cake gives a heavy high that doesn't dominate the senses, but still puts you in the best mood to take a quick nap. Best smoked when you're wanting to relax or alleviate any stress.