Don't let the name fool you; everything this shop does is above water. While the first one opened in Bremerton in 2015, it wasn't long before the tides flowed across Puget Sound to settle their next effort in Capitol Hill. And after building a reputation as the finest shop in town, they reached south to Georgetown for their third amazing store – where they just celebrated their first birthday in December. Congratulations to owners Adam Simon and Aaron Bennett!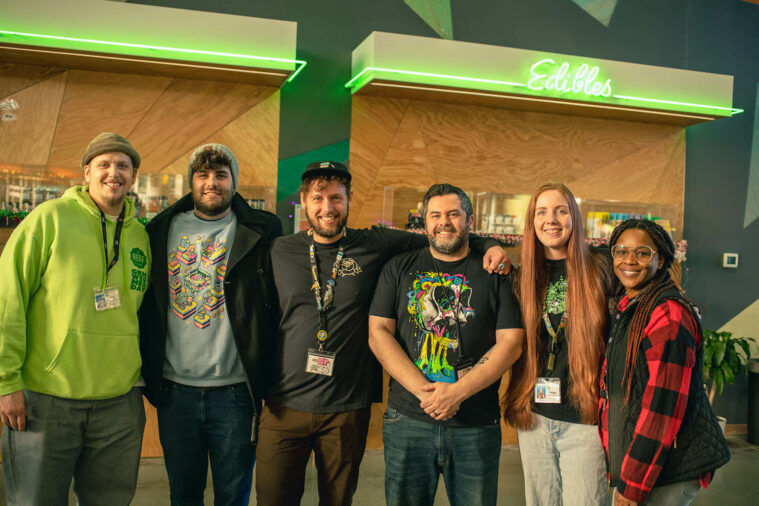 A PART OF THE SOLUTION
The original aesthetic for The Reef came from the camera lens of a diver hired to take underwater photos at Alki Beach. And it was those images that were used to design the eye-catching panels which draw your attention outside the original Bremerton shop. It's all about togetherness at this company, as 5% of profits go directly to charity – proving that being a part of the community is more important than just selling beautiful Cannabis to people, but also about helping to make actual change. If you've been to the Cap Hill location, you've seen the park across the street featuring Pac-Man painted on the asphalt and weather-resistant ping pong tables – and yes, that renovation was The Reef's doing. There's an energy with The Reef, which is why planting roots in Georgetown, Seattle's oldest neighborhood, made sense a year ago.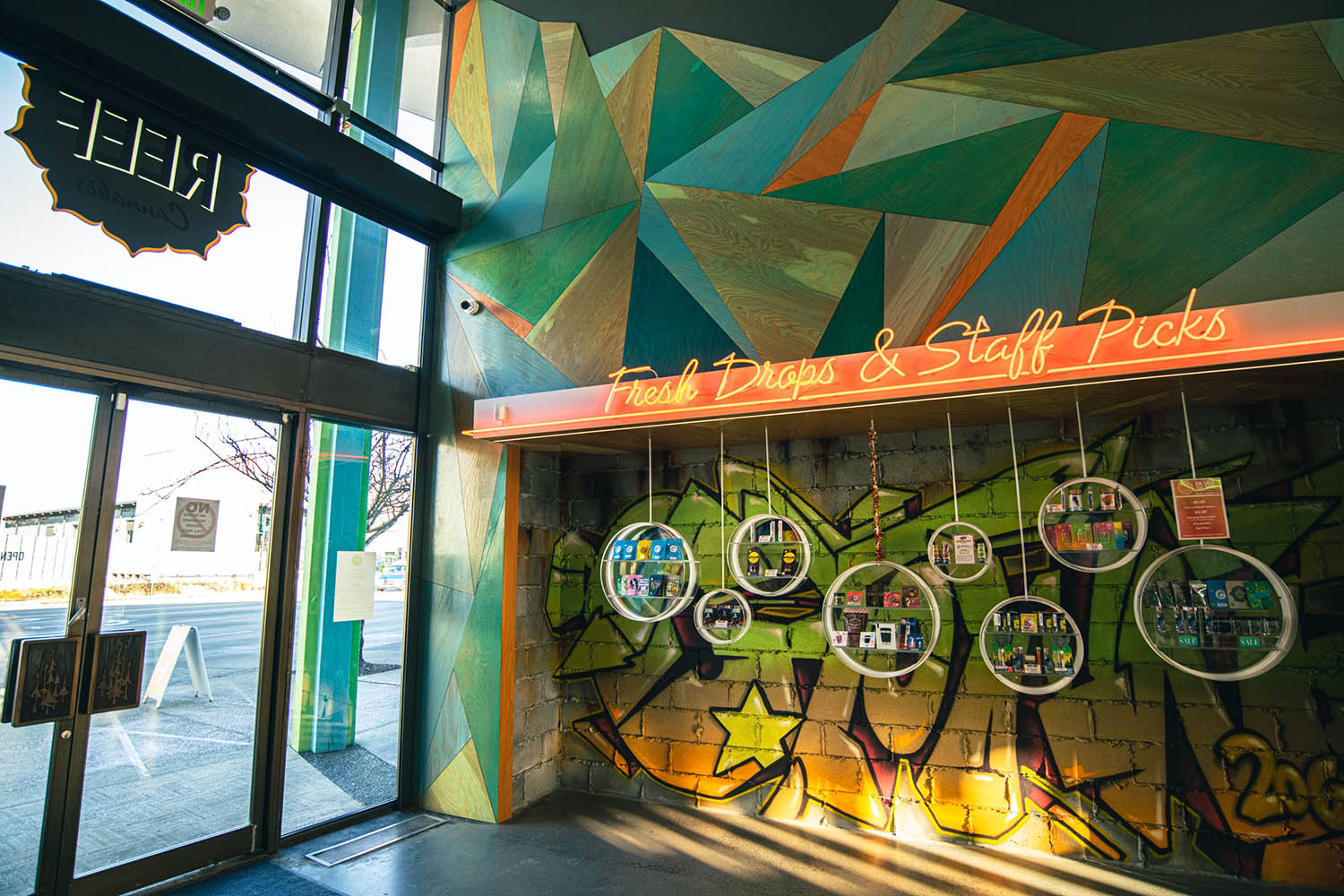 AQUARIUM OF COLORS
Creativity is a huge foundation for The Reef's unmistakable identity. Supporting local artists has been integral to their ascent because they firmly believe that nothing pairs better than Cannabis culture and art culture. Here's something cool: This location was previously a bank built in 1967 – an unusual piece of architecture that sticks out like a fresh, oval nug. So, when the digital temperature/clock sign outside hit 4:20 on opening day, they simply hit the stop button – allowing it to stay a constant reminder of our favorite time, where the temperature is always fire. Make no mistake, these people are all about a positive atmosphere and making weed fun!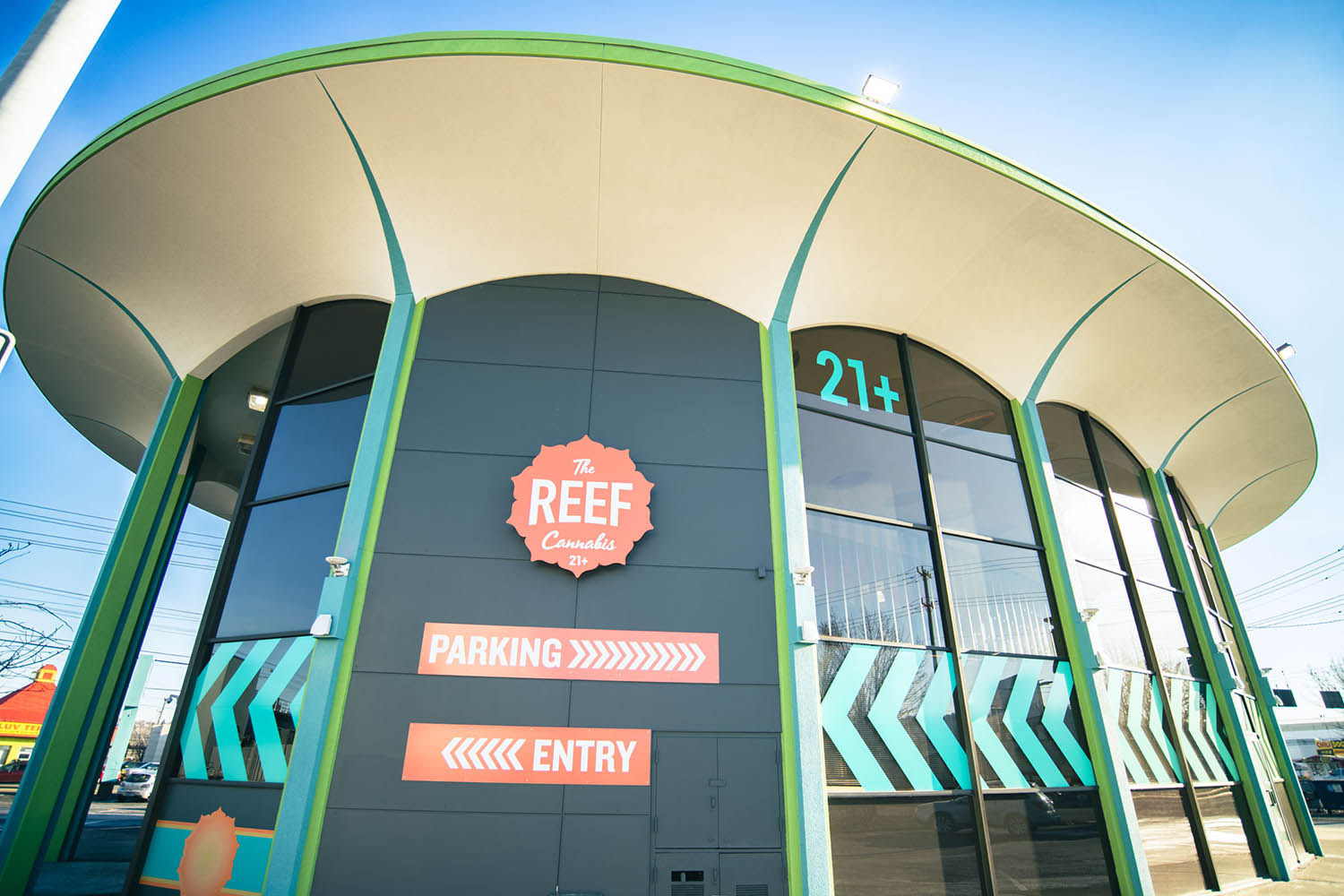 ---
STAFF PICKS
FLOWER
Washington Bud Co. Dutch Treat Haze – David
Thunder Chief Farms Caveman – Hoff
Skord Gorilla Girl – Paige
Cheech and Chong Oreos – Noni
JOINTS
Dose Infused Blunts – David
Blunt Lords Mint Chocolate Chip – Hoff
Fifty Fold Snickerdoobies – Paige
Doc & Yeti Fatso – Noni
CARTS
Northwest Concentrates Blue Dream – David
Heylo CBGeezus – Hoff
Constellation Dosidos BX – Paige
Dank Czar Guava Cake Disposable – Noni
DABS
Skord Reserve Batch Zazul – Hoff
Refine Seattle Hyphy – Paige
Lifted Boysenberry Creme Brulee – Noni
EDIBLES
Wyld 1:1 CBG – David
Journeyman 50:1 – Hoff
Smokiez Live Resin Watermelon Gummies – Paige
---
Address: 303 S. Michigan Street, Seattle
Hours: 8AM-11PM Daily
Phone: 206-420-2137
Web: thereefstores.com 
Social: @THEREEF.WA
OTHER LOCATIONS:
BREMERTON | 1107 N CALLOW AVE | 360-813-1874
CAPITOL HILL | 1525 OLIVE WAY | 206-466-6286