There are some famous people associated with this store, beginning with Winston the Goldendoodle who will greet you with a wagging tail to let you know he's ready to rock if you've got a tennis ball handy. And speaking of famous people ready to rock, the gents who set this highly unlikely license into motion seven years ago consist of film director Steve Kessler and Blues Traveler drummer Brendan Hill. So, how did these artists pull this off? Steve and Brendan's wives work together in an art studio and through conversation at kids' sports events and the like, the idea serendipitously came about – turning this casual relationship into one of the finest pot shops in the state.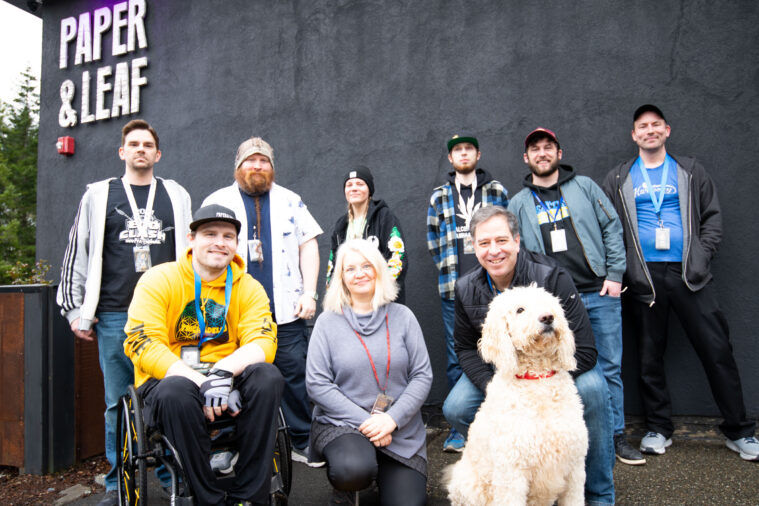 AMPAGE
Shadow boxes of record albums are mounted alongside the encased Cannabis offerings, providing a rhythmic vibe that is indisputable. With such slick ambiance, the budtenders are free to carouse for advice-curious consumers looking for the big hit. Face time is a huge part of the attraction on this stage, where unparalleled customer service (15 budtenders) is focused on conversations – long ones – where you can ask all the elementary questions and never feel pressured or rushed. That's Bainbridge elegance.
ROAD TESTED
The true test of pride is built through longevity and this crew is as loyal as any shop, anywhere. After all, Daniel Brown has been the coveted inventory buyer here for seven years. And most of the other staff have enjoyed the same tenure. In fact, GM Eric Smith is a verified cannasseur and contributor to NW Leaf. All employees get benefits and a true living wage, which keeps morale at a high level. And it's hard to argue with their love for this special environment, as the curated selection is all about craft Cannabis with a lean towards high-quality sungrown.
MERCH MADNESS
Market Elevated is next door, where you'll be able to grab some high-end glass, wellness products, and hit the delicious full-service coffee bar to get your volume cranked to 11. In addition, you'll find fine art on the walls by artists like Sarah Gordon, Sir Paul McCartney (yes, him) and Storm Thorgerson, who created many of Pink Floyd's album covers. I know, you're thinking, "How is that possible?" Ahem, remember … this is Bainbridge.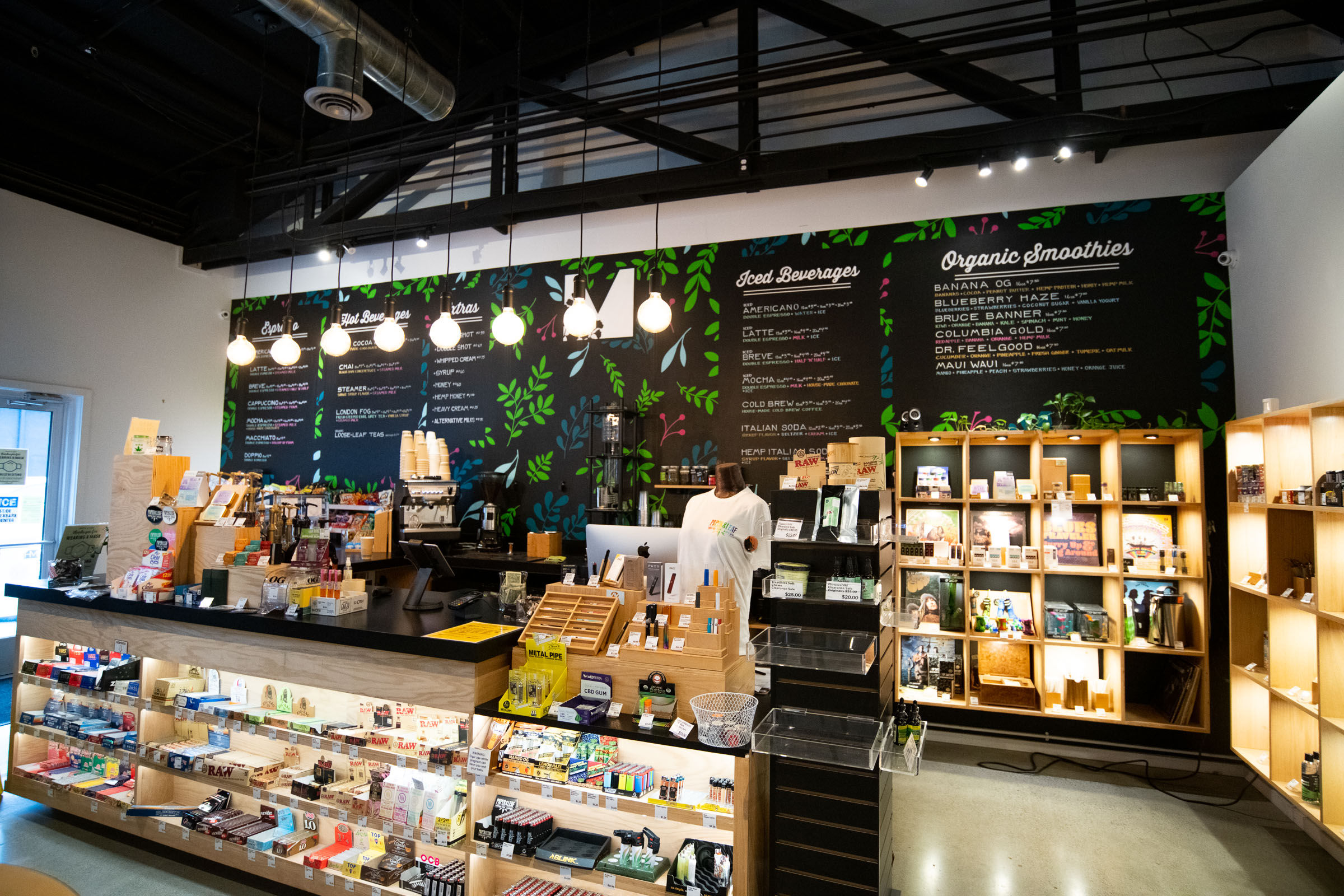 ---
STAFF PICKS
FLOWER
Fire Bros I-90 Eric
Skord Chocolatina Joseph
Sub X Sinmintz Steve
Lifted Wedding Cake Kristin
Bondi Farms Obama Kush Alice
JOINTS
Lifted Marshmallow Sugar Cookie Duncan
Cannavore It'z Tangie Shonna
Lazy Bee Powderhound Steve
Aurum Farms White Tahoe Cookies Jason
Treehawk Farms Strawberry Diesel Cookies Kristin
CARTS
Skord Divine Kush Breath Don
Polite Daily Defense Donna
Canna Organix Cereal Milk Jason
Skord Divinity Charlie
DABS
Fugu Farms Cookies n Cream x Dosi Jason
Bubbies Skywalker OG Duncan
Refine x Aurum Sunset Sherb Loud Resin Joseph
Eagle Trees Bicycle Kush RSO Steve
EDIBLES
Major Blue Raspberry Duncan
Skuared Espresso Caramel Chocolates Donna
Swifts Sativa Green Tea Peppermint Mints Jason
Lil' Rays Kiwi Charlie
Swifts Cherry & Black Raspberry Gummies Alice