Driving up to Burr's Place feels like approaching any weed farm. Winding two-lane roads snake their way through hill and vale, bringing you to a bumpy dirt road until finally, you're met by the ubiquitous security camera at the nondescript gate.
You climb the steep grade, and just at the top, you notice a small sign to the left: "Burr's Place."
You crest the hill, and your jaw lands in your lap.
You're met with fields of towering Cannabis, a smattering of farmhouses – and a 360-degree view of Calaveras County wilderness as far as the eye can see.
Owners Brett and Page Miller, Ryan Carlton and Adam Kovalchik live a beautifully blessed life with their friends and cultivation staff on this property, which they've worked over the years while expanding it to a respectable two acres of grow canopy on a 130+ acre plot in the middle of a vast Bureau of Land Management wilderness.
It's been a journey to get to this point. And it all starts with a few friends and a dog.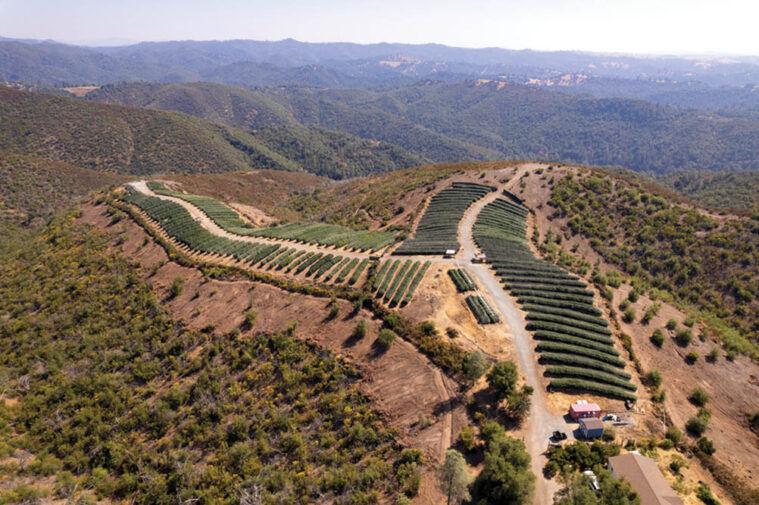 The Popped Seed
Co-founder Ryan Carlton and his longtime friend Brett Miller got into cultivation as 20-year-olds in Nevada City, where Miller met Page Grieder, a trimmer in town from Texas. Brett and Page became Brett and Page Miller, and together with Carlton, the Millers honed their craft and built toward a dream of creating a farm and community of their own.
"They were on this grow, living in a treehouse," Carlton said, "and every grow has a feral dog. So Brett and Page ended up raising these puppies, and from this litter they take this one dog and they named it Burr. So Burr the dog was born on that farm in our second year of being in Cannabis."
When the time came to create their dream farm, they knew they needed a brand. They settled on Burr's Place and moved out to a 5-acre property in Calaveras County.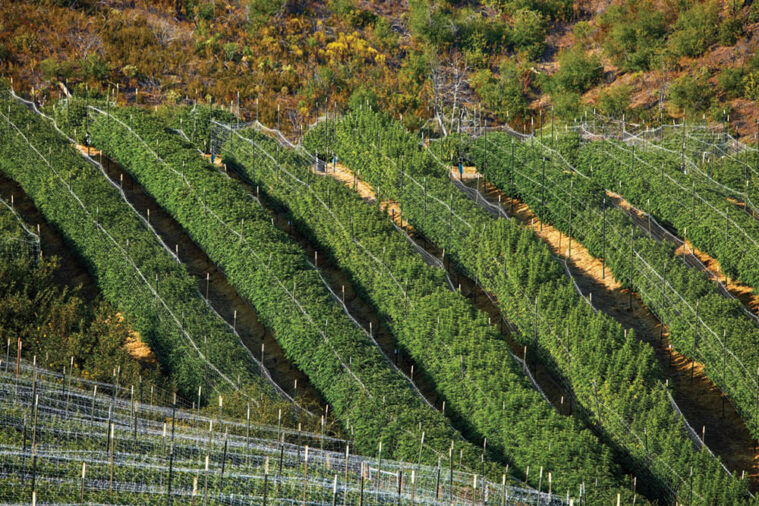 Phoenix Rising
It was the early 2010s, and their dream was starting to coalesce. But like so often happens, fate decided to make them earn it.
In September 2015, the Butte Fire came tearing through the heart of the county and came knocking at the door of the log cabin, where the Millers lived on the farm.
"Brett was calling me, and there were embers falling out of the sky and landing on his deck," Carlton said. "And he was running around stomping them out. Brett and Page evacuated with their dogs, and there were a couple of horses on the property that had to be loaded up on a horse trailer … they had to evacuate in the middle of the night."
It was a total loss.
"It burned their whole full season crop in peak flower. It burned the house, burned a truck, burned the chicken coop."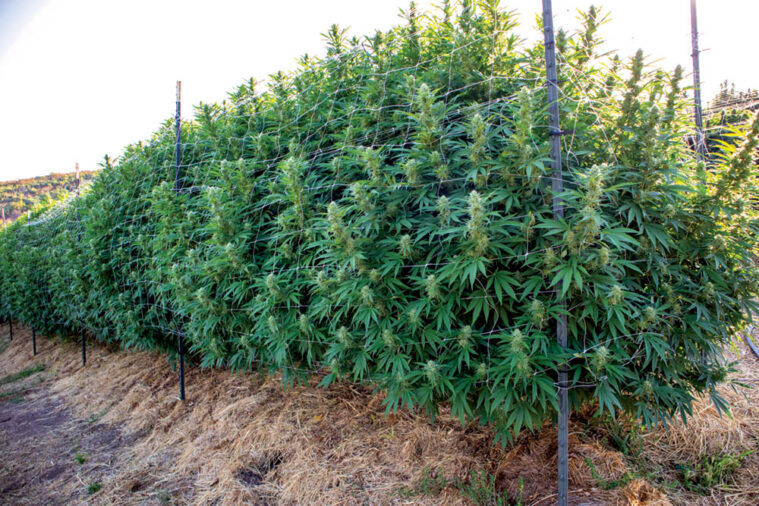 The Millers moved back to the farm, living in a truck with a camper.
"They really just held on," Carlton said. "And a lot of friends came and helped rebuild."
Together with the help of their community, Carlton and the Millers regrouped for a couple of harvests – until Calaveras County added insult to injury and banned Cannabis cultivation.
"They were afraid of the trimmigrants," Carlton said. "It was crazy. It was like a one-two punch. It was absurd."
During the ban, all the growers left Calaveras County – and that's when their friend Adam Kovalchik merged his grow, One Straw Farm, with Burr's Place. Working together, they grew it from a 99-plant grow on a 5-acre parcel to a 130+ acre plot of land that has scaled to around 6,000 plants.
"We both chipped in to buy this property," Kovalchik said, noting they merged their brands and united behind the Burr's Place identity. "Burr's Place carries the best image of what we're trying to do, I think, and captures the presence here."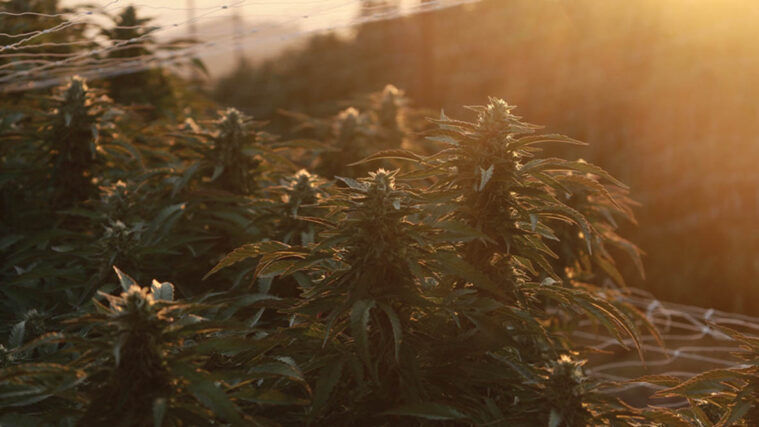 Stretching to the Sky
Together, the friends and their cultivation crew employ regenerative growing practices – where plants thrive in living soil that they have built up over the years, using only organic inputs.
"Calaveras provides a long, hot and dry summer that allows us to push our season into the fall, ripening late-flowering sativa strains that may be harder to achieve on the coast," Carlton said.
This harvest, they're pulling down 66 different cultivars – many from their friends and collaborators, including the world-renowned Humboldt Seed Company.
"We know that each individual has their own niche on what they like," Kovalchik said. "So we want to grow everything. We want to grow the best gassy strain. We want to grow the best piney strain, the best fruity strains."
Among their favorites are the Orange CreamPop from HSC, and they're really excited about the Mountaintop Mints and the Macaroon genetics they landed on for the 2023 harvest.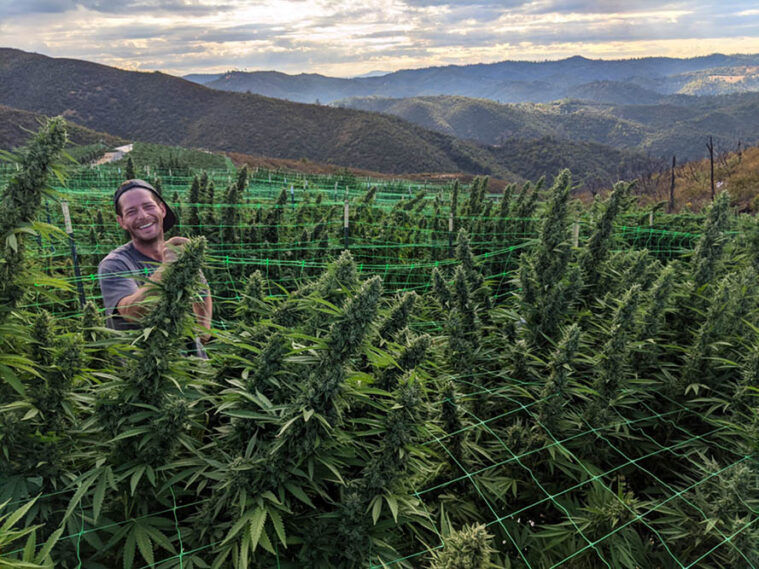 The Future Found in Family
The Burr's Place crew has grown over the years, with a group of as many as 12 workers living on the land, many with their families.
"When we started the farm in the larger scale, five or six of us moved out here that first year to basically build it and grow it – with no money and only just the prayer that we would grow and sell the Cannabis to pay for it," Carlton said.
It's a true family operation. There are nearly half a dozen kids living on the property as their parents work the land. The tight-knit and inviting vibe is palpable.
"It is very much a village," Carlton said.
"We have really deep roots in Cannabis," Kovalchik added. "We all really love the plant and love farming and love agriculture, love being a community and being out here doing what we're doing."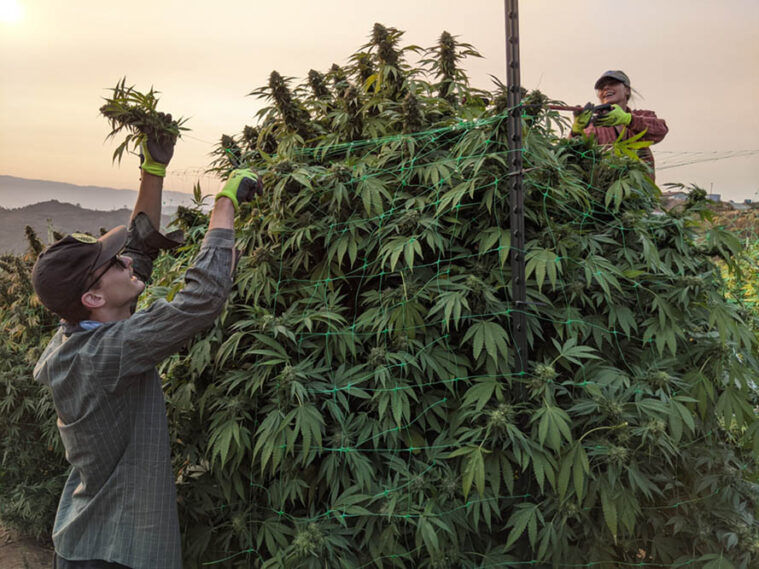 The Future
The Burr's Place crew hopes that someday, their farm will be an eco-tourism destination.
Walking up to the "UFO Pad" – the highest peak on the property, which is also one of the highest peaks as far as the eye can see – one can't help but see the vision. Carlton, Kovalchik and the Millers dream of putting a pavilion on the peak, maybe with a large pizza oven, and hosting events.
Enjoying a joint with a 360-degree view from the UFO Pad, as the golden sun sets over the rows of towering Cannabis trees, is an experience that everyone should be able to share.
For now, it's a journey only a few of us will be able to make. But if the farm family has its way, there will come a day when wanderers of all types will wind their way up the wily Calaveras County roads, through the gates and up past the Burr's Place sign, to find themselves gasping at the view from the top.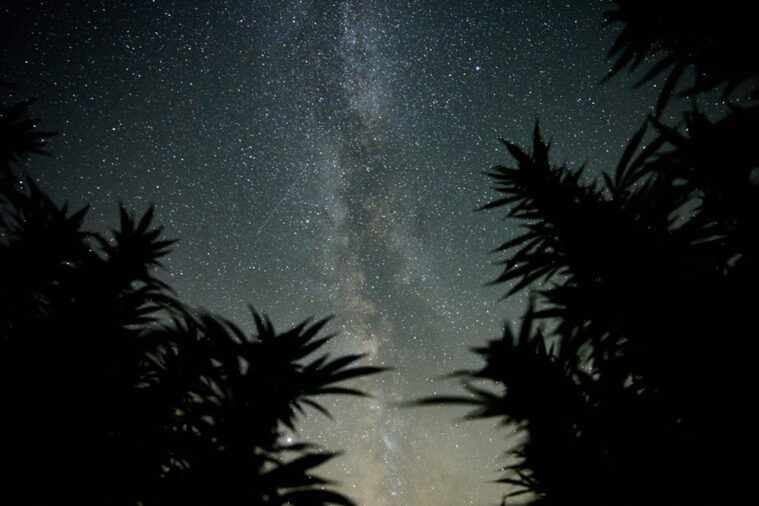 More on Burr's Place:
Size: 137 acre property, 2 acres of sungrown canopy
Employees: 12 
Plant count: ~6000
Motto: "Grown with love, from seed to smoke. Taste the difference."