William Randolph Hearst is spinning in his grave.
In the early 20th century, Hearst's media empire was the leading proponent of the "reefer madness" propaganda that eventually led to marijuana's prohibition. But a century later, the ranch that his beloved grandson (and Hearst Corporation successor) George once called home is now being used to grow the "evil weed."
Talk about poetic justice.
In the rolling green hills
Tucked amidst the rolling green hills of Paso Robles wine country lies Estrella River Farms – a sustainable, sungrown Cannabis farm that bills itself as "the world's first estate-grown weedery."
"When I'm sitting at the bar in downtown Paso, and I hear somebody next to me talking about the wine industry, I just replace the word 'wine' with 'weed' in my mind, and it's the exact same story," says Estrella River Farms' Bill Hodson. "That's how we coined the phrase 'estate-grown weedery' – because it's the winery model, only with weed."
Hodson purchased the 80-acre plot of land known as Estrella Ranch through his Cannabis real estate/marketing company Livewire Ergogenics (an affiliate of Estrella) about four years ago. It's a pastoral piece of property just off the 46 East surrounded by empty, peaceful meadows – making it an ideal location for an outdoor Cannabis grow.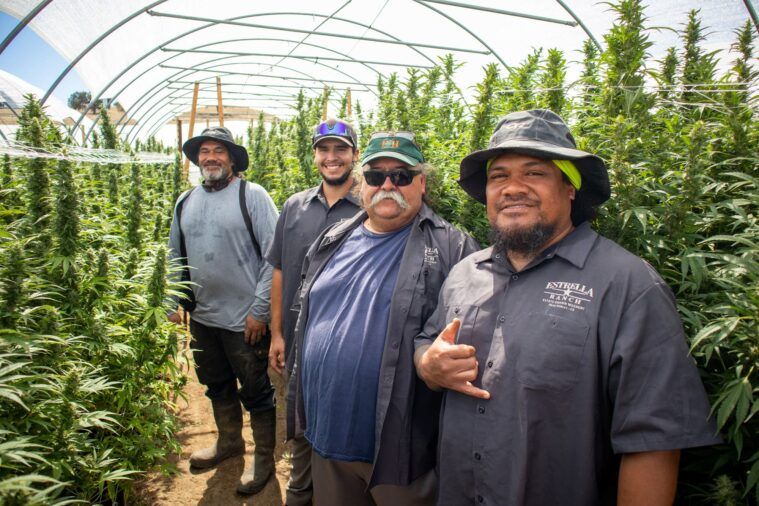 "There are no grapes near us, no neighbors to give us a hard time, so it works out perfect," Hodson explains. "This is still primarily a cattle ranch; we still have livestock … we just happen to grow Cannabis on it as well."
The property is bisected by Estrella Road into two 40-acre parcels. The western half contains the operational part of the ranch – inside of which a section has been partitioned off for the garden – as well as several barns and buildings, including a kitchen, rec room, and living quarters for the workers (most of whom live on-site). 
Crew and compliance
The core staff consists of five guys: there's Jim Palm, Hearst's old property manager who's stayed on; Hodson's son Blake, who's learning the business; head growers Fritz and Nuusila Suani, two brothers who learned to grow weed from their father back in their homeland of Samoa; and Hawaii native Jason Spain, who calls himself "the janitor," but seems more like a supervisor. Spain – who'd previously run grow operations in Oregon, Washington and Colorado – was brought into the project through one of Hodson's partners.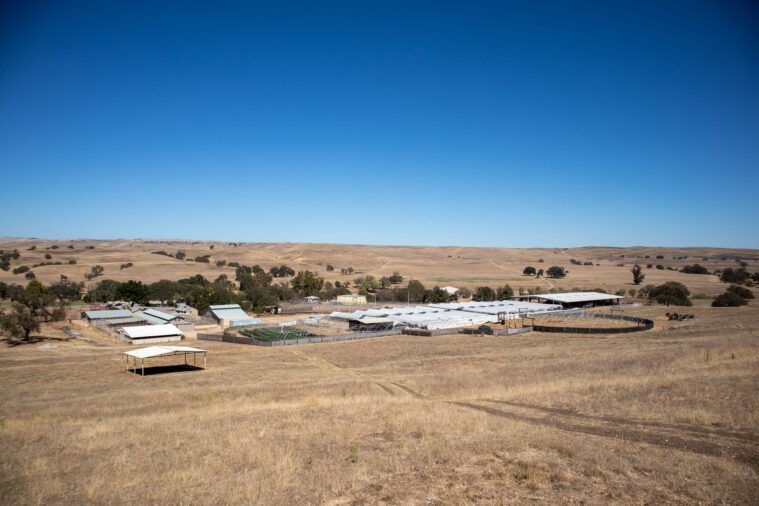 "Jason came up here right after we bought it," Hodson recalls. "He just looked around and said, 'I could probably grow some of the best weed in the world right here.'"
Surprisingly, although Northern San Luis Obispo County has been notoriously conservative and anti-Cannabis, Spain says they've had little trouble getting local officials on board.
"We started the process three years ago, and from when we filed to when we got our permit, took us just 16 months," he boasts. "So we're the fastest on record." Spain attributes this expediency to one thing: complete compliance, no matter the cost or inconvenience. "Whatever they asked us to do, we just did it," he says. "We've spent hundreds of thousands of dollars … but if it makes sense for the environment and the safety of our employees, we'll absolutely do it."
The Garden
The one-acre Cannabis garden occupies 130,000 square feet of outdoor canopy that includes 30 hoop houses containing around 6,000 plants, and another 1,000 plants in a separate 10,000-square-foot test garden. All of their plants are grown in fabric pots using their proprietary organic living soil blend which includes bat guano, feather meal, and Paso's own Black Diamond VermiCompost.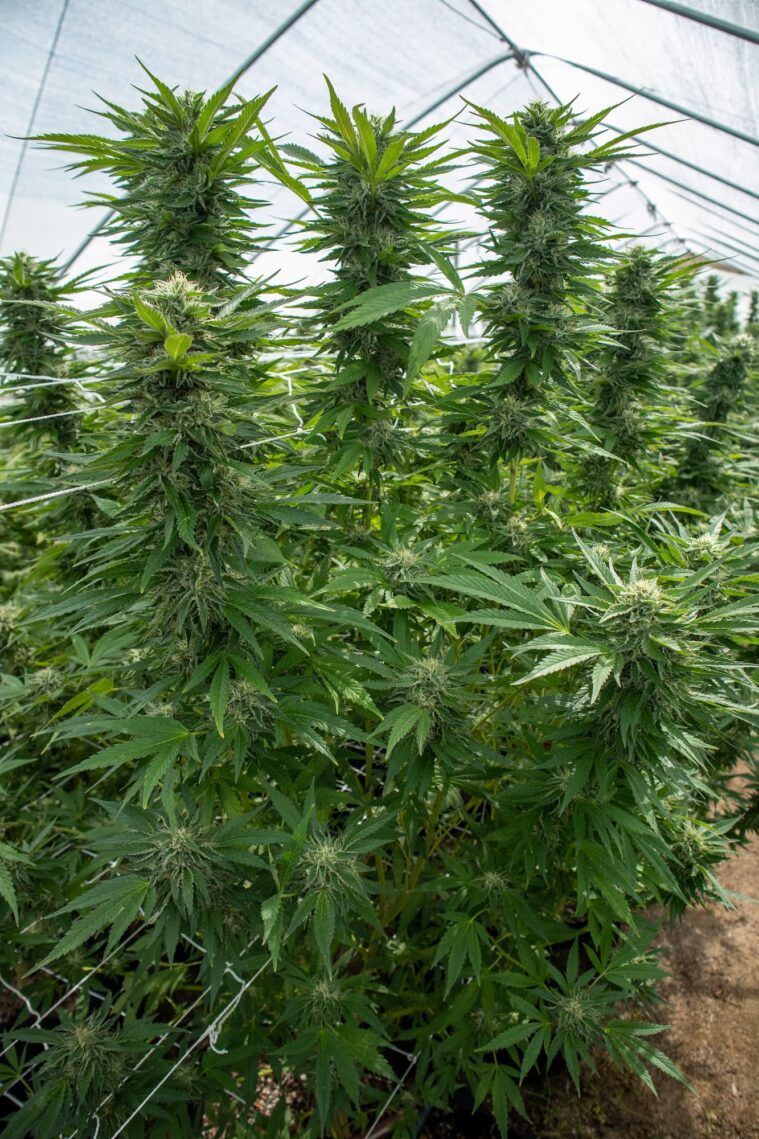 They're currently growing 17 different strains (including Grapes and Cream, Amarillo, Kush Crasher, PB Soufflé, and some old-school garlicky GMO), the majority of which were acquired as clones from Refined Genetics out of Salinas. This is only their second harvest here, but Spain says it's already "light years ahead of last year's crop." After harvest, all of their flower will be white-labeled to Phire Labs and two other big brands (undisclosed) to be turned into concentrates and pre-rolls.
Building on their goodwill with the local government, Spain and Hodson have plans for some major expansions in the works. In the next few years, they plan to add three more acres of outdoor garden and convert one of the barns into a 17,500-square-foot mixed-light grow – using 1,000 custom-designed 15-watt quantum dot LED lights – which they claim can replicate the sun at 98%.
Winery of weed
In addition to the farm, Hodson also hopes to make Estrella Ranch a Cannabis tourism destination. Though no Cannabis consumption or sales are permitted on the farm, those rules don't apply to the eastern parcel. Just across the road from the farm is George Hearst's historic home (complete with four fireplaces and a huge outdoor pool), which Hodson plans to rent out for guest stays and small events, as well as an old saloon building that will eventually serve as Estrella's tasting room – making good on the company's "winery model" slogan.
"Just like a vineyard, people will be able to drive up here, meet the crew, talk about the strains, then sample them in our tasting room," says Hodson. "It's all going that way … maybe not tomorrow, maybe not next year, but a few years from now for sure."