With a passion for the cultivation and culture of the Cannabis industry and an overall business mindset, owners Darren Cloud, Garrett Leon and Andreas Hero all provide diverse skill sets that help make Garden First Cannabis one of the most sustainable and commendable grows in Oregon. With Leon majoring in horticulture/soil science, Cloud with a business administration degree, and Hero offering an economics degree focused on media and advertising, it's no wonder this owner-operated company became so dialed in.
Always putting the garden first, their team is constantly going the extra mile to take care of their plants – even if that means staying at the facility until the wee hours of the night. Their "leaf at a time" philosophy encourages their staff to be present in the moment, bring their best every day, and not get too ahead of themselves. With everyone on the same wave of energy and playing their part in the garden, their business flows and operates better as a whole.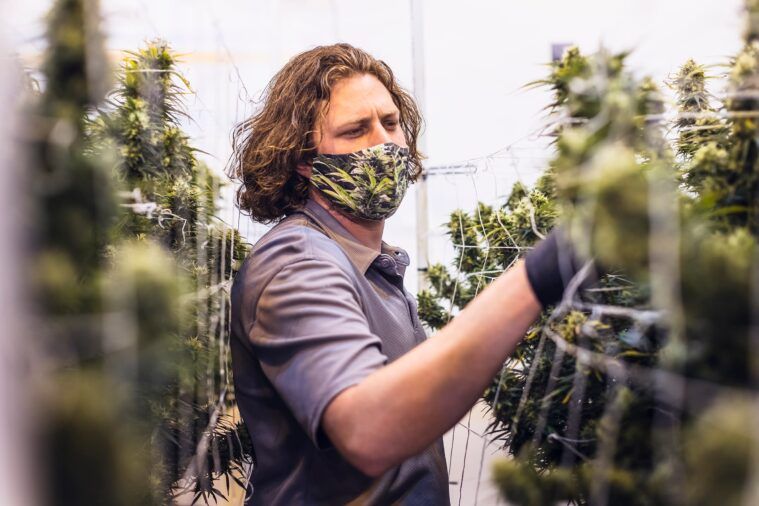 It is clear here that quality and efficiency are the names of the game, as Garden First Cannabis is proud of doing a lot with a little. Every round, they spend over 100 hours pruning each room with sterilized scissors to maximize airflow and light penetration, which then prevents mold, mildew, and pests.
Heading into the garden, we witnessed one of their gorgeous rooms in week three of flower, showcasing strains like Strawberry Cough, MAC 1 and Motorbreath. All of the plants were glowing with a vibrant green and healthy hue, thriving with life. With the use of predatory insects like cucumeris, nematodes, pirate beetles and Swarovski mites, they can keep their rooms pest-free.
Next, we ventured into the most mature flower room – currently in week eight. Our eyes widened and our mouths watered at the sight of the towering juicy colas reaching up towards the double-ended lights. Walking in, potent citrus-forward aromas buzzed throughout the room and instantly filled our noses. It's safe to say that some of these fruity smells were attributed to their unique genetics, including a Colorado cut of Rocky Mountain Moonshine (Moonshine Haze x Star Dawg) and the all-mighty and classic Golden Goat. Additionally, this room displayed genetics like Gelato Cake, 818 Headband and another Colorado masterpiece, Chiesel (NYC Diesel x Big Buddha Cheese).
Another praiseworthy facet of Garden Fist Cannabis is that they take all of their strains till week 10. Genetics like Strawberry Cough and Golden Goat need a bit of extra time for their genuine terpene profiles to shine, and they make sure that they give their ladies precisely what they need to flourish.
Up next we took a look behind the scenes at their hustling and bustling pre-roll department. Our team had the pleasure of meeting five hard-working individuals who crank out approximately 3,000 to 4,000 pre-rolls per day! All of the joints are placed in biodegradable plastic and inserted into a recyclable paper box. Garden First Cannabis constantly searches to source as many sustainable products as possible, including biodegradable gloves, using nylon trellis net instead of plastic, and stainless steel hotel pans rather than tin foil trays.
With oversight for quality control, all of their products are checked three times before heading out to the dispensary. Once by a trimmer, once by a trim manager, and once by an inventory manager. Overall, this ensures that each dispensary receives the most prime nugs possible – with no shakey buds.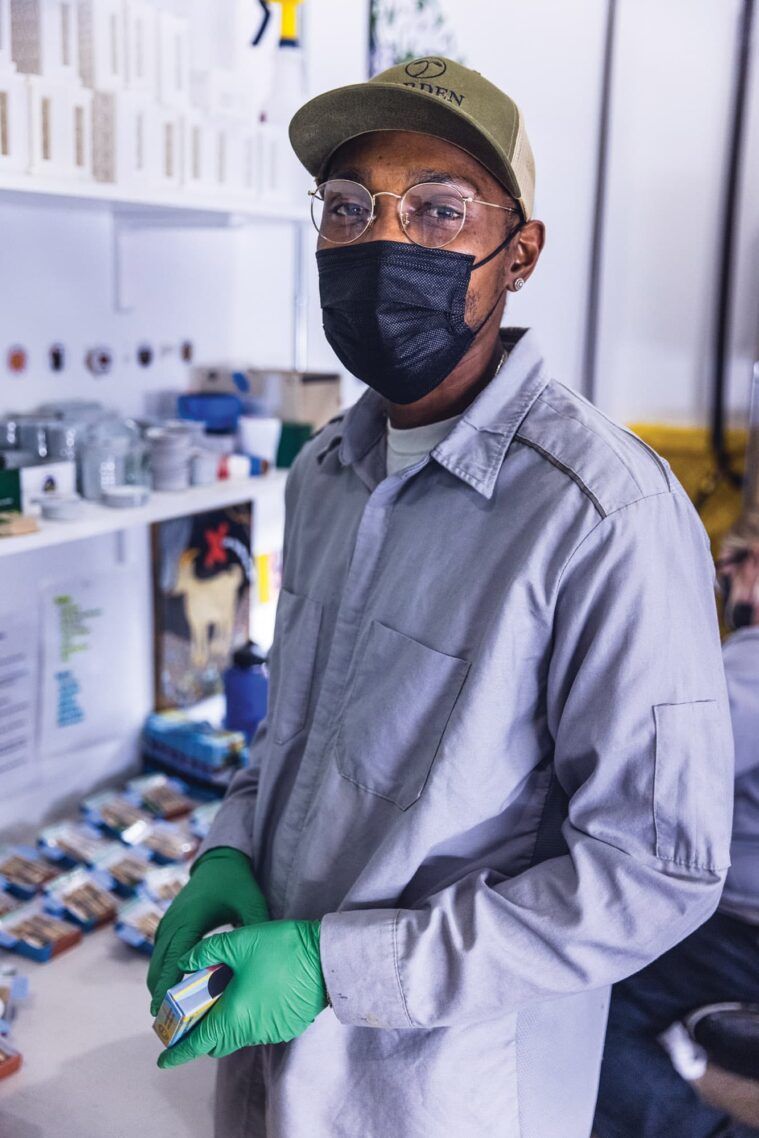 Cloud, Leon, and Hero created this business to form a workplace that provides career opportunities, not just another job. They want their employees to love where they work, and we could feel that energy radiating from their staff. Every member of their team is covered with full health insurance and makes a minimum of $15/hour. Each department has incentive programs to motivate its staff to reach that next level in life. And to make sure their staff can try all of the incredible products they produce, Garden First Cannabis has a partnership with Tangent Farmacy, where their employees can purchase an ounce of flower at cost, plus tax.
Another impressive aspect of Garden First Cannabis: 1% of total revenue gets donated to an approved environmental charity each year. This year, they are contributing towards One Tree Planted and Conscious Growth. Their team will be helping to build a garden later this summer in a SE Portland neighborhood!
These stoner owners are without a doubt in tune with both the culture and business side of the Cannabis industry. By investing in their employees and focusing on the garden first, is it without question that this excellent brand has carved its name out in the Oregon industry.