From the outside, Green Dawg Cultivators looks like any indoor cultivation facility. Nondescript. Industrial. A sign stating that the building is "Not open to the public" is posted on the front door. 
Inside, however, tall trees tilt beneath the weight of some of the industry's most heavily hunted genetics. For roughly a decade, the crew behind Green Dawg has made its name as one of the most respected indoor cultivation crews in California, and the cultivators behind some of the most sought-after brands you'll see on the shelf.
Until now, the crew behind Green Dawg has never allowed their story to be told, or their faces to be shown.
We spent a couple of afternoons in September behind the curtain, discussing their history, the challenges they've faced, and the method behind their magic.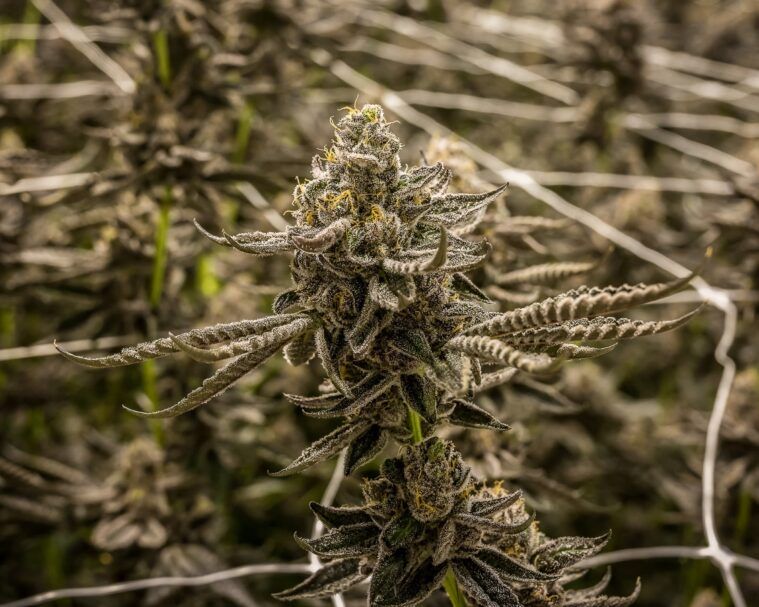 On the come up
Despite being a significantly sized facility, Green Dawg boasts a tight, efficient crew led by three partners: Drew Coggio, Eliot Papas and Keegan Manning.
Lifelong friends, the three of them were born in Vermont and enjoyed a New England youth before moving to California.
"Our parents are friends," Coggio said of Manning. "We grew up in diapers together."
Not only did they toddle together, but the Green Dawg crew discovered Cannabis together – and learned to cultivate tall trees together.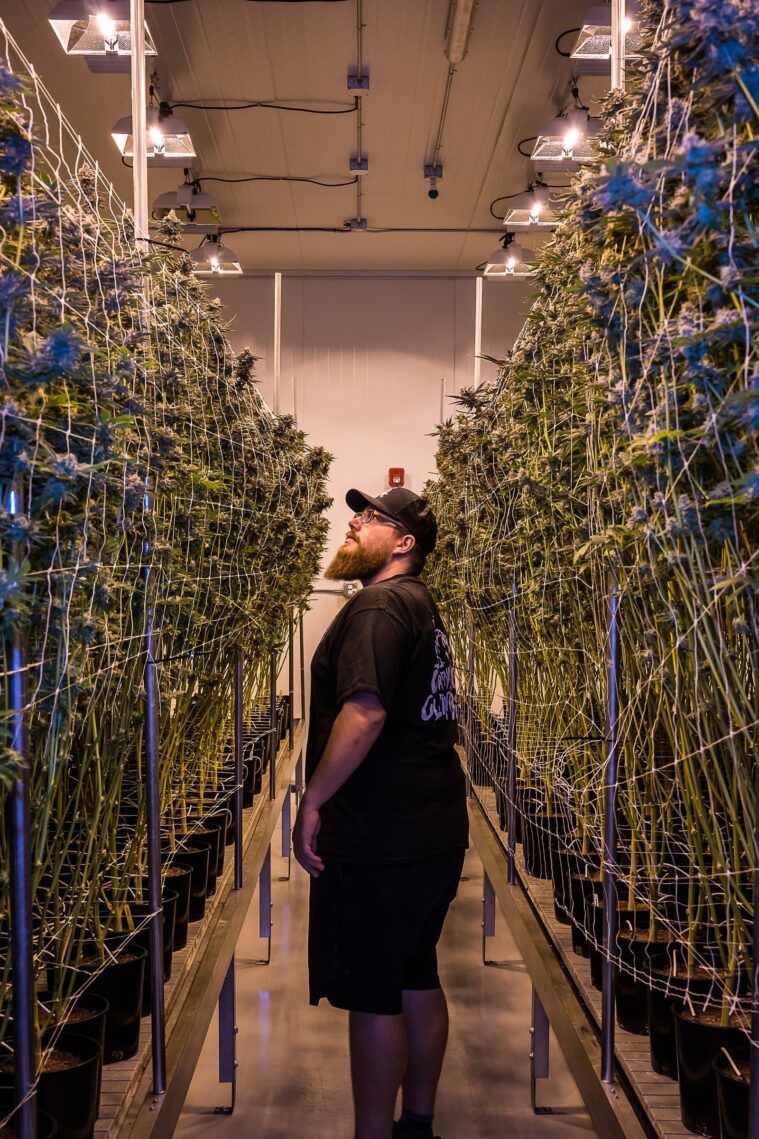 In 2014, they formed Green Dawg Management and Consultants, and began working in the Prop 215 medical market. They took over operations at a friend's cultivation in San Jose, forging a partnership that allowed them to release their own genetics on a co-pack basis. 
The deal allowed them to build their brand, while also building out their own facility in Sacramento.
In 2018, Coggio formed Sacramento Craft Collective, which then partnered with Green Dawg and Turtle Pie as separate entities, in order to offer contract cultivation to third parties. Their approach has allowed them to specialize specifically on cultivation and distribution/fulfillment, and because of that, they've turned out some unbelievable gear. 
The Struggle
By the beginning of 2020, Coggio, Papas and Keegan had come out of the traditional and medical market to gain well-deserved respect in the legal Prop 64 industry.
But then, just as their legal business was starting to take off, it nearly all came crashing down. Literally. The roof of the Green Dawg cultivation facility collapsed, taking out six of eight rooms.
"It was so brutal, man," Coggio said. "We had a sunroof. It was catastrophic. We were a sneeze away from being entirely out of business."
Speaking of a sneeze away, that collapse happened on March 12, 2020 – during a rare soaking wet week in Sacramento that also ended up being particularly tragic beyond the walls of their facility – as Covid-19 began to truly ravage the planet's populace.
At that point, everything for Green Dawg was up in the air. But they didn't tuck tail and run. They bared their teeth and dug in their claws to scratch their way back. It's a testament to the trio's unified strength that they pulled together, rebuilt, and in October 2020, relaunched in the midst of a full-fledged pandemic.
As any connoisseur of indoor flower will tell you, it was the right move.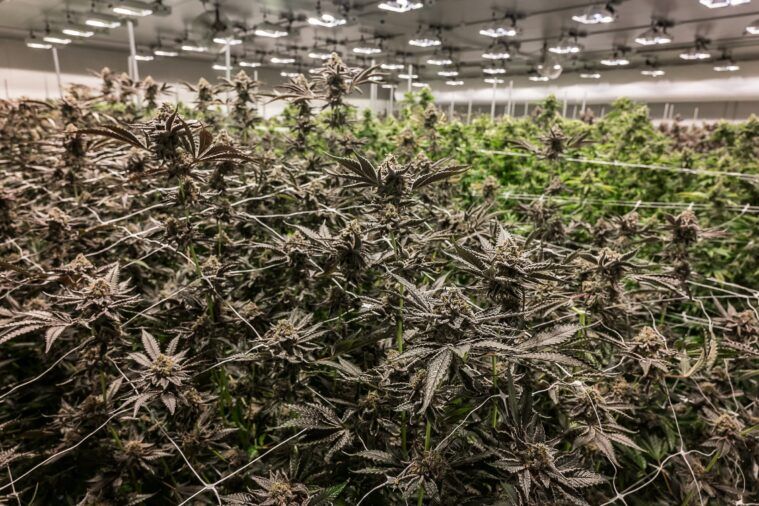 The Blueprint
Though they have a bulletproof rep for cultivating hard-to-find, premium quality flower, Coggio will be the first to tell you that Green Dawg itself isn't a lifestyle brand. 
You know those amazing artists that you only find out about when you hear that your favorite performer listens to them? That's Green Dawg. They're the guys your favorite farmers keep in their head stash.
They cultivate for their own lifestyle brands, like Blueprint and Turtle Pie, but beyond that, they're also the sticky green thumbs behind some of the most hype strains to come out of California in recent years. Zoap from DEO, aka Deep East Oakland? Green Dawg grows it. Same with Doja Exclusive's legendary RS11 and Studio 54.
In a recent conversation, Ryan Bartholomew, aka Doja Exclusive, discussed his friendship and collaboration with Green Dawg. They go back to the pre-Prop 64 days, and Doja tapped Coggio and Co. to be the cultivation house for the genetics he curated with DEO Farms and Wizard Trees. (See more information and a review of Doja's Studio 54 in the October Strain of the Month feature).
"Now we have this legacy situation where I'm working with someone I've known since the prop 215 days," Bartholomew said. "It's nostalgic. It's dope to be able to be working with them like this."
The Harvest
We at the Leaf haven't had the chance to try all 178-odd strains in the library at Green Dawg. But we did get the chance to sample a few.
We discovered what very well may be the most delectable, mouthwatering Mochi we've ever had. Their namesake Dawg Breath hit like a tanker truck overflowing with high octane fuel. The RS11 and Studio 54 lived up to the hype, with complex, downright gourmet terpene expressions.
In fact, we can honestly say that every single flower we sampled was phenomenal.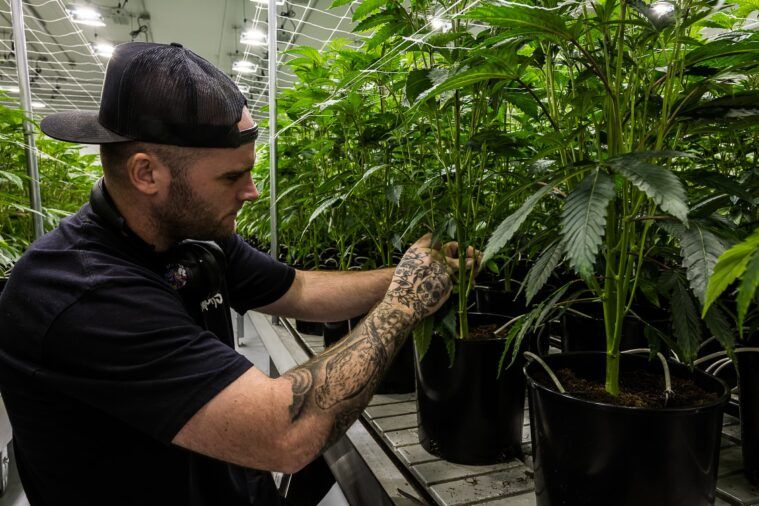 According to Coggio, Green Dawg and its associated labels have designs to continue to scale along with the industry trends, but with one caveat. They will never abandon their current commitment to uniqueness and quality.
"I think we're the future," Coggio said, referring not to Green Dawg, but rather to geneticists and cultivators who continue to hunt for unique, boutique expressions of the plant. "As this industry commoditizes, groups like us will be able to maintain their reputation by cultivating extremely high-quality Cannabis at scale."
As much of the market moves to enormous-scale production for biomass and the inevitability of global distribution, Green Dawg believes that they'll be able to keep the craft segment alive and thriving.
"All we care about is the culture," Coggio said. "And it comes in the form of our finished product."