Anthony Ott and Tiffany Rangole came from California. Anthony is an incredibly talented Cannabis grower who's extremely passionate about the Cannabis industry, with over 20 years of highly valuable experience. Anthony established TrueCare Nursery back in 2011 and supplied clones to hundreds of growers in the state. Anthony's drive and ambition drove him to go big in Oregon, with the state's Cannabis laws and regulations being further along than California's. He convinced Tiffany to leave her career in Venture Capital to build an amazing company together as a family farm.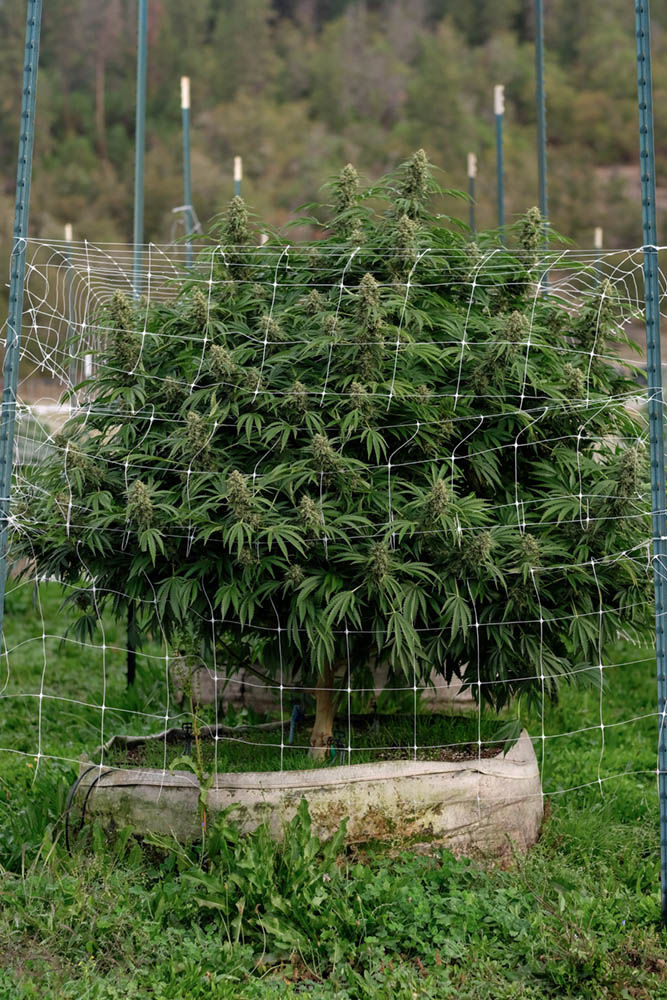 In addition to dozens of strains and genetics dating back to their California days, TrueCare Farms is home to a flock of chickens, guinea fowl to scare away rattlesnakes, and a rescued junkyard dog named White Dog. Living on a farm is both a huge responsibility and a point of pride for the family – further evidenced by the clean spaces and neatly trimmed grass, not to mention the vegetable garden that's next to a chicken coop.
Located on a gentle downslope in a valley, the farm is surrounded by a moat to keep runoff from other farms and agriculture from washing into the living soil beds the plants are grown from. They have extensively tested the soil – noting that a section of the field has higher sand content naturally creating better drainage, and therefore needing water more frequently. River rock and other indications would suggest that areas of the valley were once under water, which is partly why it's such fertile ground to grow in today. With living soil and organic practices, the ground on which the family lives and grows is getting healthier – while the farm sequesters carbon and gives back to the earth each harvest in a symbiotic relationship that will continue for many more seasons to come.
How did you end up here in Oregon as a Cannabis farming family?
Tiffany: We're a family owned and operated farm, we moved here in 2017 and 2019 was our first commercial year. Anthony began growing in California and has extensive background and experience in indoor and outdoor grows – but this was our first large-scale outdoor grow. We were new to the environment, so there was a bit of a learning curve, but we're diehards. We live here; we're out here every day; this is our full-time life.
What was it like to leave the Bay Area and risk your future on a Cannabis farm?
T: Anthony's been passionate about this his whole adult life: he's obviously an expert in what he does and he's very ambitious … and I came along for the ride. But it's definitely taken teamwork, and there's been a lot of blood, sweat and tears that we've put into this. We really care about the product that we grow. We take pride in our work and strive for greatness, likely because of how we were raised and the competition level in the Bay. It's helped us to get where we are now.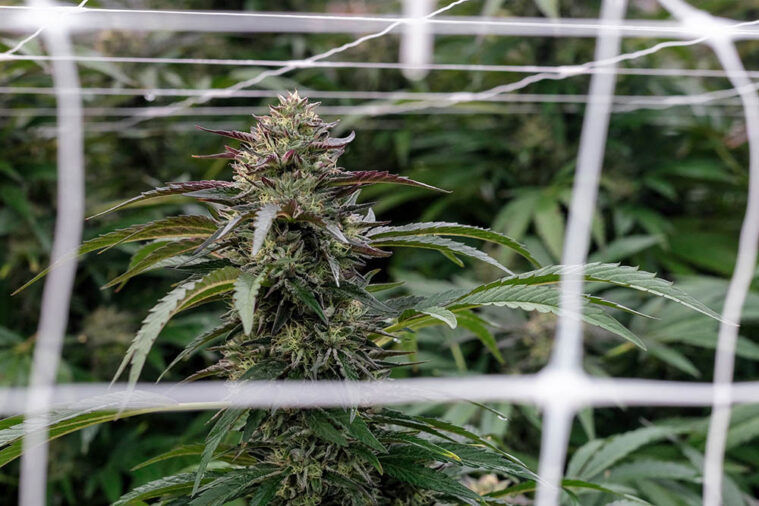 What was it like going from operating a nursery and growing indoors to working outside?
Anthony: Those were fun times. I enjoyed the Santa Cruz years, but it was indoor. I feel like indoor is the easiest type of growing you can do. You can control every bit of it, and unless you really don't know what you're doing, you can grow great weed if you start with great genetics. But you go outside? Good luck. There's a whole lot more to deal with. It's Mother Nature. It rains in October, and the frost could come tomorrow. And that makes it more exciting … and that much harder.
How do you pick which strains to grow?
T: Out in the big field are our tried and true strains, and every year we pheno hunt all from seed. Anthony has accumulated quite an impressive seed bank and genetic library from all his years in the industry that we now get to play with. We look for a variety of hybrids/sativas/indicas, and different terpene profiles from the gassy to fruity to citrus, and look for some that are really crystally and beautiful. It's a balance: We may have some strains that look the best or some that don't look the best but smell and taste amazing, or ones that may not be either but smoke the best. So we test them out, see which strains do really well here, and put the winners in the field the following year.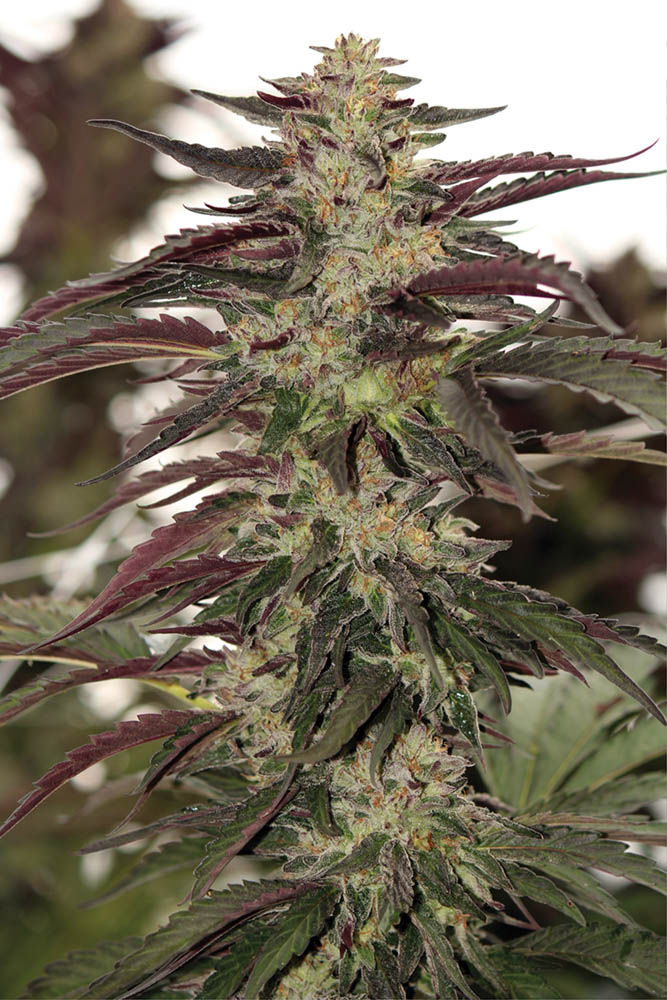 Which strains are you most excited about this year?
T: We've found really good, strong sativa strains – like our Stairway to Heaven, Jack Herer and Durban Poison. Growing sativas here is harder because you're battling the elements late into the season. But the strain I'm excited about the most this season is Popscotti – it smells exactly like Skittles!
What is your favorite part of living the lifestyle of a farmer and growing Cannabis?
T: The best thing is doing it as a family, and being able to raise our son here. My background is in corporate finance, so it's quite a change to run a farm for me and it comes with its pros and cons. No one is going to tell you things have to get done but yourself – it's all on you. I've learned a lot about this industry and myself, and as I said, we take a lot of pride in our work. So at the end of the day, knowing that we are capable of producing some of the best outdoor Cannabis in the state, we can't help but tell ourselves 'good job.'
A: When people smoke our product and send us compliments thanking us for what we grew, it's the fuel to keep us going. There have been a few times where we've wondered, 'Are we done?' – and then an email will come in and we'll say, 'Fuck no, we're not stopping!' And I might be biased, but I think this year is the best quality flower we've ever produced.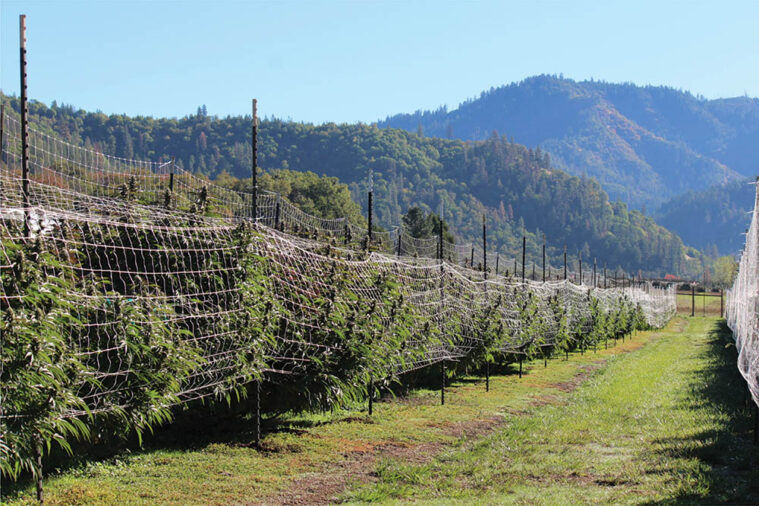 What is your hope for the future as a farm?
T: It's hard to be limited to sales in just Oregon, because we want to reach everyone in the country – but growing here we feel like it is prime because you can't grow outdoors everywhere in the country. Outdoors is on a whole different level – its own challenges and rewards – and what the sun does is absolutely amazing. The terpene profiles and flavors that we get from organic and natural growing are unique, and we want to share that with the world.