Johnny Casali was 24 years old in 1992 when federal agents came calling at the door of his multi-generational farmhouse in California's legendary Humboldt County.
It was a fateful day that would lead to nearly a decade of federal incarceration for simply cultivating plants in the style and tradition handed down by his parents.
Now, nearly 30 years later, Casali holds a position of respect among the legal cultivators in the Humboldt Cannabis community. His path has not been easy, and his story, while unique in its details, rings with a familiarity that reverberates through an industry still shaking off the shackles of a failed Drug War.
A family legacy
"From the age of 10, I was following my mother around, watching her, learning from her how to cultivate Cannabis, and vegetables and fruit trees," Casali said of his mom, Marlene Bandoni. "I really just fell in love with participating with my mother, and learning her techniques, learning what made her a master grower, per se, in the Emerald Triangle community's mind."
For Casali's family, Cannabis was one of a number of crops and income streams that included fishing, crabbing and mainstream agriculture.
"We were really just living off the land, and supplementing our income with small bits of marijuana," Casali said.

The budding cultivator's interest grew along with him, and by the time he was a teenager, his mother struggled with whether it was OK to let her son begin to grow on his own. At age 15, she decided to allow him to grow 10 plants, as long as he agreed to hand over the Cannabis to her and put the money either into a college fund, or a wise investment. "You couldn't buy a motorcycle, you couldn't go on vacation," he said. His first solo grow yielded about 12 pounds.
"I ended up being able to make enough money where I put a down payment on 11 acres of property on the Eel River," he said. His parents co-signed. "That was my first experience with making money from Cannabis, and really, from that point, it was just on."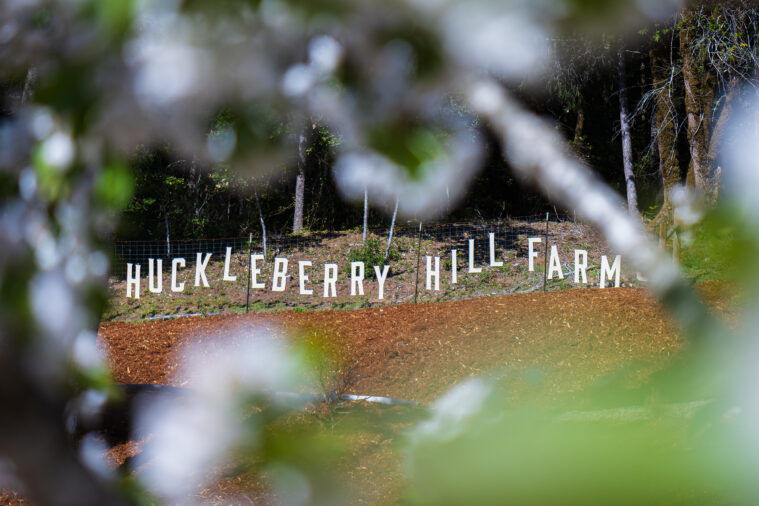 A sea change
After a couple of years of college, Casali's parents bought a commercial fishing boat, and handed the farm over to Johnny, who cultivated Cannabis with his best friend, Todd Wick.
This was in the late 1980s, and with the Reagan-era War on Drugs in full force, enforcement grew far more intense in the Triangle.
"You would see convoys along the roadways, you would see helicopters overhead," he said. "You could no longer grow out in the open if you wanted to make it."
They had to start cultivating underneath the tree canopy, with such low per-plant yields that they had to significantly increase their plant count in order to maintain harvest volumes. Being twenty-something, carefree, wave-riding Cannabis growers, they didn't realize that the increase in plant count also increased their chance of attracting the wrong kind of attention.
Fate comes knocking
Early one morning in 1992, Casali heard a noise on the farm that didn't sound quite right.
"I heard somebody driving up the driveway really fast, and I just thought it was maybe one of my friends who wanted to go surfing, or this or that, but we had a rule that you just don't drive fast on the farm," he said. "So I came running out the door, but instead of meeting one of my friends, this time I met a guy in camouflage with a 9mm to my head, and there were 30 federal agents."
They gave him the option to leave the property, but he chose to stay while they searched the farm, confiscating, among other things, seed packs and 13 pairs of trimming scissors. They gave him a yellow ticket, and they left.
His lawyer, Ron Sinoway, warned him that the Feds had a five-year window to return, and were more than likely to arrest and convict.
"He said, 'If you're planning on cooperating with them, I want you to walk straight back out of my office right now,'" Casali said.
That, Casali says, is the moment he knew he'd found the right lawyer.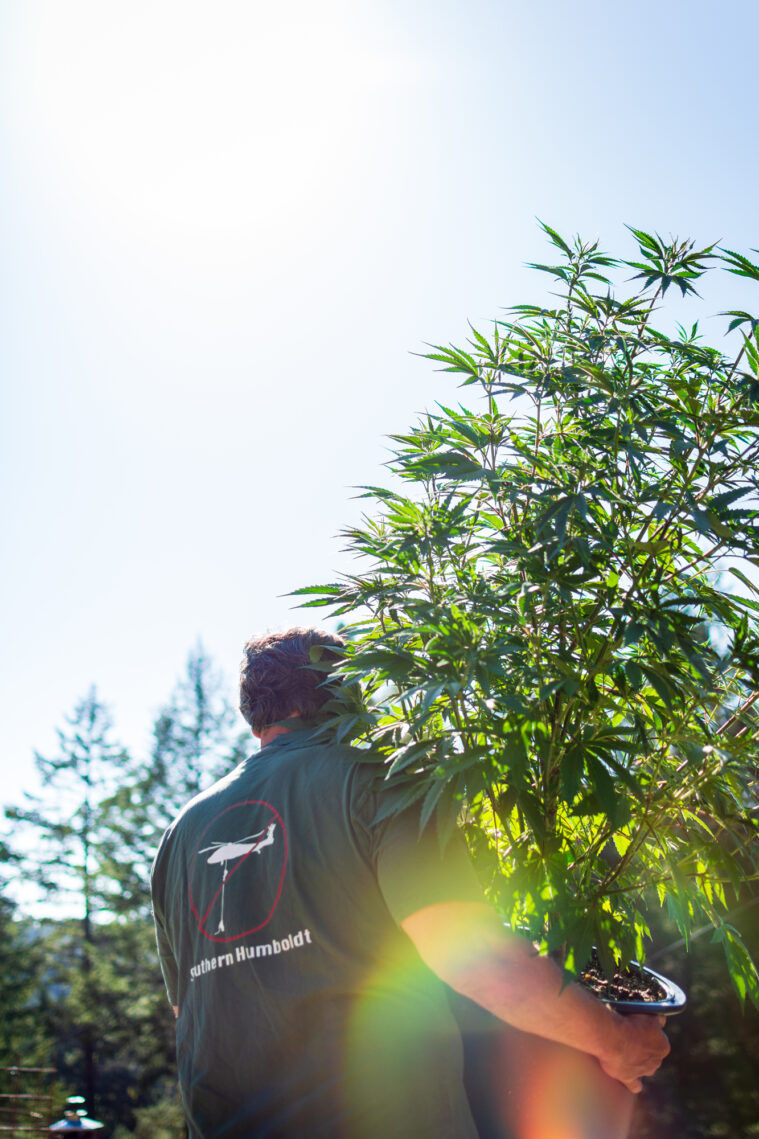 A criminal trial
After a year and a half, the Feds came back for Casali and Wick, kicking off a two-and-a-half-year trial during which the pair faced a mandatory minimum sentence of 10 years to life.
At one point, they saw a glimmer of hope in the potential that they could get a reduced sentence as nonviolent first-time offenders. In the end, the linchpin wasn't the Cannabis, but the trimming scissors.
"The prosecutor was able to tell this judge that 13 pairs of scissors could only mean that I had 13 workers," he said, "and these seed packets that I had in my house could only mean that I had a prior grow, since I had those seeds."
In the end, Casali and Wick were sentenced to the mandatory minimum of 10 years at Lompoc Prison Camp in Santa Barbara County.
Serving the time
When describing his sentencing and his internment at Lompoc, Casali fights back tears – his voice shaking under the weight of regret.
"I didn't feel bad for myself. I felt bad because of the pain that I had brought to my mother and father. All they wanted to do was to give me the best life possible, and they felt very guilty for what had happened because they blamed themselves."
Casali recalls his walk up to the gates, where he waited with a group of 10 inmates for intake.
"They asked me how much time I had gotten, and I told them '120 months,' and they were just flabbergasted that they were looking at someone who had more time than anyone else at the camp at that time," he said.
Casali spent seven years building relationships with the other inmates, as well as the farm managers and guards, working the cattle and cultivating vegetables. He formed a particularly strong bond with the man who ran the prison camp, Ray Escobedo.
"I used to bring him little plants, habaneros and things, and he would plant them in a little garden," Escobedo said when contacted via phone for this story. Escobedo remembers Casali as being an exemplary farmhand, and by the end of the first year of his sentence, Casali had already earned a solid reputation at the camp.
"One afternoon, I heard my name come over the speaker from the chaplain's office, and you never want to hear that, because it's never anything good," Casali said. "My inmate friends, they all looked at me, because that's what you do, like, 'Oh, God, what happened?' So, I went to the chaplain's office, and that's when they told me that my mom had passed away. She was actually scheduled to visit me the next day."
Escobedo went to the warden and vouched for Casali to leave the prison with a marshall to attend his mother's funeral.
After seven years, Casali and Wick were transferred to a drug program in Las Vegas, then to a halfway house in San Francisco for six months, before being given probation. They were then given leave to start their own landscaping business, Eel River Landscape.
"We were mowing lawns, and trimming bushes and hedges for little old ladies in town," he said. "I still look back at those times, and just remember that first day when I got back up to Humboldt, and everything just put a smile on my face. I could sit out in the yard for hours, and the air smelled amazing – that's what life should be like for all of us, all the time."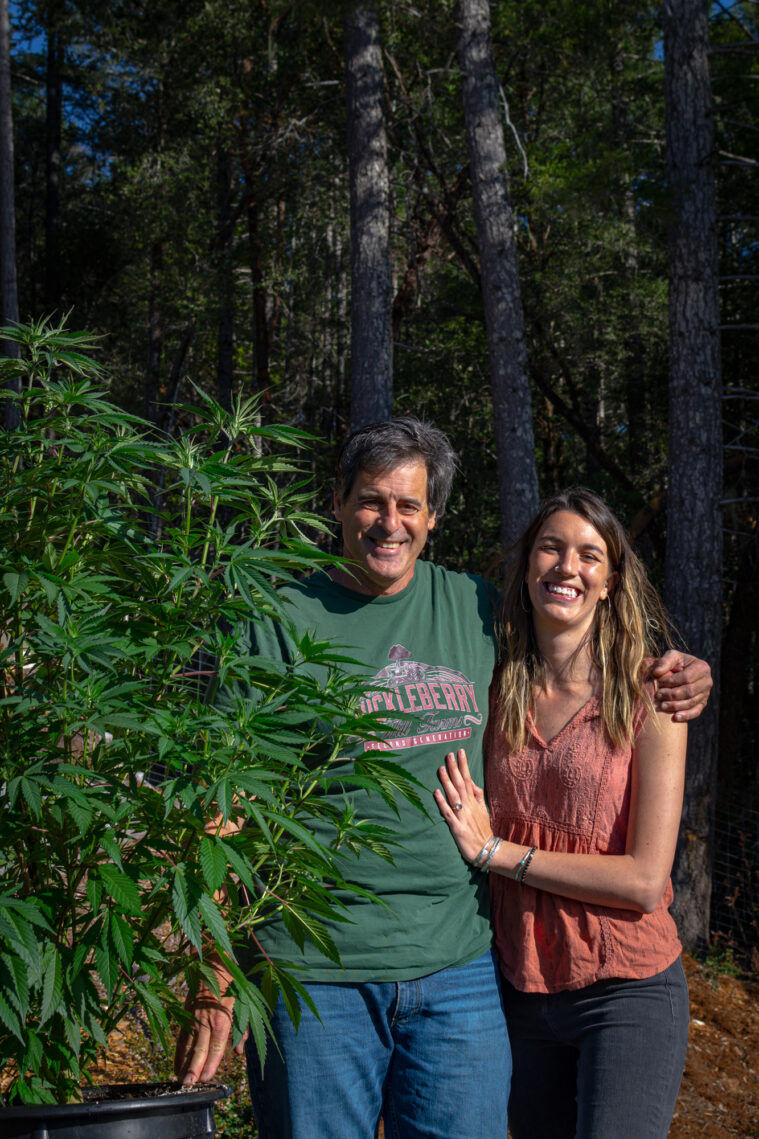 Passing on the legacy
After nearly a decade of federal incarceration for operating his family's legacy farm in Humboldt, Casali feels overwhelmingly lucky to be able to finally share his craft with the California Cannabis community.
"Since I learned everything from my mom, I thought it was so important to just honor her, and to share her story with people. So every strain that I grow here today is bred with a strain that she used to grow 45 years ago," he said. "I do that in her honor. There are some that are named after her, called Sweet Marlene. There's one that's called Whitethorn Rose, and they're all bred with her strain that she bred with my best friend's mother, called Paradise Punch. I like the idea that nobody else in the world grows these strains, and whether they're the best or not the best, it's part of the story of Huckleberry Hill Farms. It's part of her story, and it's part of my story."
Like so many people who've seen the damage caused by failed drug policies, the retired prison camp manager Escobedo now sees Cannabis in a different light.
"It shouldn't be illegal," Escobedo said. "It's no different than alcohol. It's probably better than alcohol, you know. But it was illegal then."
In recent years, Escobedo and another former prison camp manager came to visit Casali at his farm.
"He gave me a couple of seeds," Escobedo said, "and I planted them here, and I made some creams out of them, for medicine, you know."
Despite the freedom Casali now enjoys, he still regards helicopters overhead with a watchful eye, and can't shake the fear of the potential blowback that could happen to him as retaliation for speaking out. Even though his livelihood and his craft are considered legal under California law, it is still federally illegal.
"All it would take is for them to come here, and find something that they can point to," he said. "More often than not, someone like me should be quiet and fall by the wayside, but that doesn't really help anybody. I owe the community to speak out about where this multibillion-dollar industry was created."