Positioned in the beautiful rolling hills of Newberg, Oregon, resides one of the cleanest grow facilities we have had the pleasure of checking out recently: Derby's Farm. Director of Operations Noah Bustos and Director of Cultivation Jeromy Bruce first met here in Oregon through some mutual acquaintances at a party. After realizing their similarities and overall outlook on the importance of Cannabis and the power it holds, they formulated a business plan to get everything started up.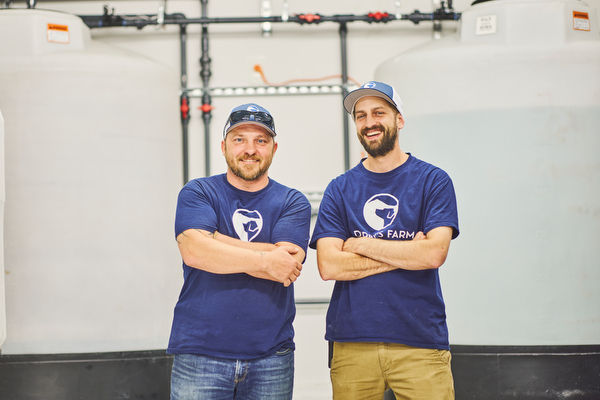 They both shared a traditional ethos and goal: to grow the best Cannabis humanly possible, all the while building a culture and family for their employees and community.
Together, they found an outside investment and began designing and creating their cultivation operation. Renovating and retrofitting older farm buildings, they built out their facility and even added a new building from the ground up. As Bruce has over 20 years of Cannabis production experience under his belt and an extensive background in plant horticulture and health, and Bustos provides knowledge on R&D, breeding, pheno hunts and SOP development – it's no wonder why this grow stands out from the crowd.
Before entering the first flowering room, we utilized the blue sticky mats with our shoes to ensure we were not bringing anything into the grow. Cleanliness is next to godliness in their books, as there was not a speck of dust or dirt in sight.
This 2,000 square foot building showcased a 44 light room with HPS lighting, with a balanced canopy and obviously thriving plants. In this part of their operation, they had strains including White Runtz, Wedding Cake and Blueberry Muffins. Their Slurricane truly stole the show, as the leaves stacked with frosty trichomes made our jaws drop. The majority of the cultivars in this room came from local clone providers Archive Genetics and Kaprikorn Clones.
We then walked over to their other 5,500 square foot building that housed close to 5,125 plants in a total of three zones. With a perpetual cycle locked in, they are pulling down a crop every two to three weeks. In the rooms on the ground floor, they use Pipp's mobile vertical growing rack systems. After adding a scaffold into the mix, they are now working way more efficiently and saving massive amounts of time. Down below, we enjoyed taking a look and smelling their Strawberry Pinecone x Mendo Breath and God's Breath underneath Fluence LED lights. Their Grape Pie certainly stood out, as it looked exceptional and possessed all of the classic characteristics of this legendary strain. The top row is utilized for lanky genetics such as Honey Wine, helping keep them a little shorter and more manageable.
In the room directly next door, we encountered vegetative plants getting ready to flip to be flowered. We were lucky enough to see their in-house creations, such as Zurple Ztarburst (Zkittlez x Purple Starburst) and Squozen Lemons (Mimosa x Zkittlez). Keep an eye out for some of these strains in about three months!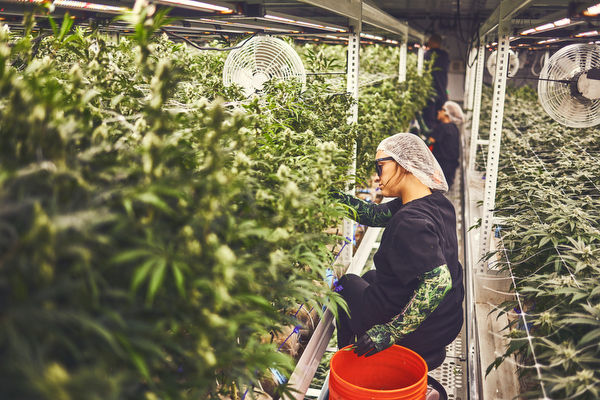 Wandering upstairs brought us to three identical rooms that took up 450 square feet each. One room displayed a perfect crop of Vanilla Frosting, while the other exhibited a chunky version of UV that smelled like a fresh-squeezed glass of orange juice.
In a nutshell, Derby's Farms operation is one of the nicest we have seen to date. A few more notable factors about this company are their oversight of sustainability and teamwork. The drainage used/water run-off goes directly into their RO system, making up about 50% of their total water usage. They also have a roof collection system that feeds into their storage water tanks. You can literally feel their desire to keep the earth clean and have a minimal carbon footprint.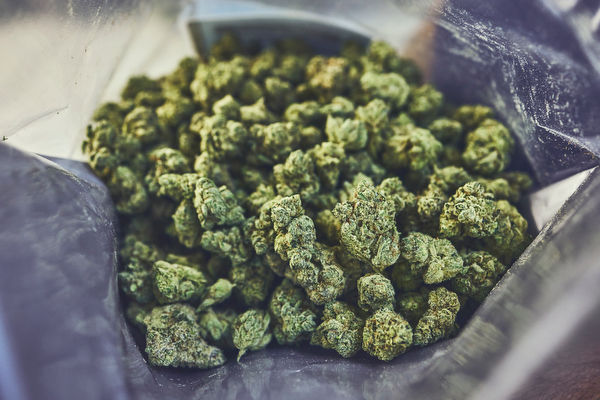 On the day of our visit, we experienced their team all coming together for a pizza cookout. The amount of love and synchronicity felt between their staff was beyond apparent. As both Bustos and Bruce said, "Our team is our backbone! We must give credit to them; they do a wonderful job here at Derby's Farm." Indeed, they value their employee's input and ideas, routinely having meetings to discuss progress and goals.
The forward-thinking style of this company when it comes to technology is the icing on the cake of their already stellar operation. They're equipped with environmental sensors, monitor all inputs strictly, and fine-tune strains for optimization via their employment of advanced technologies. As far as the future for Derby's Farm, you can expect to see a sungrown organic operation, a greenhouse infrastructure, in-house bred strains and some pre-rolls very soon. Rumor has it they also recently acquired a seed stock clone of 1969 Hell's Angels Road Kill Skunk. Stay tuned!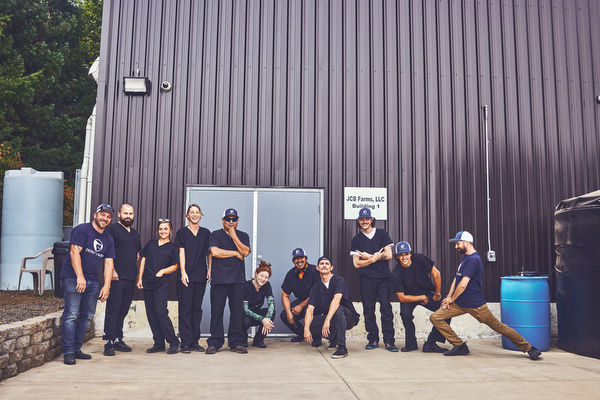 Derby Farms by the Numbers
Number of strains: 20+
Number of plants: 6,325
Number of employees: 11
Number of pounds harvested per year: 1.5 tons
Primary grow style:  Drip Irrigation Coco + H20 reclaim system
Lighting: HPS & LED
Soures of Nutrients: Growth Science- Biostimulant line
Canopy size: 7,500 square feet