We're letting our legs dangle from the rafters of Jesse Robertson's barn, and his dog Moxie starts to whine up at us from the edge of the ganja grove below.
Robertson pauses in the middle of making an impassioned point, arms up in the air.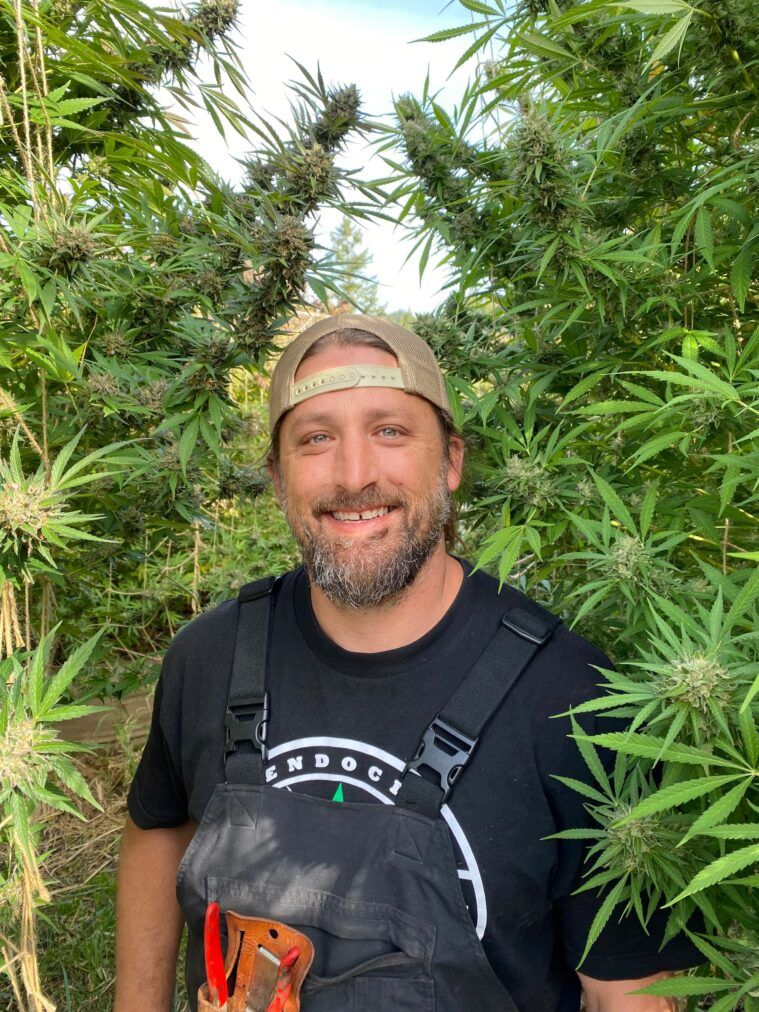 "Oh, now she's getting nervous," Robertson laughs. "It's OK girl, Daddy's just getting excited."
As the legacy owner of Sticky Fields, the 41-year-old Mendocino farmer tends to get passionate when talking about his farm and the Cannabis community.
In the waning daylight of October, California Leaf Magazine ascended Little Darby Hill outside of Willits, winding our way to Robertson's unbelievably gorgeous 80-acre property. We spent a long, memorable morning walking among the tall trees there – discussing his life, his thoughts on cultivation and his philosophy.
A lifelong passion
Robertson started cultivating early in life, following in the footsteps of his mother and his aunt, who established roots in Mendocino when Robertson's grandmother – also a Cannabis farmer – moved to the area in the 1960s.
"I've been in love with this since I was 12," he said. "I was 12 years old when I grew my first plant. I put it in a Solo cup in the window, and then I hid it in the yard."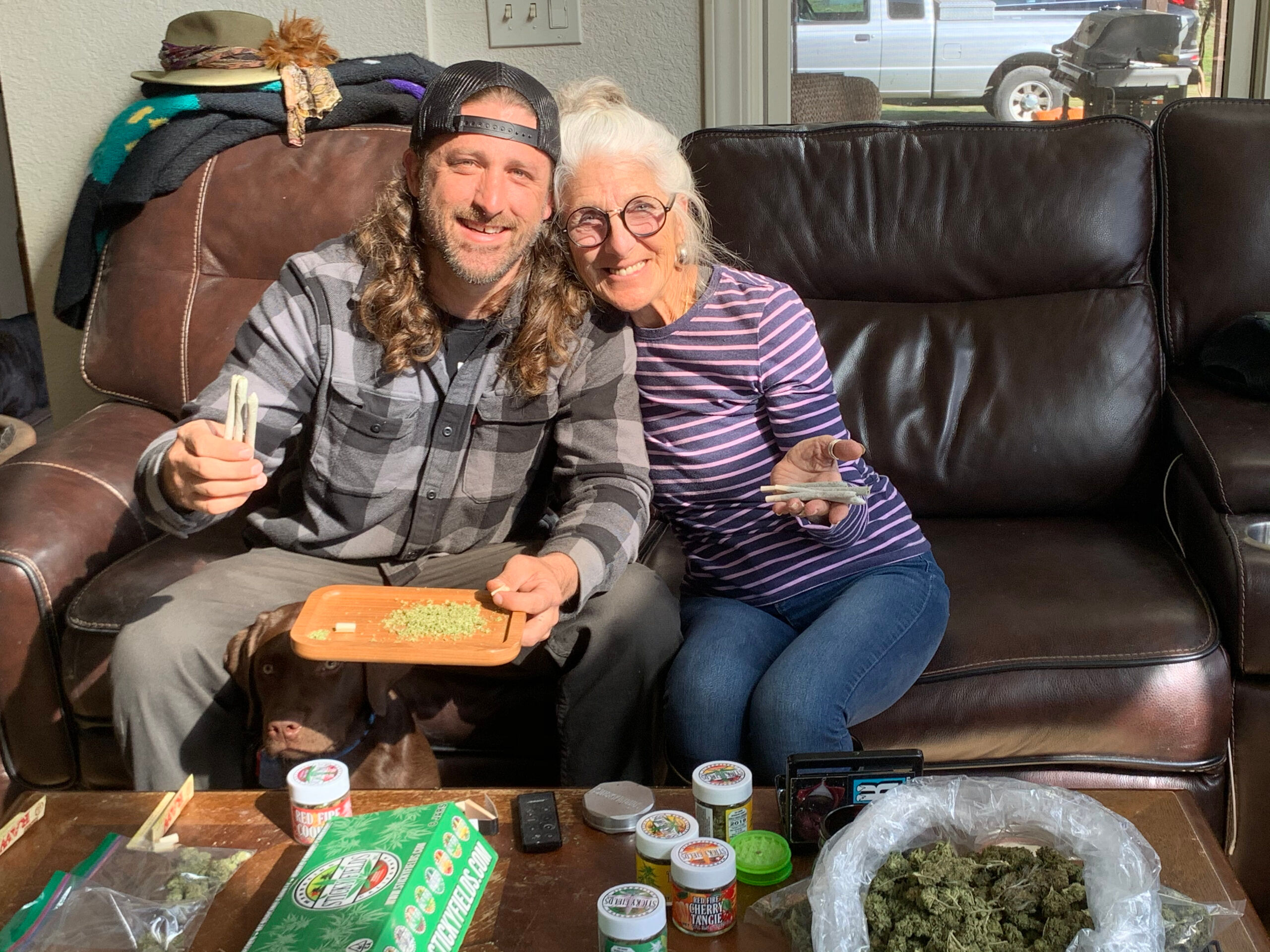 As a teenager, he started traveling from his home in the Bay up to Mendocino, where his mom and aunt had their farm. From there, he went medical when Proposition 215 came about, and took the difficult leap to the recreational adult-use market under Proposition 64.
It's that choice that gets him so passionate that it worries his dog Moxie. The recreational industry hasn't been easy on small farmers, as the industry continues to grow under regulations that favor large, well-funded companies.
He's taking measures to ensure that his farm survives the difficult times he sees on the horizon, and he knows it's going to be a hard-fought battle.
Keeping it tight
Robertson keeps his operation manageable and focused on quality, of both life and product. Sticky Fields balances a seed stock and a clone program, keeping strain releases fairly tight.
As we stroll beneath the canopy of 12-foot-tall, 15-pound-yielding plants in his seed field, breathing in the terpene breeze, he points out some of the contenders. Mendo Mint x Red Fire Cherry Tangerine. Mandarin Tart x All Gas OG (a cross of two of his most sought-after strains). An F2 cross of Mandarin Tart x Mandarin Tart.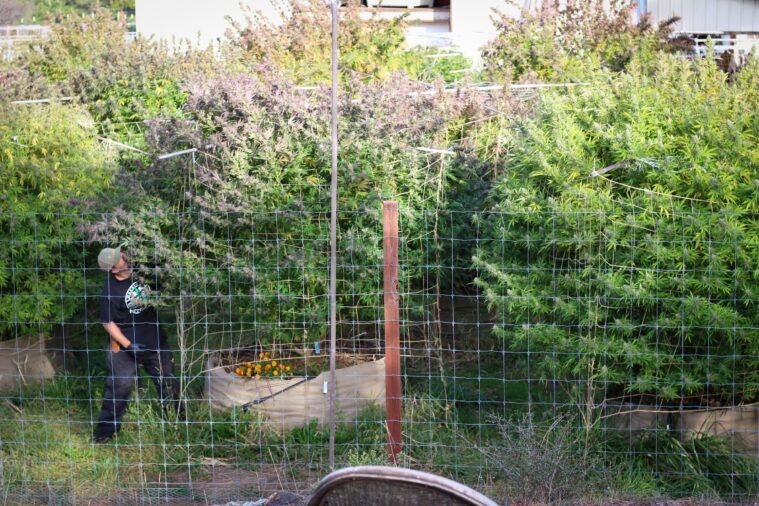 Sticky undergoes a rigorous selection process for what actually makes it into jars, culminating in the final test, where Robertson makes sure he enjoys smoking an entire joint all the way down to the nub. Only then is it worthy of release.
Though Sticky has to be picky, Robertson obviously loves his plants.
"I save a cut of everything," he said. "I love everything. I save all the plants, because it's something special, man, and you might never see it again."
This year, he's releasing a mix of seed plants and his own picks from his clone program, for a total of 12 flavors.
Finding balance
Robertson describes himself as someone who had a tough streak in him as a young buck coming up in the community, but you wouldn't know it from talking with him now.
He talks passionately about his family, contending with a rough and tumble past, and finding solace and spiritual connection in the field.
"I walk around here mostly barefoot," he said. "This plant has brought me closer to my real self. To my ancestors. I have a connection to this earth."
Harvest time is his favorite time of year. He loves the flowers, the smells, and the sunrises and sunsets in the field beneath the watchful Buddha statue he has watching over the plants.
"I like hanging out and watching it grow," he said of his Cannabis. "You only get to watch the flowering part for so long. … You only have a moment with this flower. This bud. And you wait all year for this moment. All of these plants, with Buddha looking down on you, and I'll just sit here in the middle. It's like you're sitting in a forest."
Stewardship of the Earth
Guiding us around the property, Robertson shows off the full breadth and diversity of his garden, from the asparagus he planted immediately after moving in, to the pile of clippings and trimmings from the prior year, sprouting "volunteer" plants – what the gardening community calls unplanned growth from the previous year's composted seeds.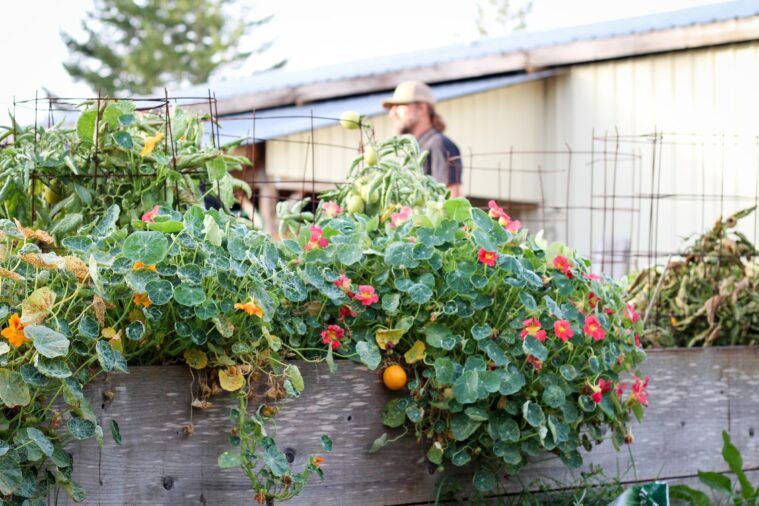 We even enjoyed some "volunteer" Cannabis, which he'd let blossom to full term because he simply loves different expressions of the plant. (For the record, we guessed it was some unknown cross with his Mandarin Tart, which I've since dubbed the Mandarin Mystery.)
Robertson's love is for all living things, whether it be his dogs, his plants and trees, or his new baby daughter, Irie, and his wife, Dahvi.
He dreams of retiring from the Cannabis industry to cultivate fruit trees, and to leave them behind to feed generations to come.
"When I die, I want to leave fruit trees that will fruit for 100 years," he said. "If there are thousands of people like me, then you'd have all of these fruitful areas everywhere. Like rebuilding an Eden. Because it's been taken."
Until then, Robertson's tens of thousands of followers and fans of his flower will get to enjoy the fruit of his Sticky Fields.