We're cruising between the Redwoods on the famed Avenue of the Giants, a stretch of road that paces Highway 101 along the Eel River in Southern Humboldt. If you've ever wanted to visit Endor, this is it.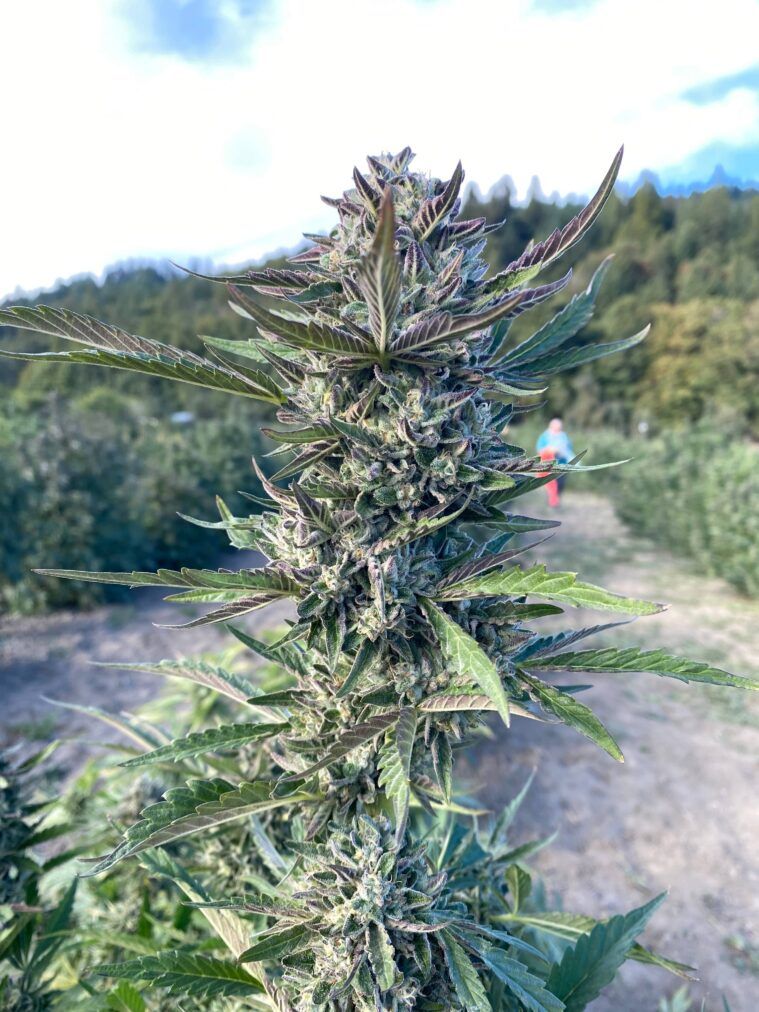 "Take a left up here, and be careful, or you might miss it," says Chrystal Ortiz from the backseat.
She's not lying – dwarfed between the vast trunks, the narrow road may as well have been a secret portal to Narnia. We turn.
"This is a summer road," says Ortiz. "They close it when the water gets too high."
As the owner of High Water Farm and Humboldt Herb and Market dispensary in the famed heartland of America's Cannabis cultivation community, Ortiz is a specifically qualified guide. Especially where we're going.
We steer down onto the banks of the Eel River, following a road that in other seasons would be riverbed. We cross a makeshift bridge barely wide enough to fit our car, and continue on our river rock-paved path.
Ortiz is taking us on a guided tour of the Eel River Valley appellation – a cultivation region where specific conditions combine to create a bioregion that allows Cannabis farmers to practice the traditional art of dry farming.
In the early 20th century, the timber industry in the region used to float logs down the Eel River for ease of transport. Sometimes, a logjam would block the river flow. Then, at one point, a major logjam brought about catastrophe.
"In 1964, a flood came through, and washed away all the houses, everything just washed out to the ocean," Ortiz narrated as we rumbled along the river. "It washed out all the buildings, and deposited a bunch more silt. … The water was all the way up on the highway."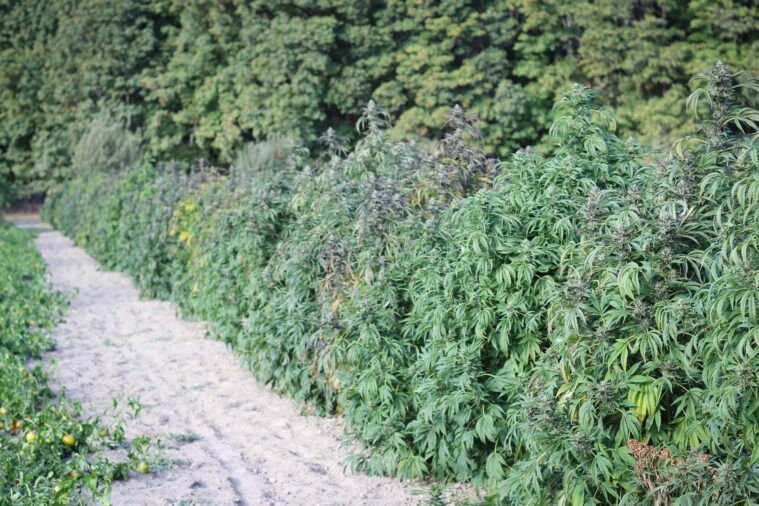 Those farmers who resettled the area discovered wispy, soft soil – up to 20 feet of new stratum. The result was akin to the conditions of the fertile crescent of ancient Mesopotamia, which inspired the dawn of agrarian civilization.
We veer back off the riverbed, and hit a paved road, taking us past a number of farms. We pass a new hoophouse cultivator growing in pots. Chrystal comments that the newcomers must have no idea what land they're building on.
We arrive at Dry Farmed Organic Medicinals, a farm run by Jane VanderLinden and her friends and family. VanderLinden has been practicing dry farming in the region for 25 years, and for 14 years on her own plot of land – peppered with tall, narrow buildings built to withstand flood conditions. Her farm won the Regenerative Cannabis Farm Award at the 2019 Emerald Cup.
VanderLinden ushers us into her vast field of Cannabis, and immediately scoops up a handful of silt from the alluvial floodplain and lets it run through her fingers.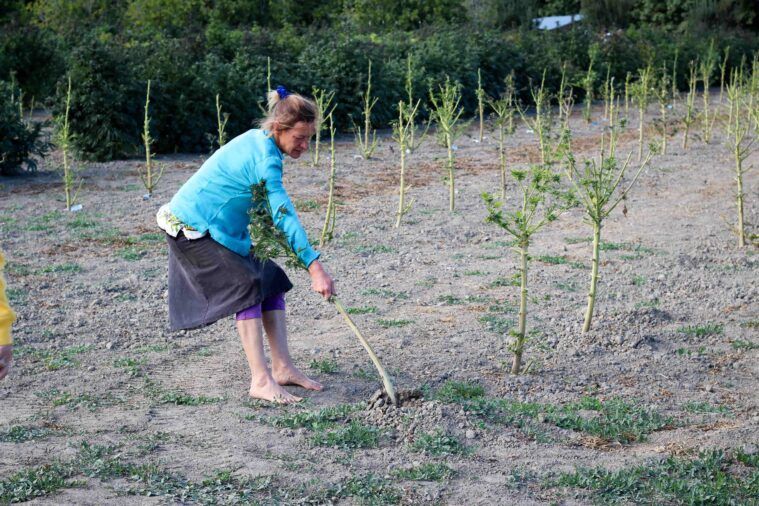 She exudes earthen exuberance and grounded grace as she takes us, barefoot, through the field, explaining the art of dry farming.
No irrigation. No fertilizers or amendments. No interference. Just nestle the plants into the soft soil, and let nature take its course. Her field is lush with vibrant, healthy shades of green.
Dry Farmed Organic Medicinals is in the middle of harvesting 6,000 plants, all grown from seed. They have six employees year-round.
"About one per thousand plants," VanderLinden grins.
That's the thing about dry farming. It's not something that can be done by anyone, anywhere. But if you can do it, it makes no sense not to. You simply need patience, faith, land and plants. Nature does the rest.
VanderLinden makes sure to pick out a couple of melons from her food crop for us to take with us before we move on to Ortiz's High Water Farm (named in honor of the flood of 1964).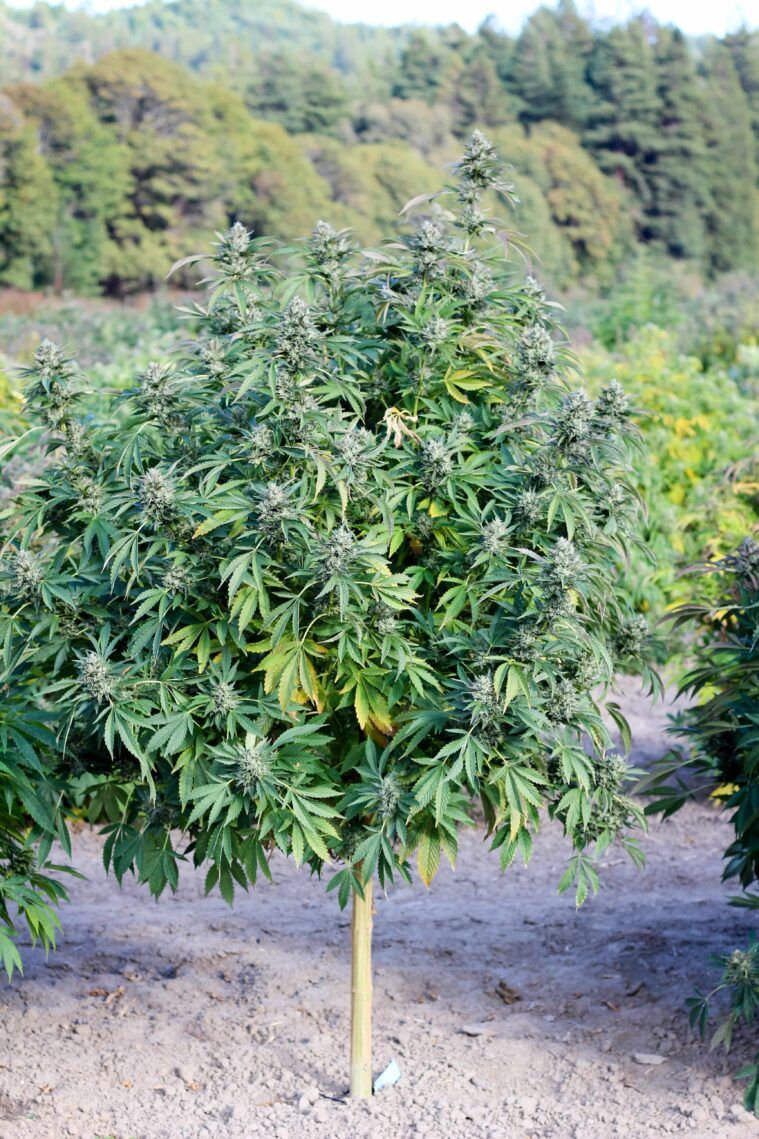 When we arrive there, Ortiz takes us on a tour of her upcoming strains, with greasy bangers like Modified Grapes (GMO x Purple Punch), Ice Cream Cake, Forum Cut Cookies, Lava Cake from Cannarado, and Zushers from Crane City Cannabis.
We catch some of the sunset from the top floor of the big red drying barn she built with her dad. Her philosophy is one Ortiz shares with the other farmers in the Humboldt Dry Farmed Cannabis Alliance she helped form. "We feel like it is our responsibility to honor the land we have been blessed to grow on," Ortiz said. "To honor this land is to not bring outside inputs, to trust the cycles of nature and to do less. What we don't make in multiple runs of (light dep) and heavily fed plants, we make up for in quiet peacefulness and not buying anything or importing soils and fertilizers."