Winding down the twisting roads of Highway 36, my cell reception dwindling, I became increasingly anxious the further we drove. The last time I'd visited Hayfork, our hosts had recommended avoiding 36 altogether and instead take Highway 299, which also traverses the east-west passage from Humboldt County through Trinity to I-5, California's main interstate highway.
They'd made this recommendation because Highway 36 is notoriously hairy to drive, and is hailed as one of the most dangerous highways in the state. The road also passes by Post Mountain, which is one of the most heavily saturated areas for traditional market cultivation in the world – just search it in Google Maps for a pretty astonishing satellite view.
My nerves calmed as we turned onto Highway 3 and began making our way north towards the town of Hayfork. After passing through town and working our way towards the foothills for a while, we finally arrived at Gaia Gardens
We were greeted at the gate by a young hound dog, who eagerly announced our arrival with a few expectant barks, and as we popped in the gate code, another pup approached and joined in on inspecting the visitors. By the time we parked about 150 feet or so up the gravel road at the top of the property, there was a full pack of six dogs – bouncing around excitedly as we exited our vehicle and began to greet our hosts.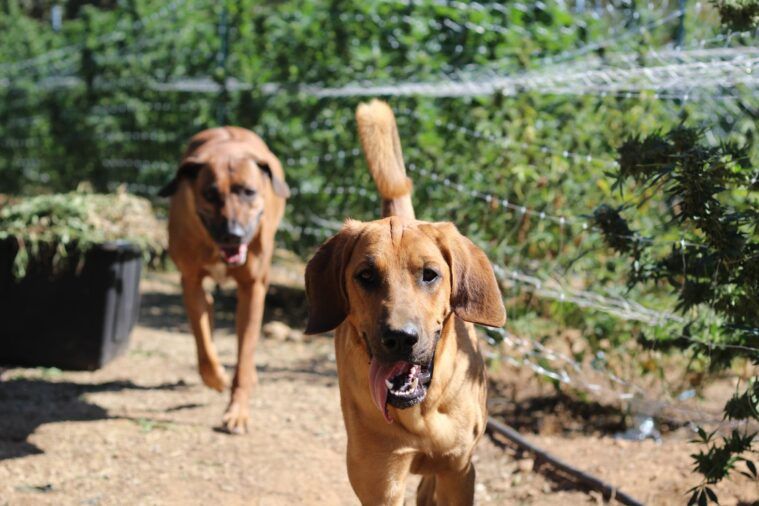 The Conception
Patrick and Natalie McNamara are Co-Founders of Gaia Gardens, as well as life partners and high-grade hash enthusiasts. Patrick, a Pennsylvania native, made his way to California after deciding to step away from the family construction business to pursue higher education at Whittier College. It was there he met Natalie, who was born and raised in China and had chosen to broaden her horizons by attending school on the other side of the world in California.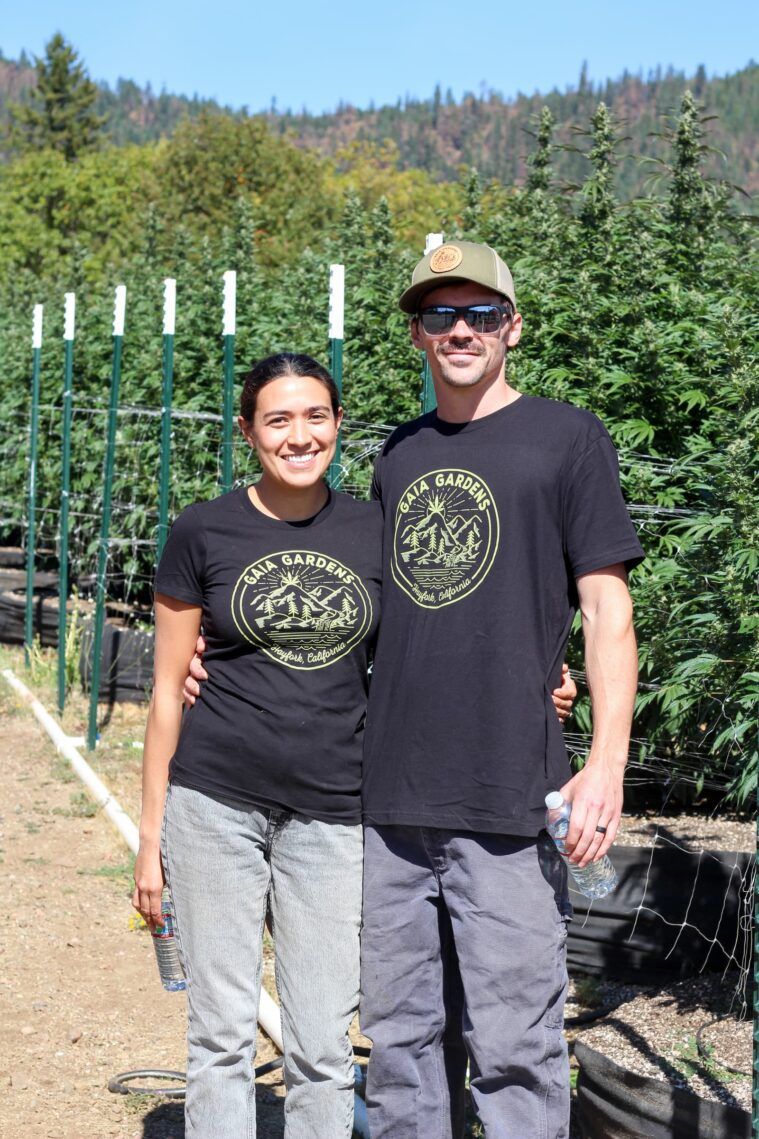 Whittier College is in East Los Angeles, and the greater Los Angeles area provided an exposure to Cannabis, legal and otherwise, the likes of which neither had ever experienced. With exposure came access, and Patrick quickly fell headfirst into the world of weed.
He began getting into the heady glass game and decided to start moving weight from the Triangle to LA to fund his new passion for glass. As he got deeper into the glass scene, he began to subscribe to that particular community's obsession with solventless concentrates – and thus his passion for hash was born.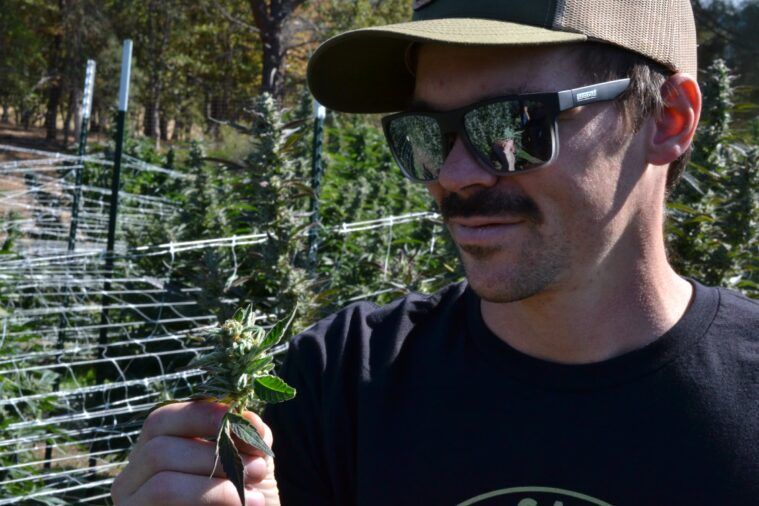 Through his trips to various parts of the Triangle to pick up, he began to notice a trend: The best herb he could find always came from farmers in Trinity County, so he began gravitating towards the area to pick up his weight.
Upon graduating, Patrick decided to utilize his construction background and his new degree in business to jump into the cultivation side of things. Together with then girlfriend Natalie, they moved to the Santa Cruz foothills and began growing weed under California's Prop 215 medical Cannabis program, then turning it into single-source hash and hash rosin.
With adult-use on the horizon, the couple were excited to level up and launch into the newly legal market with a couple years worth of experience under their belt, as well as a couple seasons worth of infrastructure to lean on as they navigated the newly forming industry. Then, suddenly, it all went sideways when one day their grow was raided by local sheriffs and all their hard work disappeared in the blink of an eye, along with their hopes of getting into California's brand new adult-use industry. While no charges were filed, they had to pay significant fines and were banned from getting an adult-use Cannabis cultivation license in Santa Cruz County for three years.
It was then that they decided to go all-in on their dreams of owning and operating their own legal Cannabis business, and together with the help of some family and a friend in real estate, Patrick and Natalie made the jump to Trinity County – acquiring Gaia Gardens in January of 2020.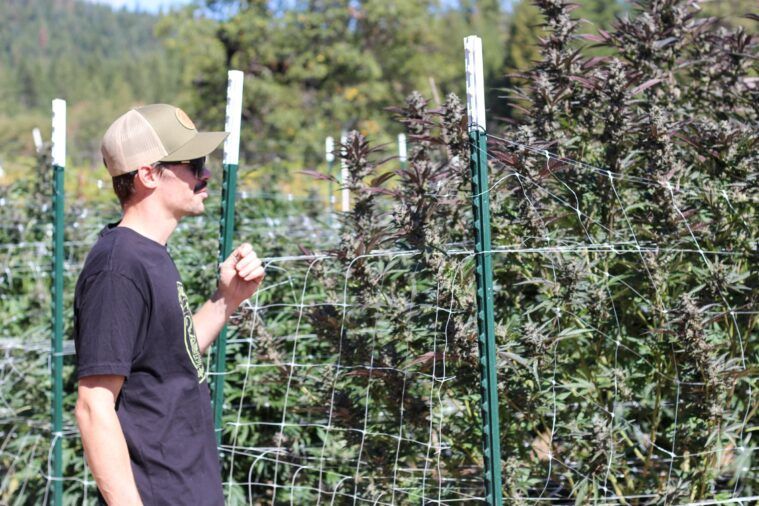 The Manifestation
We're standing in a field of 650 plants, 500 of which are planted directly in the ground. The other 150 plants are in breathable fabric pots, each containing 400 gallons of soil and a single plant. While growing in native soil is surprisingly rare given the added cost of purchasing soil, what's even rarer is the fact that 100% of this field will be turned into full melt hash and live rosin.
Every one of the 650 plants at Gaia Gardens this year will end up fresh frozen and then handed off to solventless processors Kalya Extracts – who quite possibly produce the best fresh press live rosin available in California's adult-use market – and Mendocino County's Real Deal Resin. The duo is also in discussion with True Hash Company and Papa's Select, so it's possible we'll see up to four different hasheries bringing Gaia Gardens flavors to market this year and next.
Most farmers have a flower-first mindset, and only send a modest to moderate amount of their crop to processors to be turned into extract and concentrate. Interestingly enough, thanks to their hash-first mentality, the team at Gaia Gardens has a leg up on other full-term outdoor farmers. Not only do they know where 100% of their product is going, it doesn't require the labor to maneuver thousands of pounds of plants into a safe space to dry, nor the time it takes to do so – and also negates the expensive overhead of trimming once dried and cured.
The field at Gaia is filled with a jaw-dropping array of flavors from a variety of top breeders, all with the goal of finding amazing new, hash-friendly strains that provide an excellent yield, a unique terp profile and potent effects. As we wandered, Patrick rattled off the cultivars: "Tongue Buckler, Rainbow Chip, Gouda Berry, Dirty Little Secret, Papaya Melonz…" The list went on and on and totaled 23 different strains, leaving me salivating and eager to try the amazing hashes and live rosins these flowers will be turned into.