Perched on a south-facing slope in a warm, arid micro-appellation of Canyon Creek in Trinity County, Hash and Flowers boast amazing views from its tiered hillside gardens. When we arrive to meet the crew and take a tour of the property, Lab Production Manager Eric Lee leads us down to a shed where owner Terry Mines is hard at work, taking a dab. 
"I'm R&D. I do the testing," Mines jokes, exhaling. "Somebody's gotta do the dirty work."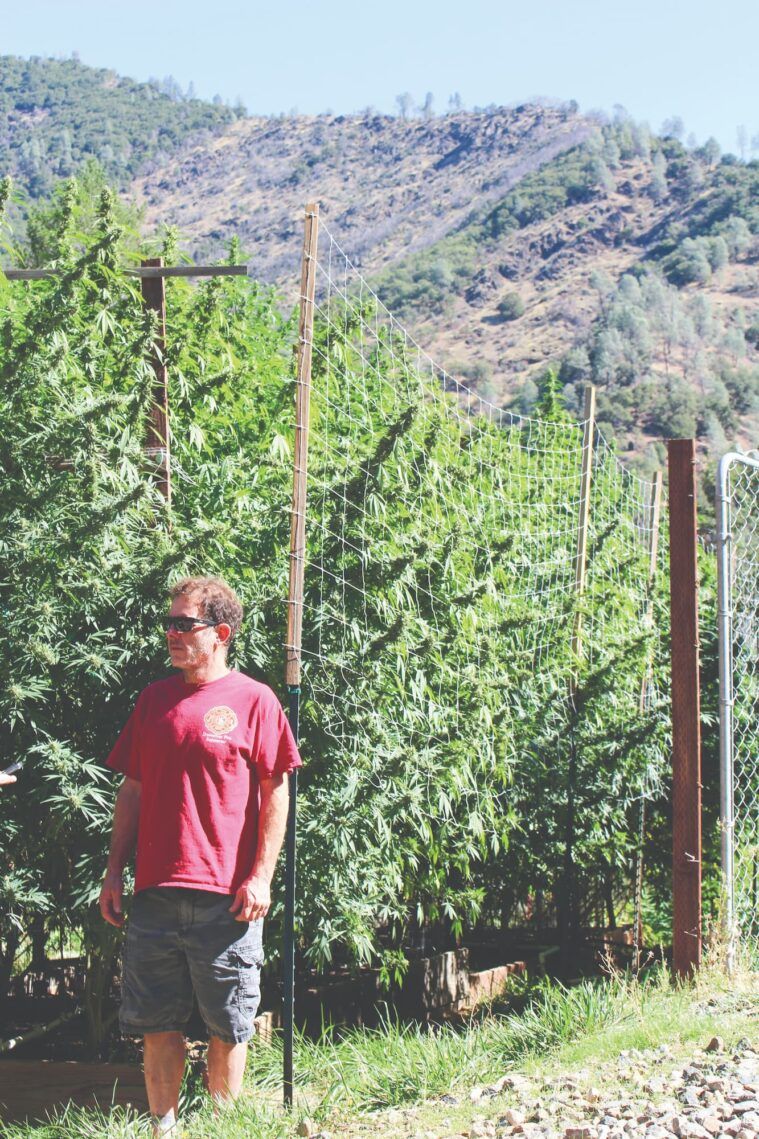 Over the next couple of hours, Mines talks at a break-jaw pace about the farm, his history, Trinity County, the fires, his hash, his staff – anything and everything to do with this place. That's the thing about Mines: He's the type of person whose brain pushes out thoughts so quickly, his lungs can't keep up. Over the course of our tour of his property, I count nearly half a dozen times when he talks until he literally runs out of air and only then inhales quickly – only to keep going.
The proof's in the passion
 Mines' level of excitement is driven by an intense love for what he does. A seasoned grower with four decades of cultivation experience across 11 counties in his rearview, he knows exactly what he needs to do to bring product to market that meets and exceeds his expectations. The facilities at Hash and Flowers are all about utility – no flashy bells and whistles in his processing and drying structures, the rosin pressing tent, or in the lab-engineered by Lee where they wash for the brand's hash. It's not built for show, it's built for efficiency and purpose.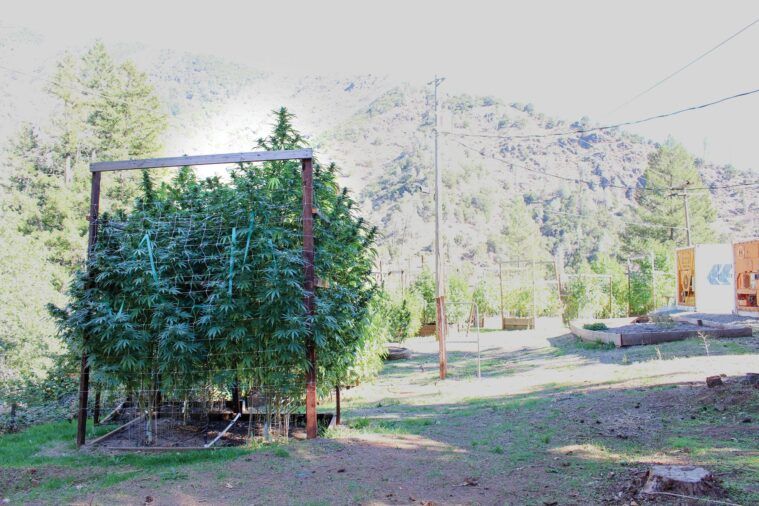 Aside from the setting, the most extravagant aspect of the farm is the size of the plants. Cultivated in elevated boxes in living soil by a team led by General Manager Emily Ushay, the monster trees stretch toward the sky, dwarfing anyone who stands next to them.
"If I could, I would be a fairy, and just live in there," Ushay said. "I already feel like I kind of do."
Setting the scene
After a tour of the lower property, Mines has us hop in the back of his pickup to visit the upper portion of the parcel. We drive straight up a dirt road (almost literally straight up) to the point where we were wondering if the truck might flip over backward, weaving our way through the terraced beds built into the hillside.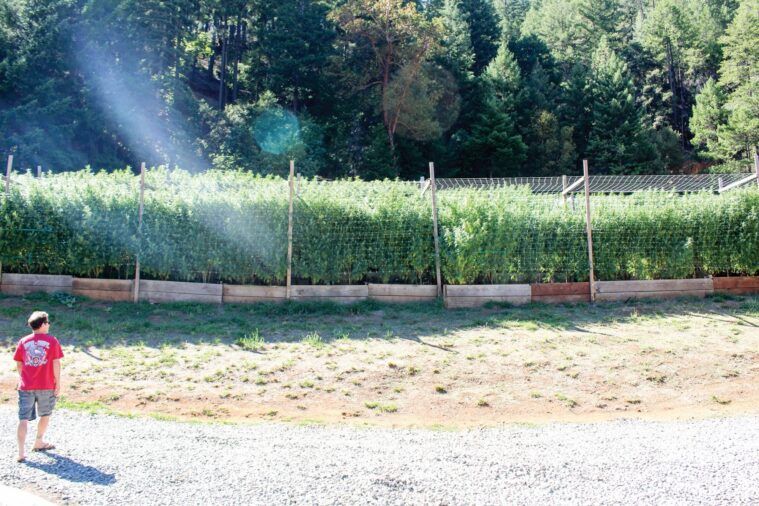 The southern-facing hillside gardens benefit from excellent sun exposure and stalk-strengthening winds blowing up through the valley and up the hillside. The view from the upper gardens is staggering – one can see for miles and miles. It makes the logistical difficulty of navigating that portion of the property worth the trouble.
Mines says that the way the farm is situated, along with the warm, somewhat arid climate, makes for the perfect set and setting for growing amazing ganja. "There's nowhere else in the whole country that's better for growing weed," he said.
It comes out in the wash
One of the things that sets Hash and Flowers apart from many cultivators is the fact that even though the property is lined with rows and rows of trees laden with chunky nugs, you won't find the 30-40 flower strains they grow on dispensary shelves.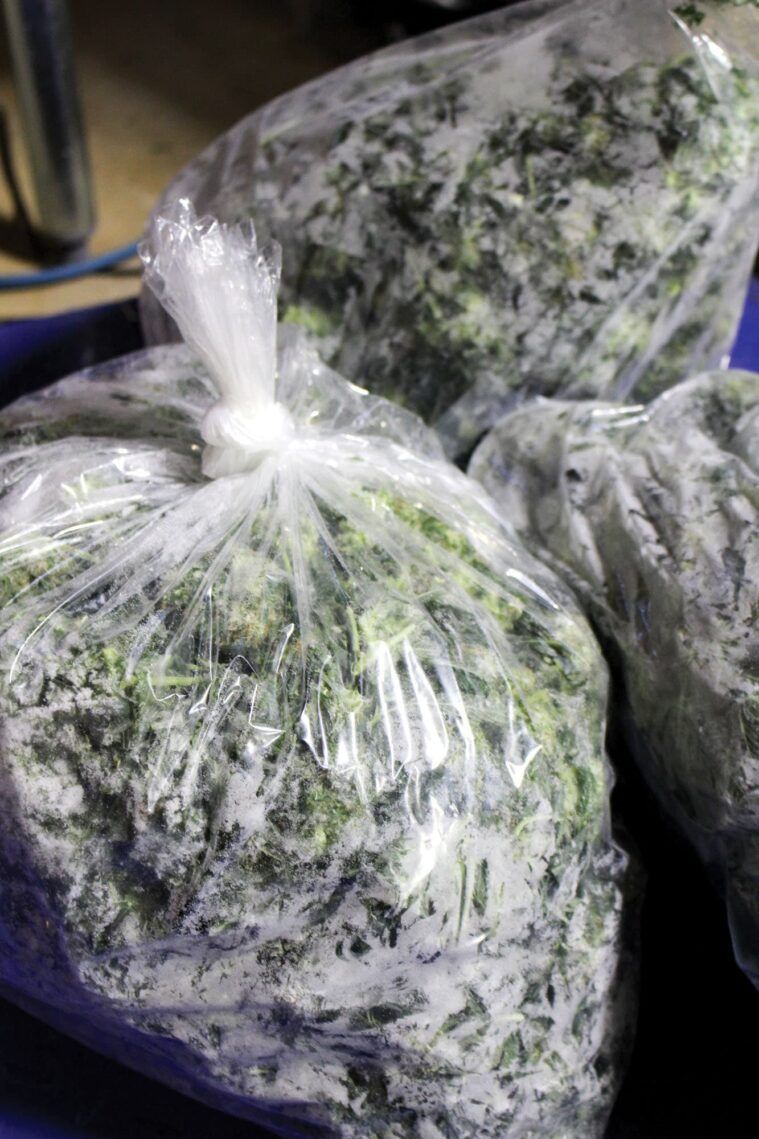 That's because nothing leaves their premises until it is turned to hash. The strains they choose are deliberately selected because they're superb washing strains, with intense terpene profiles.
We get our hands sticky with resin as we walk between the rows, Mines enthusiastically pointing out cultivar after cultivar. He shows us his Rainbow Beltz, with its bright tart candy notes and undertones of funk. He makes a point of highlighting his Amarillo from Symbiotic Genetics, which smells like Fun Dip.
Mines and Lee list out the genetics they love working with: Honey Banana, Papaya Bomb from Emerald City Genetics, Lemon Goji, Rotten Banana, Trop Cookies, Tropnana x Wilson, and of course Strawberry Lemonade – a favorite in their hash line.
"We have a lot of weed," Mines said.
As we near the end of the tour, we discuss how one of life's great, simple pleasures is the smell of fresh resin from the field on your fingers.
"That's why we love making hash," Mines said.
---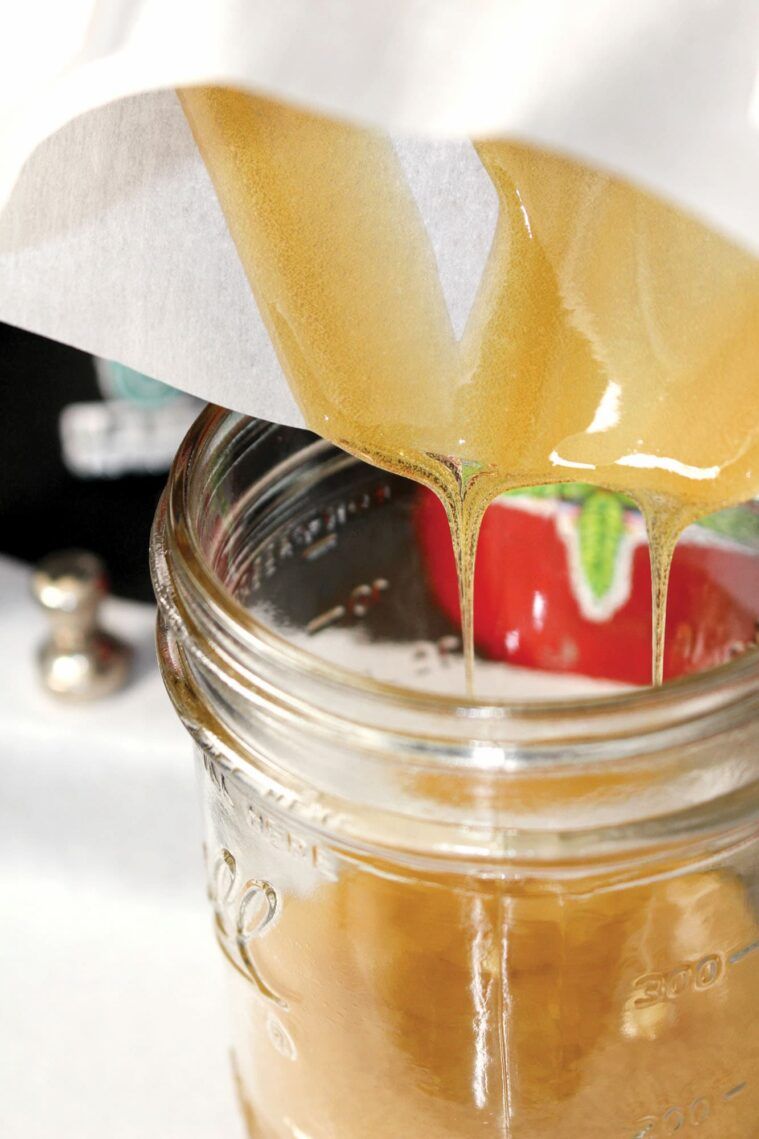 Location: Trinity County
Canopy: 10,000 square feet
Plant count: 700
Staff: 15-20
Top Strains: Honey Bananas, Cranberry Zkittles, Strawberry Jam, Rosewater, Cherry Chem
Quick hit: Perched on a southern-facing hillside in the arid climate of Trinity County, Hash and Flowers cultivate dozens of vibrant strains in its terraced gardens in order to feed a hunger for high-grade hash.