As the genetics arm of Kadō, Bear & Bolō hunts boutique phenotypes in order to offer delicious new crosses out of their tissue culture lab on the Oregon market. Leaf caught up with Kadō, who runs the operation with his partner, Sunleaf, to learn more about their process and the state of the Cannabis breeding community.
How did you find your way into the Cannabis community?
It's a really long and crazy story that spans 15 years, three countries and a few states. For me, it was the beginning of Cali shops opening all over LA and SD. I was living in Central America (circa 2007) and a few guys came down on surf trips with pop tops with the strain name and THC percentages. I had a couple of things going, so I knew at that moment it would become what it is today: a full-fledged industry with infinite potential for growth. So, I came back to the U.S. looking for a way in and Oregon just happened to be the best fit.
What inspired you to become a Cannabis breeder?
When we first started Kadō, we invested a lot of time and money pheno hunting through various seed companies. Sure, we found some keepers and made some great selections, but in today's market, that's just not enough. Then I linked up with Sunleaf on the mat. He had been rocking the expo circuit for a few years with his brand, Sunleaf Seed Co., working heirlooms, landraces and crossing them to modern strains. We both are Bjj, guys so we hit it off immediately. He suggested I start making my own genetics and slid me some male pollen from the Unleaded (Icc x SourD/ Nigerian IBL) line he has been working on. I dusted some of the elite selections I made over the years, which made the Bear & Bolō line. The collab was a hit, so it was a no-brainer that I had to bring him out to be part of the team. This naturally transitioned into Bear & Bolō, our genetics division.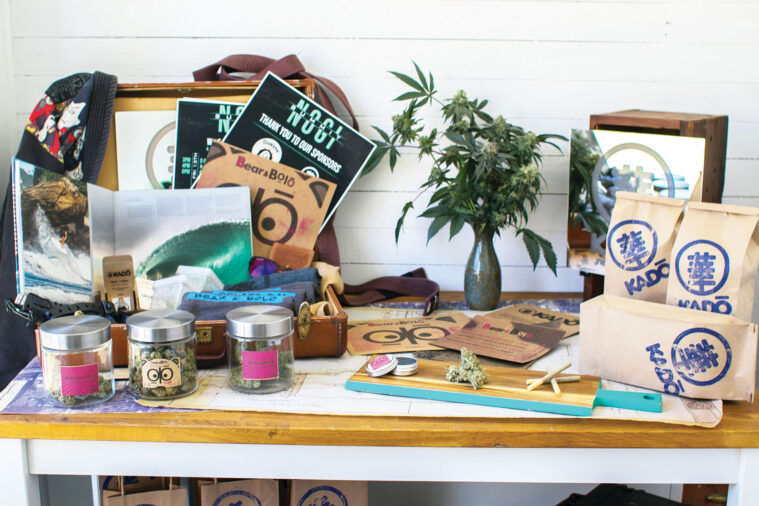 What do you look for in a pheno?
It just depends on what we're trying to accomplish. We have different criteria for each project: some for production (yield), some for flavor (terps), some for hash (resin production). Depending on these goals, we will predict how many seeds need to be grown and selected before we decide to move forward with the line. The idea is to find and select the true outliers, congruent with our said goals. If we are on the right track, then we move those traits forward.
What makes a legendary strain?
I would probably say time, region and public opinion. Cannabis is as subjective as music, wine, food, etc. People make legends. Some of the old-school guys would say Acapulco Gold or Maui Wowie, and none of the young peeps would buy it and vice versa. But sooner or later, Gelato, Runtz, etc … will be old school and legendary. I'm sure everybody has their own legendary strain. For me it would be Sour Diesel, Northern Lights #5, and Master Kush to name a few.
What do you think the future holds for Cannabis genetics? See any changes or new trends on the horizon?
With more states and home growers coming on board, we see more convenience coming into the breeding market: auto-flowers, feminized seed, sterile females (triploids) are going to become a thing in the near future. We believe the peak and premiere genetics will come from tissue culture labs like ours.
What are you most excited about right now in the Cannabis breeding world?
To keep it 100%, I'm super pumped for what Kadō/Bear & Bolō have been working on for the market. Bear & Bolō will be providing the market with sterile, highly distinguished genetics. Cali has been dominating the genetic game for a hot minute and Bear & Bolō is frothing to get our flavors to the rec market.