Just a short walk from San Francisco's Japantown, Liberty brings a professional, boutique-style approach to the friendly neighborhood dispensary.
The Vision
Launched in early 2021 in San Francisco's Pacific Heights neighborhood, Liberty Cannabis combines the expertise culled from operating a nationwide family of dispensaries with a localized vision. For the endeavor, multi-state operator Holistic partnered with local equity entrepreneur and San Francisco-based Cannabis health advocate Tim Omi, sharing both the ownership and the vision for the shop. The goal is to provide high quality products for every type of customer, with a focus on wellness and plant therapy.
The Vibe
Tucked inside the old Unity Church building, the high-ceilinged, slender space feels like a hybrid between a fashion boutique and a friend's spacious studio apartment – with midcentury modern-style white-and-gold fixtures displaying a diverse, intentional selection of edibles, flower, cartridges and therapeutic products. The centerpiece of the living room lounge effect is a stereo cabinet, complete with an actual hi-fi system and record player dedicated to the store's sister brand, Garcia Handpicked. Psychedelic homages to Jerry Garcia and San Francisco's acid-dripped rock 'n' roll history adorn the walls above the stereo cabinet, looking like classic 1960s show posters from the Fillmore nearby. The overall effect feels right at home in a city known as much for its high-end style as its free-spirited rock 'n' roll soul.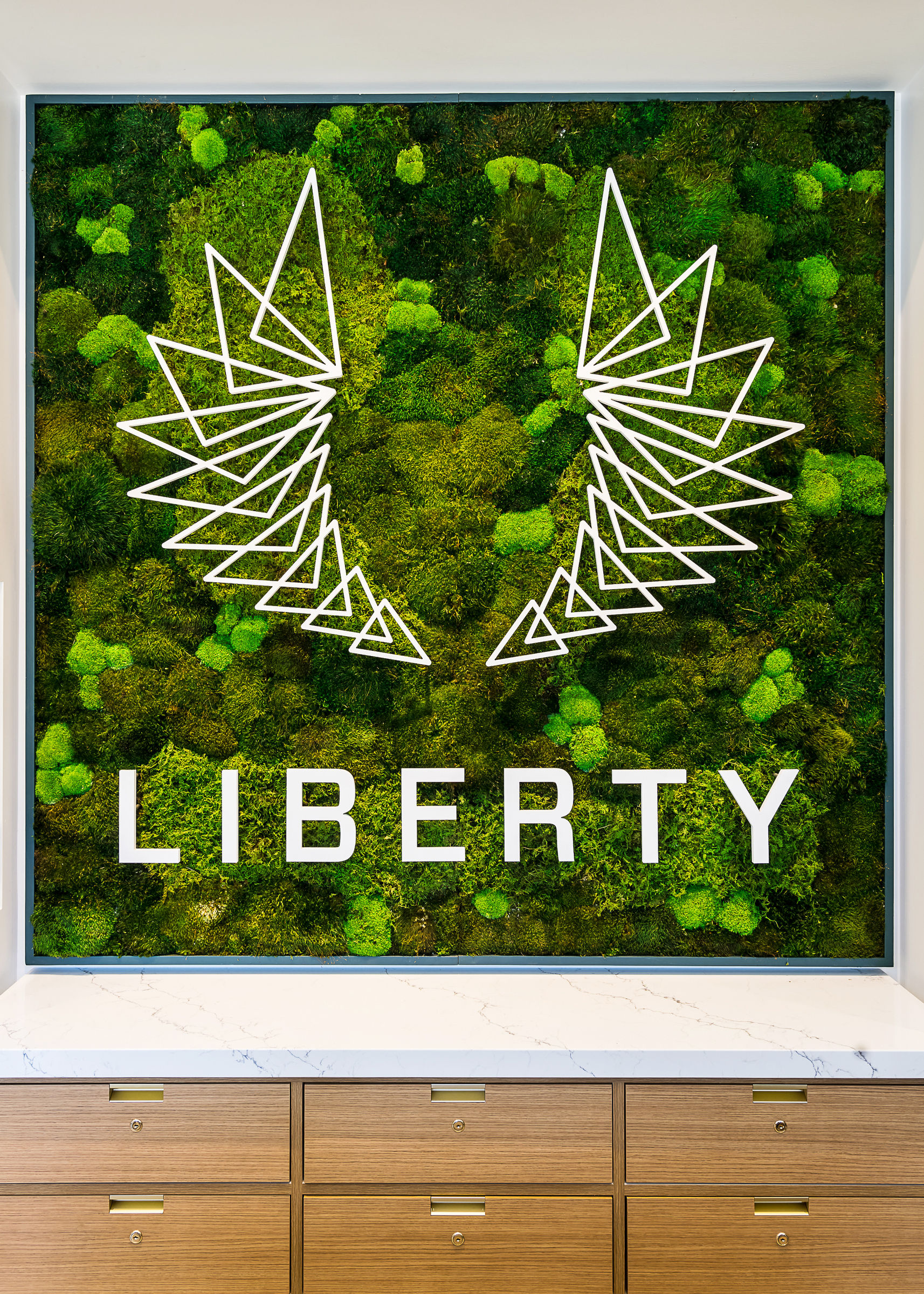 The Goods
The obvious superstar brand here is Garcia Handpicked, with its Jerry Garcia-branded gummies, pre-roll packs and eighth jars of indoor flower. Perusing the rest of the product offerings, you'll notice attention to quality and diversity, with Leaf staff favorites like Sonder Space Crystals ($10), premium fire from cultivators like Connected and Archive ($80/eighth), and plenty of little surprises. We walked away with a simply sweet, vegan and gluten-free curiosity from confectioner Rose Los Angeles called Delights – seasonal rosin-infused Turkish Delights that will transport you to Narnia if you're not careful.
The Crew
We noticed some welcoming, familiar faces from the local Cannabis scene among the staffers at Liberty, who walked us through the shop's offerings and gave us some insight into the dispensary and its vision. Friendliness, charisma and product knowledge were not in short supply, and we ended up with nothing but good vibes as we left the shop with our treats.
The Wrap
Liberty brings expertise, professionalism, artistic flair and attention to quality to the Pacific Heights neighborhood. Whether you're looking for top tier flower, therapeutic whole plant capsules, small batch edibles, or simply a few pre-rolls for an afternoon adventure, this shop deserves to be on your list of stops in the city.