For the past decade, their award-winning extracts and unquestionable integrity have established Beezle as one of the most respected Cannabis concentrates companies in California, if not the country – thanks (for the most part) to the brand's founder, Dorian Schraner.
EARLY DAYS
Dorian Schraner was born on July 20, 1977, just outside Zurich, Switzerland – but by 1981 his family had emigrated to Sonoma County and bought land to start an organic olive farm/oil company.
But olives weren't the only crop being grown on the family farm. Dorian's father used to smuggle hashish from Morocco into Switzerland before he was born, and began growing Cannabis on their property after moving to California. By the age of 16, Dorian was growing weed and even getting hash-making lessons from his dad. Growing up "surrounded by the ethos" of sustainable farming, he earned a degree in organic agriculture from UC Santa Cruz. Upon graduating in 2009, he landed a job at Santa Cruz Hydroponics – providing him access to valuable equipment discounts and networking opportunities. After two years at the hydro shop, he moved back up to Cloverdale in early 2011 and started his own indoor grow. It was shortly after his return, at a dispensary up in Hopland called Collective Conscious Apothecary, that he first got turned on to dabbing.
"My friend was like, 'You gotta come check out this dab bar.' And I was like, 'Dab bar … what the fuck is that?' So I went up there and had really good dabs for the first time," Schraner recounts. "That was where Matt Rise launched Shatter Bros, and kids were driving there from all over the state to pick up his hash."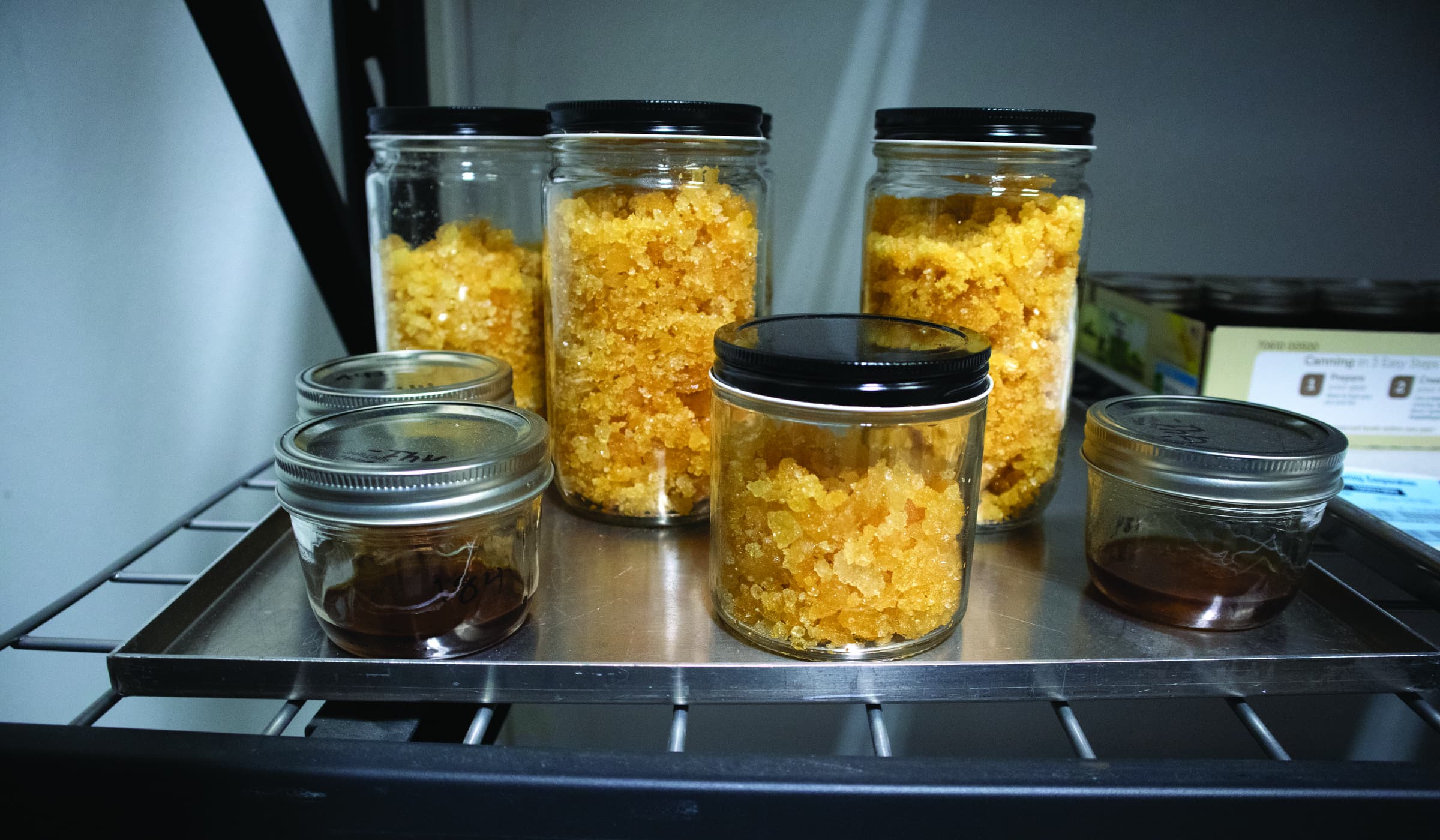 As it turned out, CCA had just had a bunch of employees walk out and were in need of help, so Schraner offered to work the dab bar for the summer. While there, he befriended Rise and other local hashmakers, and after seeing how they operated, made a fateful decision.
"I had all this weed I was growing to save money to go to grad school in Switzerland … but after seeing how BHO was made, I thought, 'That doesn't seem that hard – I could do that too.' So I just bought all the equipment and started doing it."
THE BIRTH OF BEEZLE
Schraner set up shop in a garage on his family farm and began making concentrates. He decided to call his new venture Beezle – the nickname his group of friends in high school had adopted for their crew.
"It's actually a funny story," he explains. "We all did mushrooms one night and somehow ended up with the word 'Beezle' written on a mirror with all of our names around it. After that, we just became the Beezle crew. Later, we decided it was an acronym for 'because enemies eating zebras leave evidence," he jokes. "But anyway, we ran with it, and it worked really well for the whole honey oil/wax thing."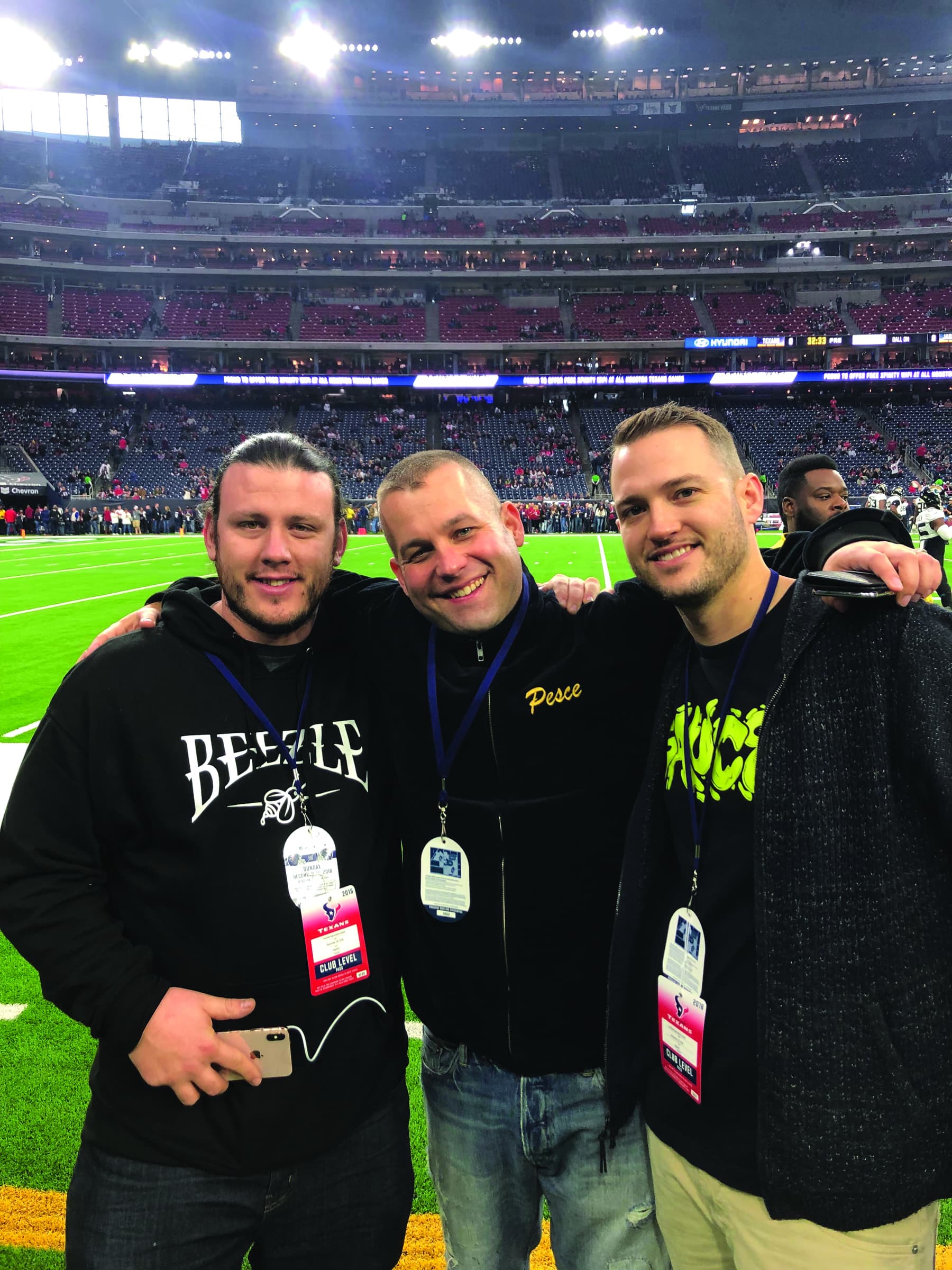 Beezle's first official drop was in November 2012 – a Jesus OG bubble hash made with genetics acquired from legendary breeder Subcool. Right out of the gate, Beezle established itself as a brand to be reckoned with when just a month after their launch, their first release took second place in the solventless category at the Emerald Cup. More awards soon followed, including wins at Connoisseurs Choice and the Bay Area Secret Cup in 2013, and first place wins at the first two Dab-A-Doo competitions (Amsterdam 2013, Denver 2014).
"The momentum just started growing," Dorian says, "And I was like, 'All right – I guess I'm not moving to Switzerland. Let's see where this goes.'"
Starting in 2013, Schraner began flying out to Colorado to observe how the legal market was developing and learn from the major players there. It was in Denver that he bought his first closed-loop extractor (the Emotek Obi-Dos) and was trained by the system's inventor Giddyup and his live resin co-creator, Kind Bill Fenger. It was also in Denver that Dorian reconnected with TC Labs owners Matt Van Beschoten and Mike Pesce, who he'd originally met at the Cannabis Cup in Amsterdam the previous year.
"I just hit it off with them, like we were on the same wavelength," Schraner recalls. "I felt like they were the Beezle equivalent in Colorado. They had to go through the whole regulatory process and figure out what was going on before we did. They brought some business acumen and experience we needed to adapt here in California, so we decided to partner up on everything."
FROM 215 TO 64
After the passage of Prop 64, transitioning successfully into the newly-legalized market became Beezle's top priority.
"As the talks of licensing and stuff started happening around 2017, we started going to city council meetings and getting very involved in the process. We pretty much opened our doors to the city planner, the fire chief, and the police chief. They did a whole walkthrough with us, and we were like, 'Look – we're not bad people. We work only with dispensaries. We're trying to do it the right way.' We even offered to help draft some of the ordinances and stuff, and they were very receptive to it. So before Prop 64 even came into effect, we got an approval to operate during the transition."
CONCENTRATING ON QUALITY
The company operates out of a warehouse space at a business park in Cloverdale that houses two giant walk-in storage freezers, several different work areas, and of course, a C1P1 processing room powered by a Bizzybee multi-rack extraction system (which Schraner touts as the "Ferrari of extractors.") Here, his staff of 26 processes around two tons of plant material each month – nearly 80% of which is fresh frozen. Though they source material from all over the state, they prefer to work mostly with local, legacy farms.
"We try to vet all of our farmers and make sure everyone's like-minded and operating under good practices," says Schraner. "It not only aligns with our ethos, but also makes for a better product, better yields, and better business sense overall."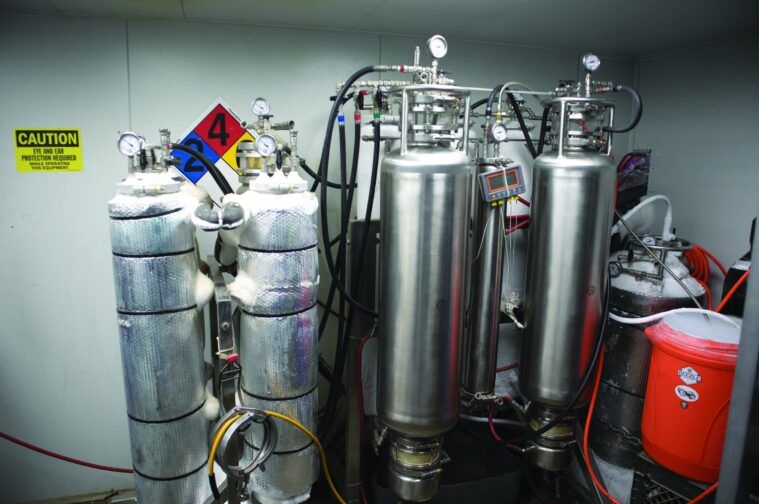 It's from these high-quality, organic genetics that Beezle crafts their delicious array of live and cured resin budders, badders, sugars and sauces, as well as their top-shelf Black Label live resin diamonds and sauce (a 50:50 blend of THC-A crystals and liquid terpenes). Beezle is also known for their highly potent and flavorful strain-specific live resin cartridges: half-gram Sauce carts comprised of pure liquefied live resin with no distillate; and full-gram Buzz carts which blend live resin terps and around 60% THC distillate, just to keep the potency high. "Because in the pen market," Dorian notes, "everyone's chasing potency."
Unlike many concentrate companies, Beezle prides itself on using only Cannabis-derived ingredients in its carts. This commitment to purity and quality is the main reason they've won over a dozen awards to date, including at this year's Emerald Cup where they took home third place for their Orange Blossom Buzz Cartridge, and both first and second places in the Hydro-Carbon Solid category (for their Key Lime Paya Live Resin Budder collab with Luma Farms and Gary Payton Live Resin Budder collab with Earthen Farms).
EXTRACTION TO EXPANSION
This year, Beezle is celebrating its tenth anniversary and their future is as bright as a red-hot glowing banger: They've recently launched a division in Maryland, have licensing agreements in the works for Las Vegas and Michigan, and are currently building out new cultivation and processing facilities in New York which they expect to have online by the end of the year. Impressive achievements that the company's founder, now 34, speaks of with the utmost humility.
"It's been a long journey for sure," he says. "Obviously, in business, you're going to have ups and downs, but if you can get through it all and stay true to your ethos – and still smoke weed – at the end of the day, that's really what's important."