Oregon is notorious for being historically pro-pot. A medical state since 1998, the Cannabis market expanded exponentially when Oregon voters passed Measure 91 to legalize adult-use marijuana in 2014. Since then, green crosses have popped up all across the state, with over 100 weed retailers in Portland alone. While shopping at a dispensary or opting for delivery is a sweet treat to any Cannabis fan, Portland also offers a unique experience for locals and tourists interested in a daytime weed adventure.
The Potlandia Experience is the perfect way to kick back, relax, and learn a thing or two about Cannabis culture around Portland. Originally operated by Great Oregon Tours, the Potlandia Experience was once hosted by tour guides Wayne Oppenheimer and his wife Camille. After years of guiding wine tours, they decided to offer a different kind of experience for Cannabis-curious visitors. Legalization opened up new possibilities for weed tourism … what better way to educate and entertain than with a tour bus decked out in every manner of Cannabis paraphernalia?
The bright purple tour bus is decorated with giant pot leaves and lightning bolts, and the interior is even more magical. The plush seats are emblazoned with pot leaves and flashing party lights line the ceiling. Rolling papers and trays, bongs and bowls are ready to be filled with Oregon's finest herb. If the loud exterior doesn't give away what's going on inside, fog machines kick on every time guests exit the bus – giving the illusion of a fully hot-boxed scene.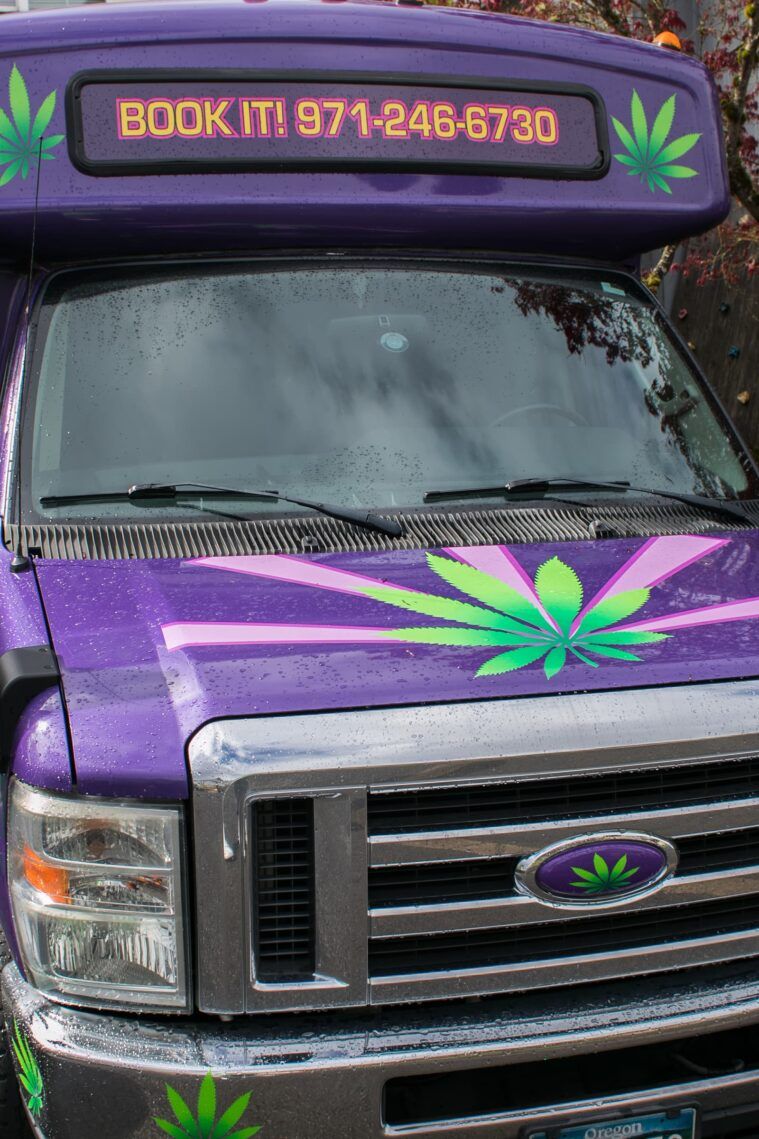 In September 2019, Portland local Matt Onkka acquired the business and continued to offer two Cannabis-themed tours before the pandemic forced Onkka to shut down in March 2020, remaining closed for the following year. "COVID almost eliminated us," he said. Things were slow to pick back up when Onkka opened for tours again, but he feels confident that the lifted restrictions will boost business.
"I did just recently re-open and we are starting to get some more interest, and hope we will continue to get busier as the pandemic is waning and people are more comfortable getting out and doing more things," said Onkka.
The first of his offerings, The Marijuana Tour, is a rock 'n' roll trip around Portland designed to provide a VIP tour of the city, with plenty of stops along the way. Born and raised in Portland, Onkka has a depth of knowledge about the City of Roses. As the purple bus glides through the city, Onkka offers up the good, the bad and the ugly about his hometown. Guests learn about the Shanghai Tunnels, the history of Laurelhurst Park, and what exactly the TV show The Simpsons has to do with Portland.
The first stop on the city tour is the Homegrown Apothecary. During the dispensary visit, guests learn a little Cannabis 101 from the knowledgeable budtenders and have the chance to stock up on weed, edibles, topicals, beverages and anything else guests wish to try. There's no need to worry about legality. The tour bus is private property, making it a safe space for consumption. While guests make use of the bongs and bowls inside the bus, Onkka heads to famous locales like Burnside Skatepark and Pittock Mansion.
When the munchies kick in, the bus pulls up to Asylum food cart to grab lunch at one of the city's famous spots. With various food trucks in every lot, there is undoubtedly a tasty treat for everyone. The tour continues on to Portland's Rose Gardens where guests can stretch their legs and take in the beauty of this botanical garden featuring over 10,000 roses. Then, after a little fresh air, it's off to Voodoo Doughnuts – a favorite for tourists and locals alike.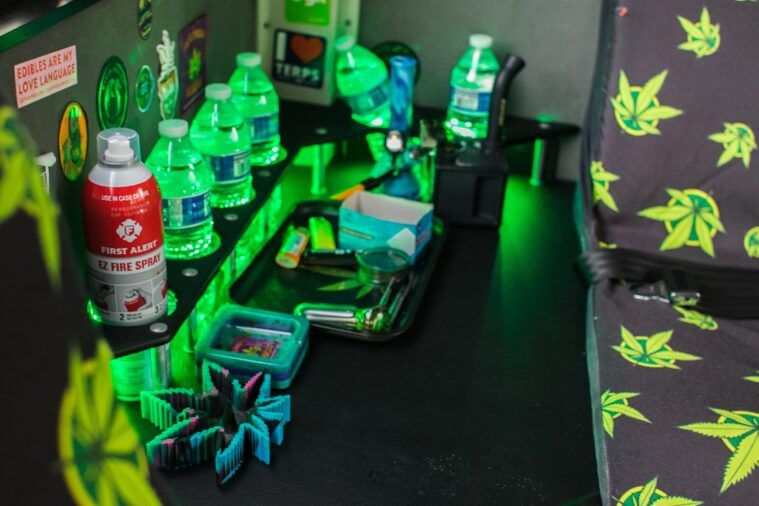 The second Portlandia Experience is the Weed and Waterfalls Tour. This is the perfect day trip for nature lovers. Bring a camera (and possibly a rain jacket) for this adventure. After visiting Homegrown Apothecary, Onkka takes guests through the scenic Columbia River Gorge. This area is well-known for its breathtaking waterfalls – and guests can exit the bus to take in the views of Horsetail, Multnomah and Latourell Falls.
Onkka stops at Crown Point Vista House, dubbed the "crown jewel" of the Columbia River Gorge. The century-old observatory is now a museum and rest area, complete with a gift shop and some of the most spectacular views in the area.
"The other big thing that has affected us is the price of gas and insurance premiums doubling, but even with those factored in, I'm trying to still provide people with an amazing tour, still at our normal price as I'm trying not to be a part of the inflation problem. It makes it a little harder, but my goal is for everybody to have a great time at a reasonable price," said Onkka.
An authentic 420 experience, the tours last precisely 4 hours and 20 minutes, beginning at 11:00 a.m. Tickets are $79 and there is a two-person minimum to book. Guests should bring cash for the dispensary, food carts and other stops along the way.
Looking forward, Onkka has new offerings in the works. "We have been in talks with a farm to provide a farm tour and also want to do a 'puff and paint' event. During the pandemic, I started dabbling with different types of painting and I feel like it would be a really fun thing to incorporate," he said.
The tour bus is also available for private parties for things like corporate events, bachelor and bachelorette parties, or just a night out on the town amongst friends. "I even have a TV on the bus and can easily hook up a DVD player, Xbox or Nintendo Wii for added entertainment during longer events," said Onkka. And don't forget: Private parties are customizable, so you can be the creator of your very own Potlandia Experience.