Over the years, I have attended and experienced countless glass events. And although many have been enjoyable, none have come close to providing the level of energy and inclusivity that Alder Brooke Glass Arts' Wook Hash Retreat produced.
Two years ago, Isaiah Alder and I were dabbing away while having a conversation about a concept he had for a glass event that included local hash companies. My man eventually spoke this event into existence, but it didn't come easy. With the help of his mother Tara, girlfriend Kalie, brother Pablo, and lifelong friends Jericho, Brock and Chad, they all put their heads together and made this event a reality.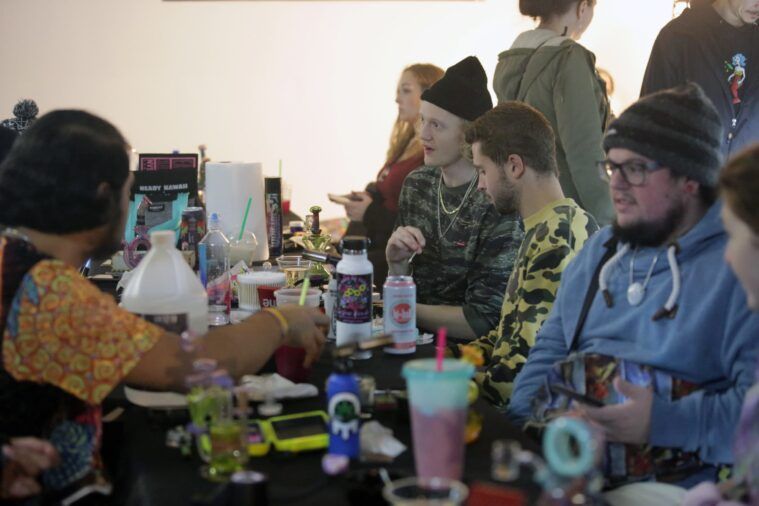 While smoking with Darby Holm, Isaiah presented his concept of an experience that incorporates hash and glass together. We all know how concentrates are a big part of these events – and as Darby is a concentrate enthusiast himself, he also wanted to help find a way to tie these synergistic scenes together.
When envisioning the flyer, Isaiah knew people would be super excited about seeing glass artists and hash makers together at one show. And yes, he was right: I can personally say I witnessed the VIPs open their concentrate boxes like kids on Christmas morning. With the purchase of a VIP ticket to this private event, each person received a ton of swag as well as 10 grams of unique solventless products from Green Smoothie Gardens, Tree City Solventless, Xen Dog, Love Laced Gardens, Solventless Soup Kitchen, Brahma Rosin, PDX Pressin, Shiner's Run Farm, Melted States and Sho Juice.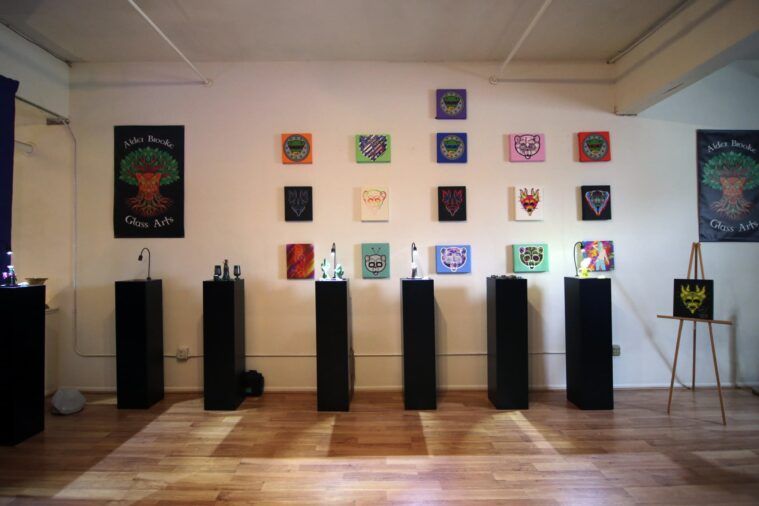 Out of all the flavors I got to try, Brahma's Polynesian Thin Mints was the one that stole the show.
As previously mentioned, there was a certain level of respect and love for one another at this event that I have not experienced anywhere else. People of all walks of life were so open to sharing whatever they had – whether it be good conversation, hash or their prized pieces of glass. It was so refreshing to experience everyone connecting, rather than cliquing up as I have experienced elsewhere. Eugene is indeed a very loving scene, comprised of people with very open hearts and minds.
My jaw just about hit the floor when I encountered all of the gorgeous work from Mike Luna, Shurlok Holm and Darby Holm. No matter what you're into, there was a piece of glass there to tickle your fancy. My picks from the show were Luna's Dragon head rig with custom color pulls + opal coin eyes, a gnarly recycler created by Shurlok, and a rig Darby made that features a scorpion on the back with a cactus in the middle of the piece. In addition to all of the incredible works of glass art, there were offerings from brands like KnotWorking, Burnt Leather Co, Crystallize Collective, Earth Vibrations, Bekah Zeimetzart, Alder Brooke, The Bindle Conspiracy and Flux Crystal Boutique. For those sweet tooths out there, Cannadeiros and Hashtronaut Ice Cream were also in the building.
The theme for the weekend is 'it takes a village.' People pitched in from all over the country. So many people came together to make this a possibility," said Isaiah. Keep an eye out for their next event in February – the Shred Show at Mt. Bachelor.