Solventless extraction methods are as old as the tradition of Cannabis consumption itself. The first form of Cannabis concentrate, charas, was hash that was removed from one's hands after harvesting the plant. Today's techniques are far more sophisticated, but still utilize very basic principles to create flavorful and potent Cannabis extracts. The two most popular styles of solventless concentrates are the old school bubble hash, which is primarily used as a bowl topper, and hash rosin, which has skyrocketed in popularity over the last year.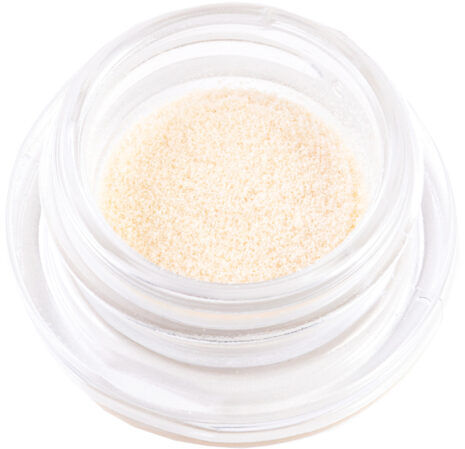 With nothing but heads in the jar, this 90u provides that perfect white, 'kinetic sand' consistency all hash heads crave, taking 'heady' to a whole new level. Perfect for making flags or just chunking it out, this insanely smooth bubble hash is truly out of this world. Even in the refrigerator, you can smell the pungent orange gas radiating from the hash, translating perfectly into flavor as soon as it touches the quartz. True to its 90u claim, this Tropicanna Cookies x Tina hash melts beautifully and without any residue, leaving my lungs as clean as my banger. This is by far one of the best bubble hashes I've ever tried, and I seriously cannot wait to snag what the team at Highland Provisions washes next.
---
Runtz x Horchata Live Rosin from Eastwood Gardens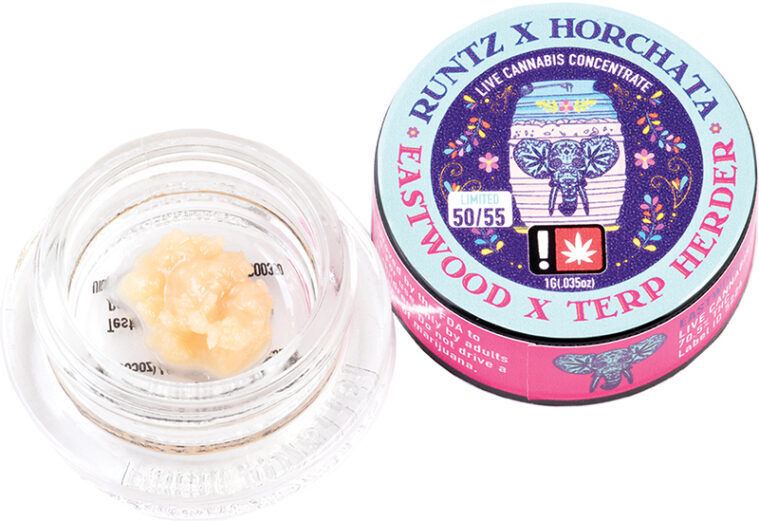 This exclusive rosin is a flavorful mix of one of Eastwood Garden's most notorious cultivars, with its exclusive genetics coming straight from Oregon-native Wyeast Farms. This light yellow, fluffy rosin is easy to manipulate, dripping right into the banger with ease. The rosin's taste differs slightly from the flower, the Zkittles inhale dominating with a piney, gassy profile as the Gelato-heavy lineage leaves those creamy undertones with each exhale. The high certainly packs a punch, relaxing the body and mind while still leaving room for the rest of the day's activities, perfect for a wake 'n' bake or mid-day dab. The desirable flavor kept me coming back for more, so I'll have to keep my eyes peeled for the next limited-release drop to hit the shelves.
---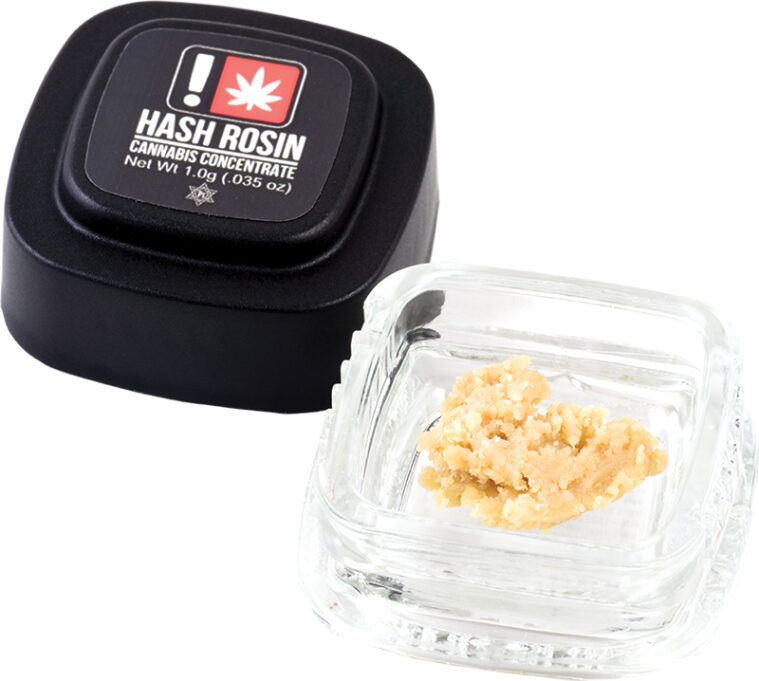 Dipping your dabber into this crumbly-appearing concentrate divulges a dewy and easy-to-handle hash rosin. The nose is cheesy with notes of fuel and pine. The smoke trades the cheesiness of the nose for a surprisingly creamy, licorice and fuel flavor. Set aside some time to relax with this full spectrum, fresh frozen rosin – as it offers full-body relaxation and easy sleep.
---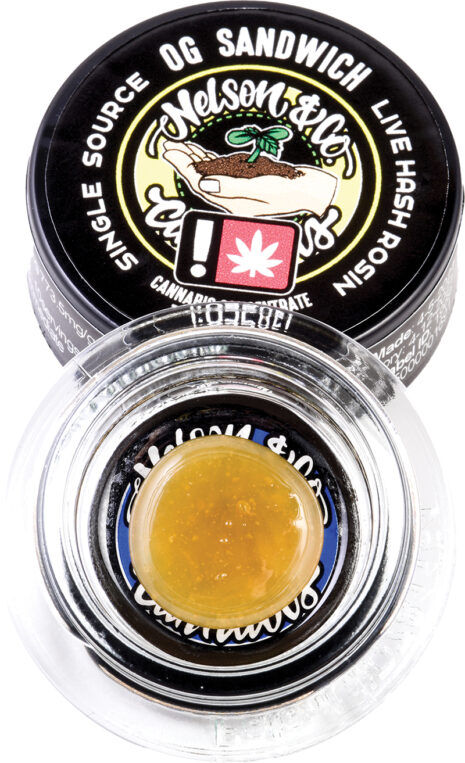 This deep gold concentrate offers magnificent amber marbling right out of the fridge but maintains its sticky, sap-like consistency when left at room temperature for small lengths of time. At 9.30% terpenes and 77.35% THC, this OG trifecta offers a robust flavor and effect. Pungent, earthy-pine notes of Kosher are accompanied by the sweet, chemical profiles of Stardawg and Wifi #3. The combination delivers a heavy yet happy effect that leaves you feeling balanced, but beautifully blazed.
---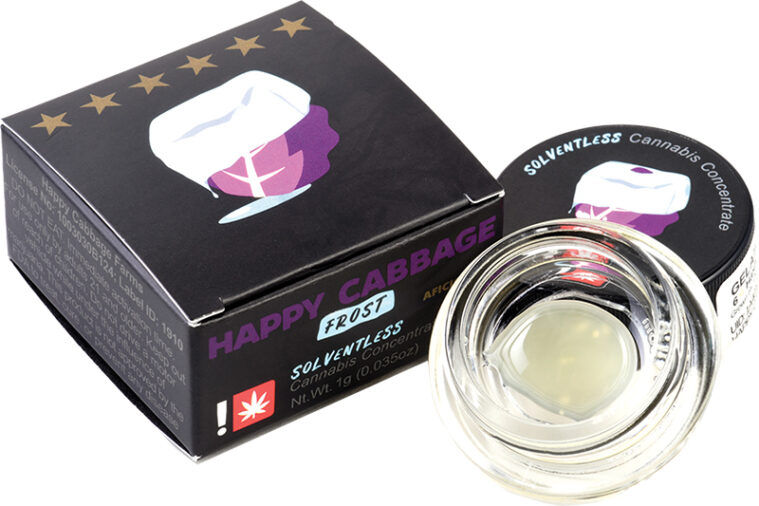 Happy Cabbage and Derby's Farms teamed up for this 6* hash rosin run of Gelato 25. The product of this collaboration presents a pale, nearly translucent, white-gold hue that slowly turns opaque with warmth. On the dabber, it takes on a lustrous, glow-in-the-dark quality and gooey texture. The nose offers a gentle, sweet aroma reminiscent of dough, mango and mint. But each puff provides a peek into the strain's funkier, skunkier genetics with a terpene profile that lingers on the palate. Its cannabinoids are quick-hitting, with a relatively short-lived peak effect.
---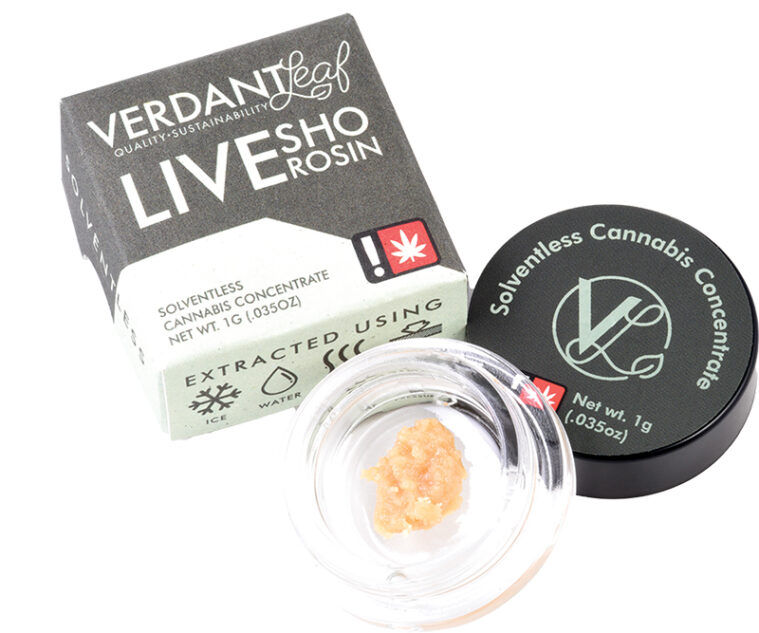 This beautifully greasy rosin reeks of garlic and freshly turned earth, with a sharp sour base note. The developed funk indicates that Verdant was patient enough to give this crop of GMO all the time for this slow-finisher to reach peak potential. The effect is an instant head change with a potent and pronounced relaxing effect.
---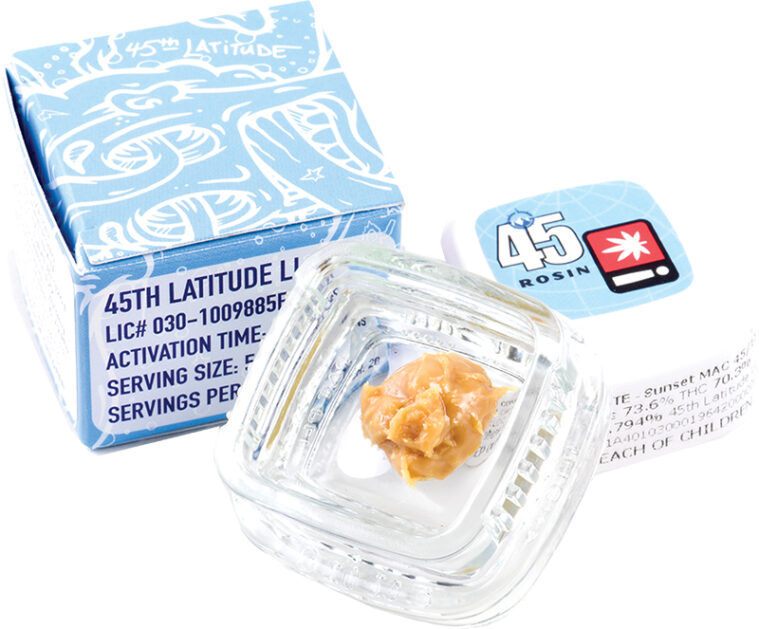 Unwind with this lovely combination of Sunset Sherbert and MAC on a nice summer afternoon. These two powerhouse strains will help to ease your mind into a feeling of elated warmness, happiness and calm.
---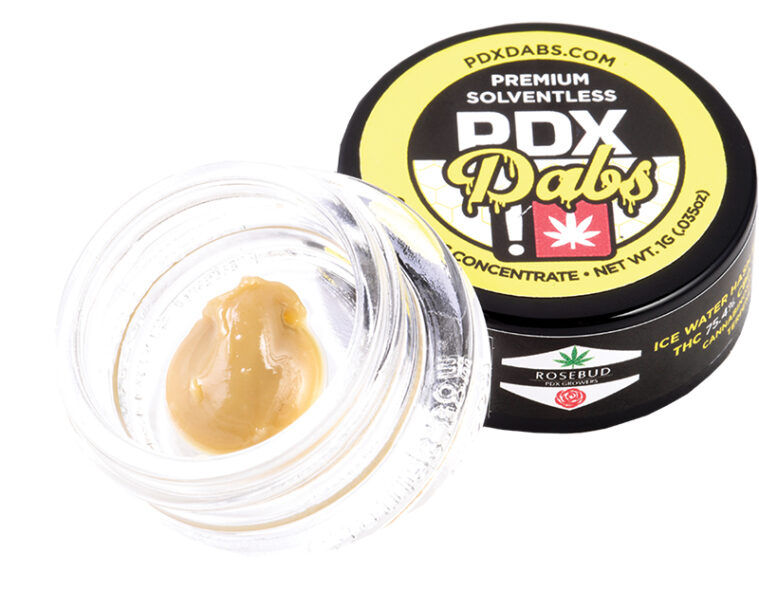 Come one come all, and try PDX Dab's latest collaboration with Portland's own Rosebud Growers! This stinky and offensive batch of GMO rosin badder looks just as good as it tastes. After dabbing this smooth and luscious hash, I experienced the essence of racing fuel and pine trees smacking my tastebuds.
---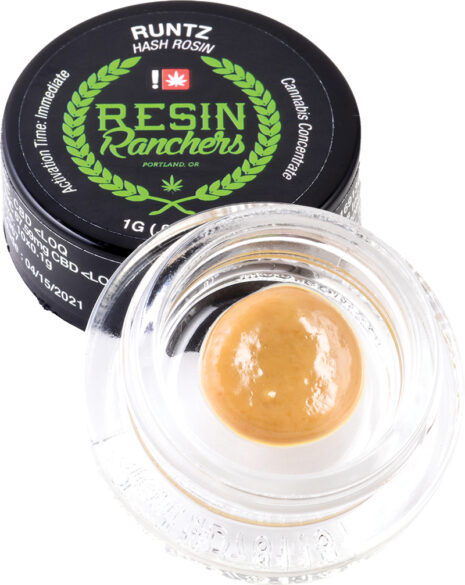 Runtz has been taking the industry by the storm, and we see why. This legendary cross of Zkittlez and Gelato is a serious match made in heaven. Utilizing their single source material, Resin Ranchers took this cultivar and turned it up a notch. This caramel-looking badder was gassy with a hint of citrus from the Zkittlez lineage.
---
90u Rotten Bananas Badder from Decibel Farms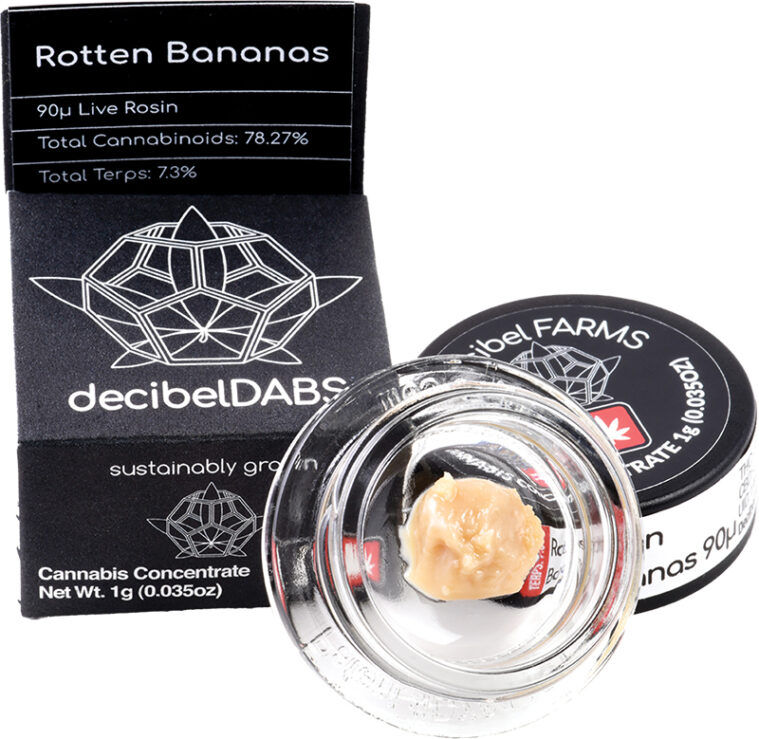 Bred by the wizard Thug Pug Genetics, Rotten Bananas is an enticing cross of Dead Banana and Banana OG. Decibel Farms pheno hunted this cultivar to perfection, and the 90u rosin badder is an excellent representation of this strain. These game-changing and attractive dabs taste like a pina colada, with nuances of tropical fruit and coconuts.
---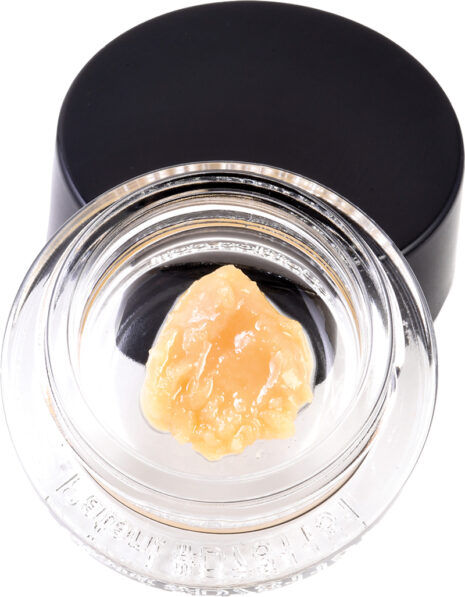 Grown in living soil by Indo Supply, DayWrecker offers a classic terpene profile not commonly found these days. Like a rare pokemon, my eyes lit up and my jaw dropped when I saw these elusive, greasy gas terps in hash form. This complex rosin badder leans on the earthy side and has a peanut butter aftertaste. Hash Hamilton crushed this round.
---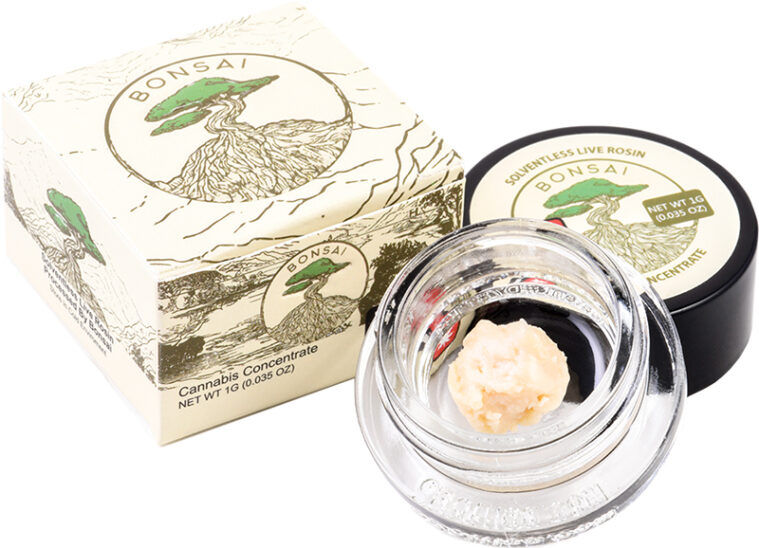 New on this year's lineup is Bonsai Solventless. This immaculate-looking and tasting Wedding Cake (Triangle Kush x Animal Mints) badder is the perfect dab for grounding and creating balance. Popping the jar reveals a creamy and wet consistency, which is always ideal. Notes of marshmallows, vanilla frosting, and gasoline stained my palate and left my mouth watering.