Herban Extracts
Alaska Rustic CO2 Disposable Cartridge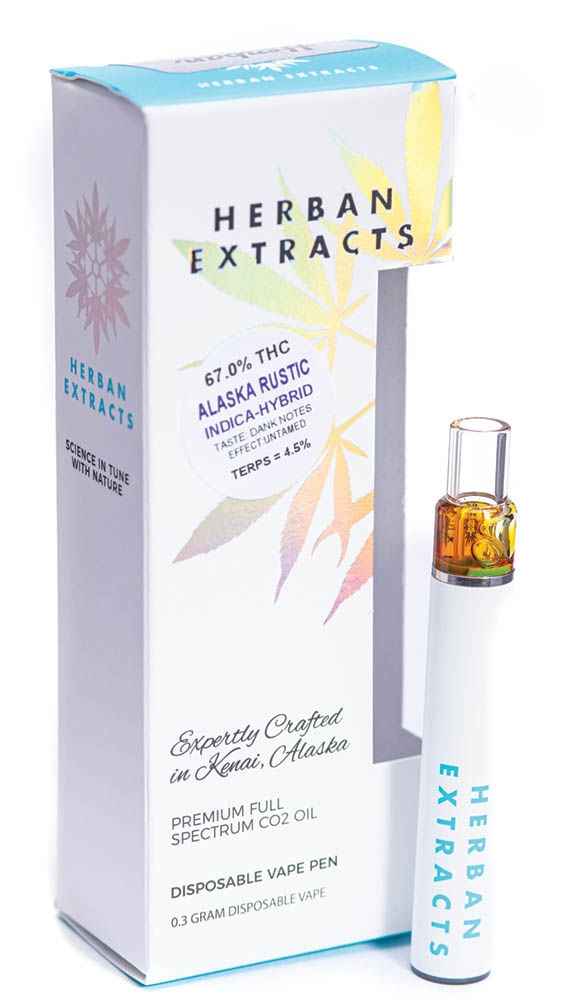 Golden and beautiful in the clear glass tip that travels great (no leaks), this CO2 has a gentle vapor full of earthy-piney-grassy notes and a mineral-citrus-gas tang that tastes like the weed version of the backwoods – delivering a stoned body but cerebrally-aware high with a euphoric wonder that's perfect for outdoor fun.
67% THC | 4.5% Terpenes
@herbanextractsalaska
Herban Extracts
Alaska Rustic Decarboxylated CO2

Bright and earthy with a sour citrus gas that's smooth and mellow in vapor, this decarbed oil can also be eaten for edible experiences with a cirtusy-tangy taste. When dabbed, the indica effects really hit hard – chilling senses and relaxing limbs in a perfect summer evening high.
63.3% THC | 8.5% Terpenes
@herbanextractsalaska
Refine Alaska
Lemon Ice Pucker Disposable

Super high terpene waves of creamy lemon custard with a fizzy and gassy kick crash over the senses – brightening the mood as an energetic and stoney high fills the mind and body.
58.1% THC | 22.7% Terpenes
@refine_alaska
Herban Extracts
Thunder Struck CO2 Cartridge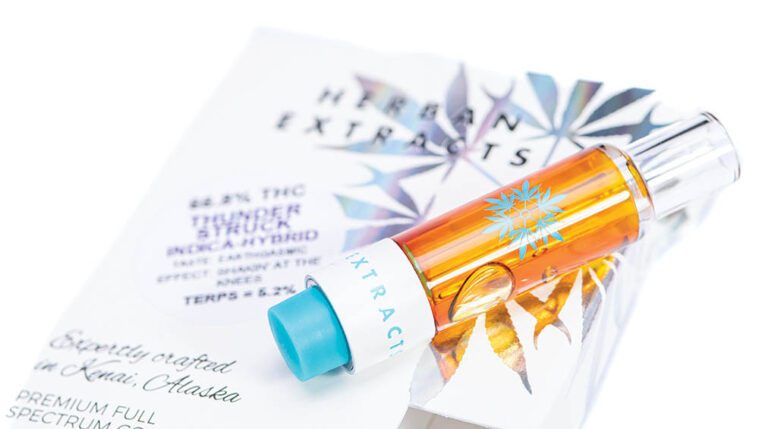 Hitting the mind and moving the body like a pumped up AC/DC song from a maxed-out car sound system, this fruity and skunky CO2 is smooth and sweet with notes of berry-soy-gas that dazzle senses before rushing into the frontal lobes – sending a melting wave of euphoria to the body that triggers enough happy feels to crank a favorite '80s playlist.
66.8% THC | 5.2% Terpenes
@herbanextractsalaska
Secret Garden
Scarlet Begonias CO2 Cartridge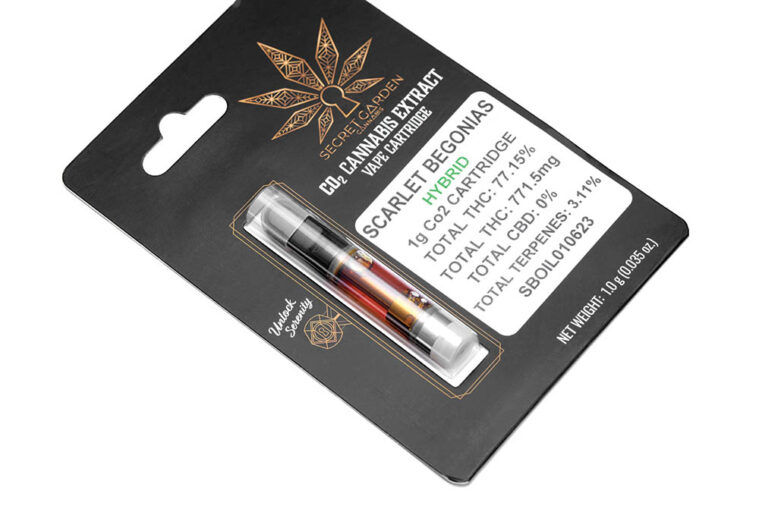 Grown and processed in house, Secret Garden's huge menu of 25+ cart flavors includes one immortalized by the Grateful Dead, or Sublime, depending on your generation and musical tastes. This golden terpy CO2 has warming floral notes that ooze over the palate with a syrupy-piney-gas that tingles the nose on exhale – rushing into the frontal lobes with a giggly-happy flourish that's perfect for jam band music hour.
77.15% THC | 3.11% Terpenes
@secretgardenak
Secret Garden
Extraterrestrial CBG CO2 Cartridge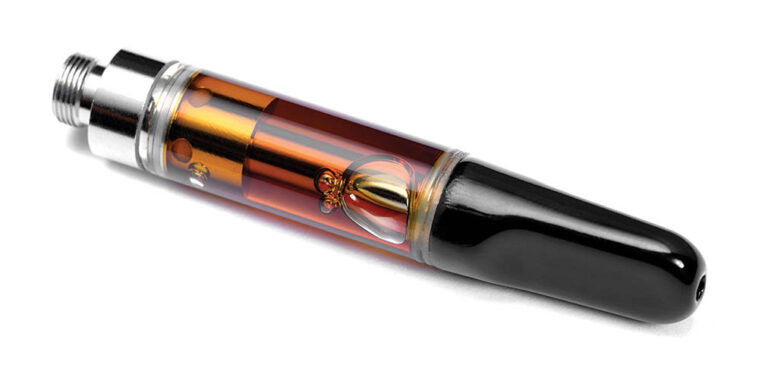 Get a taste of the CBG giggles with an out of this world high that's full of cannabinoids and terpenes in full spectrum CO2. This alien-themed oil has an earthy-green-floral taste and a sweet vapor that lifts and brightens senses – sending tingles to extremities as the effects elevate the mood and deliver a happy, floaty high one puff at a time.
63.42% THC | 1% CBD | 11.59% CBG | 2.37% Terpenes
@secretgardenak
Fireweed Extracts
Matsu Blue Disposable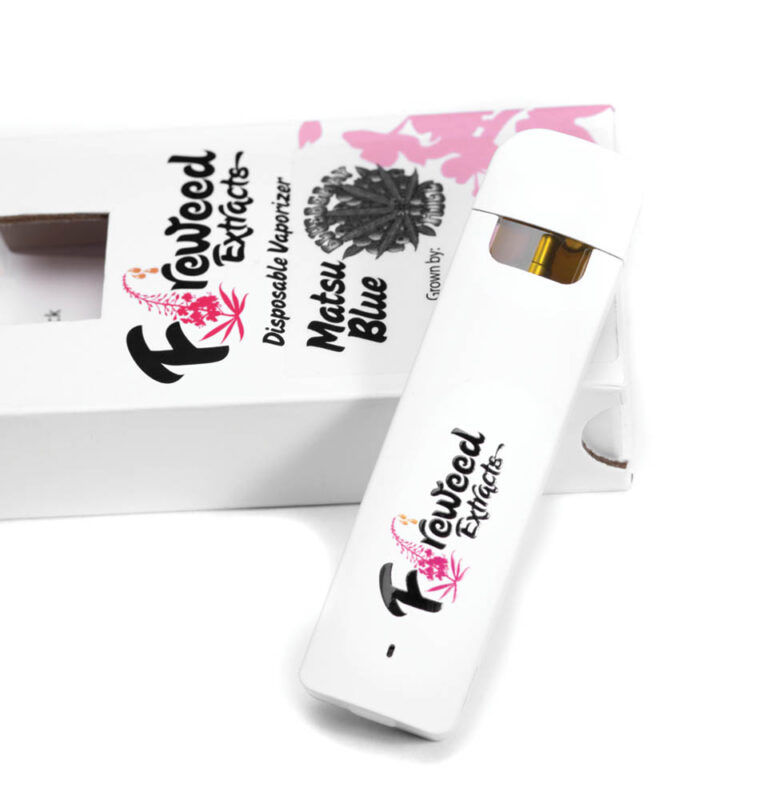 Sweet and floral with notes of cherries, honey and a Blue Dream tang, this strain tickles the palate on exhale with a high-terpene tingle – delivering a thought provoking, uplifting and floaty-euphoric high perfect for seshing with coffee or adventures in the woods.
55.56% THC | 11.16% Terpenes
@fireweedfarm_