Hydrocarbon extracts are the most common and popular form of Cannabis concentrates on today's market. This method of extraction utilizes solvents such as butane and propane to remove the desirable components – cannabinoids and terpenes – from the plant material. These extracts are then purged to ensure the removal of any residual solvent and that nothing but pure Cannabis oil is left over. Hydrocarbon extracts are highly diverse and can exist in a wide variety of consistencies and textures, as well as made from both cured or fresh frozen material – the latter of which is classified as "live resin" when in its final form.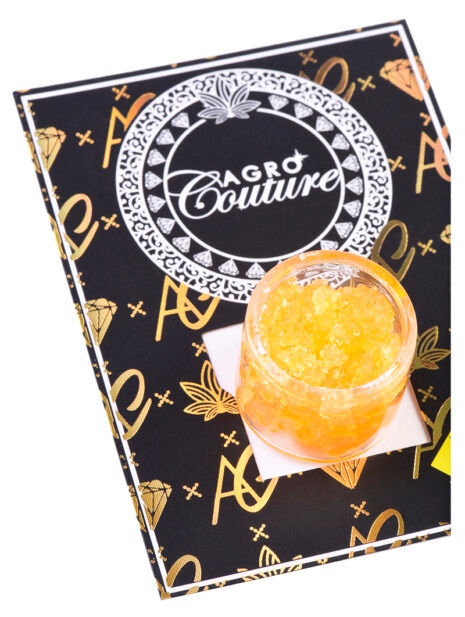 Golden diamonds glisten with terpy sauce that fills the air like a bakery full of hazy vanilla and gassy berries. While we can't eat this tasty cake, we cooked it on low temp in our banger and were rewarded with a tart berry-frosting vapor that delivers a celebratory, mood elevating indica high that had us lit like a birthday candle.
---
Birthday Cake from Dabstars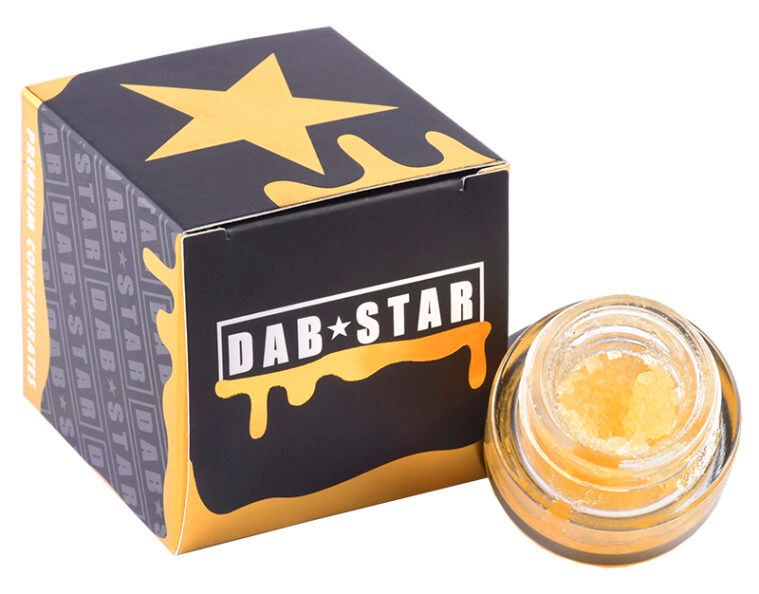 Dabstars is the original Cannabis lifestyle brand that celebrates the culture of dabbing and the hashmakers pushing the limits around the world to make the best dabs. So it's no surprise their white label line is the icing on the Birthday Cake diamonds and sauce, which oozes with creamy citrus terps and a doughy finish on the exhale that lights the candles on a you are baked cake.
---
Tangie Land #5 Diamonds & Live Resin from Doghouse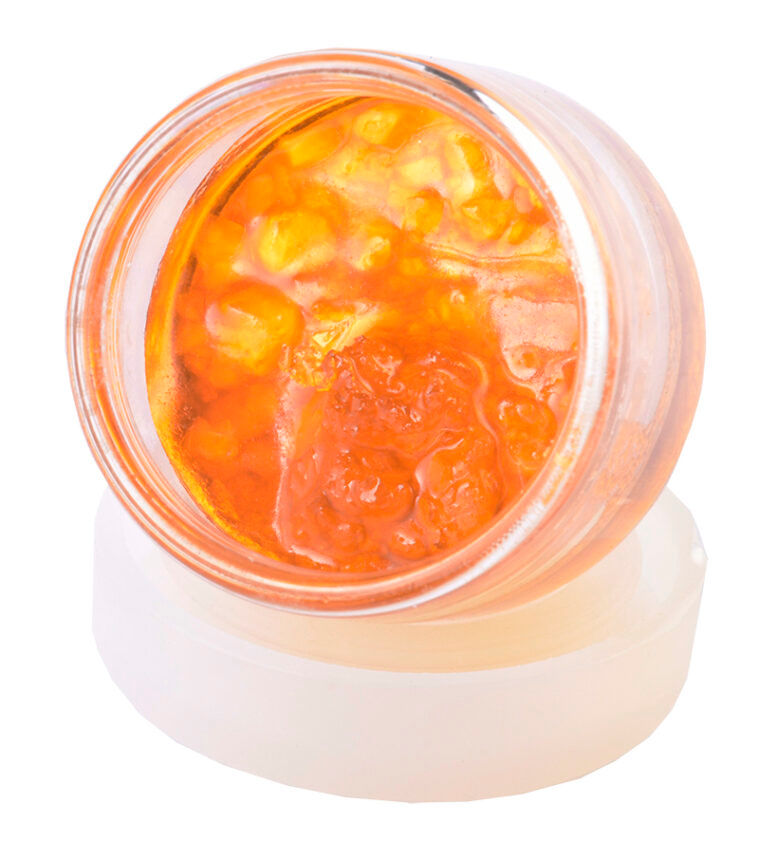 Diamonds and live resin combine for a fresh Tangie meets bright and creamy earth notes, resulting in a supremely delicious flavor and an intense high from the THCA, which melts down with the live resin to release a rush of flavor that stimulates the mind in a euphoric, in the zone sativa buzz.
---
Star Killer OG Wax from Doghouse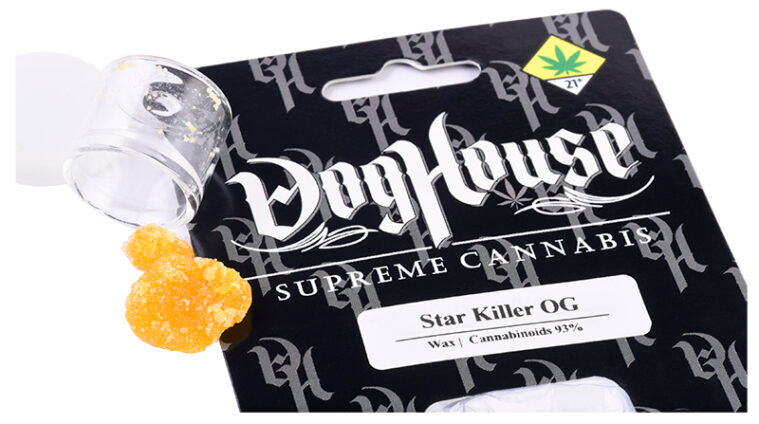 Glistening and golden, this sample reminds us of why we love terpy wax – it's an easy consistency, melts down gently, and delivers a robust high with fats and lipids intact. The Star Killer has fresh, bright lavender and floral-citrus notes that add a hint of blueberry fuel in the vapor, and delivers a stress-reducing, kick off your shoes indica high.
---
OZ Gardenz Double Dabs Glookiez & Oreoz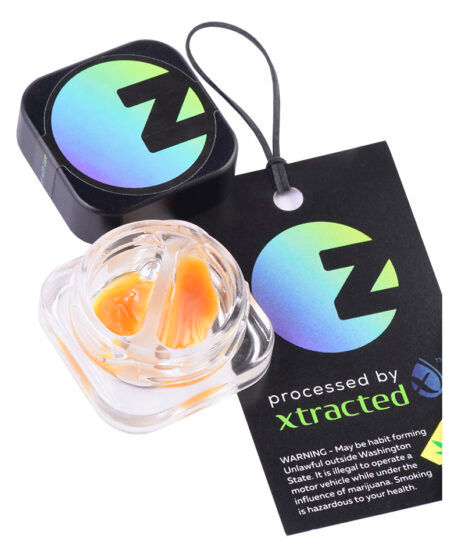 We love this two in one dab combination that combines OZ Gardenz amazing small batch craft flower with Xtracted's legendary processing skills, which combine for a super unique dab experience with two gassy, in your face strains. Popping the jar unleashes a pungent wave of citrus sour funk, with the Glookiez having a sweeter-citrus fuel and the Oreoz adding a richer, sour-cookies blast. After trying both separately we went all in, loading each side of the banger with a small glob, blasting the two off together in a low temp combo that blends into a mind melting, tingly toes and heavy nose indica buzz.
---
Blue Buddha Live Resin from Buddies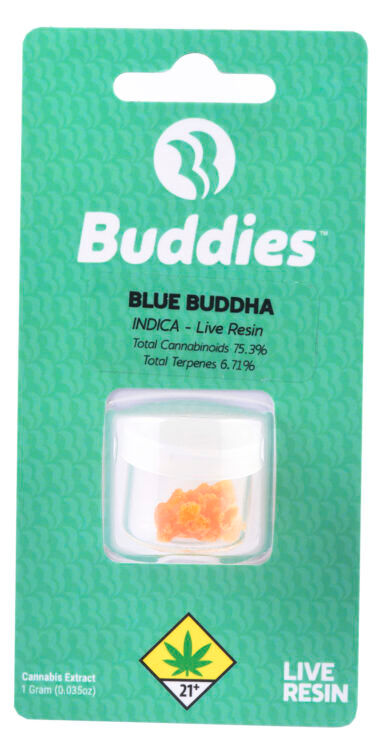 Fresh hazy berries dissolve into a vanilla-lavender-haze that brightens senses when the jar is opened, with a fresh-berry inhale that ushers in a serene, relaxed, zen as fuck high.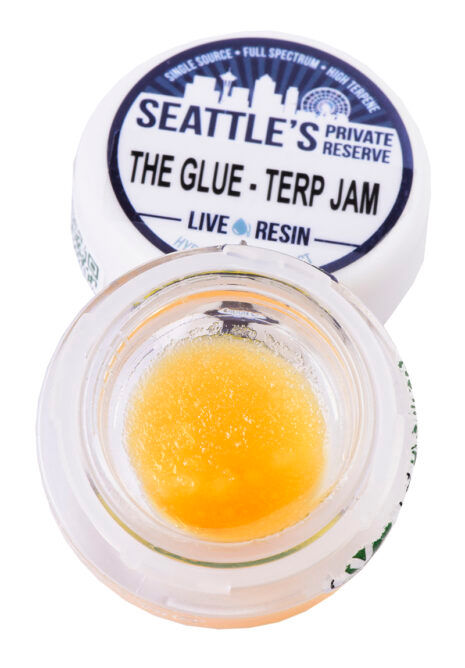 Gooey and jammy, this delectable oil pours on the sour gas-glue-funk that smacks the lips and lingers on the palate long after exhale. With an almost exotic sweetness to the vapor, the sweeter exhale leads into a heavy forehead, relaxed jaw, drooly indica high that will have you blissfully glued to the couch.
---
DJ Short Blueberry BHO from Hellavated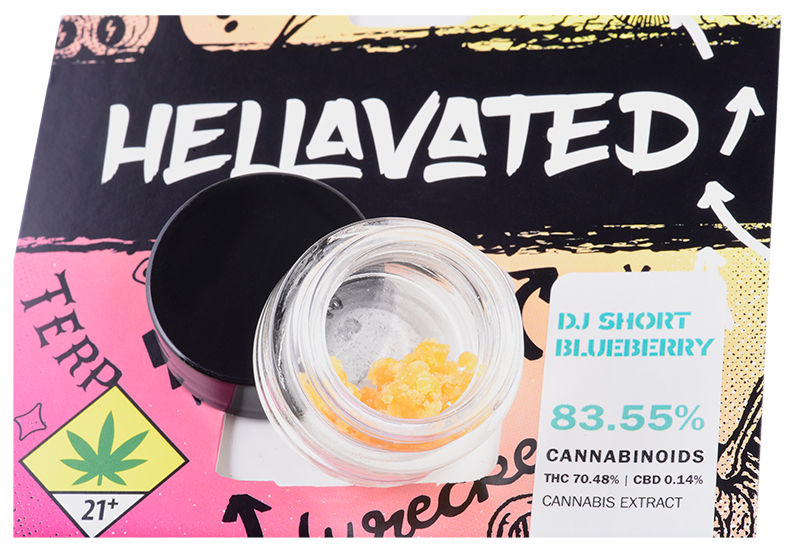 Born and bred in Washington, the DJ Short Blueberry is the originally fruity strain that is honored wonderfully with this berry-forward crumble. Sweet with a rich-doughiness, inhaling a dab tastes like eating a blueberry gum bite from Willy Wonka, complete with the floating away into space after filling the lungs with this sweet treat.
---
Pineapple Skunk Live Resin from Pur Form Labs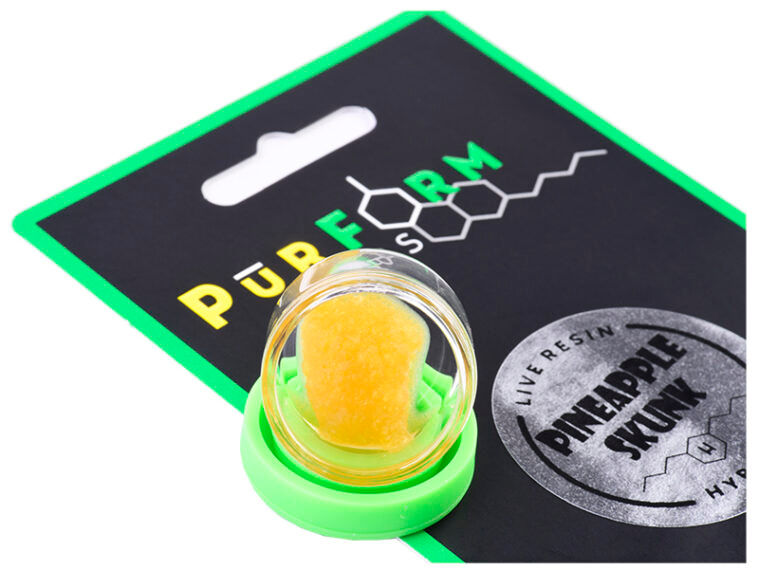 Fresh tropical fruit gets skunked out, in a good way, with the earthy-sourness balancing the sharp Pineapple bite of this live resin. Dabbing the sappy live resin sends a wave of Pineapple crashing into the lungs, bringing a stoney sativa high that brings island time to the PNW.
---
Jelly Breath from Passion Flower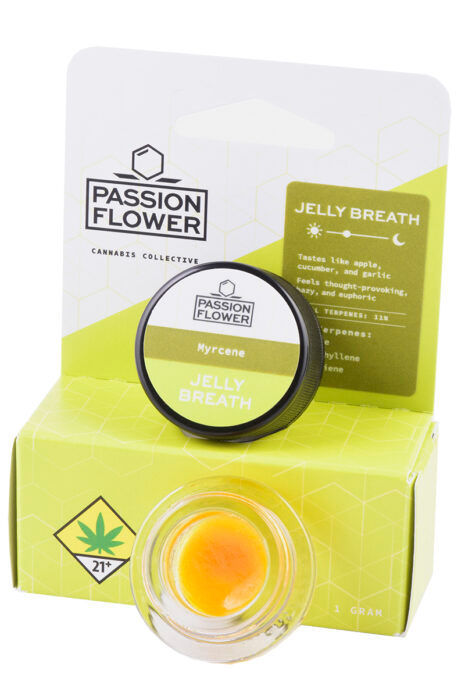 Breath strains are known for evoking a feeling of wind passing into the lungs, opening airways and filling the palate with a fresh, sugary-sweet citrus reminiscent of a lemon jelly bean. This pesticide tested golden sap releases a deeper mix of flavors, with a hint of garlic that blends into the fresh citrus, exhaling into a peaceful and meditative sativa high.
---
Gluelato from Passion Flower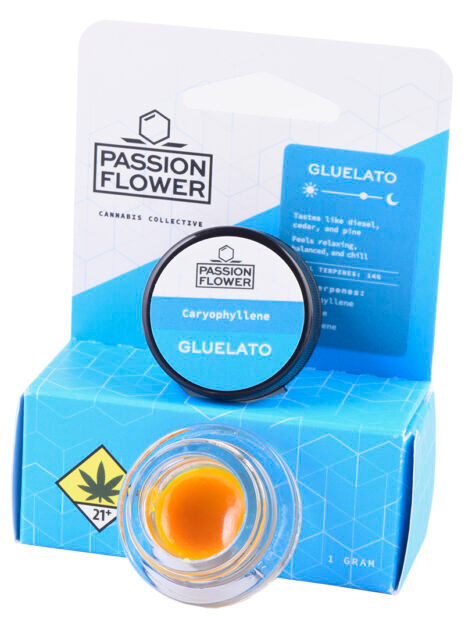 This concentrate is like winning the Glue lotto, with powerful sticky waves of sour-piney-diesel funk that waft out of the jar, begging to be turned into a vapor that sticks to the lungs with a deep grip before exhaling into a sedative, chillaxed buzz.
---
Dutchberry from Artizen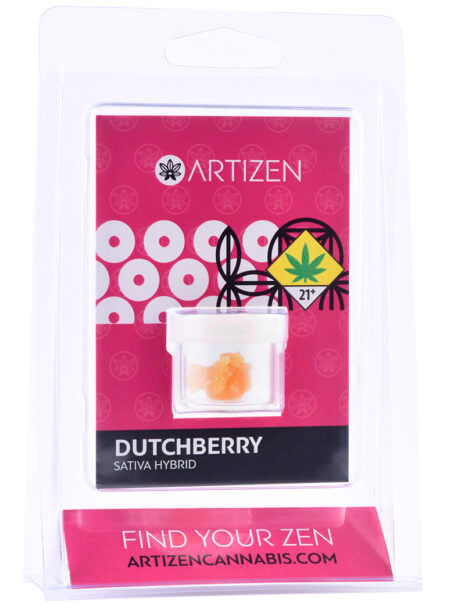 The infamous Dutchberry has been a top selling flower in Washington since 2015, and it's no surprise that this concentrated blend of DJ Short Blueberry and Dutch Treat is beloved in the PNW. This bright and piney, sweet-berries and haze flavored oil is a guaranteed mood elevating, happy high that will get you in the zone for any adventure.
---
Super Lemon Smac from Artizen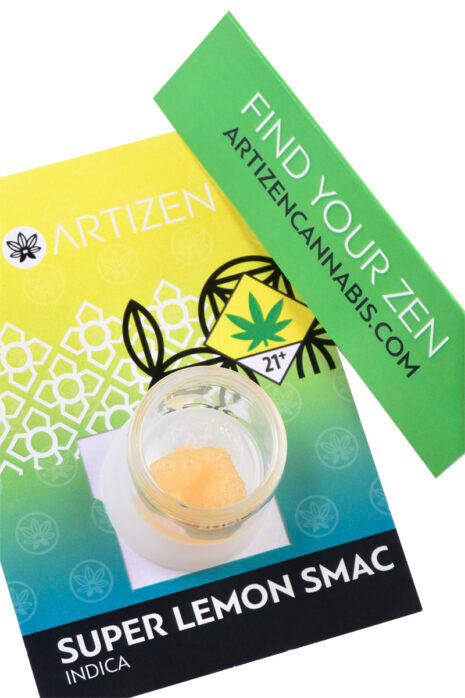 The lemons smack the frontal lobes in this mouth-puckering citrus forward oil, with a frozen lemonade gas that ices out the lungs before expanding into a clean cloud of cerebral stoniness that melts the mind above a euphoric body buzz.
---
Deep Pockets from SKöRD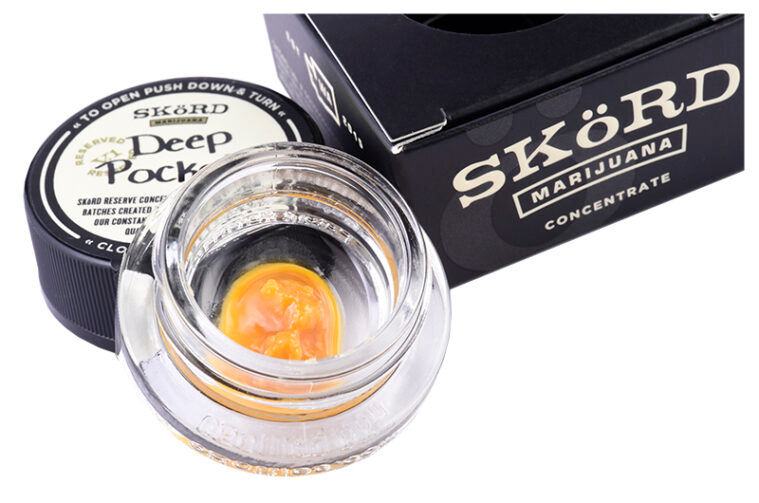 Fermented sour fruit and ripe OG-piney-fuel burst out of the jar from this golden sappy PHO, which dabs into voluminous sour clouds of vapor that build behind the eyes, flooding the mind with a heavy euphoria while loosening tension and relaxing the body into a stoney bliss.
---
Blueberry Tart #28 from SKöRD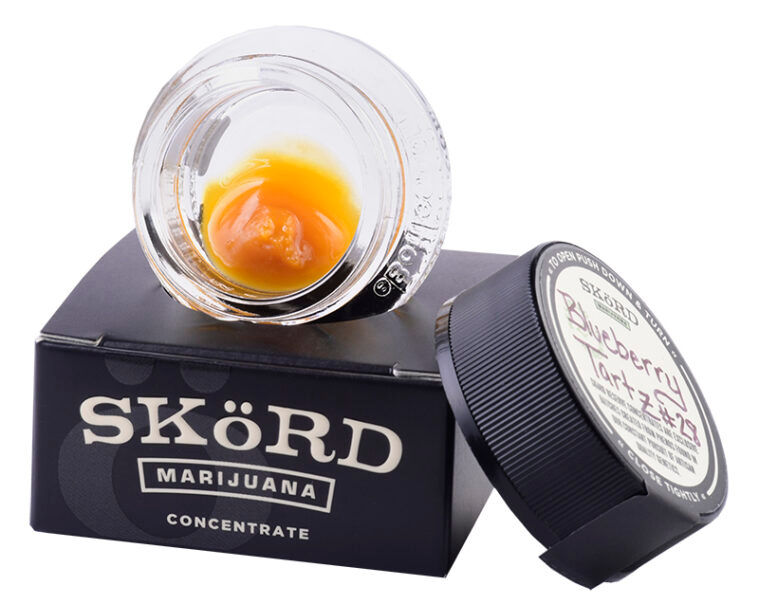 Known for phenotype hunting and their in-house garden to oil process, Skord has a fantastic reputation for putting out limited batch, super tasty concentrates. The Blueberry Tartz #28 lives up to this standard, with a sharp tangy blueberry-fuel that is exquisitely tart and tastes like dessert when inhaled. Delivering a heavy indica high that centers in the body with a floaty, detached from the world high that's a mini vacation in a single dab.
---
Live White Truffle Badder from Lifted Cannabis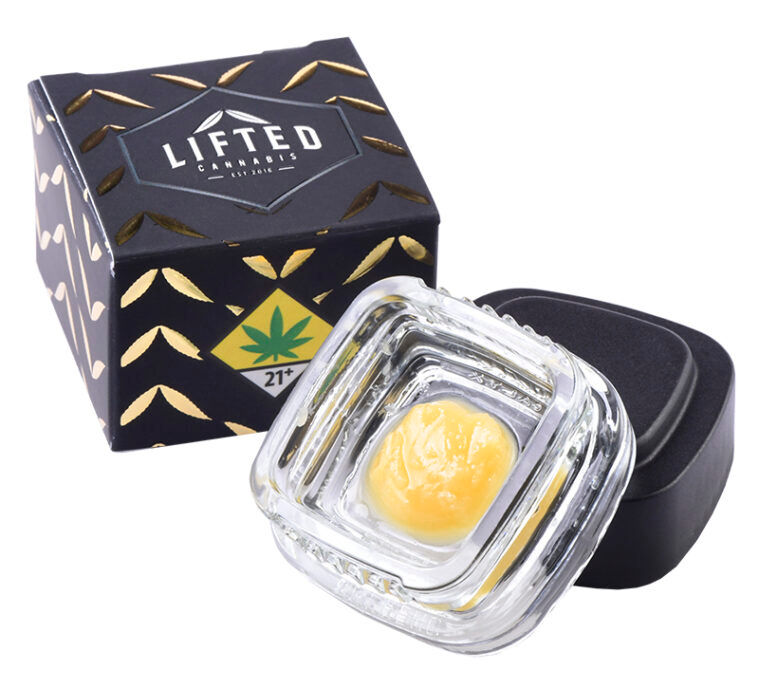 Pure OG gas is softened with a hint of vanilla-lemon and an unmistakable dash of truffle oil that together smells good enough to cook with (think stoney truffle fries). But we saved the heat for a low temp dab, which releases a sweeter fruity vapor that gently fills the lungs, sending the body floating off into sweet relaxation – as the mind breaks free to daydream of where to find those fries nearby.
---
Sleestack Diamonds & Sauce from Lifted Cannabis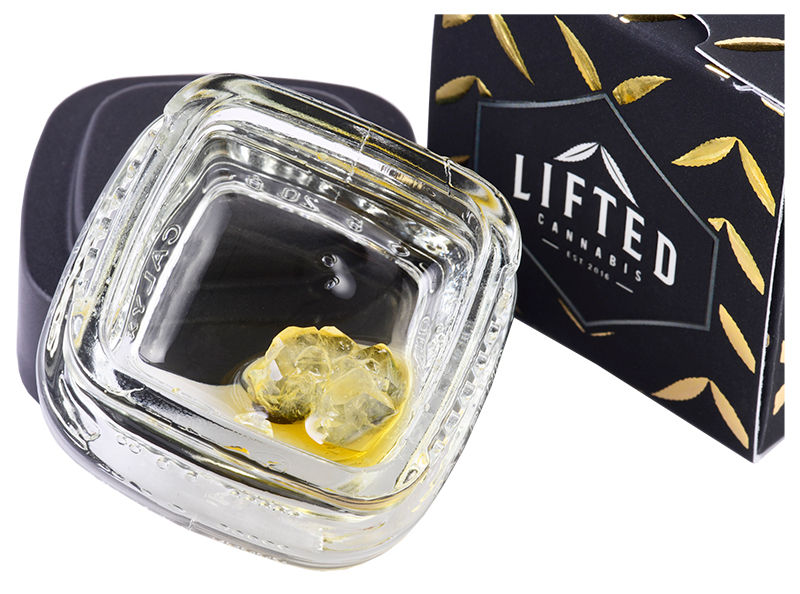 There's nothing more beautiful than a giant diamond glistening in a puddle of sauce, and this high terpene extract brings a supremely bright piney-citrus-creamy-zest that smells invigorating. When dabbed the terps add a beautiful sappy flavor atop the THCA, which brings a huge high that is energetic and euphoric like the Sleestack terps, but with that heavy THCA kiss that keeps the feet stonily on the ground as the mind spins freely.
---
Kush Mintz Live Resin from Mammoth Labs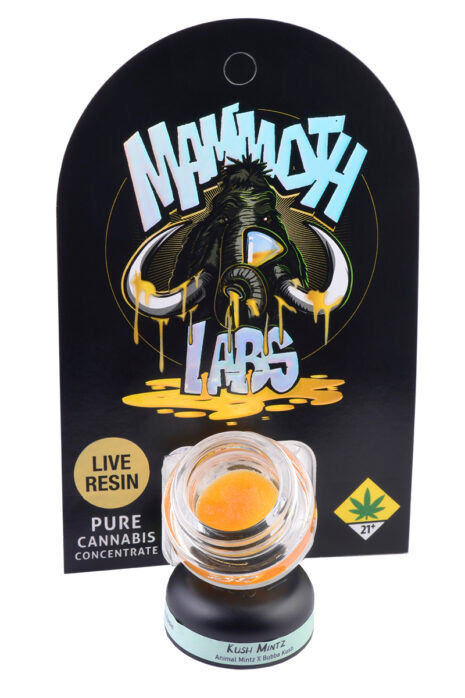 Sharp and funky, with a mouth watering minty-earthy-kush flavor profile, this golden and shiny live resin melts into a sappy, lip smacking minty-gas exhale that lingers beautifully – delivering a relaxed and heavily-baked indica buzz that's a perfect after dinner Mintz.
---
MEOW Chromaflow DIamonds & Sauce from Mammoth Labs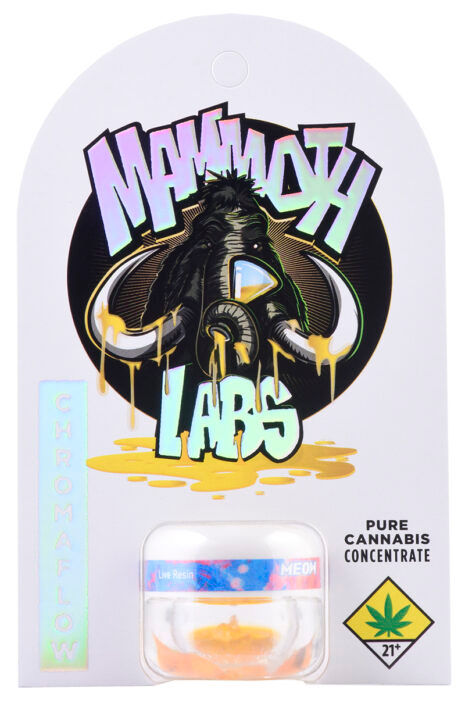 Everyone loves cat videos, and taking fat dabs of this sumptuous gassy diamonds and sauce can either lead to hours on YouTube watching kittens, or rolling around on the floor pretending to be a kitten. Either way works as the bright OG blend is softened with floral-rose-lavender notes that reach deep into the mind, turning on the go button with a tingly exhale – ensuring hours of euphoric energy and focus that is definitely the cat's meow.
---
Extracts Wizard Stones from Oleum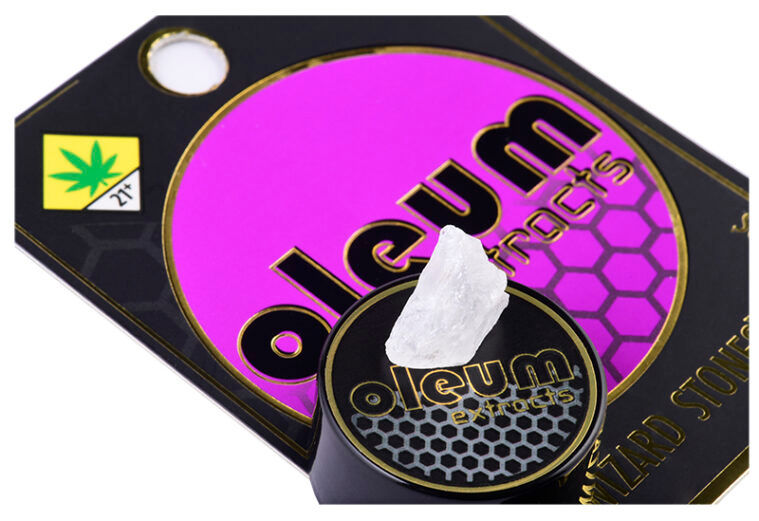 Oleum has been leading the way in Washington's concentrate market from medical to recreational, and they truly deserve credit for bringing THCA diamonds, aka their aptly named Wizard Stones, to market first in this state – paving the way for so many yummy extracts we love today. Shining bright because they are diamonds, these stones will get you infinitely high, and in the pure form have a light, almost flavorless vapor that rushes into the lungs – flooding the body and mind with the most raw and powerful THC high available.
---
Pineapple Shocker Live Resin from Oleum Extracts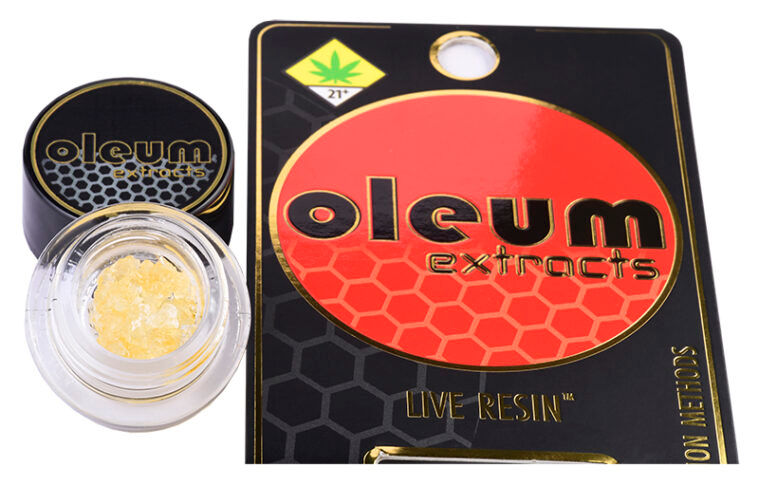 Golden beautiful live resin that tastes like a fresh Dole Pineapple Whip after a hike in Hawaii, this sappy and syrupy oil smells like dessert, with an extra helping of tropical kush that emerges when dabbed at a low temp, filling the lungs and mind with a tropical kiss of calming energy.
---
Sour Orange Cold Cured Live Resin from Oleum Extracts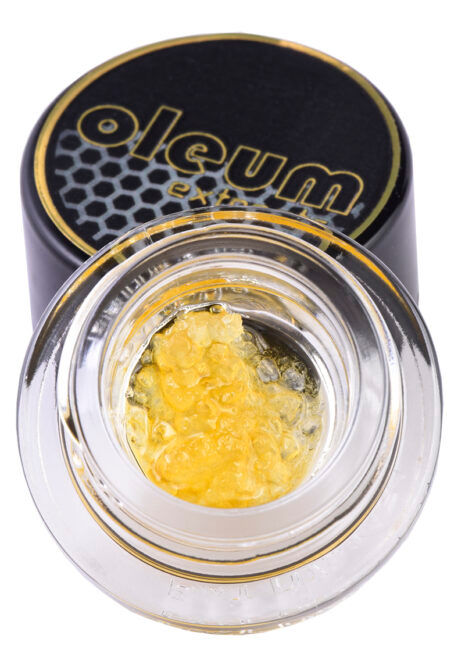 Always push \ing new techniques, the cold cure refers to fresh harvested flower that is cured traditionally in a cold environment, then processed as live resin (super cold extraction) that allows a broader group of terpenes and cannabinoids to develop, versus fresh frozen traditional live resin. This cured Sour Orange brings a robust orangey-lemon-cream that rises above an earthy gas finish, which brightens when dabbed to deliver a vibrant citrus exhale and a sharp mind – focused but still giggly, under pressure sativa high.
---
Peanut Butter Blossom Live Resin Slushee from Bodhi High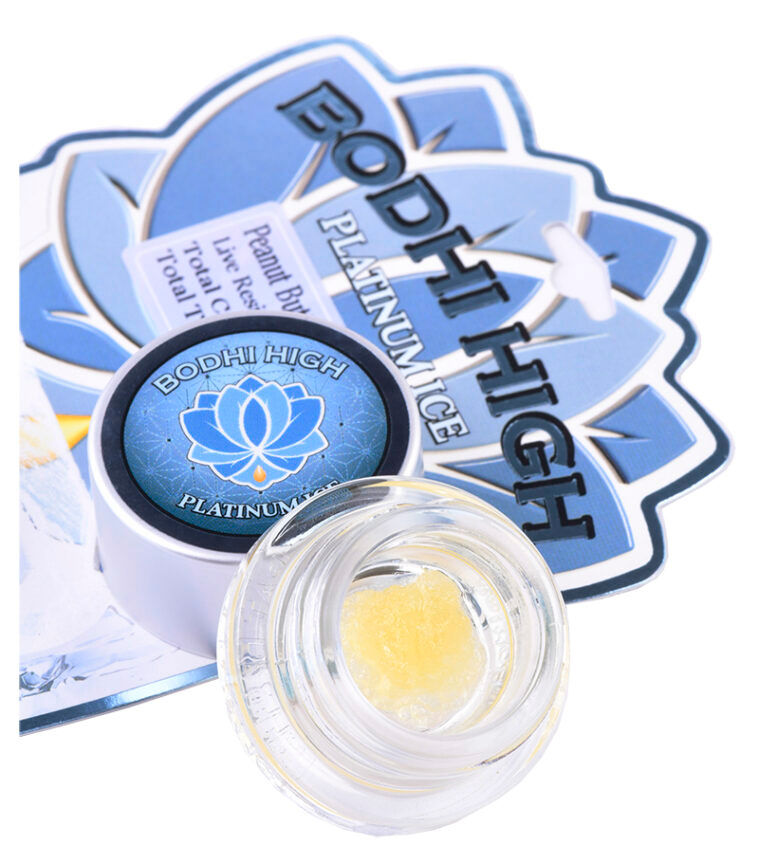 Icy white crystals waft out a rich and thick aroma that is nutty and complex, carrying flavors not often found in Cannabis, with the best flavor analogy being a lemon meringue peanut butter kush sandwich, which we would definitely eat. When dabbed, the vapor has a jelly-like sappiness that lingers on the palate as the indica effects blossom from the chest outwards – wrapping around the body like petals on a very stoned flower.
---
Guava Jelly Live Resin Jewels 'n' Juice from Bodhi High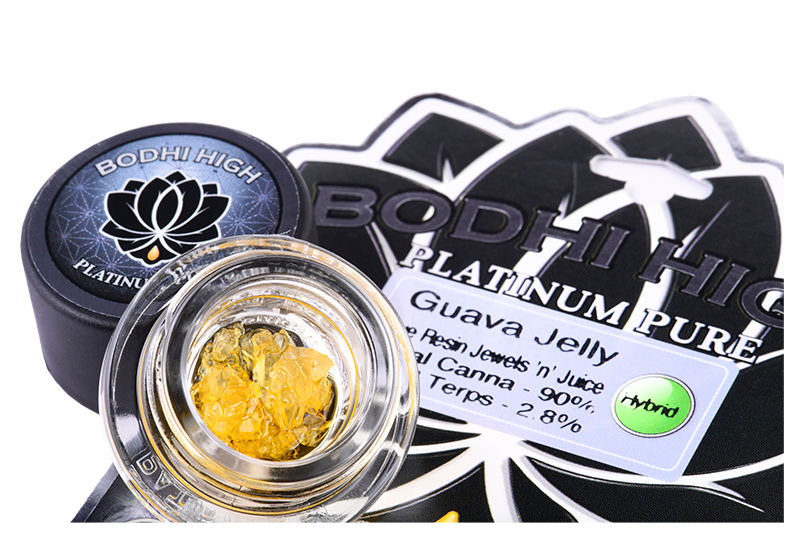 Sweet like a guava lychee, this syrupy blend of terps and THCA looks, smells and tastes like sweet Cannabis nectar jelly. This powerhouse sativa brings a kushy-fruit smoothie vapor with a heady mental buzz that is tempered by the high THC content, combining for a speedball high that will have thoughts moving much faster than movements.