I've finally recovered from DFO weekend in Portland and man was that a marathon! Two full days of headies and hash at the legendary Northstar Glassworks, and I'm back home feeling tired but inspired by all the incredibly talented artists I got to see in action. Check out my recap of it all for Leaf Nation…
THE PREPARTIES
The festivities started Friday as fellow Leaf writer Action Matt Jackson and I powered through a night of back-to-back events, starting with Trade in the Shade hosted by Eli Munster. Truly the terpy nature vibes I needed to kick off the weekend with hash and handmade goods under the gorgeous greenery of Mt. Tabor Park. My top jar had to be the Tally Mon I scooped from Zap Solventless – the perfectly smooth smoke and tropical flavor profile for a shaded summer sesh. The event also featured exclusive drops by Trapis Designs (featured in Matt's holiday gift guide from last year), Mike Macro, Frit Glass, Wook Wear (who you may notice from my recent Heady Threads roundup), and more.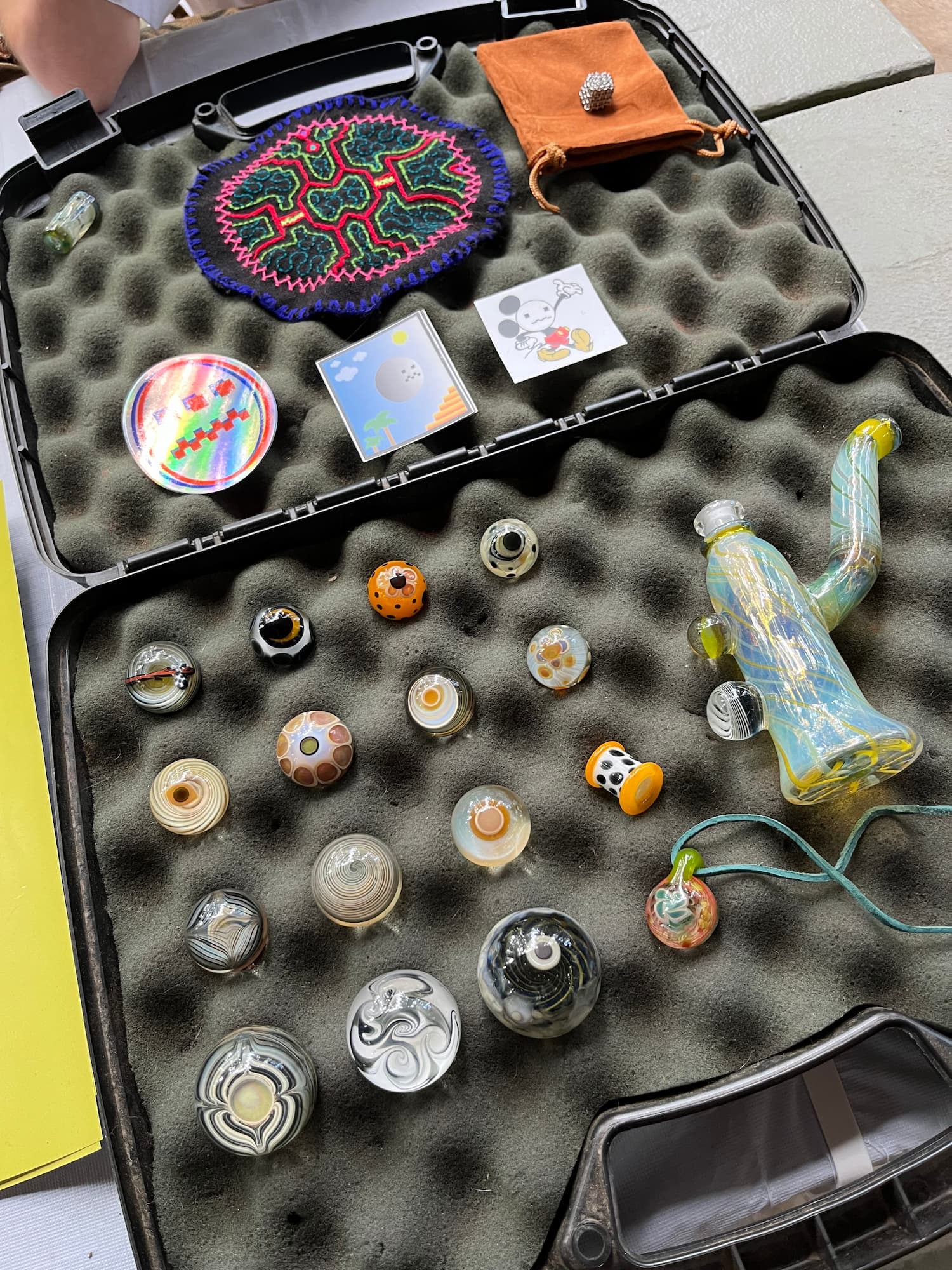 Next, we headed to a sesh at Main Circle, which is the home studio of Mike Gong – our Oregon 2023 Glass Issue cover artist – among many other greats. We ripped some insanely flavorful full-melt by Mush Melts to get nice and hungry before our nightcap event, Terps & Tacos. Put on by Potland PDX at Taqueria Nueve, there was a full taco and tequila bar inside with a dab bar outside hosted by Kalya Extracts. My personal favorite was their Guava Lemonz, with a creamy vanilla and lemon peel note on the inhale followed by a gassier, guava-dominant flavor on the exhale that put me right to sleep.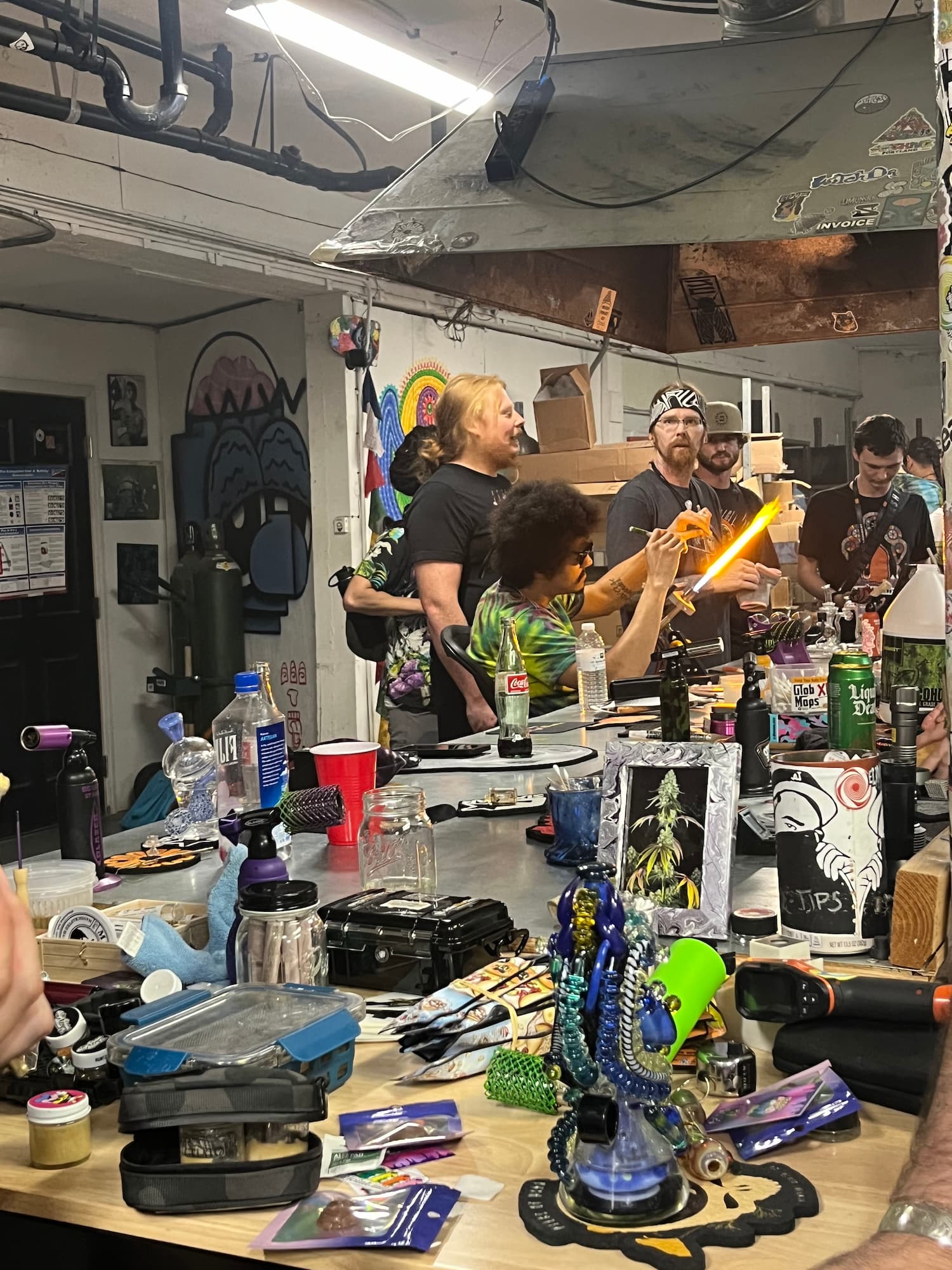 SATURDAY: COMPETITION DAY
After a few much-needed shots of espresso and morning dabs, it was time to start DFO day one! Saturday was competition day – torched ignited at 11 AM and each team had ten hours to complete their piece. The teams were absolutely stacked this year: AKM & Banjo, Nathan Belmont & Kaleb Folck, Windstar & Phil Siegel, Hendy & HicDogg, Punty? & Dosa, Stephan Peirce & Northern Waters, Sibelley & Coldberger, and Big Z & Stratisphere.
It was dope to walk around the tent throughout the day and watch these pieces going in and out of the kiln, coming together hour by hour. The transformations from the beginning of the day to when the night wrapped were absolutely crazy! During breaks from what I referred to as the "torch tent," I spent some time walking around the vendor floor to check out all the sponsors. Obviously, I had to swing by the Oregon Leaf booth first, but some of the others I couldn't miss were Heady Swabs (Matt and I were in desperate need of Q-tips), the local Alder Brooke Glass Arts studio out of Eugene, and 4 My Head who blessed me with some Rainbow Belts that was for sure my favorite smoke of Saturday.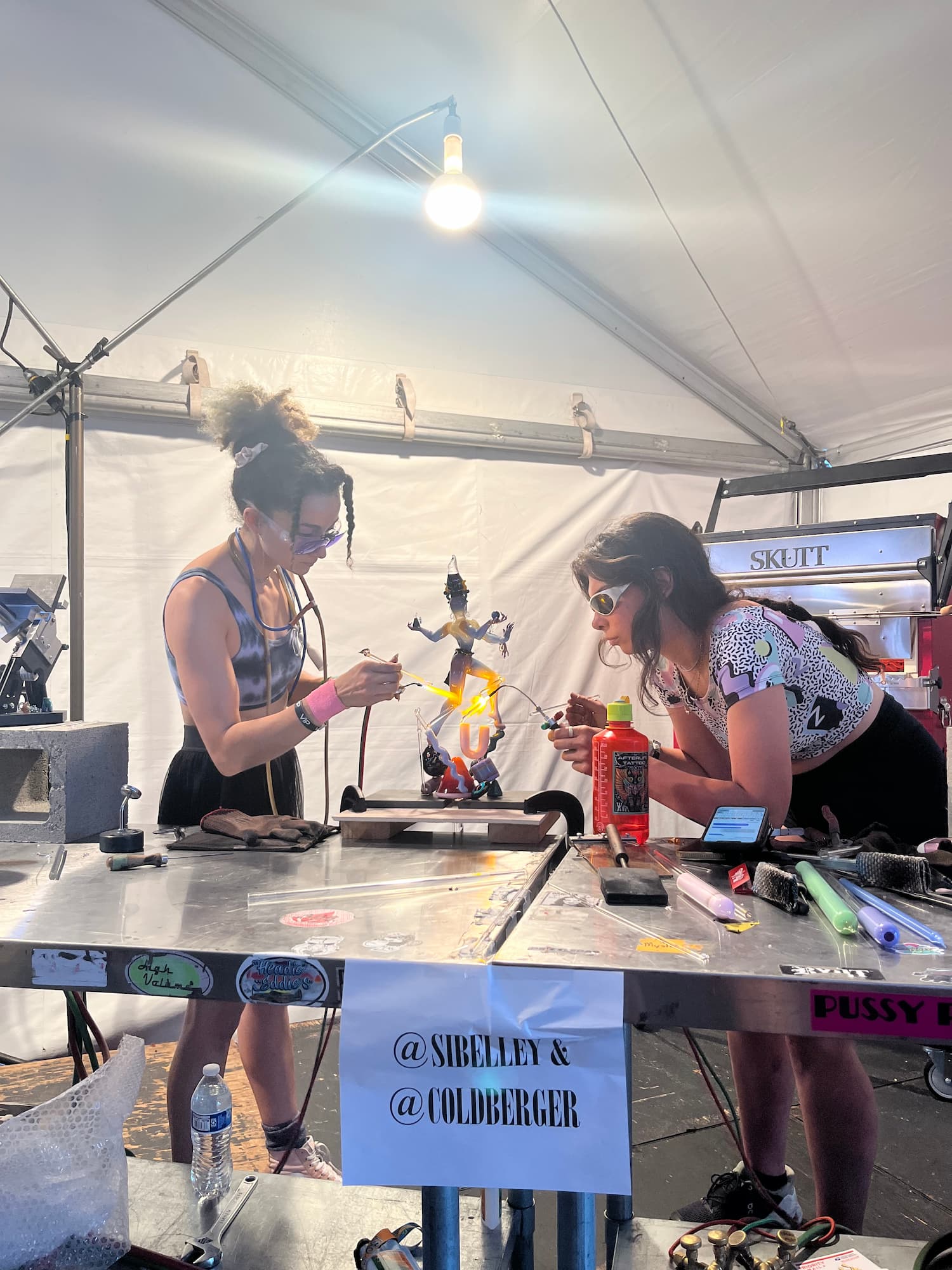 SUNDAY: DEMO & AWARDS DAY
Everyone arrived on day two hype to see the finished competition pieces from the day before on display. A few noticeable crowd favorites were "Thunderbird" by Windstar and Siegel and the functional "Easy Bake'd Oven" by Dosa and Puntington that actually baked chocolate chip cookies. There were so many showstoppers but my personal pick had to be the "Sherbert Shiva" by Sibelley and Coldberger. The pastel color combination was insane, the flames behind the piece were so eye-catching in the gallery, and of course, I'm all about the girl power. Shoutout to these two (and Windstar) for showing out at one of the biggest industry events of the year. Such a monumental moment for the women of glassblowing!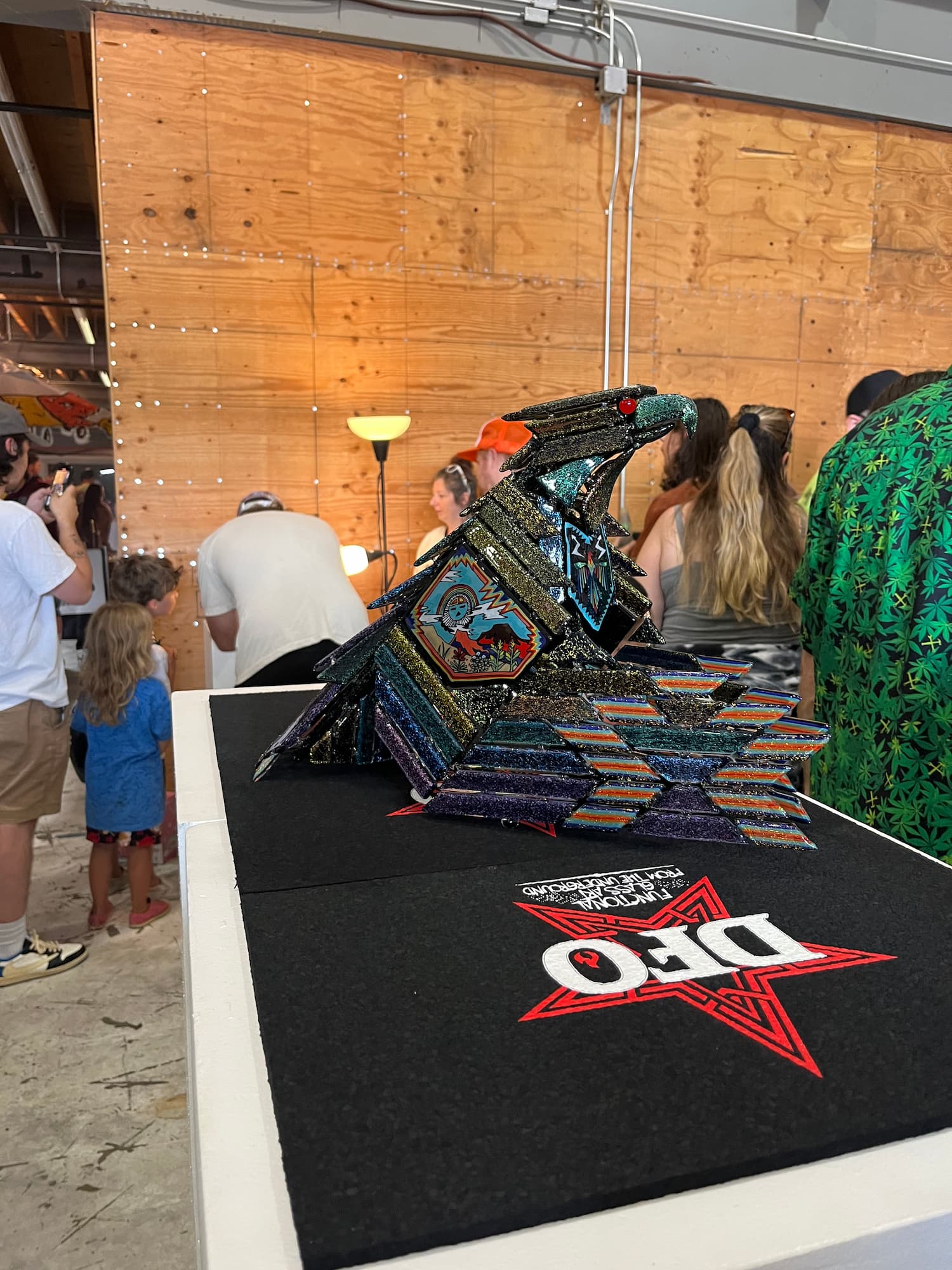 After spending the morning wandering through the gallery it was time to get back into the torch tent for a full afternoon of demos. I was personally most excited to see JFK and Burtoni (some friends from back home in Denver), Flex Glass and Avant-Garde on the lathe, and FireFly doing his thing with those gorillas.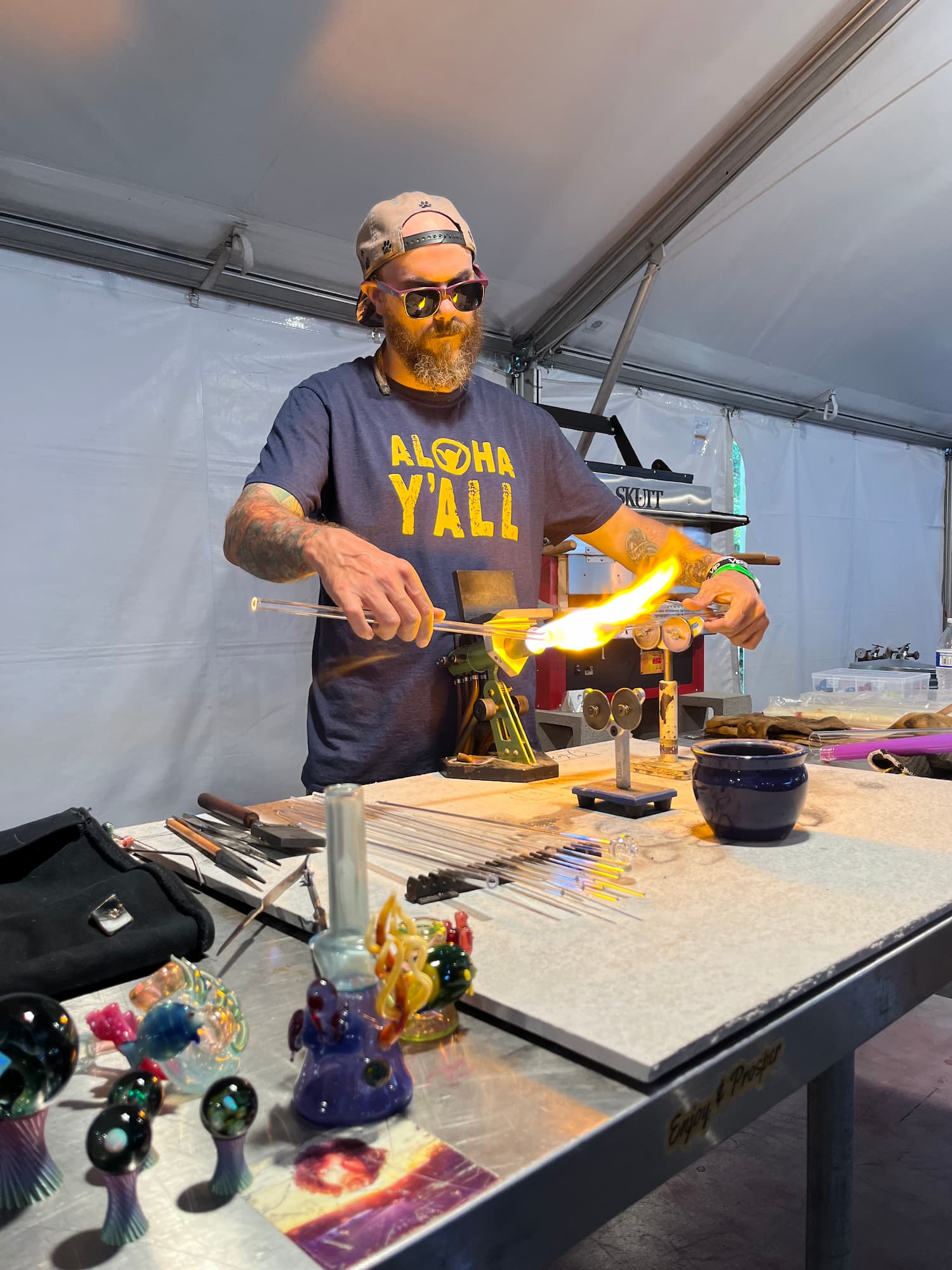 The demos certainly did not disappoint and as evening fell it was time to announce the competition winner. Voted on by attendees, AKM & Banjo took home the win with their extraterrestrial-themed piece. I loved the orange and red accents against the galaxy black and can we please talk about those opal alien eyes? So. Sick. Everyone went hard this year and I can't wait to see what they bring back to the PNW for DFO 2024…