San Francisco's legendary annual 4/20 celebration on Hippie Hill in Golden Gate Park has been through many iterations over its storied lifetime, and this year's event is poised to etch itself in the city's memory.
Spearheaded by Alex Aquino and Sounds Bazaar, the event will be anchored by the incomparable Erykah Badu, fresh off releasing her own strain That Badu with San Francisco's own Cookies. Also performing are DJ Shortkut, Mind Motion, Jahyzer, DJ A1, DJ Mykone and more together onstage to soundtrack one of the largest seshes in the world.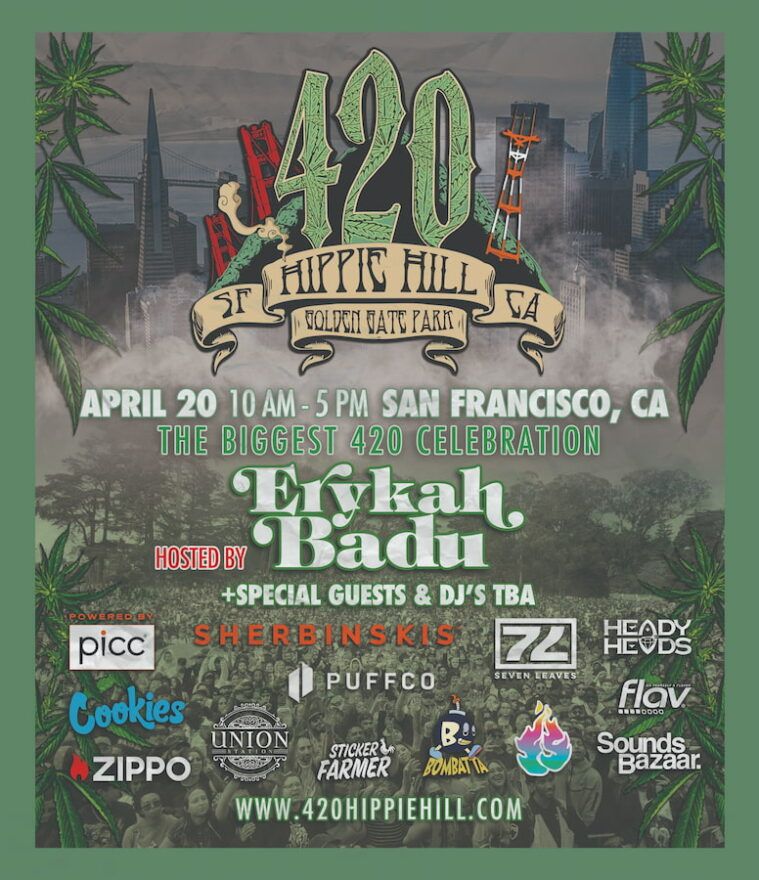 Aquino has spent decades working to uplift the SF community, working for the past 30 years as a concert promoter and organizing community renewal projects. He took the reins as Hippie Hill organizer in 2015.
"Hippie Hill has been going on since before I was born," Aquino said. "I've been going since I was a teenager. We're honored to be those guys to run it. I rallied for this in 2015 to make this thing happen."
In addition to the entertainment, Hippie Hill will play host to King of Z Hill, a groundbreaking grassroots Cannabis competition held by 3rd Generation Family Farms. Brands and products that pass the qualifying round on April 19 will compete on the Hill on 4/20, with the winners of each category taking home $40,000. Cash. 
Aquino also has brought Badu to the official afterparty at The Midway at 8 p.m., where she will spin a DJ set as DJ Low Down Loretta Brown, along with sets by the legendary Talib Kweli from Blackstar and DJ Shortkut. VIP tickets for the daytime event and afterparty are available at 420hippiehill.com.
With that heavy hitting event lineup and more than six figures in cash on the line for the competition, it's bound to be a day that the city of San Francisco won't soon forget.