Six Star Pairings is a new event group out of Colorado, founded by "The Oil Grid" and focused on small-batch craft concentrates and gourmet cuisine pairings. Since there's truly no better pairing than fine dining and hash rosin, I was absolutely jazzed I got to attend the first Six Star dinner that went down in Denver recently. Located at a swanky private venue in an eclectic industrial arts district, this inaugural dinner party brought together some of the top terps, tastiest dishes, and totally heady glass pieces in the Mile High City.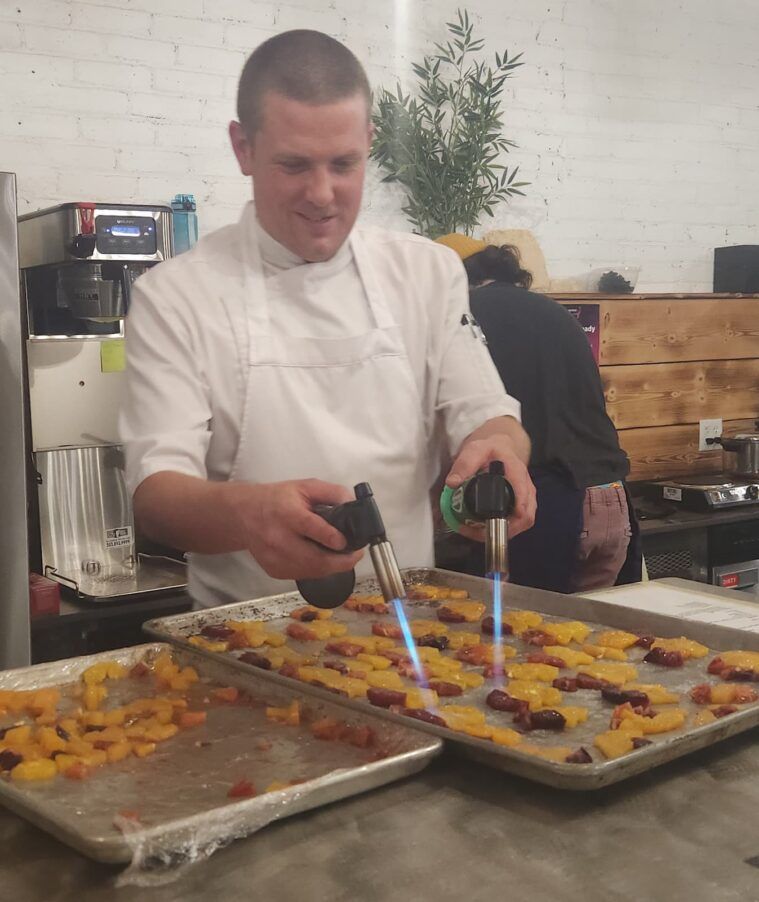 Chef Chris Ratcliff (known to many as Doja Chris) is a farm-to-table private chef and sixth-generation Northern Californian who grew up foraging on his family ranch in Mendocino County. His cooking style was influenced by his time working at the three Michelin-starred San Francisco restaurant Quince and inspired by the coastal flavors of his beloved home state. In fact, many of the ingredients for this four-course dinner pairing were sourced from farmer's markets across California and flown into Denver with Chef Chris!

Each dish was also thoughtfully crafted to pair with the unique terpene profiles of hash provided by private makers RipTide Rosin, Shaggie 710, Pressy LePew, and Myxed Up. Coming out of some of the cleanest gardens in Colorado, genetics featured at this event were all hunted from seed and grown indoors in small batches.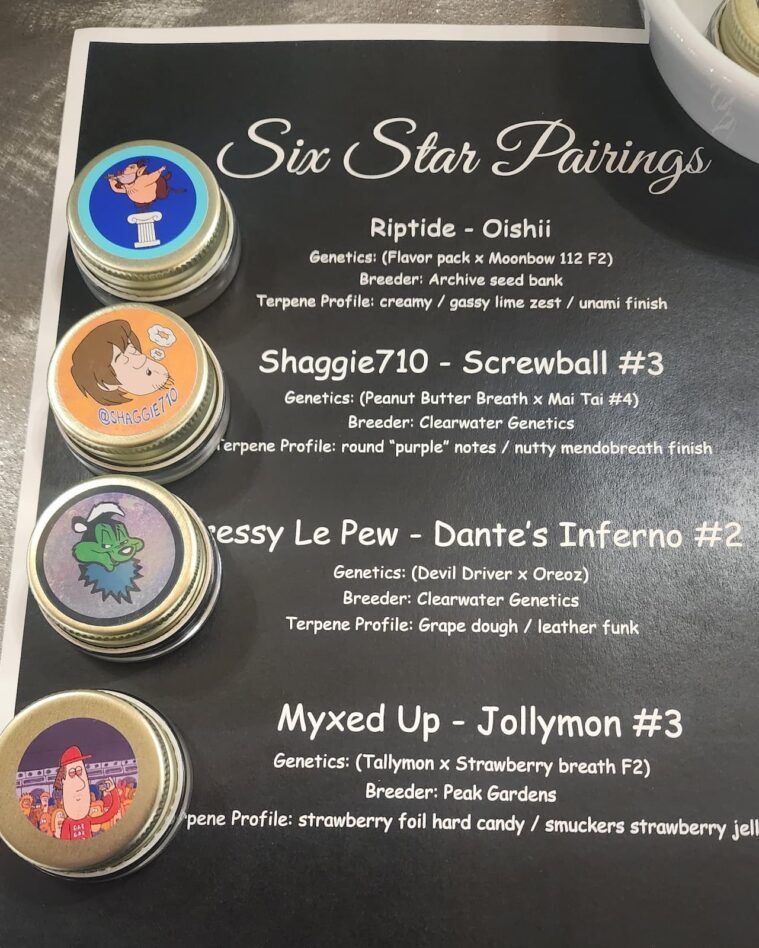 Our night started out with Oishii by RipTide Rosin, a cross of Flavor Pack x Moonbow 112 f2 bred by Archive Seed Bank out of Portland, Oregon. The hash was accompanied by Veloute Verde, a super herbaceous soup featuring Butterball from Riverdog Farm, green garlic, and Estepan's small-batch Sourdough croutons.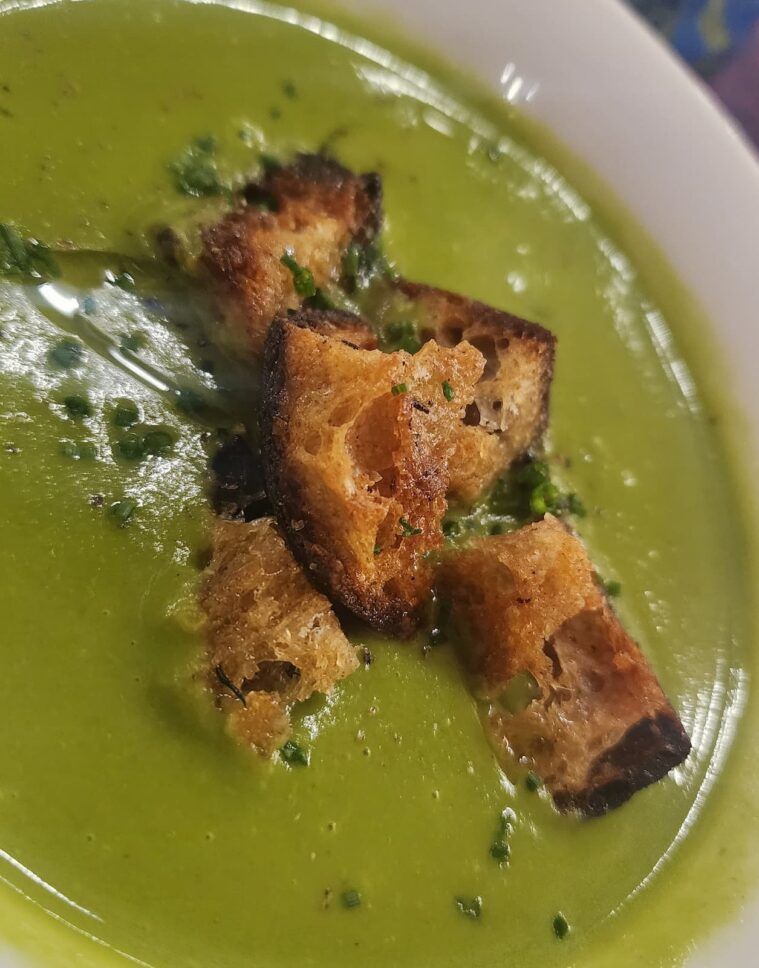 The soup was rich and creamy with so many layers of flavor, but those croutons had to be the star of the show – each was a perfectly buttery, garlicky, and crispy little bite. My first impressions of the Oishii were heavy diesel gas on the aroma and tart lime on the taste. The funky and acidic citrus flavor really brightened up the earthiness of the soup and got me feeling warm, fuzzy, and ready for the rest of the evening. 

Next up was Screwball #3 by Shaggie 710, (Peanut Butter Breath x Mai Tai #4) originally bred by Clearwater Genetics right here out of Pueblo, Colorado. This course was served with Agnolotti, a style of pasta from the Piedmont region of Italy and made with small pieces of flattened dough folded over a filling. Pockets of pillowy goodness were stuffed with Bosc pears from K&J Orchards, Taleggio cheese, and honey then topped with fresh walnuts.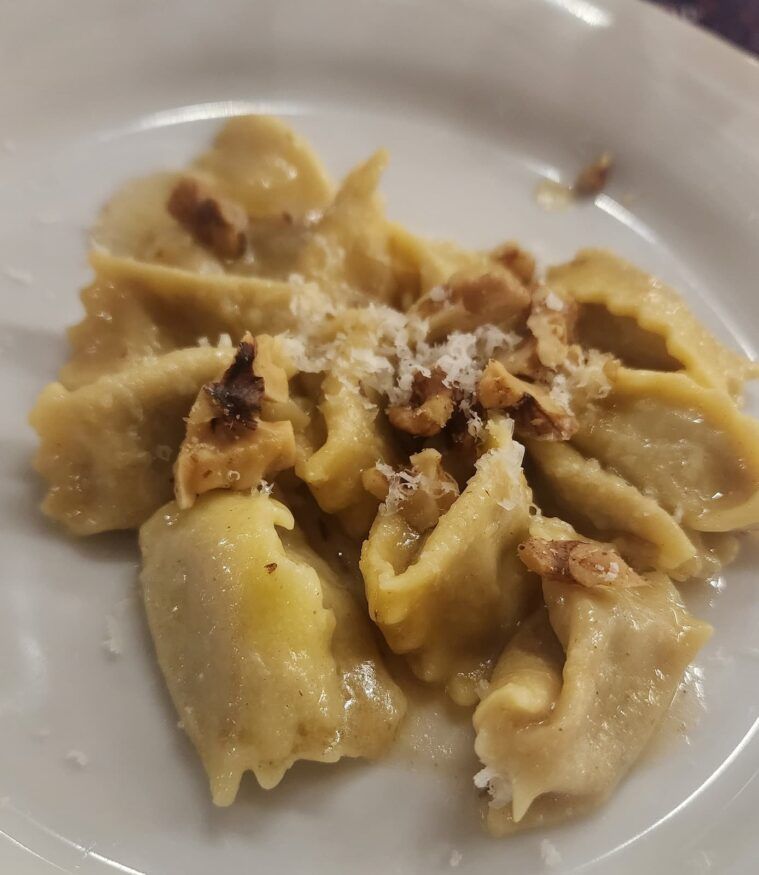 The hash had a very floral, melony scent on the first whiff but started to smell nuttier after a few more deep inhales. This complemented the pasta perfectly as each bite started out earthy from the walnut chunks, with a note of sweetness on the backend from the dash of honey in the dish. One of the guys sitting at my table even called this pasta pairing the "bite of the year." Quite the claim, but one I'd have to agree with as we were all literally scraping the last drops of sauce off the plate.

This course featured an entree pairing of Dante's Inferno #2 by Pressy LePew and Prime Short Rib from Schmitz Ranch, served with Spring Farratto (an Italian dish that combines the creaminess of a more traditional risotto, but with the nuttier flavor and firmer texture of farro), Mendo blonde morels from Black Diamond Mushroom Co, and salsa verde. The meat was so tender you didn't need a knife and the saucy base was so fresh, you could just tell the vegetables used were recently plucked right off the farmer's market table.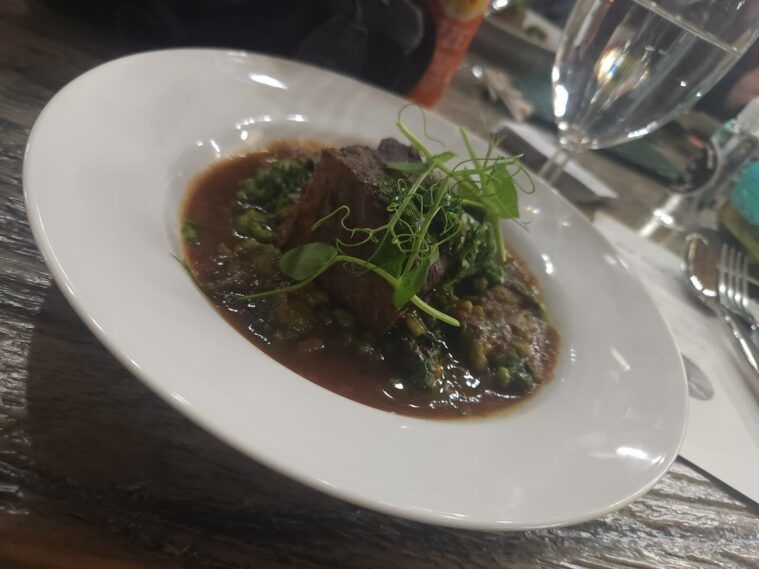 Dante's Inferno #2 is a cross of Devil Driver x Oreoz, also by Clearwater Genetics out of Colorado. She hit me hard with a scent like a spiced chai latte and had a similar caffeinated effect with an energizing high that got me through to dessert. That leathery, peppery, and slightly herbal note definitely continued to come through on the taste with this one, rounding out the umami flavors of the short rib and mushrooms.
Last but certainly not least was a Creamsicle paired with Jolly Mon #3 by ff – who beyond being a fire hash maker, also makes music and handled the tunes for the evening. This cross of Tally Mon x Strawberry Breath f2 was bred by Peak Gardens in Colorado Springs, and sticking my nose in the jar took me back to summer vacation as a kid. She smelled like fresh fruity taffy being pulled as you walk by the candy shop on the boardwalk. The taste was a straight punch of strawberry patch to the face with lingering notes of banana and papaya peel from the Tally Mon. 
Featuring a shortbread cookie crumble, juicy blood and navel orange slices from Brokaw Nursery, and organic cream from Straus Family Creamery then garnished with a fresh flower petal, this dessert truly tasted like a trip to the California produce stand. So light and fresh, it was a wonderful way to round out a dinner of heartier dishes.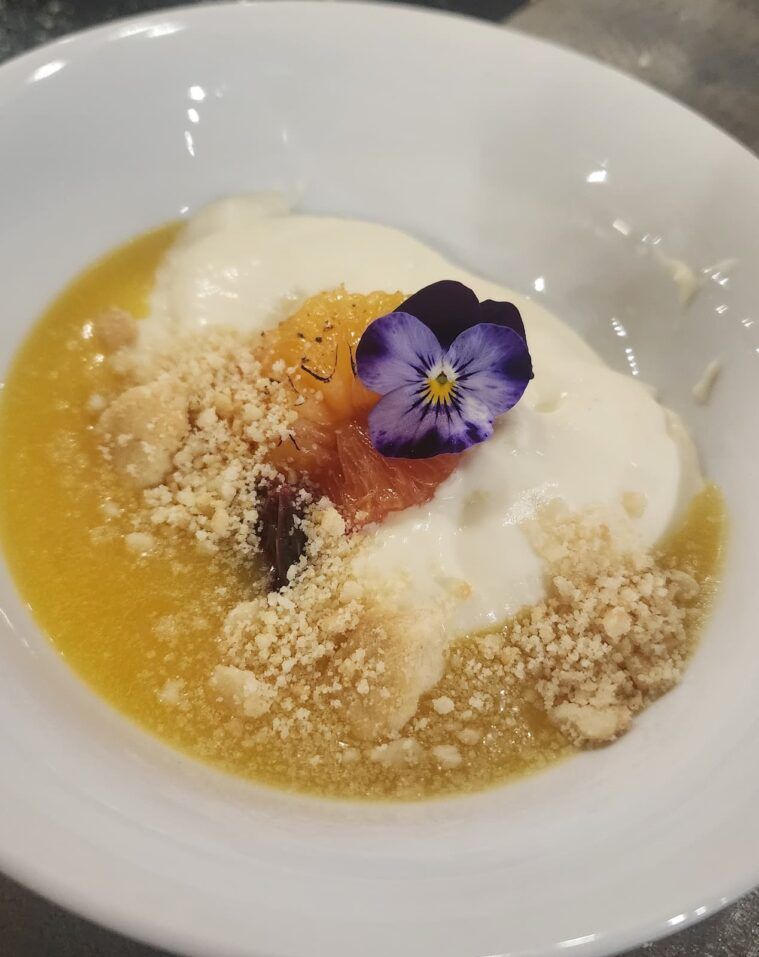 Looking to the future, Six Star Pairings is focused on continuing to celebrate pairings of small-batch hash and farm-to-table cuisine. An intimate event is in the works for 7/10, every hash head's favorite day of the year, and beyond that, the team is planning something special to honor the seasonal change around the fall equinox.
Stay tuned at @6starpairings on Instagram to snag your seat at the next Denver dinner, and keep an eye out for our September "Tannins and Terpenes" issue of Leaf Magazine for more on nationwide leaders in craft cuisine and Cannabis pairings!