The Emerald Cup is the belly of the beast and an absolute hotbed of world-class Cannabis, an all-in-one place for a whirlwind tour of top shelf Cannabis products of all kinds. This year's personal picks list demonstrates the diversity in the flower market, and proves that elite-quality buds can be cultivated in any method, as long as it's done with love, quality inputs and expertise. On the concentrates side of things, the solventless revolution is fully upon us and more consumers than ever are speaking with their hard earned dollars, spiking the demand for hash rosin and full melt concentrates made using water, ice and mechanical separation techniques. These were the best flowers and solventless extracts I came across at The Emerald Cup Harvest Ball.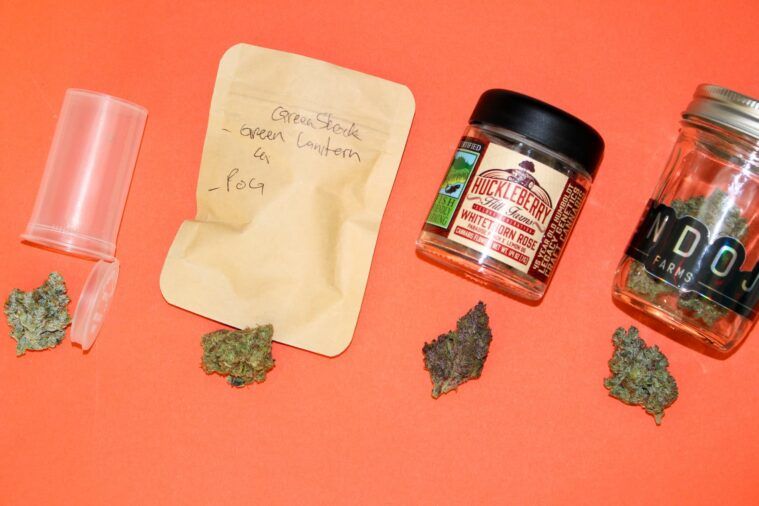 Flowers
#1 – Best of Show – Mendoja Farms OGZ28 Light Dep Flower
@mendojafarms
Somewhere between indoor and full-term outdoor exists light deprivation cultivation, which in my opinion is a grossly under-sung grow style. Mendoja Farms utilizes simple greenhouses without supplemental light and cultivates in living soil beds with organic inputs to craft their fluffy, terp-heavy flowers. This OGZ28 is a potent mashup of the legendary OG Kush and the new-school Z that boasts an outrageous nose that splits the difference between the two elite cultivars. Both candy and gasoline, this OGZ28 is an absolute winner in flower form, and is a certified winner in hash form too. The same flower blended with their Key Lime Pie and processed into live rosin by Real Deal Resin just took 4th place out of 40+ entries at the 2022 Ego Clash, which is considered by most as the premier competition for solventless extracts.
#2 – Sense Cannabis Pure Kush x Headband Indoor Flower
@sensecc
San Francisco's Sense Cannabis continues to crush 2022 with boutique, tent-quality flowers grown for the recreational market. The quality this crew has been able to maintain has been impressive to say the least, and their keen feel for the market and what's hot has led them to house a stable of purebred heat, bred by some of the best in the game at the moment. While leaning heavily into the "exotic" candy-gas realm in 2022, they hit me with some nugs of their freshly harvested all-gas Pure Kush x Headband (bred by @skunktek) that really stood out in today's world of fruit-driven terps. The bag appeal of Sense's flowers is always 11/10, but it's the no-holds-barred throwback aromatics and bud structure that makes this rendition of classic gas a winner. (Read our April 2022 review of Sense's Pink Certz here.)
#3 – Huckleberry Hill Farms Whitethorn Rose Full Term Flower
@huckleberryhillfarms
An undeniable mention, Huckleberry Hill Farms' Whitethorn Rose continues to earn recognition as one of the best hash strains in existence today. This special cultivar is a house-bred hybrid of Lemon OG and Paradise Punch that produces stunning flower, both visually and on the nose. The flowers are a deep purple hue and the aroma is an intoxicating Purple Punch-esque profile with hints of lemon rind and tangerine peel – outrageously fruit forward. After winning 1st place at the 2021 Emerald Cup with the Whitethorn Rose, this year they crossed the strain with the market's new favorite, Z, and the freshly made cross took 1st place in the Rosin category at the 2022 Ego Clash the day before The Emerald Cup Harvest Ball began. A standout in both flower and hash form, the Whitethorn Rose has got legs, and I can't wait to see where it goes from here. (Read our July 2022 review of Huckleberry Hill's Whitethorn Rose here.)
#4 – Greenshock Farms POG Full Term Flower
@greenshockfarms
The first time I heard mention of Greenshock Farms was in 2017 while visiting full-term sungrown gardens in Southern Oregon at harvest time for Oregon Leaf. While touring Liontree Farms, I was introduced to one of the wildest and most unique terpene profiles I have ever come across to this day, presented in a strain called Tropical Sleigh Ride. Liontree Farms' owner Aaron Ward mentioned the breeder was Greenshock Farms, and from that point forward, I knew that Greenshock was doing something special. Five years later, I finally came face to face with the Greenshock team, and was given some of their POG flower. POG is short for Passion Orange Guava, and was born from a cross of Purple Candy Cane x Pina – the same parentage that created the Tropical Sleigh Ride. POG is a special pheno of Tropical Sleigh Ride that kicks off huge fruit punch aromas, intertwined with subtle minty pine undertones that exemplify the unique terps of the Tropical Sleigh Ride line.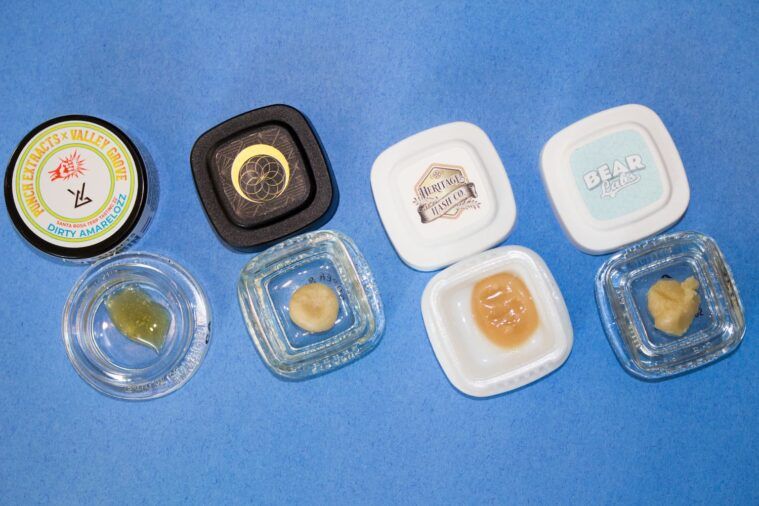 Concentrates
#1 – Bear Labs x Booney Acres Sour Bears Live Rosin
@bearlabs710 / @booney_acres
Major shoutout to Leafly's David Downs for giving me the heads up about this incredible small-batch collaboration from Bear Labs and Booney Acres. Booney Acres is located in Trinity County, which continues to earn my respect as arguably the best region in the Triangle to cultivate for hash, and grows in simple light dep hoop houses in living soil beds using organic farming techniques. This Sour Bears is an impressive shade of blonde and boasts a surreal, nearly artificial nose that resembles corner store sour gummy bears with a sugary sweet, lightly citric astringency that tickles the nostrils and makes the mouth water. Notes of tropical fruit, wet earth, and subtle funk emerge on the palate, making each dab of this one a nuanced and complex experience. Bravo!
#2 – Moon Valley Cannabis Super Boof Cold Cure Live Rosin
@moon_valley_cannabis
Shoutout to Mercy Wellness' Joe Sullivan for introducing me to Sonoma County's Moon Valley Cannabis, an indoor living soil cultivator and single source solventless extracts brand putting out some seriously terpy offerings. Indoor and soil grown is an increasingly rare combination that is extremely difficult to maintain, and even harder to scale. This approach represents a dedication to quality and to flavor, which is extremely appealing as a connoisseur consumer. I had been hearing about Super Boof, but had yet to encounter an example until walking up to Moon Valley's booth at the The Emerald Cup Harvest Ball. While every offering they had on display was terpy and unique, the Super Boof Cold Cure Live Rosin was so loud it was shouting about rotting tangerines at the top of its lungs.
#3 – Heritage Hash Company x Huckleberry Hill Farms Riddlez Live Rosin Badder
@heritagehash.co / @huckleberryhillfarms
The 2022 Ego Clash 1st place winner sold out Day 1 of the Harvest Ball, and the Heritage team was forced to scramble back to Ukiah to package up more product for Day 2. Riddlez is Huckleberry Hill Farms' cup-winning Whitethorn Rose crossed with everyone's new favorite, the Z. The nose on this one is incredibly complex with far less fruit punch from the Whitethorn Rose than you'd expect. Instead, you're met with aromatics ranging from peach to guava to sour earth to barnyard funk. The rosin itself has a light pink hue and is sweating terpenes only minutes out of the fridge. A low temp dab reveals a tapestry of flavor so unique, it's immediately apparent why this special rosin was awarded 1st by a jury of its hashy peers. Don't sleep – if you make a trip to Heritage Mendocino in Ukiah now you just might be able to get some before it's gone.
#4 – Punch Extracts x Valley Grove Dirty Amarelozz Fresh Press Rosin
@punchextracts / @valleygrove_
While I usually do not prefer fresh-pressed as a consistency in general, if I were the lab techs at Punch Extracts, I wouldn't further process this Dirty Amarelozz after the initial fresh press either – it's absolutely beautiful semi-translucent gold rosin as is. Given its fresh-press nature, the nose isn't anything to write home about until you agitate the material, then it goes crazy and cantaloupe, strawberry and white grape come jumping out of the jar. On the palate, I get loads of ripe watermelon, lychee and coconut water. The summery nuances of this Dirty Amarelozz beckon to be tasted and tasted again, which is dangerous because despite the light fruit aroma and flavor, the effects are heavy handed. Pardon the pun, but this one packs a punch.