Andrew Chanski (@Chanskiglass) is an engineer by day and glass blower by night, utilizing his skills to create custom chains for glass enthusiasts around the world. He's also a new dad and married to Jordan Chanski, the Regional Manager of Floyd's Cannabis Retailers, making for a true canna-family success story that began forging scientific glass in Idaho.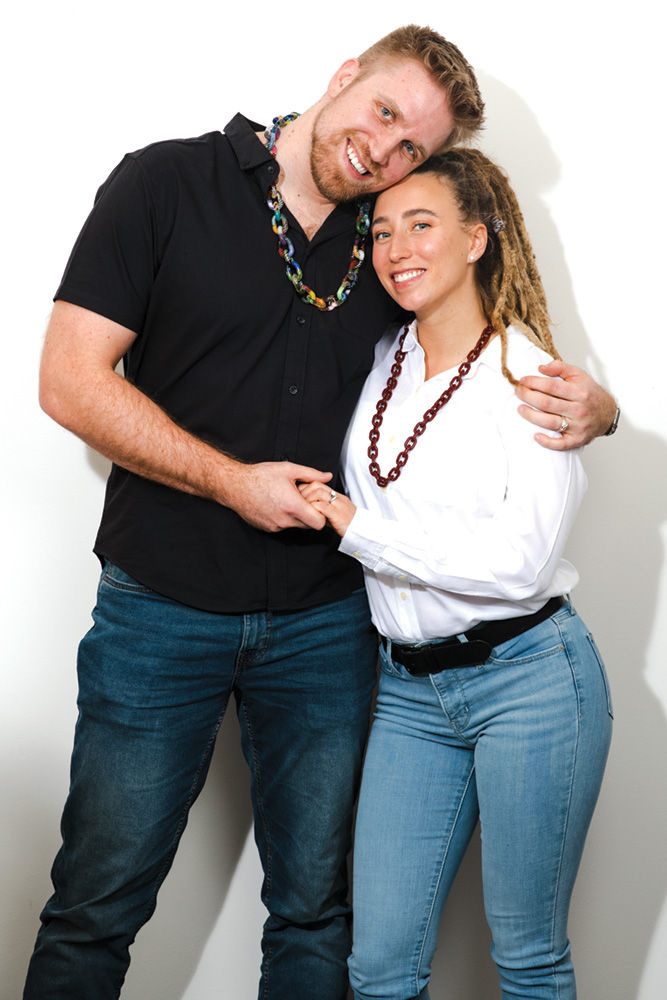 What was your inspiration to start glassblowing?
I've always thought glass was a super fascinating material, and I had a chance to be one of four students to take a scientific glass blowing class at the University of Idaho. From the first moment I sat behind the torch, I fell in love with it. I knew I could do this all day, every day, forever!
What is scientific glass, and why was it offered as a college course?
Scientific glass is clear! It's really common for universities to have a scientific glassblower on staff, so anytime a researcher needs a specific piece of glass for distillation or other lab work, they can take a drawing to the glass blower and have them create it. Basically, any intricate scientific glass piece in a lab is produced by a scientific glass blower.
Were you already a Cannabis user when you started working with glass?
I didn't smoke until I was 21, and with Cannabis I was never exposed to the glass industry. I went to DFO in 2019 and I was completely blown away! I had no idea that all the insane, amazing artists were out there and the wild stuff they produce. It was eye opening to me that there was a booming industry making amazing artwork.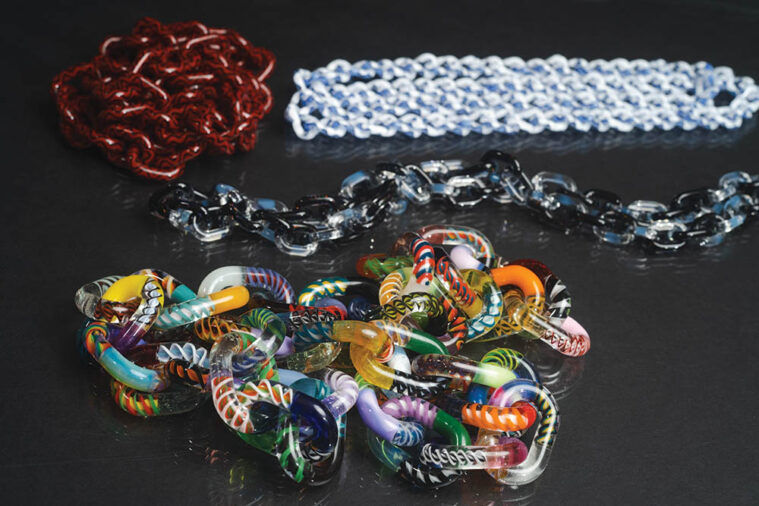 What led you to make glass chains as your specialty?
My wife and I went to a Canadian music festival in 2016 and camped with some people who were really great, and we went back for the next five years. They were very giving and one year, they gave us a necklace made from soda can lids. Mine has cat food lids that are gold and it's a really cool chain and I was super touched by that. Shortly after that, I got everything I needed to blow glass at home and I thought it would be cool to make a glass chain!
What a perfect story! How many chains have you made to date, and what's it been like to have them gain in popularity?
I've made 891 as of this interview, and apart from a few duplicates, they're pretty unique in size and color. It started as a thing for friends until the Floyd's Pullman one-year anniversary party, where my wife is the regional manager, and I was talking with @dabwithg and complimenting his dabbing pendants … he mentioned a chain a budtender was wearing that I had made. He asked me to make a chain for him and he blew me up on Instagram. I owe so much of my notoriety to him because he gave me such a massive boost and is such an amazing guy … from there it took off!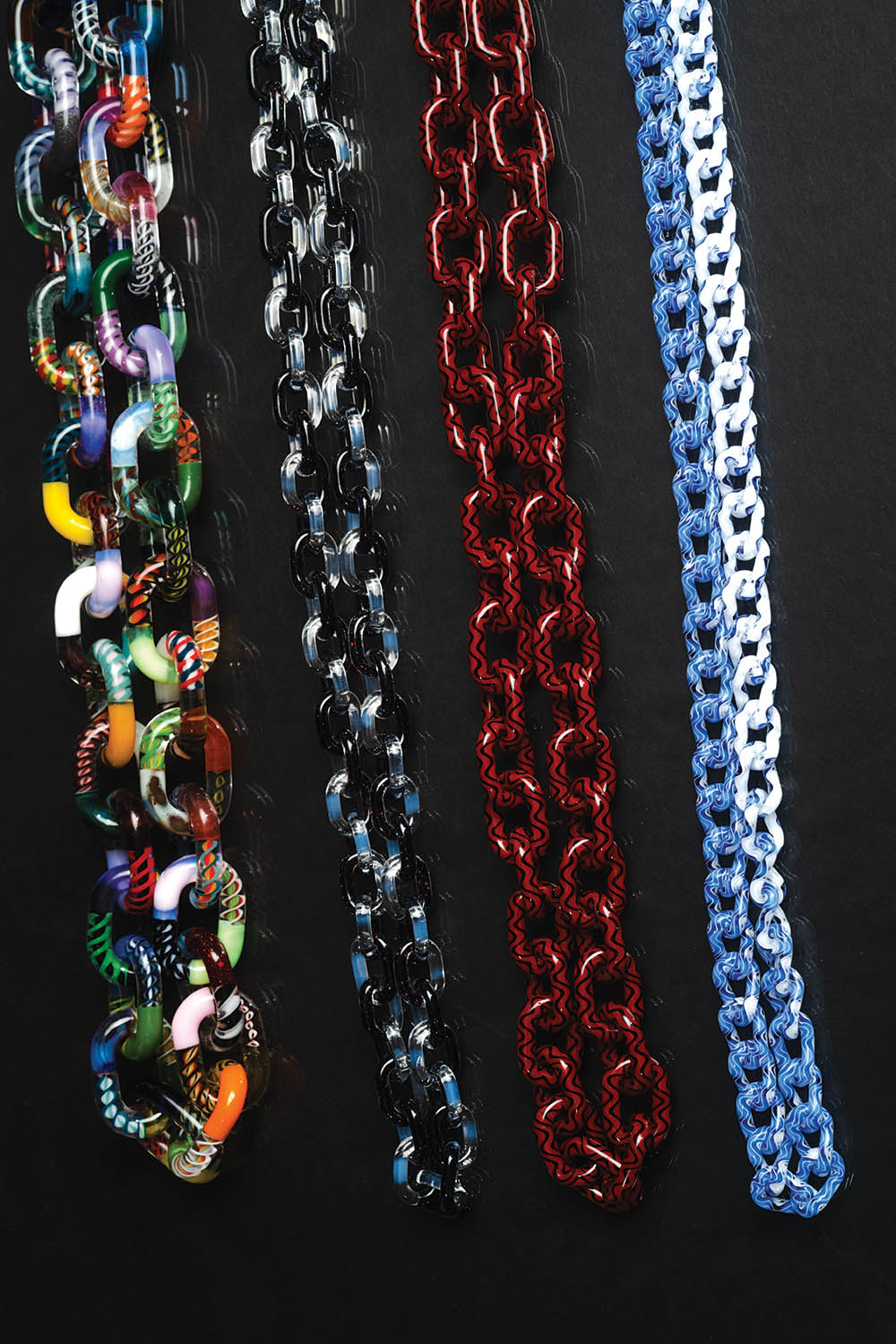 What makes a glass chain so difficult to make?
There's only a few people making these in the country because making the links symmetrical and consistent with proper lengths is tough to get down. I'm pretty detail-oriented and like the precision of it, and it can get monotonous obviously, but I love the different sizes and colors and variations – like wigwagging links or twisting links. There's so much flexibility to what you can do with a chain, and they have so much fluidity to their structure. You can roll them between your hands and the noise and feel is very unique.
What's your goal for the future as a glassblower?
I love working with glass because I've never been an artist to draw or paint, but glass is a really unique material that's like a liquid that you can pull out of flame, and in an instant it's rock hard. I would love to turn this into a career – to quit my day job and do glass full time. I want to make as many chains as I can and be the best chain maker in the world. If someone sees a glass chain at a sesh or on Instagram, I want them to ask, 'Is that a Chanski chain?'