In the heart of the Belmont neighborhood in Portland, stands a colorful and compact dispensary that sets a brand new standard to the usual 'mom and pop' shop. In 2020, Mongoose Cannabis Co. opened its doors and set out to create a unique experience to any Cannabis user that came by. Since then, Mongoose has grown to be one of the most loved and inclusive dispos east of the Burnside Bridge.

Seconds after entering the shop, I got a distinctive sense of comfort. Mushroom paper mâché lights, prayer flags and the glow of warm neon instantly provided all the good vibes, making it that much more exciting to pick out some favorable flower. Priding themselves on including POC and LGBTQIA-owned companies, the store was lined with hand-blown glass, well-known products and fun Cannabis-related literature – all carefully cultivated and collectively chosen.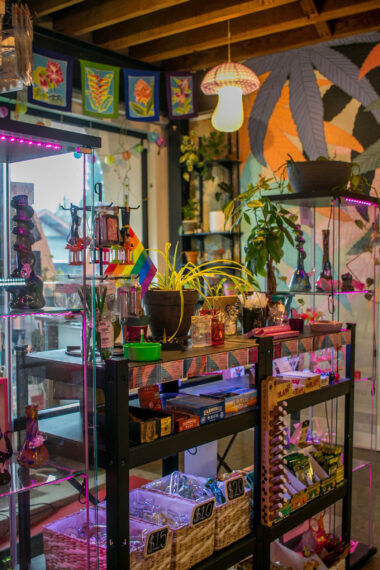 Everything was displayed on beautifully handcrafted pieces that were envisioned by proprietor Deb Grant, and then executed by her husband and co-owner, Chuck Grant. The pair have spent the last 25 years in Portland and are seasoned stoners, but are relatively new to the business side of Cannabis. Their curious minds started turning when legalization hit Oregon – they were ready to utilize their Belmont property to its fullest potential and start contributing to the fast-growing Oregon Cannabis community. Deb passionately spoke about their long advocacy for legalization, the excitement for when it finally did happen, and adoration for bringing people together with Cannabis – which was ultimately the deciding factor.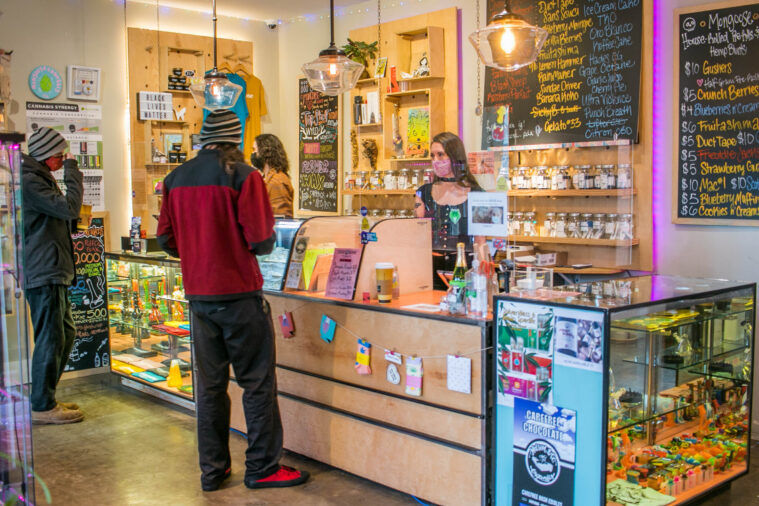 Behind the desk, you will find a collection of smiling faces with knowledgeable minds prepared to serve the dankest of the dank. Deb raved about her staff, which happens to include her niece, and how she heavily relies on all of them to bring the store to life. "Everyone contributes here and that's why we work so well. From picking out the best product to the art on the walls, every single one of us has added our own to the store. Nobody is left out," says the Grant's niece, Jessie. "We all love it here."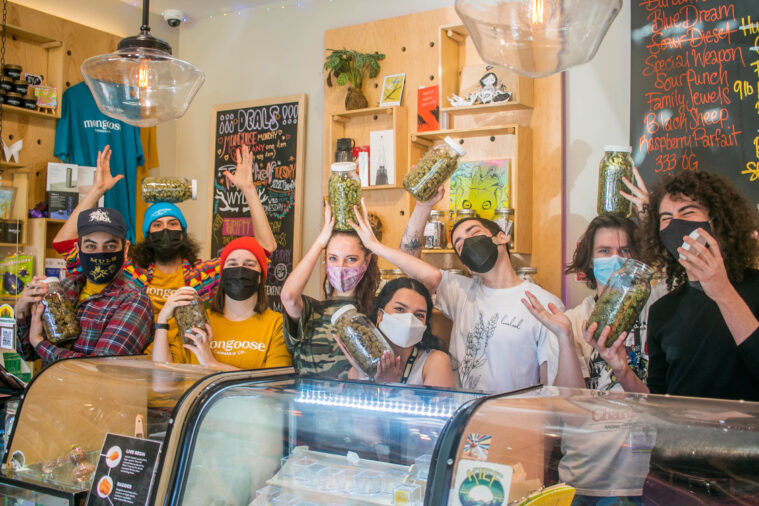 Dispensaries are everywhere nowadays and it is easy to fall into a habit of going to the one that is closest to you. Gems like Mongoose Cannabis Co. reignite an excitement for turning your normal weed run into something to remember. You are guaranteed a fruitful conversation with a chill budtender as you browse a broad selection of goods that will make you feel great. Mongoose Cannabis Co. creates a cozy boutique Cannabis experience with pricing at all marks, making any guest feel like they are leaving with a win.