On the outside, Doobie Nights gives off a vibe so subdued you might miss it on your first pass down Santa Rosa Avenue. The nondescript white building looks somewhat like a sugar cube. If that's the case, then the Doobie Nights dispensary is a potent dose of LSD hidden within that sugar cube. From your first step through the door, you're hit with floor-to-ceiling psychedelic light displays projected upon – and emanating from within – intricately designed, multi-layer wallscapes. To reach the sales floor, you walk through a gaping technicolor maw cut into the visuals, leading through a hallway into a cavernous area lined with every type of Cannabis product imaginable. You won't just want to shop at this dispensary – you'll want to throw parties there. Before you know it, you'll be trying to figure out how to rig up a similar set-up in your smoking den.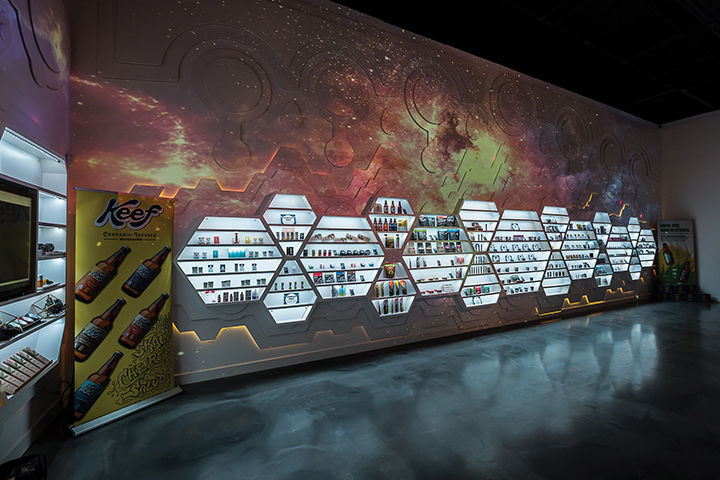 Your Trip Guides
Owners Tiffany Woods and Damon Crain call Doobie Nights an "experiential dispensary," and we couldn't agree more. Recently reopened to the public after a COVID-inspired stint of curbside-only service, the shop pairs its extreme visual displays with music pumping over the sound system, making shopping a memorable experience even before you walk out of the front door with a bagful of Northern California's finest. To add to the experience, Doobie Nights plans to produce podcasts and IG live broadcasts – complete with green screen video capabilities – in its upstairs offices beginning in the not-too-distant future, and will feature brand representatives and other Cannabis characters in its programming schedule.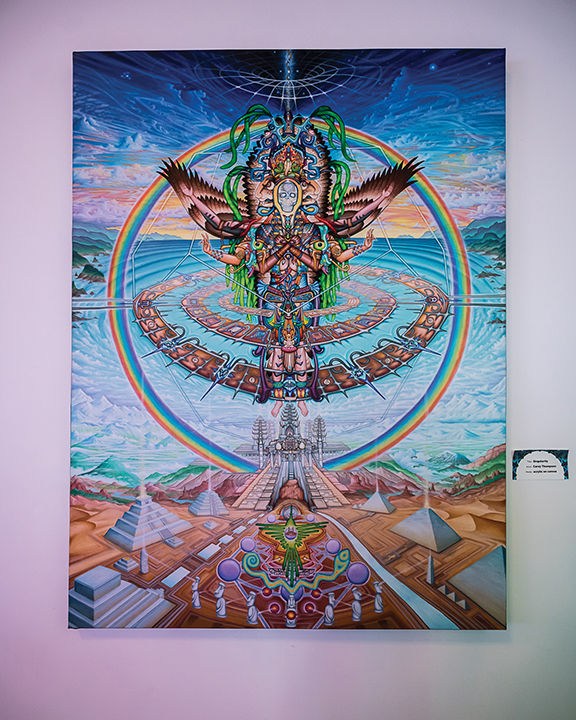 Your Merry Doobie Nights Companions
An amazing setting and vibe will only get you so far (though in this case, that's pretty far). Eventually, you have to deliver the rest of the experience. This is where the shop staff comes in. At Doobie Nights, the staff is friendly, knowledgeable and diverse in their tastes. Among the three people we spoke with on our visit, one of them passionately espoused the best flower to smoke out of a bong, another offered some suggestions for their favorite extracts, and another gave some sage advice regarding the shop's significant selection of edibles. There's something heartening about listening to someone who's passionate about flower discuss her favorite strains, or a daily dabber point out his new favorite rosin – and the Doobie Nights crew puts that passion on display.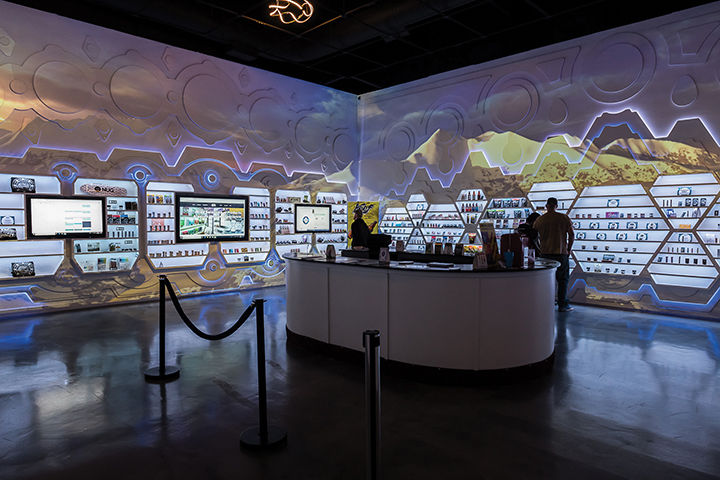 Walls of Weed
Once you get a grip on the sensory overload that is this dispensary experience, you'll be able to focus on the task at hand: buying weed. Doobie Nights focuses primarily on local products from Northern California producers, with a few exceptions. We counted nearly 40 flower brands, all at reasonable prices (indoor eighths from Pastry's topped the list at $54). The shelves housed roughly the same number of edibles brands, satisfying every craving with a broad selection of refrigerated beverages, confections, tinctures, capsules – and just about everything else worthy of putting in your mouth. Doobie's concentrates list featured more than 30 extract companies with a wide range of price points, from $16 to $80. Humboldt Terp Council Solventless Live Rosin ($70) and Wonder Extracts Full Extract Cannabis Oil ($80) occupied the top of that range; Honey Butter Bits & Pieces Bubble Hash offered their best value for the budget-conscious hash head ($16).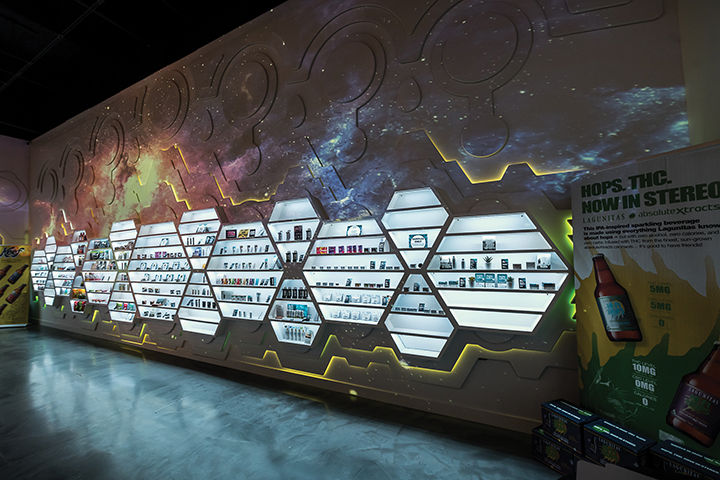 The Doobie Nights Experience
After our afternoon visit to this pot pleasure palace, we can honestly say that we can't wait to go back. It's a shop unlike any we've seen, and we were so taken with the entire vibe of the place, we came away wishing we'd spent more time actually perusing the shelves. But maybe that's how it's supposed to be. Doobie Nights isn't a place to shop – it's a place to be swept away, where the world melts into a swirling wash of color the moment you step from the nondescript parking lot into the vibrant world they've created inside this small, white, sugar cube of a building. Doobie Nights is a trip – and it's one worth taking.
Doobie Nights // 3011 Santa Rosa Ave., Suite A, Santa Rosa, CA 95407 // (707) 919-3222 // 10 a.m. – 7 p.m. daily // https://doobienights.com/