Rogue Farmer rests in majestic Merlin, Oregon. It's a name you may recognize, with a product presence since Oregon's OMMP days. We visited owner Ryan Beyerlein and his team to frolic among the flowers and talk about what changes the future may hold.
Pulling up to the property, we were greeted by a gaggle of friendly fowl. Ryan is a self-proclaimed "bird person," something that was equal parts apparent and impressive as we entered the farm to find a massive, masterfully-designed enclosure full of beautiful, all-black baby chicks and fancy-footed chickens. Ryan explained that he adds more each year and lets them roam the property during the day.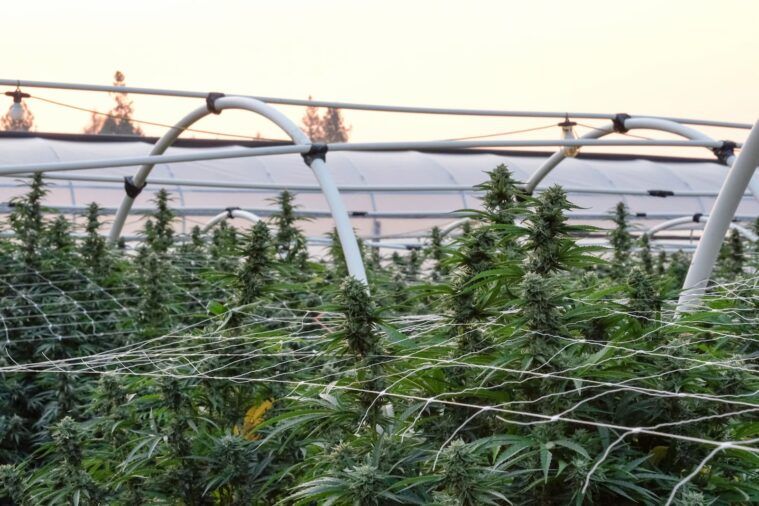 Setting out to explore the bounties of their domain, the full-term and light-dep plants came into view first, where we saw the core crew waiting for us. Ryan shared that keeping these folks around full-time is important to the company.
"My passion is for full term. But the market makes me do light dep. I have to feed my family and pay my staff," he said. "I'm running indoors now just so I can keep everyone busy all year. I try to keep a core group 12 months out of the year. If you've got a good person, you don't want to lose them."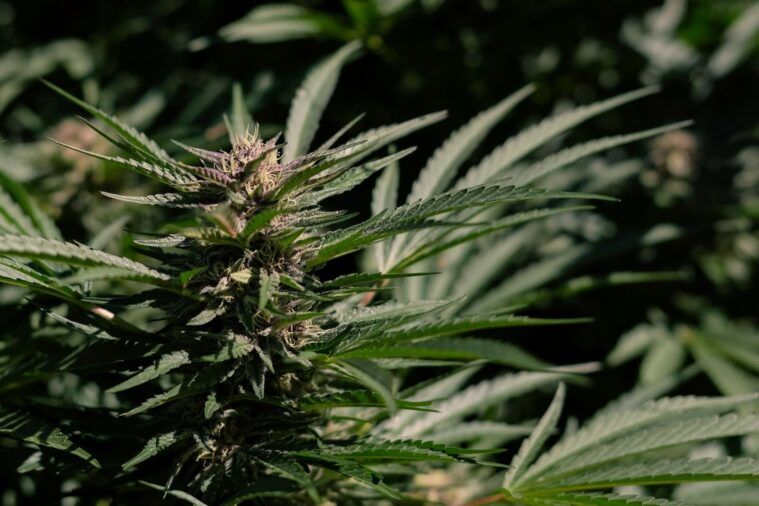 As we perused his plants, Ryan explained that this is one of Rogue Famer's five locations in the area. It's something that's given the brand a unique perspective on the local terroir. Lead grower Jordan works the land at the various locations and told us that each has its own "microclimate." Even on the same property, some strains develop quicker depending on location. Ryan beckoned to some of the plants uphill, "These are riper."
Ryan has grown at this particular property for eight years. He moved down to Oregon from Seattle 12 years ago when he decided to go for an outdoor medical license. When asked what drew him to the Oregon outdoor scene, he answered enthusiastically: "Bigger plants, bigger yields, and more fun!" Despite the sentiment, yields have never been his biggest concern. "As soon as the season's over we start thinking about next year's genetics …We don't really care about how big the yields are, as long as it's good quality."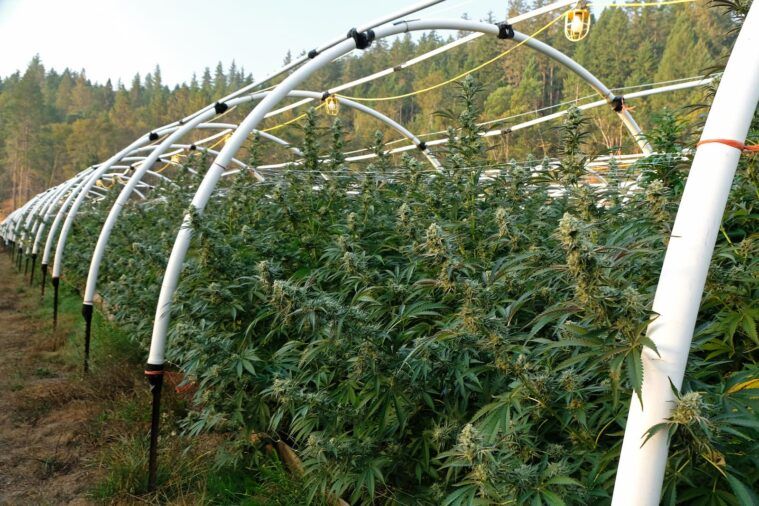 Variety is the spice of life at Rogue Farmer. "Almost every year, we do everything new," said Ryan. "This year, we have over 100 strains. We started with about 160 and around 110 made the cut. I may save 20-30 of those for next year, but I like to keep things new. Because that's what the customers want." Although, there are a few favorites like Platinum Gushers, Platinum Kush Breathe and Pancakes that the team has kept around for a few years.
Each year, the team has to assess the market and decide what to run with – a daunting task that Ryan was able to elaborate on. "For as many people that say, 'Oh yeah, it's about the terpenes,' at the end of the day if I have something that tests over 30%, it sells. If I have something under 20%, it doesn't move," he explained.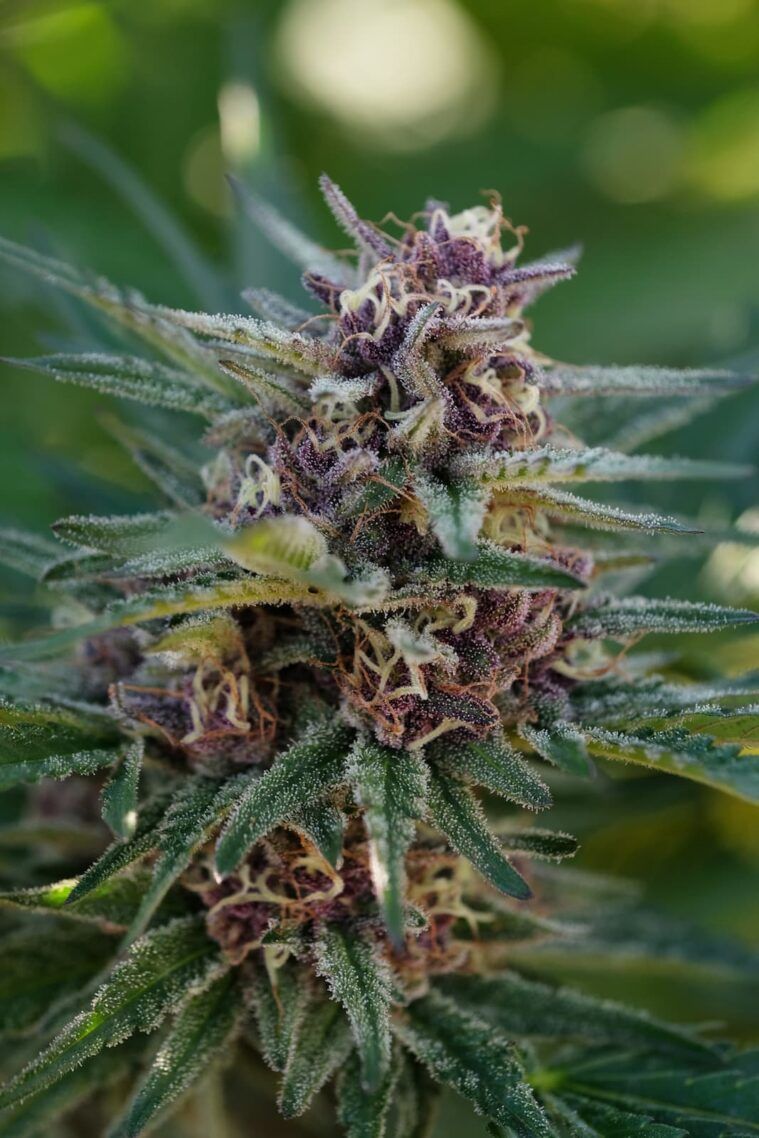 With no terpene testing requirements in the state, it's understandable why consumers resort to product identifiers like indica and sativa. Ryan aptly refers to these words as "training wheels" and explains that while he has no issue with offering these devices to shoppers without connoisseur-level knowledge, descriptors like this coupled with reliance on THC fall short of the plant's potential.
As we spoke of potential, our talks turned to another industry problem with immense room for improvement: plastic. Rogue Farmer utilizes straw mulch (or none at all) instead of the commercially common plastic version. Ryan explained that this comes with extra work, but is well worth the reduced waste. However, mulch only scratches the surface of a bigger issue. The entire team echoed a problem that we hear about far too often on our farm tours: METRC tags.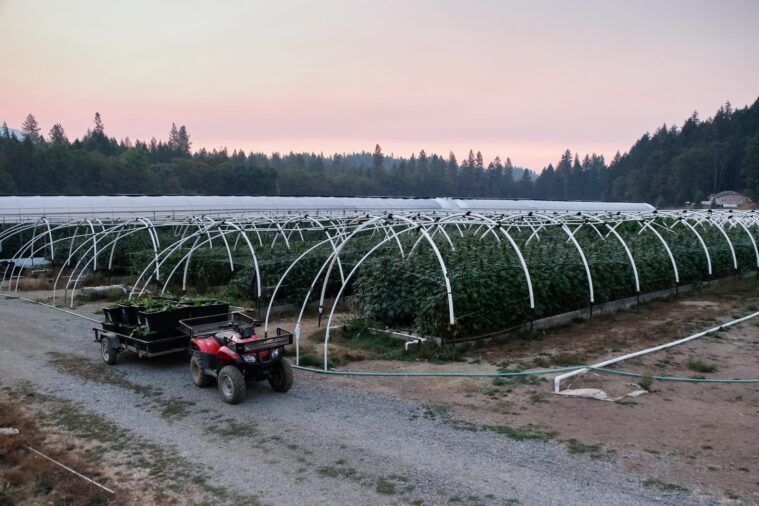 "By the time we're done, we're going to have bins and bins of these plastic tags that we spend 50 cents apiece on," shared Ryan frustratedly. "This year we did between 40 and 60 thousand plants [between all of the farm locations]. Every single one needs a 50-cent tag. That's $30,000 and you can't reuse them … We're really hoping that [law change] goes through. It's so much labor and so much waste."