Real Eve Farms sits in the picturesque countryside of Harrisburg, a small municipality nestled between Eugene and Corvallis. Owners Ryley McCorquodale and Abe Kohler began their journey in the industry as a BHO-focused facility called Emerald Valley Extracts. But legalization's wavy waters found their boat bound for greener ground, ultimately pivoting to focus on cultivating instead and committed to calling themselves "Real Eve" – an homage to the brand's birth (Emerald "E" Valley "V" Extracts "E").
We met up with McCorquodale, Head of Sales and Marketing Jim Davis, and Garden Assistant Ari Lagos to tour the vigorous vegetation and flourishing flowers. The farm is a cozy Tier II compound featuring a collection of light-supplemented greenhouses and converted shipping containers. The shipping container rooms house a collection of clones and mothers cultivated in a custom soil mix. It's amended with up to eight different dry ingredients like bokashi and insect frass.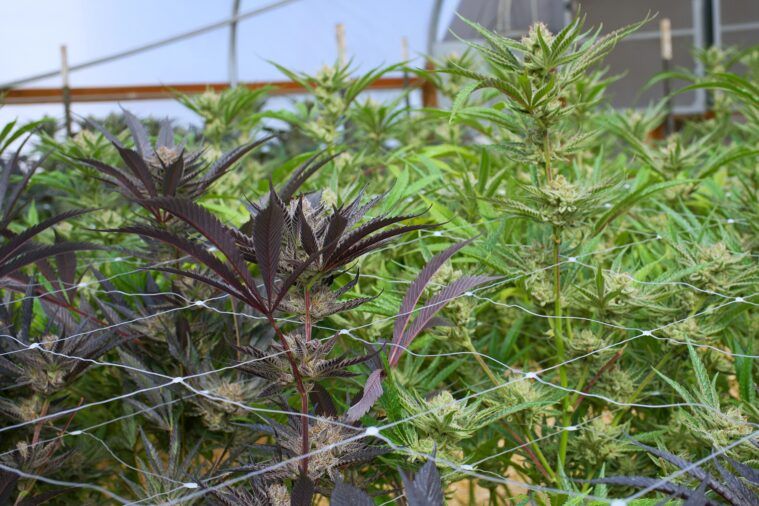 Out in the greenhouses, plants rest their roots directly in the earth, tucked in by a top-dressing of soft straw. These vegetative and flowering plants receive a similar supply of amendments, with adjustments according to each season's needs and the plant's life cycle. But defining seasonal needs can be tricky, as there are a host of extra variables that greenhouses face (when compared to indoor counterparts). "All of the seasons throw a different challenge," explains McCorquodale. "It's indoor, but it's not. The soil's wetter in certain months, so we have to dial back our water. And during certain times, you better know that there's way more moisture and so on. Everything just has to be adjusted constantly."
But these hindrances can be handled with regular soil testing. It's a strategy that this grower claims has been instrumental to the farm's hearty plant health over the past four years at this location. Besides, Mother Nature's mood isn't all malice. In fact, she seems to offer something that (like many greenhouse and outdoor growers) McCorquodale also acknowledges. "I love the living soil. It really cuts down on our overall soil costs and I think it brings out the flavors … as far as taste, the flower just seems more robust."
Thanks to our perfectly-timed pop-in, we were rewarded with a taste of this robust foliage in full swing. While one greenhouse was still in a vegetative stage, a second offered a selection of strains in their final week(s) with an array of lush leaves and full flowers to explore. Naturally, we dove in and asked our host to talk us through it.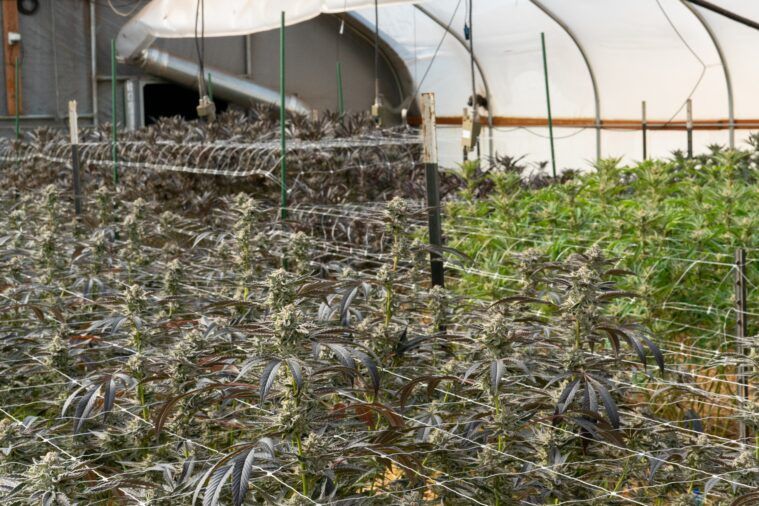 He told us that the farm tends to around 12 established cultivars at any given time, but explained that doesn't include new pheno-hunt projects. When we visited, they were actively searching for strains with desirable hash traits. That's because Real Eve has lined up some more Imperial Solventless collaborations. The team continues to run with some rosin favorites – like Dying Breed's Banana Crashers – but they are always looking for new flavors.
Gesturing to a patch of stout, sage green buds with plum leaves, McCorquodale made note of their very first hash hunt: a strain from Dying Breed Seeds known as Gak Melon. "That has a real unique melon gas profile," he noted. Next on the agenda: some Fuzzy Pie, a Cannarado Genetic that the whole team is excited to see in its concentrated form. "It's got some Grape Pie in it, which is really good for hash. We're hoping to get some six star out of it. But that kind of depends on the strain. We always go for a little bit of that. But then definitely some rosin, because it's selling," he said.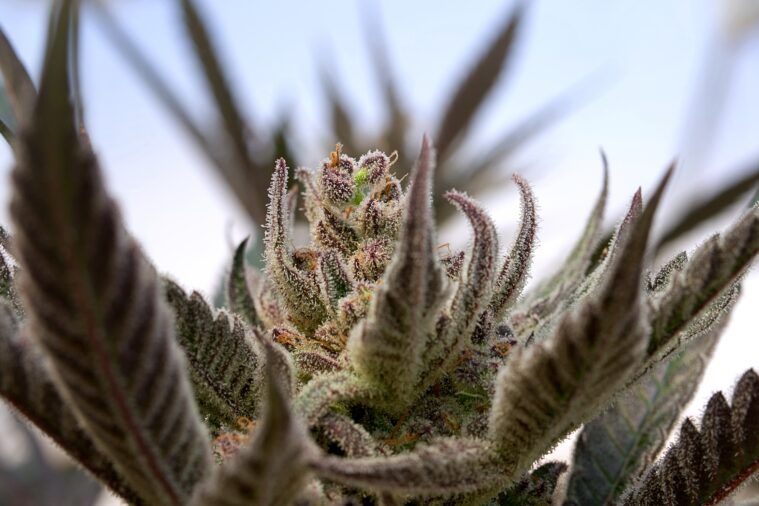 Concentrates aside, the farm has long been known for flower products. "Georgia Pie (from Seed Junky Genetics) … We've been growing that for a minute, it's not new but I really like it," said McCorquodale. And when asked about any new, noteworthy nugs, both McCorquodale and Davis agreed enthusiastically. "The most exciting thing we have right now is the Devil Driver from Tiki Madman Seeds. I think it's going to finish nice and grapey."
And we have to agree. A gentle bract-brushing and mouthwatering whiff left the senses simply confused. Was it Cannabis? Or the sugary, purple beverage that stained fingers and childhood memories? One thing was for certain … we wanted some.