Environment
While strolling into Top Crop, the first thing I noticed was their incredible flower selection. Four beautiful wooden shelves showcase some of the most well-recognized and sought-after brands in the industry. On three flat screen TVs you will find their entire menu, offering just about every different kind of product you could hope to see. On another flat screen, Top Crop provides a ton of educational information. Their display cases include local glass and smoking accessories like Puffco, health-conscious products such as topicals and FECO, as well as pre-rolls and edibles. You can find all of their extracts and concentrates in a very well-lit display case, flaunting their mouth-watering color hues and consistencies. It is important to note that all of their hash gets stored away in a fridge to preserve maximum freshness.
History & Values
After meeting in college while studying business at the University of Idaho, owners Matt Chadwick and Ryan Ford connected and bonded over their passion for the Cannabis plant. One day, Chadwick received a phone call from Kevin Miller, Owner of Frost Factory and now partner farm of Top Crop, to join forces on a dispensary operation. Seeing the opening to provide Eugene's community with higher-end Cannabis products, owners Mike Hanigan, Bryan and Matt Chadwick all put their heads together and opened up the first Top Crop location. The Eugene spot is now managed superbly by Dane Winn and Ryan Ford. Fast forward four years and they're now opening their third location in Corvallis, in addition to their phenomenal Ontario shop, managed by Nick Spoor and Austin Chadderdon. This small family-owned company run by a group of close friends aims to remain open-minded to all new brands, all the while priding themselves on their ability to seek out valuable, long-lasting relationships with their cutting-edge vendors. As Ford said, "Quality is the name of the game."
Product Selection
Where do we even get started? The number of connoisseur options here is almost overwhelming, in the best way imaginable. Unlike other stores in the Eugene area, Top Crop focuses on carrying very high-quality products, including brands like Echo Electuary, Bo's Nose Knows and Happy Cabbage. During our visit, my eyes drew immediately to Frost Factory's Orangotang, Focus North's Now n' Later, Deep Creek's Ice Queen and Evan Creek's 707 Headband. If edibles are your go-to method of consumption, you can expect to find brands like Crop Circle Chocolates, Elbe's Cake Balls and Mellow Vibes products. Additionally, Top Crop offers a hefty amount of pre-rolls, including Decibel Farms and TKO. That said, they also provide a large amount of price-effective, yet quality options for those looking to save a few bucks.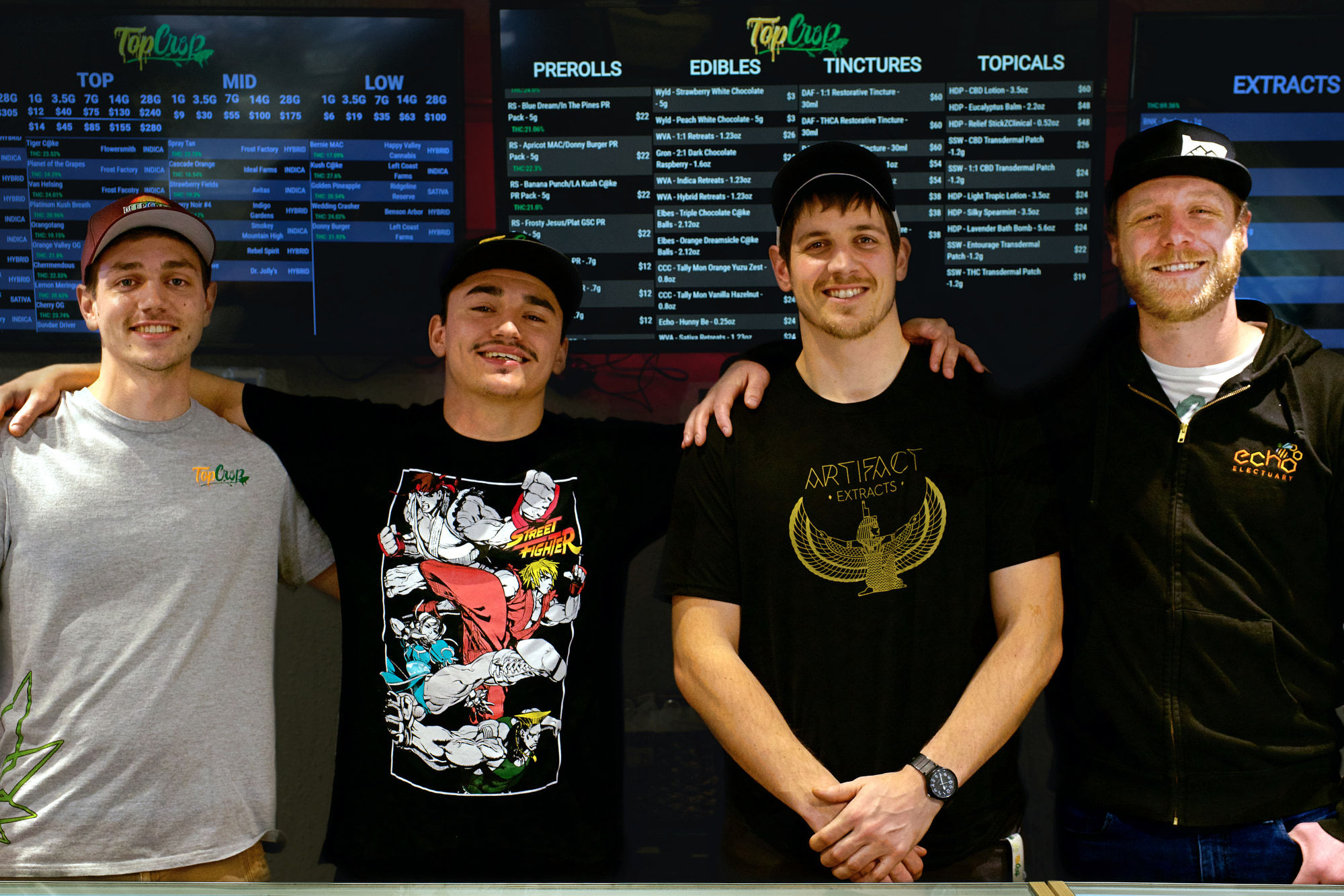 Budtenders & Specials
Amid dispensaries becoming more and more like 7-11s these days, Top Crop is a refreshing breath of air with their high attention put towards customer service. During our visit, we experienced their budtenders connecting with their customers on a first-name basis. We could tell that their staff aims to give every person that walks through the doors a personal and unmatched experience. As their close-knit team expressed to us, they all feel as if though their co-workers are family. On Monday, you can take 15% off edibles, while Tuesday and Friday offer 10% off a quarter-ounce, 15% off a half-ounce, and 20% off a full ounce (excludes $6 grams). Take 15% off tinctures, topicals and RSO on Wednesday, 10% off cartridges and batteries on Thursday, and Saturday providing a 20% discount on any dabble products. Last but not least, the entire store is 10% off on Sunday.