Strawberry Mango CO2 Cartridge from Good Titrations

Good Titrations out of Fairbanks uses a state-of-the-art closed-loop extraction process to get the best out of their concentrates. The results are oils that are purged to the minimum amount of residual hydrocarbons possible. Beginning with a strawberry flavored inhale and a noticeable mango-tasting exhale, this cart is perfect for harnessing summer vibes. The high left us giggly, energized and ready for a day of mountain climbing.
---
Super Sour Lemon Haze CBD 1:1 CO2 Cartridge from Glacier Extracts

Glacier Extracts prides itself on not just being pure, but being glacier pure. With investments in acquiring the most cutting-edge, high-end Cannabis extraction technologies, paired with classic mechanical extraction techniques, Glacier Extracts can consistently create pure, unadulterated cannabinoid extractions. With no added flavors, Super Sour Lemon Haze doesn't have the robust flavors of other oils – nevertheless, the potency of the oil left us with an enjoyable, uplifting buzz that carried us through hump day.
---
Ice Cream Cake CO2 Cartridge from Scorpion Grass Extracts

Scorpion Grass in Wasilla is a tour de force in Alaska's Cannabis market. Scorpion Grass is a vertically integrated company that boasts a grow, a dispensary, and its own concentrate manufacturing facility. With such a tight locus of control over their products, they are able to ensure premium quality. The cart's potent THC content helps ease tension from the mind and body while leaving you in a euphoric state of couchlock.
Sweet Matanuska CO2 Cartridge from Midnight Sun

Midnight Sun is renowned around the state for its high quality CO2 concentrates, and its Sweet Matanuska cart is a beauty to behold. Although this is not the most potent cart we sampled, its effects were some of the hardest hitting and fastest acting. One toke of this earthy strain sent us right to sleep before we could even make it to the bed. The only minor downside to their cart was the childproof packaging that can easily outsmart even the sober stoner.
---
Chong's Blueberry CO2 Cartridge from Tommy Chong's Cannabis (Produced by Midnight Sun)

Tommy Chong is synonymous with Cannabis, so we had high expectations when sampling Chong's Blueberry cart. Not surprisingly, we were not let down. A cross between Triple OG x Blueberry, this indica dominant hybrid produces a sweet smoke that smells exactly like a big bowl of Crunch Berries. But unlike its cereal doppelganger, this cart won't amp you up. An excellent companion to a night filled with restorative sleep, Tommy Chong's Blueberry cart will have you happily counting sheep while you slowly drift off.
---
Bubblegum CO2 Cartridge from Herban Botanicals by Herban Extracts

Encased in some of the most unique packaging we have seen, Herban Botanicals' Bubblegum was an exciting CO2 oil to sample. The pen-shaped syringe is equipped with a precise dosing applicator that merely needs to be twisted to distribute the perfect amount of oil. With one of the highest terpene percentages in this year's concentrate edition, the sweet, fruity smell of bubblegum was easily detected through the packaging. An indica-dominant hybrid, Bubblegum left us wonderfully relaxed and happy the moment it hit our system.
---
Triangle Juice CO2 Oil from Herban Extracts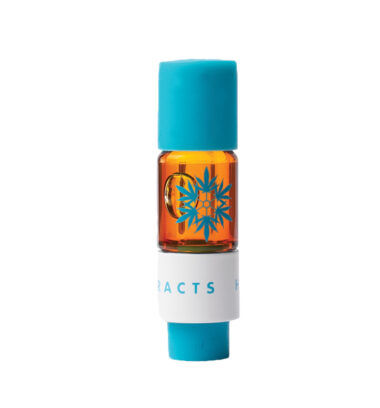 Herban Extracts' Triangle Juice has a delightful citrus aroma that emanates from the very first sniff to the last exhale. Delivered through a PAX Pod, the intensity of the smoke was a little irritating to our lungs, so if you're new to Cannabis, you might want to tread carefully. The high was a little slower to hit, but once it did, the sedating effects of the cart took hold quickly. In an instant, all of the stress we'd been shouldering seemed to melt away – as did the pizza and ice cream we DoorDashed before passing out.
---
GG #4 Distillate Cartridge from GOOD AK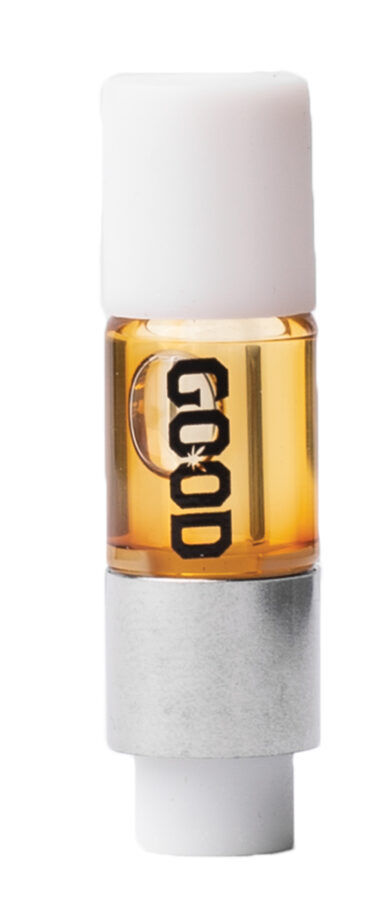 Another one of Alaska's vertically integrated operations, GOOD out of Fairbanks boasts a top notch grow, manufacturing facility and dispensary. They also have some killer swag. GOOD's GG #4 comes in a beautifully packaged box and is contained in a pristine glass vial with elegant silver accents. The attractive golden amber color of the distillate is outshined only by the euphoric high we experienced. Like its namesake Gorilla Glue, GG #4 left us content and binging endless episodes of World Chase Tag.