Lady Gray Medibles
Snickering Doodles
5mg THC/cookie
Ladygraymedibles.com | @ladygraymedibles
There's no snickering at these doodles, and we're not just hangry or talking about designer dogs. Simply put, these cookies are delicious – taste like Mom's kitchen, but with that special infusion that brings a loving buzz in indica/sativa/hybrid formulations.
---
The Next Degree
Brownie Bites and Pumpkin Muffin Bites
10mg/cookie
We love bite-sized edibiles that make it easy to get a single dose, or a whole package down without feeling too guilty about the calories. These delicious snackable treats deliver an edible twist on two classic items–a chewy, chocolatey brownie and a sumptuous, soft, and perfect pumpkin muffin that hits the spot this holiday season.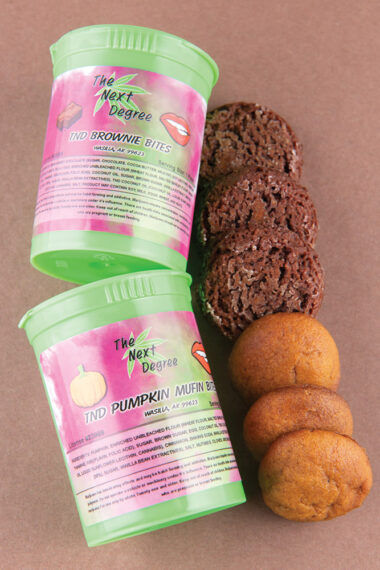 ---
Lady Gray Medibles
Lady Gray Joyfuls
5mg THC/cookie
Ladygraymedibles.com | @ladygraymedibles
Catch the holiday spirit with a joyful of healthy ingredients and a perfect buzz in each delicious ball. Made with almonds, organic dates, coconut and cocoa, these bites have a lovely texture and a lightly sweet bite with a datey-chocolate finish.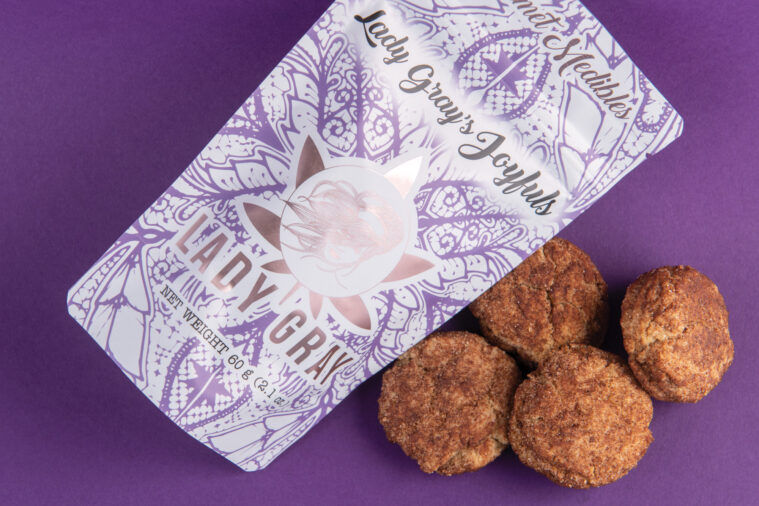 MoMo's Bakery
April's Lemon Dreams
5mg THC/serving, 25mg THC/package
Conceptualized by MoMo's baker April Luce, these little cookies are an indulgent sweet treat that will leave your mouth doing a happy dance. Individually packaged and created using a dough similar to that of a snickerdoodle, the cookies are soft and slightly chewy. The texture is complemented by a strong punch of lemon infused into the dough.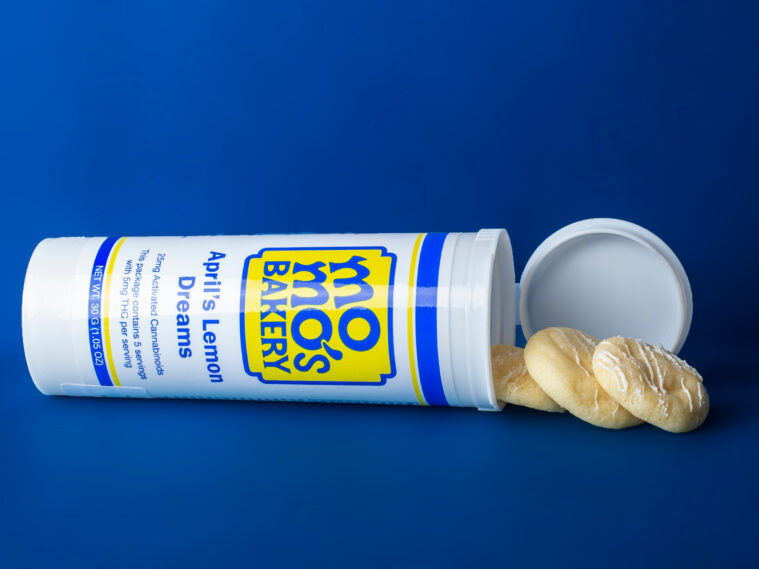 ---
Stoney Moose Kitchens
Moose Chip Cookies
10mg THC/half cookie, 40mg THC/package
Stoney Moose Kitchens has never shied away from embracing the natural flavor of weed and their Moose Chip Cookies are no exception. Cannabis is the dominant flavor and scent, so this is the lightly sweet treat purists will love. More crunchy than chewy, the texture decidedly Nabisco, not Tollhouse. But if you want a softer cookie, pop it in the microwave for 10 seconds.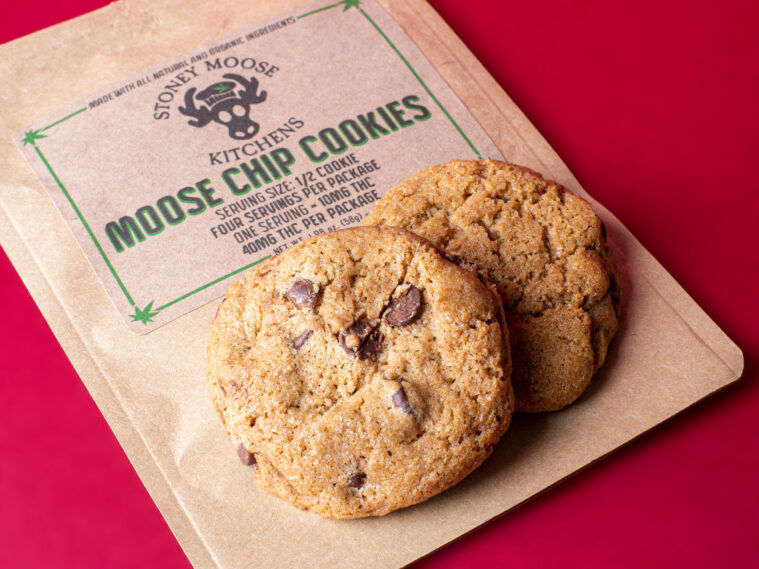 ---
Treat Yo' Self
Cinnamon Toast Munch
5mg THC/serving, 20mg THC/package
Two of the best stoner foods out there have to be Rice Krispies Treats and cereal. In their infinite knowledge, the folks at Treat Yo' Self have done one better and combined the chewy gooeyness of a Rice Krispie Treat with the cinnamon sweetness of Cinnamon Toast Crunch cereal, creating their signature Cinnamon Toast Munch square.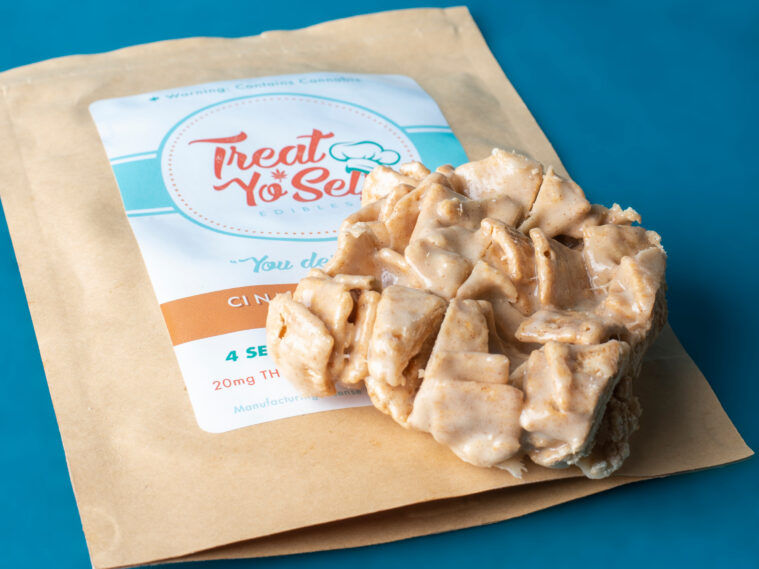 ---
Chronic Crisps
5mg THC/serving, 20mg THC/package
secretgardencannabis.com | @secretgardenAK
Another childhood snack has been transformed. The first bite revealed a distinctly weedy flavor, giving these little rice crispy treats a big flavor. The finish was pure marshmallow gooeyness, leaving us with a sweet smile.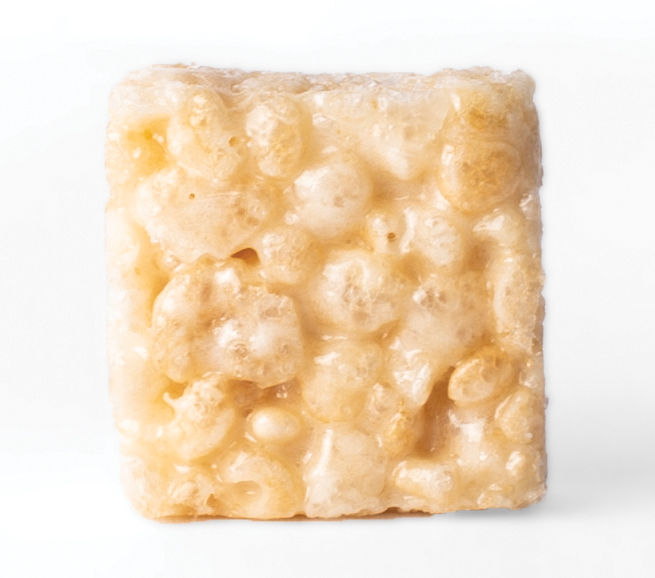 ---
Snicker Doobies
5mg THC/serving, 25mg THC/package
secretgardencannabis.com | @secretgardenAK
Like their full-sized cousins, Snicker Doobies have the same distinctive crackling and cinnamon-sugar topping we've come to expect. The texture is a balanced mix of crunch and chewiness that doesn't disappoint. The slightly larger size of the cookie was an added bonus, as it helped us slow down and enjoy the moment.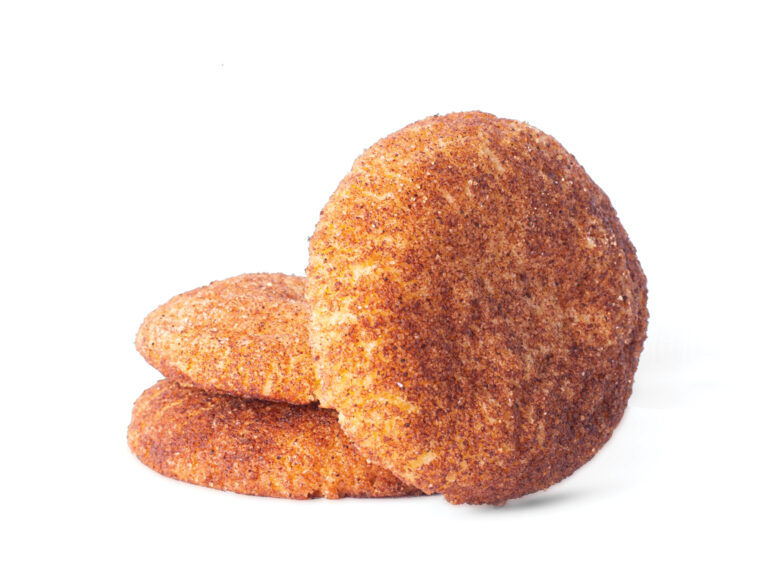 ---
Pot Brownies
5mg THC/serving, 25mg THC/package
secretgardencannabis.com | @secretgardenAK
From the second we popped the top off of the canister, our noses were hit with an exquisite blast of dark cocoa. These soft morsels were delightfully chewy with a light hint of weed that blended wonderfully with the chocolate. Try them warmed in the microwave for 10 seconds for a real treat.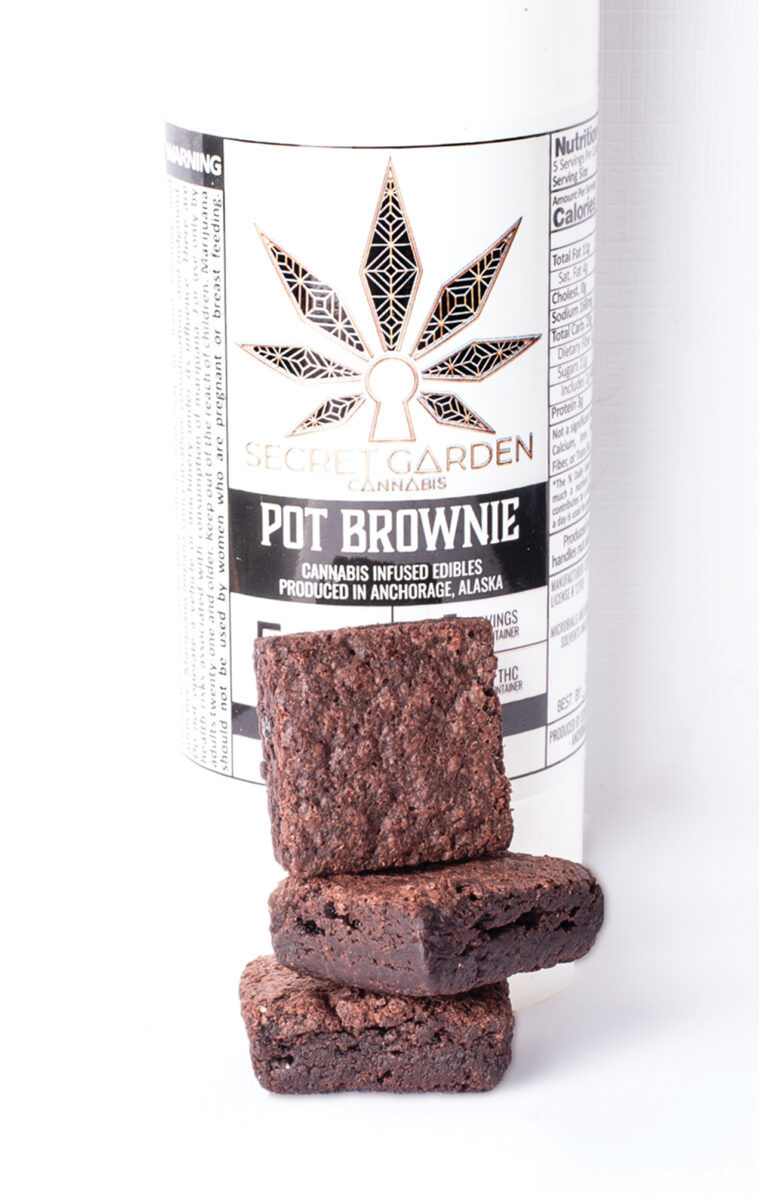 ---