Farmer's Friend Extracts
Jokerz Full Spectrum CO2 Extract Cartridge
White Runtz x Jet Fuel Gelato
Cultivated by Siren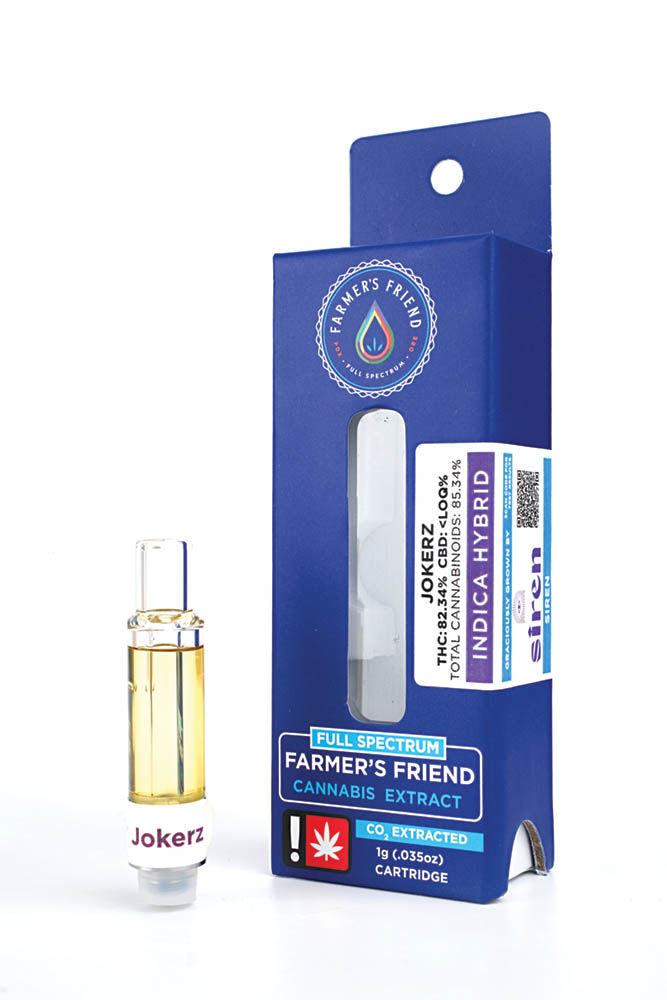 It's a wonder how Farmer's Friend was able to coax the rich flavor of Jokerz into this crystal-clear extract. Puffing on the sleek cartridge perfumes the air with the thick scent of Jokerz' dessert-forward profile. The fading vapor leaves nothing behind but a subtle vanilla aroma and mood-improving relaxation.

82.34% THC | 4.19% Terpenes
ffepdx.com | @ffepdx | @sirencanna
Review by Ryan Herron @theloud100
Calyx Crafts
Grapefruit Moonshine Live Resin Pod
Grapefruit x Vintner's Moonshine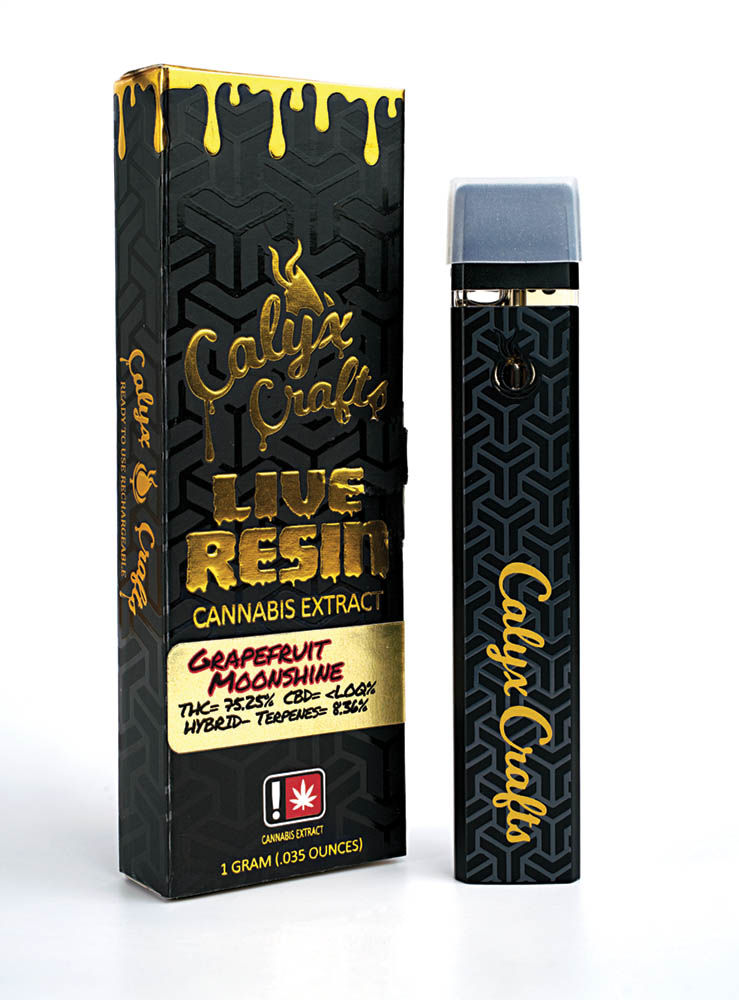 Calyx Crafts' rechargeable, one-gram units offer roaring rips of this citrus-forward flavor. Grapefruit genetics found their way to the forefront of the cultivar, and it's apparent from the first whiff. The full-bodied airflow and big vapor production provide approximately 100 servings per pod – each packing a colossal cloud with little effort.
75.25% THC | 8.36% Terpenes
calyxcrafts.com | @calyx.crafts
Grapefruit x Vintner's Moonshine
Review by Amanda Day @terpodactyl_media
Buddies
Grape Mountain Liquid Diamonds Live Resin Cart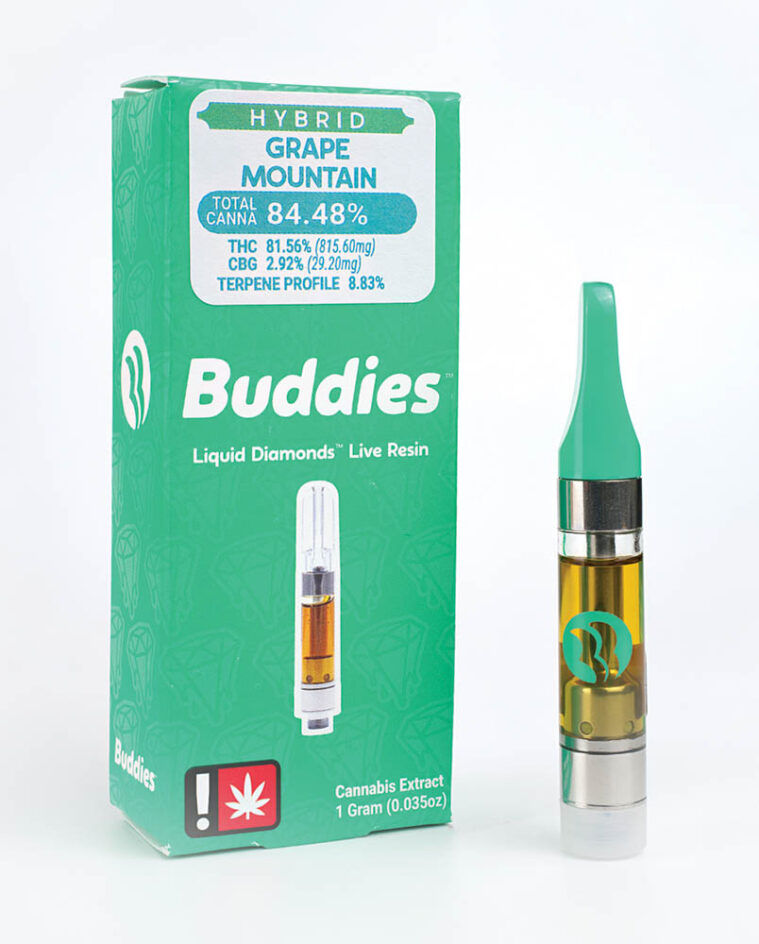 Cedrene may be a lesser-known terpene, but it makes its presence known in this woody cartridge selection. Something sweet sits inside there too, and as the gentle caress of myrcene makes its way into your lungs, it brings a well-rounded balance to the boldness of cedar.
81.56% THC | 2.92% CBG | 8.83% Terpenes
buddiesbrand.com | @buddiesbrand
Review by Amanda Day @terpodactyl_media
Loyal Oil Co.
Kush Mints Freshly Squeezed Cart
Bubba Kush x Animal Mints
Cultivated by Grown Rogue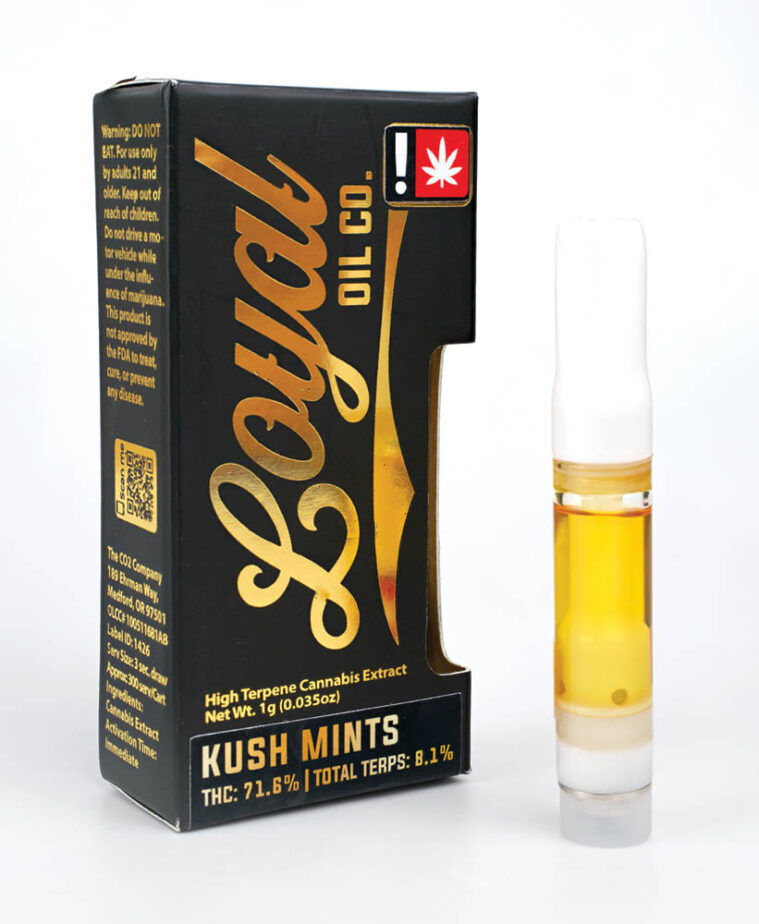 Loyal Oil's limonene-dominant, bright-gold liquid is a terpene-infused distillate serving up smooth hits of Kush Mints. The ceramic cartridge hardware is sleek, clean, and a consistent provider of pillowy puffs. The cultivar leans into its myrcene content mid-hit, before bouncing back to the comfort of a woody Kush.
theco2company.com/loyaloil | @loyal.oil.co | @grownrogue
71.6% THC | 8.1% Terpenes
Review by Amanda Day @terpodactyl_media
High Latitude Extracts
Leftovers Distillate and Cannabis-Derived Terpenes Cartridge
GMO X Biscotti Sundae
Cultivated by Luvli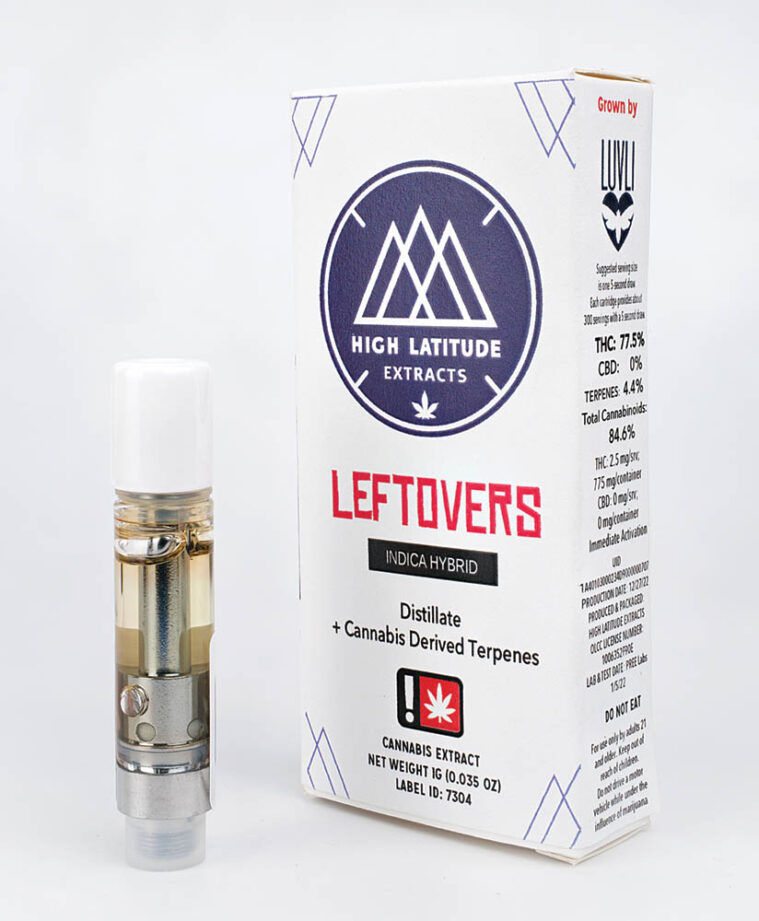 The nearly-clear liquid is a Cannabis terpene-infused distillate from a single source. It's calm and creamy, leaning into the gentle bouquet of Luvli's Leftovers. The cultivar offers a mild, earthy, musky mix of flavors that are hard to pin down but easy on the lungs, from flower to cartridge.
77.5% THC | 4.4% Terpenes
highlatitudeextracts.com | @highlatitiudeextract | @luvlipdx
Review by Amanda Day @terpodactyl_media
White Label Extracts
Where's My Kush? Live Resin Cart
Where's My Bike? x Sour Fifty Six
Cultivated by Benson Arbor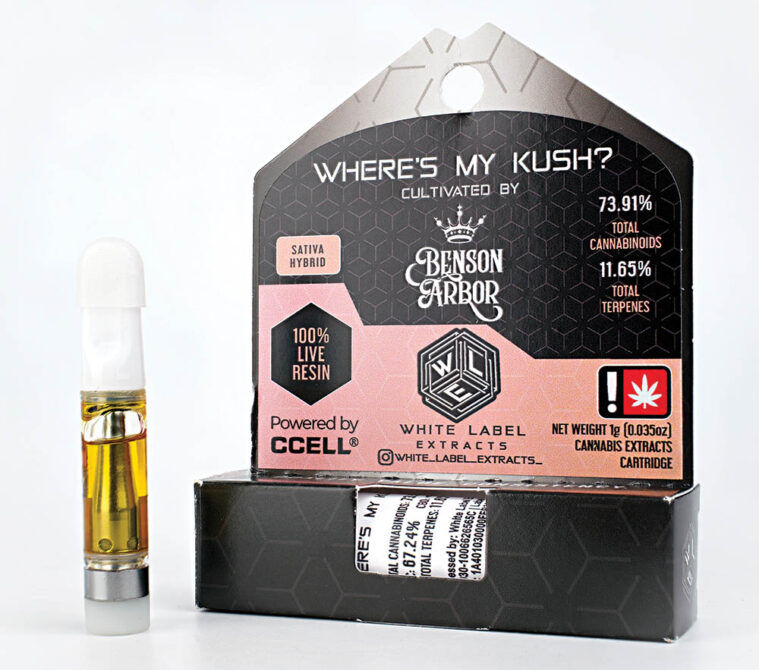 This refreshing selection saturates your senses with a whopping 11.65% terpenes. Terpinolene takes up over 5% of that real estate, but the flavor is far from overwhelming (for once). We like to think that's largely due to a beautiful balance of background genetics: They're a heyday of sweet, sour and smokey Hazes and Kushes that come together in a harmonic fashion.
67.24% THC | 11.65% Terpenes
whitelabelextracts.net | @white_label_extracts_ | @bensonarbor
Review by Amanda Day @terpodactyl_media
Higher Cultures
Zahiti Triangle Live Rosin Cart
Triangle Kush x Tangie x Zahiti Lime
Cultivated by Güd Gardens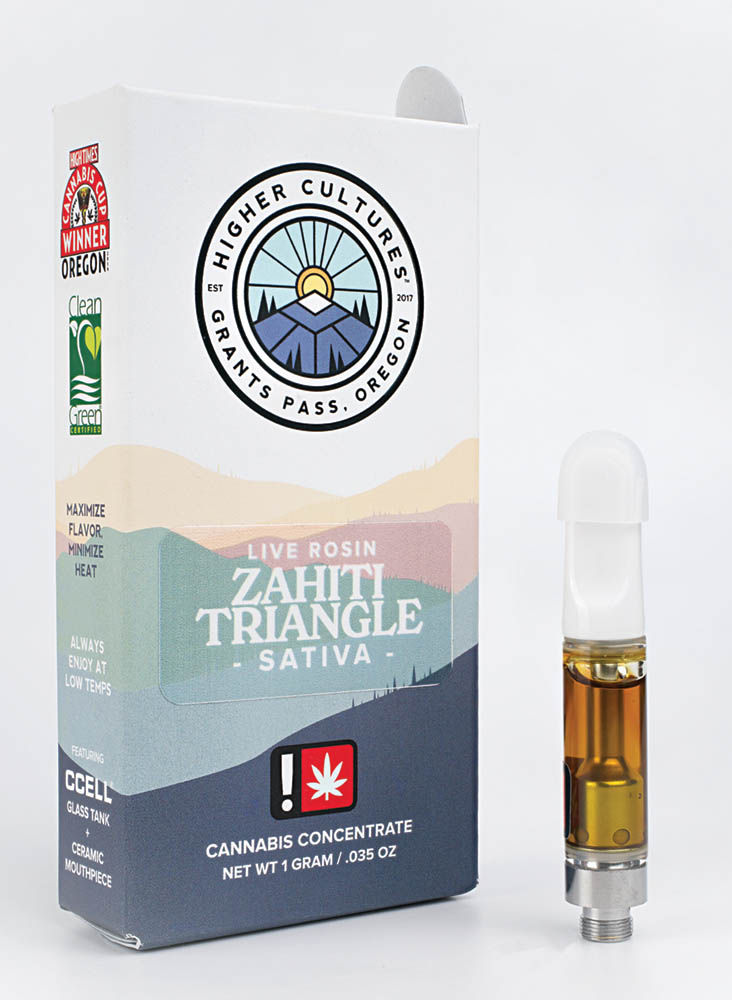 Made from Clean Green Certified Cannabis grown down in Grants Pass. This full-gram rosin pen has a complementary citrus flavor that's equal parts Tangie and Lime. The exhale really manages to add to the profile by giving you a comfy undertone of Kush that creeps up as you puff for a wonderfully full flavor.
80.21% THC | 12.42% Terpenes
highercultures.com | @highercultures | @gudgardens
Review by Matt Jackson @actionmattjackson
Original Melts
Orange Cream Soda 70-120µ Live Rosin Disposable Melt Stick
Orange Crush X Juicy Fruit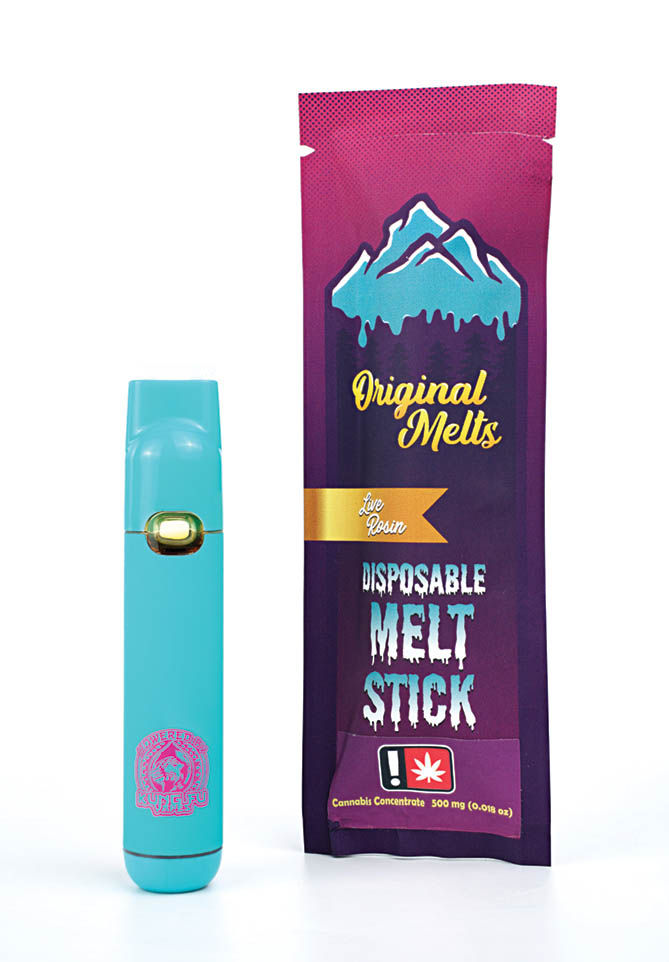 When it comes to pods, this device from Original Melts might be the cutest we've seen yet. Though don't let the trendy colors and slick form factor deceive you, this gadget turns syrupy rosin into thick and flavorful clouds. Hit after hit, a light citrus flavor shines through in this subtle profile.
73.57% THC | 7.35% Terpenes
@originalmelts
Review by Ryan Herron @theloud100
Siskiyou Sungrown
THC RSO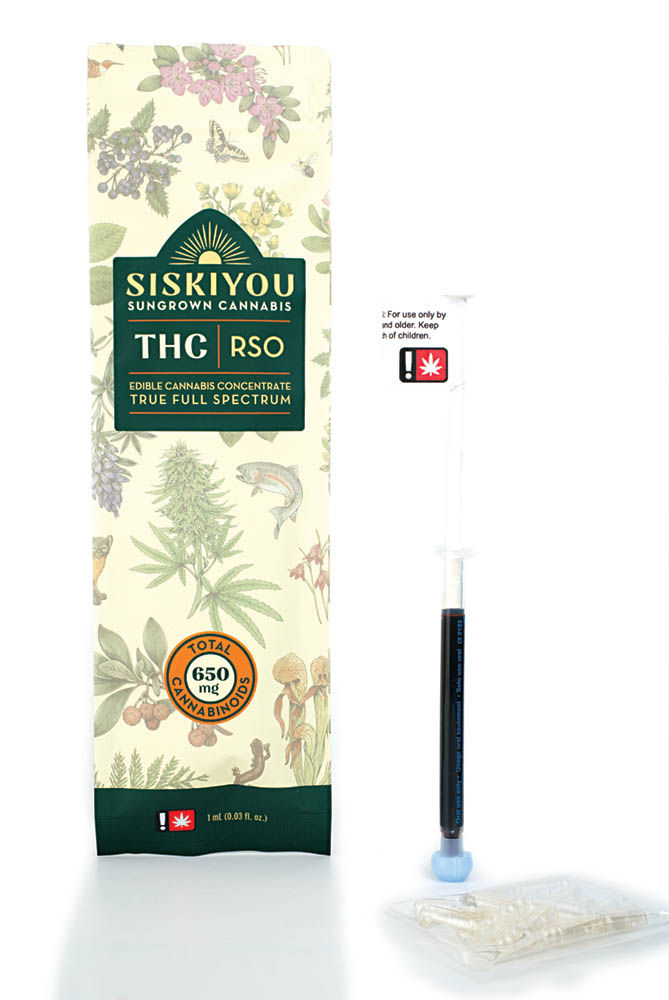 An old-faithful in our concentrate lineups and medicinal arsenals alike, Siskiyou Sungrown's RSO is a full spectrum staple for Oregonians seeking non-dabbable cannabinoids. This whole plant potion is a potent option made with organic solvents for anyone looking to maximize input and minimize the pesky process of medicating. The crew at Siskiyou even provides empty capsules in each package for easy ingestion.
643mg THC
siskiyousungrown.com | @siskiyousungrown
Review by Amanda Day @terpodactyl_media