On a breathtaking 500-year floodplain resides the majestic, family-owned garden known as Laughing Dog Farms. Their whopping 115-acre property backs up to a mesmerizing river and a magnificent old growth forest. Utilizing the natural resources found on their land, they aim to close the loop and make the most out of what mother nature provides.
Their lean and mean partnership consists of four members. For decades, Amazon John has been practicing all forms of plant-based medicine. His skills and knowledge are used on the farm regularly. Matt Lattanzi can be found on their land daily overseeing the property, while his son-in-law, James Driskill, handles more or less everything from plant training to creating inputs. Matt's nephew, Brock Binder, primarily controls the sales and marketing efforts, but can be seen on the farm getting his hands dirty as well.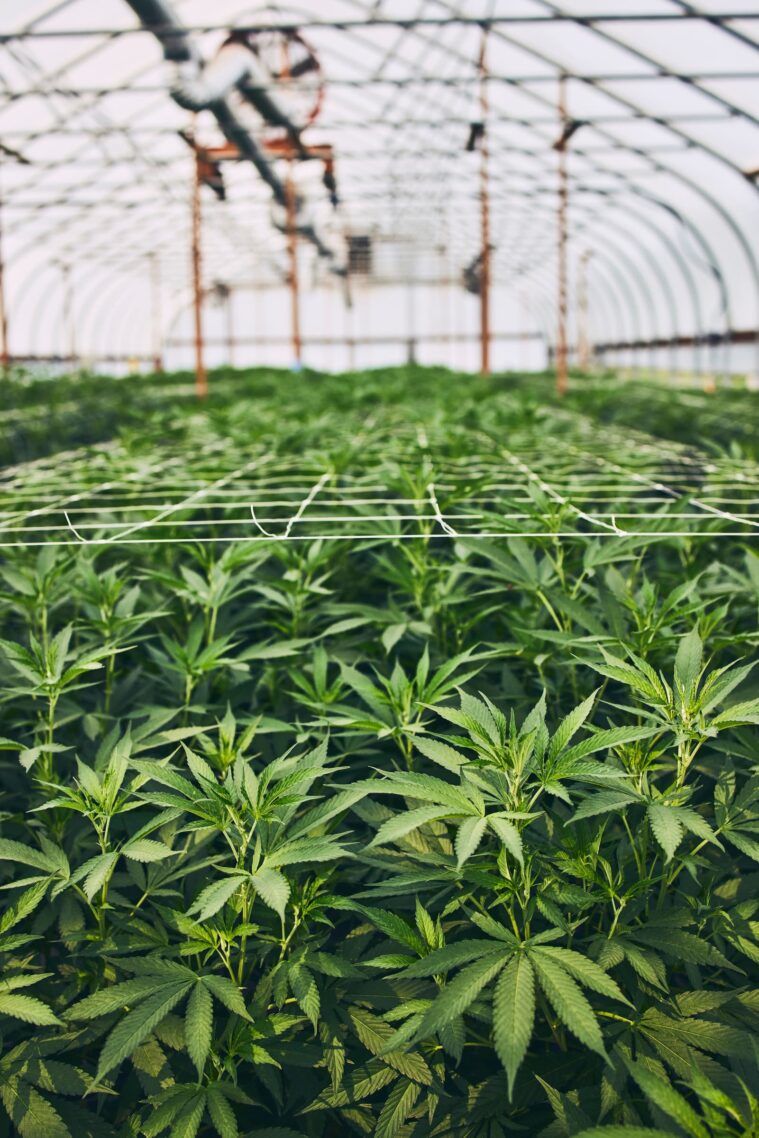 In 2014, Matt's wife Michelle was diagnosed with colon cancer, and with the help of FECO, she was able to put her illness to remission. Ultimately, this was one of the biggest catalysts for starting Laughing Dog Farms, as their family saw the positive medicinal benefits that came with this miracle plant.
Later that year, Brock and his uncle Matt opened up the legendary dispensary, High Quality in Corvallis. Intending to provide additional health-giving products to their shop, Brock had his heart set on creating a farm of their own.
Matt, who has strong Italian roots, purchased their property in 2016 and immediately started getting to work. Their family has a natural history in the farming industry, so it's no wonder how naturally this came to them.
Initially, they got their start with 48 medical plants in their custom-built, 3,000-square-foot greenhouse. In 2017, they switched to recreational cultivation and turned things up a notch. Upon expanding their license from a tier-one to a tier two, they plan to add hugelkultur raised beds, making a substantial difference.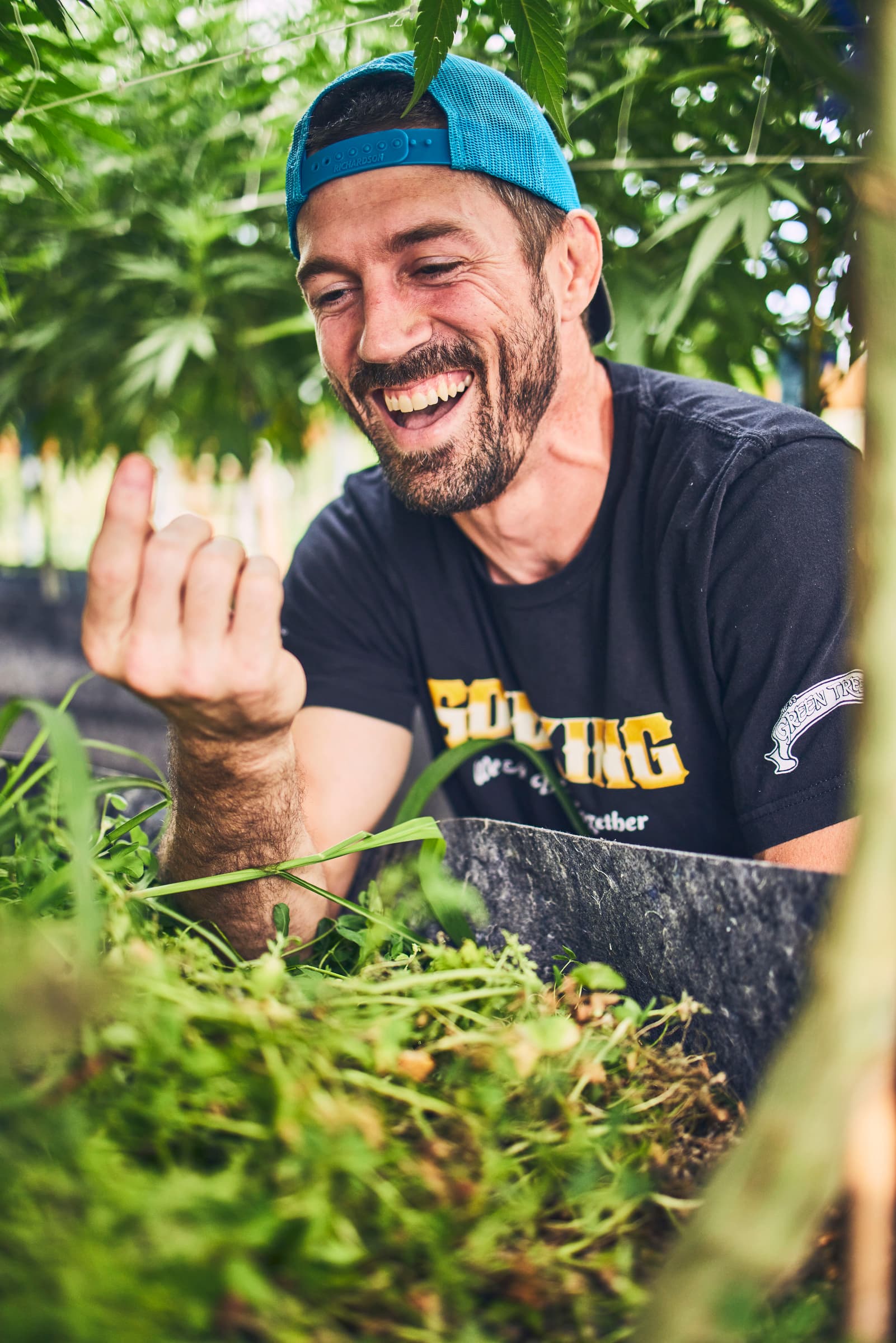 Number of strains: 50
Number of plants: 3,000+
Number of employees: 2
Number of pounds harvested per year: 500+
Primary grow style: Soil Sun Grown
Sources of Nutrients: Mr. B's Green Trees & Bio Harmonic Tonic & KNF
Canopy size: 15,000 square feet
Taking a deep dive into the garden, we experienced an unparalleled feeling of peace and tranquillity provided by the frequencies and vibrations. Utilizing quartz crystals found in the river and the song Holy Harmony by Jonathan Goldman, they have created these magical harmonic fields. "Quartz represents in a perfect matrix in which they transmit signals. We are creating a harmonic resonance around the plants with the music. The gemstones are capturing that and holding that, and transmitting that," said James. Additionally, the gemstones found in the Bio Harmonic Tonic help transmit these frequencies to the microbes found in the soil, assisting them to work more efficiently.
Just entering their flowering stage, our team encountered 200+ lively and vigorous plants. Each 300-gallon pot is filled with six-year-old soil, topped with Big Rootz from Soil King and top dressed with Mr. B'S Green Trees. In the greenhouse is where you can find their four staple strains: Tang Breath (Tropicanna Cookies x Meatbreath), Ice Cream Man ((Gelato #45 x High Octane OG/Jet Fuel G6) x (Legend Orange Apricot)), Mutoid Man (Tang Breath x Ice Cream Man), and Bluetang Clan ((Blue Magoo/Zkittlez Breath x Tang Breath)). James' cousin, Austin Driskill, passionately explained each one of these strain's terpene profiles in great detail, leaving us in a state of salivation. Austin is James's right-hand man and runs the day-to-day operations, from keeping plants healthy and managing helpers, to preparing products for sale. 
While venturing out to their field of auto-flowering plants, our eyes lit up as we witnessed the beautiful synergy between the wildlife and Cannabis. Much of the farm has been planted with a beneficial insect seed mix that attracts pollinators and pest predators. Honey bees and butterflies are frequent fliers in the area, and love the pollen these wondrous plants provide. Honey bees and butterflies are frequent fliers in the area, and love the pollen these wondrous plants provide. This year, Laughing Dog Farms is rocking strains like Top Gun, Creme De La Zen and Grease Gun, to name a few. With 16 different phenotypes per strain, it was incredible to see the vast differences between each cultivar.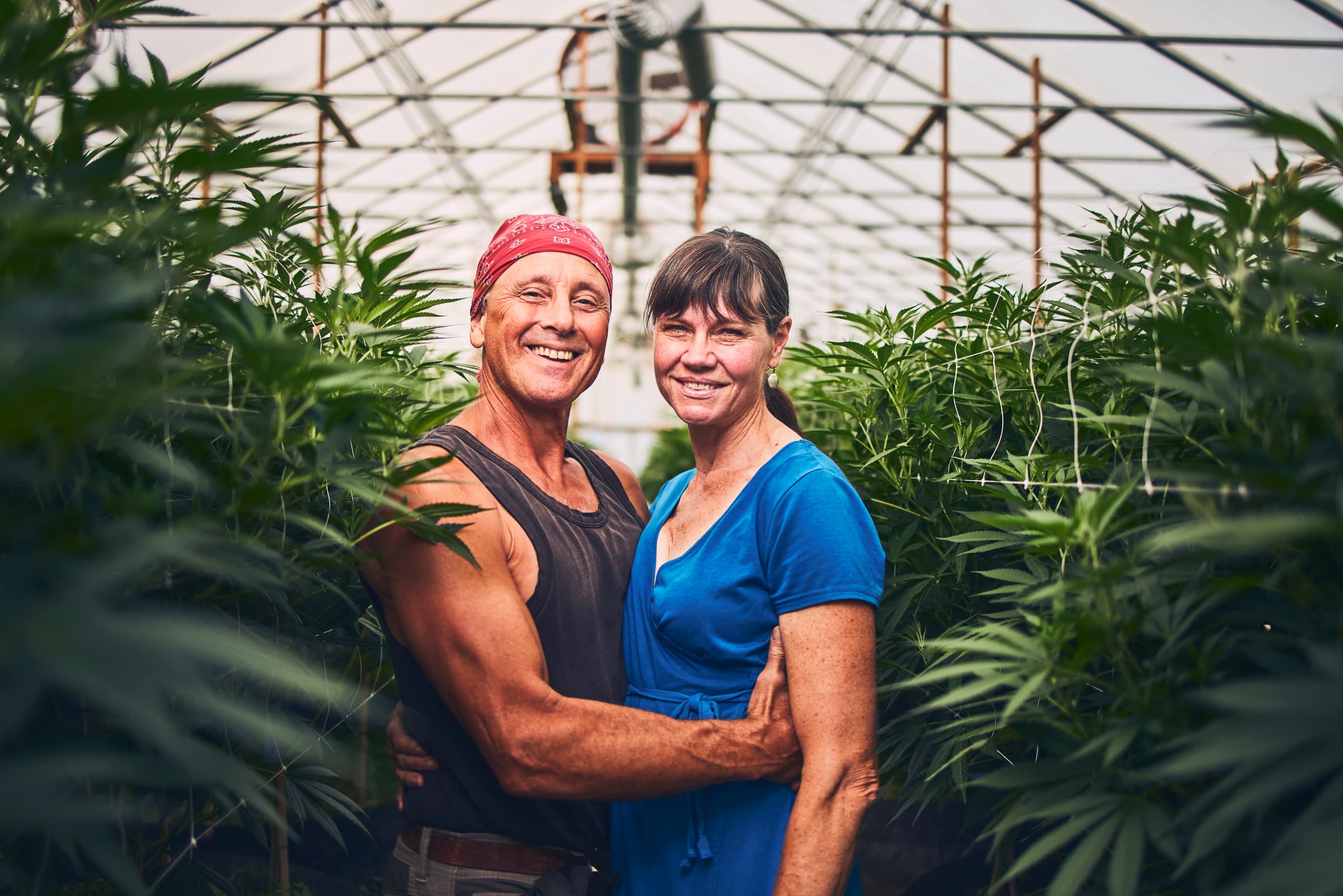 As mentioned previously, this company prides itself on its sustainability efforts. On most days, you can observe James on their property collecting green materials such as comfrey, alfalfa and nettle, as well as fungi from the forest for KNF ferments, compost and teas. Their end goal is to source everything they need from the land, bringing in as little as possible from outside sources.
Another important aspect of this farm is its use of fungal matter in its soil. It can help with water holding potential, better nutrient cycling and carbon sequestration. The fungus also acts as a pest deterrent, being that most insects know that those certain fungal strains are actively seeking them out. Mycorrhizal fungi are vital in the soil for mining phosphorus and other elements that tend to become unavailable.
They also utilize nitrogen-fixing legumes to harvest atmospheric nitrogen from the air, making it more available through nitrogen-fixing bacteria associating with the legumes. James does this by gathering indigenous microorganisms from the forest, building fungal ruling composts and applying Bio Harmonic Tonic, creating a harmonic field for better microbial communication.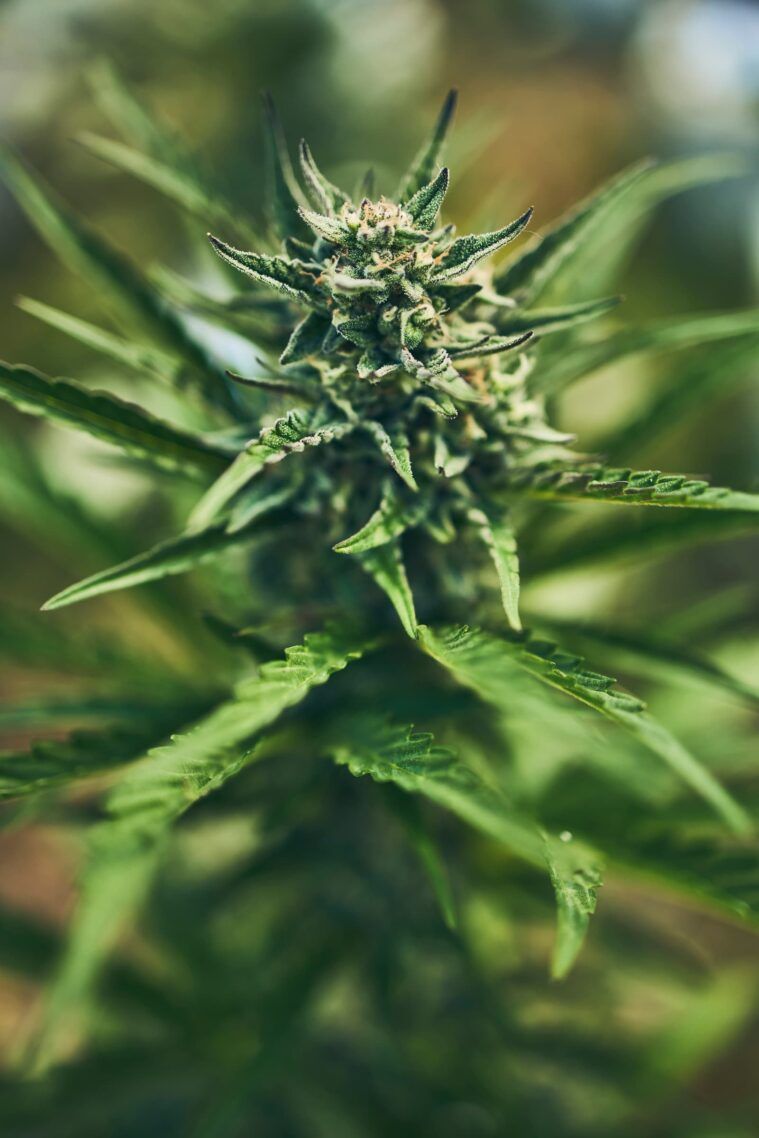 Their strong integrated pest management program consists of actively aerated compost teas and predatory insects. Although they have more or less every pest you wouldn't want in the area because of their thriving ecosystem, their plants are very healthy and resilient.
Laughing Dog Farms is currently working on an R&D project with Sun God Medicinals. They will be launching a full spectrum tincture that utilizes 39 different cultivars and the game-changing cannabinoids that come along with them. A massive contributor to this tincture will be Tangie Bliss. This prolific strain bred by Amazon John has a near-perfect 1:1 THC:CBD ratio, bringing epicly blissed out vibes.
Keep a close eye out for their new varieties of tea leaf Bio Harmonic blunts, as well as their four staple strains coming down later this year!