The same Sacramento-based crew that brought us the first Lemonnade-branded store in the nation, is bringing Cookies back to California's capital city.
Bring that Beat Back
Considering it's one of the largest Cannabis brands in the state, it's been a bit surprising that Cookies hasn't had a major presence in the Sacramento recreational market. It wasn't always that way, according to Head of Operations and Purchasing Paul Clemons, and Marketing Director Dennis Luong, for the recently launched Cookies Sacramento. Back in the medical-only days, Luong and Clemons said that Cookies flower had a major following in SacTown. That's one of the reasons they and the crew of local Cannabis entrepreneurs they work with decided to bring Cookies' unforgettable approach to fire flower, retail aesthetic and lifestyle branding to Midtown.
Feel the Flow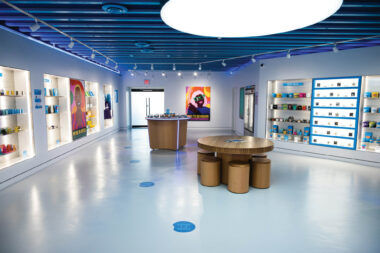 When you first step up to the Cookies storefront, you're immediately drawn in by that unmistakable sky blue that's become ubiquitous in the California weed scene. Though all Cookies retail locations are individually owned and operated, they all bring that same slick, dialed vibe their legion of fans has come to expect from the brand. When you pass through the welcoming room and into the heart of the shop, you're greeted by music, friendly and knowledgeable budtenders, sleek lines and tables filled with sniffing samples. Floor-to-ceiling portrait paintings bring social justice messages to life with vibrant colors. Everything here presents with meticulous attention and intention – like Apple, Nike and Tesla, Cookies knows exactly what it is, and what makes it popular. You know you're getting that experience from the jump.
Weed of Legends
Curating fire strains and products from a number of partnerships with amazing California cultivators including Backpack Boyz and Ridgeline Farms (featured in this month's Strain of the Month column on page 24), Cookies continues to deliver the goods with what's been their calling card since the beginning: premium flower. Star collabs, such as Ooh La La (a Run the Jewels strain) and Gary Payton, created in partnership with the local basketball legend, take the celebrity-based Cannabis game to new levels – without compromising on quality. Prepare to buy that Cookies quality for the average price of $74 per eighth, tax included.
Rolling Deep
Though they're known for bringing the fire in the flower game, Cookies Sacramento offers a solid selection of concentrates, cartridges, pre-rolls and edibles, including – you guessed it – Cookies brand cookies. The shop's approach to inventory management ditches the sheer-volume model employed by some retailers, instead curating a manageable number of high-quality brands. The Cookies and Lemonnade labels lead the lineup, with guest verses by brands such as Grandiflora, Wyld, and House of Platinum bringing diversity to the set.
Mastering the Mix
Everything about Cookies broadcasts intensely high production values. The interior design, the branding, the friendly and well-trained staff, the flower – it all blends masterfully to deliver an experience that plays like a single cut with a million-dollar studio budget.