Zuted
Various Flavors
100mg/pkg – 1 gummy/serving – 5mg/serving

@getzuted
Zuted is a new brand of Cannabis-infused gummy, aiming to separate themselves from the pack by producing a vegan, gluten-free, low-calorie and ocean plant-based gummy that you can actually feel good about indulging in! They have almost no sugar, fat or carbs, and contain a modest 5mg THC per gummy. The cherry kiwi variety was my favorite – featuring individual gummies of each flavor, as opposed to a blend.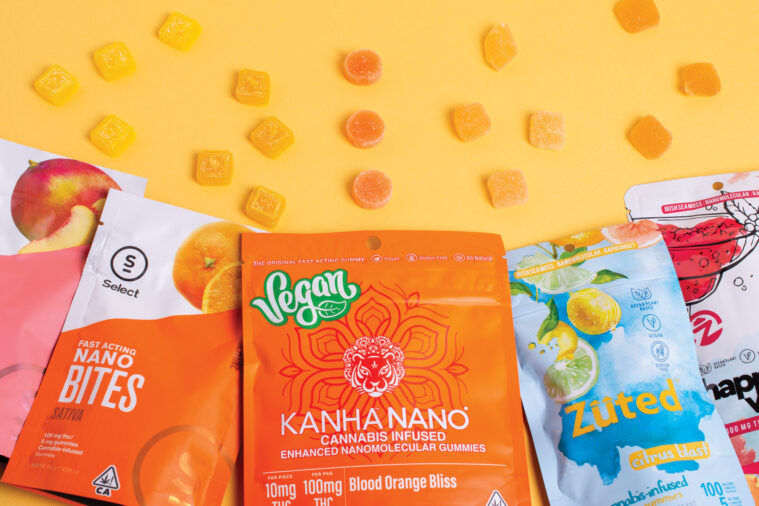 ---
Uncle Arnie's Gummies
Pineapple Orange Blitz
100mg/pkg – 1gummy/serving – 10mg/serving
Uncle Arnie's is well known for providing one of the best bang-for-your-buck beverage options with their iced tea lemonade, but did you know they make one of the best bang-for-your-buck gummies on the market too? No joke: With two unique flavors, cherry cola and pineapple orange blitz, these gummies are nano-infused for a quick onset and loaded with flavor.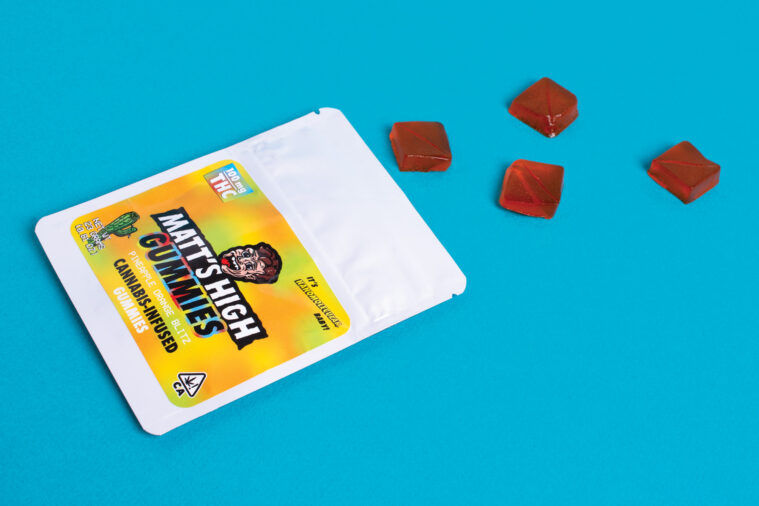 ---
Care by Design
18:1 Gummies, Mixed Berry
10mg CBD, .55mg THC, 100mg CBD, 5.5mg THC
Reminiscent of traditional gum drops, Care by Design's 18:1 gummies are a nice blend of cannabinoids, with 10mg of CBD/.55mg THC per gummy. These vegan treats are ideal for those seeking a mellow chill, relief from anxiety, or a light dose to take the edge off a stressful afternoon. They are a great edible option for new patient experimentation without worrying about getting stoned. Also available in 1:1 and 4:1 ratios.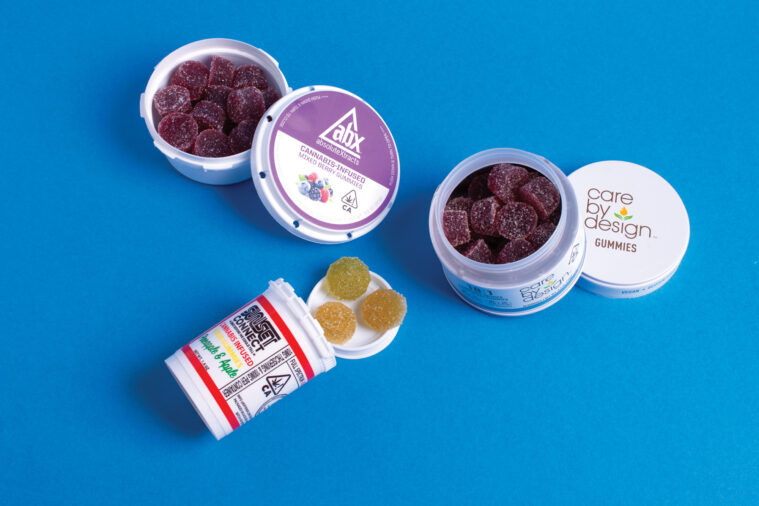 ---
AbsoluteXtracts
Sleepy Time Blueberry Lavender Gummies
5mg THC, 2mg CBN
100mg THC, 40mg CBN
Sleep deprivation is one of the most common reasons that patients seek Cannabis. AbsoluteXtract's THC/CBN gummies were designed to knock you out with a blend of 5mg THC and 2mg CBN per piece. Consumers can expect a heavy, long-lasting high, so make sure to consume about 30 minutes before bedtime for an ideal experience – easy dozing and a restful morning.
---
Garcia Handpicked
Jerry's Picks Gummies
5mg THC/gummy, 100mg THC/package
garciahandpicked.com | @garciahandpicked
If there were an award for packaging that matches the product within, Garcia Handpicked would win it with their Jerry's Picks. This product offers a psychedelic homage to the Grateful Dead band leader Jerry Garcia, with a trippy, durable tin filled with guitar pick-shaped gummies at a low-key 5mg THC each. Juicy, chewy and slightly tart, these gummies don't miss a note, and many will appreciate that the lower dose and higher number of pieces means more gummy goodness for the price.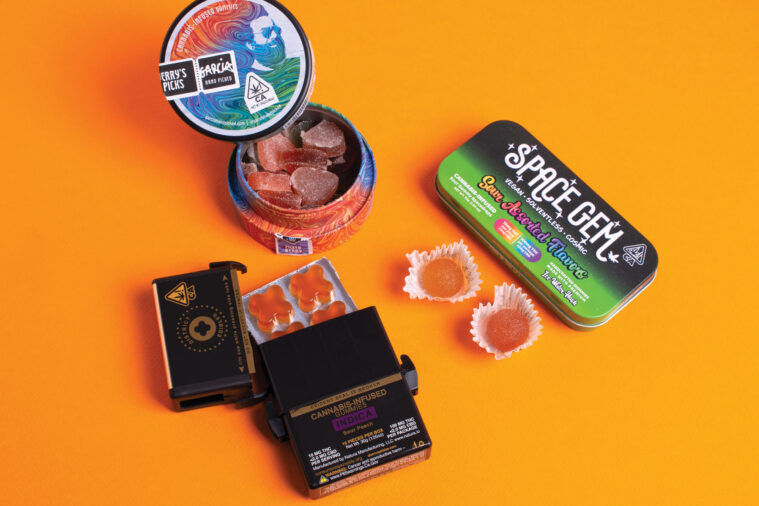 ---
District Edibles
Cannabis-infused Gummies
10mg THC/serving, 100mg THC/package
districtedibles.com | @district.edibles
Classy and minimalist, the District Edibles gummy pack features a Zippo lighter-shaped hard plastic case containing a blister pack full of precisely dosed gummy goodness, currently lifting minds and hearts in eight states across the U.S. Available in a variety of both sweet and sour flavors, the District gummies come in sativa, indica, hybrid and CBD-rich varieties.
---
Jelly Wizard
Rosin Jellies
10mg THC/serving, 100mg THC/package
Jellywizardcannabis.co | @jellywizard707
The self-described "terpiest wizard in the land," the Jelly Wizard reigns as a prime purveyor of heady rosin-infused jellies. With initial batches selling out swiftly, these jellies have a solid following, and for good reason. The multi-colored, multi-flavored jellies pack some serious heat, with a sweetness not unlike substantial cotton candy, or Lucky Charms marshmallows. Look for the little pink package, and be prepared for the edible rosin to work its magic.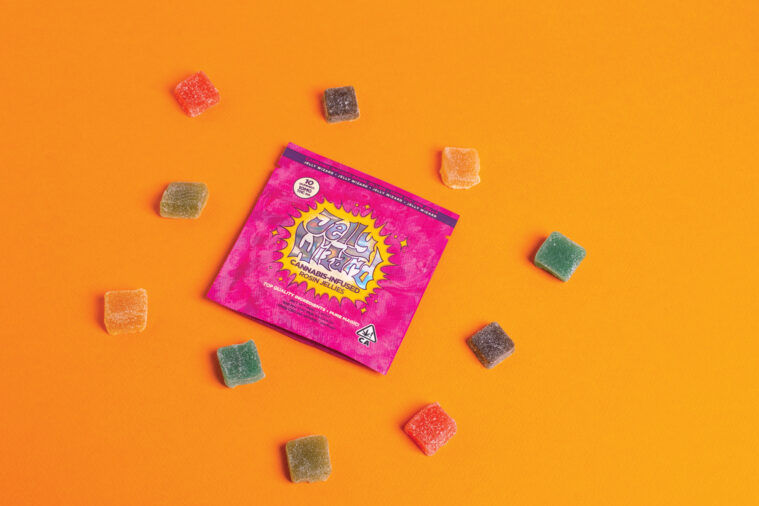 ---
Sunset Connect
Sour Gummies
10mg THC/serving, 100mg THC/package
Sunsetconnect.co | @sunsetconnect
Coming from the kitchens of the first equity product producer in San Francisco, the Sunset Connect Sour Gummies bring a puckering punch that you can feel good about consuming. Owner Ali Jamalian and his crew take every opportunity to offer reciprocal support to the community that makes their business possible. It's almost a bonus that the gummies are so tasty. We couldn't get enough of the pineapple and apple gummy pack, with its bracing acidity and full-spectrum infusion.
---
Select
Nano-Bites
5mg THC/gummy, 100mg THC/package
selectbetter.com | @select.better
Soft and sweet, Select's nano-infused gummies offer a fairly quick uptake time, with onset closer to 30 minutes instead of the traditional 60-90 minutes you get from live resin, rosin and canna-butter-infused gummies. These provide a light, quick lift in sativa, indica and hybrid formulations in multiple flavors, including peach-mango, tangerine and pomegranate.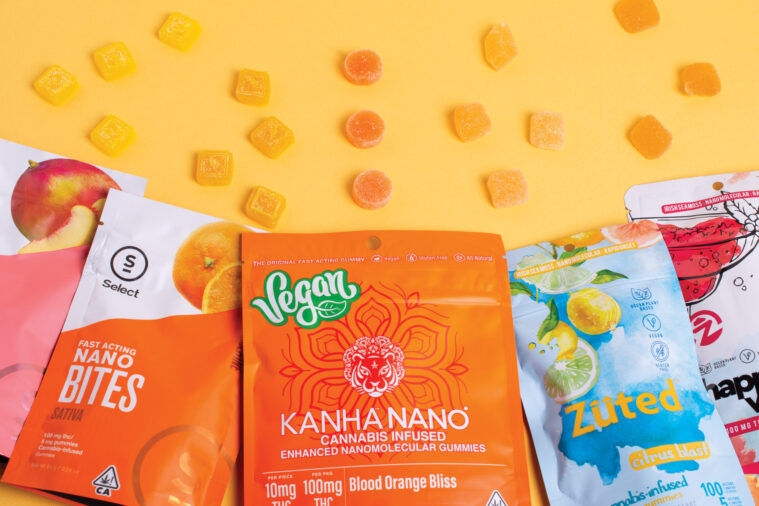 ---
Sunderstorm
Kanha Gummies
10mg THC/serving, 100mg THC/package
sunderstorm.com | @kanhatreats
Sunderstorm produces a wide variety of killer gummies under their Kanha line. The vegan, nano-enhanced variety provides a swift-acting, delicious option – with the Blood Orange Bliss offering all of the flavor of a classic gummy orange wedge, packed into tightly pressed vegan discs infused with THC goodness.
---
Stiiizy
Nano-enhanced Gummies
10mg THC/serving, 90mg THC/package
Leave it to Stiiizy to stand out, with their flat, triangular packaging offering a stand-out counterpoint to the traditional mylar bags found in most of the gummy world. Inside, you'll find similarly angular treats that live up to Stiiizy's considerable and ever-growing reputation for quality. We found the sour apple flavor particularly delicious – be careful or you'll end up taking almost 100mg to the dome before you remind yourself they're infused.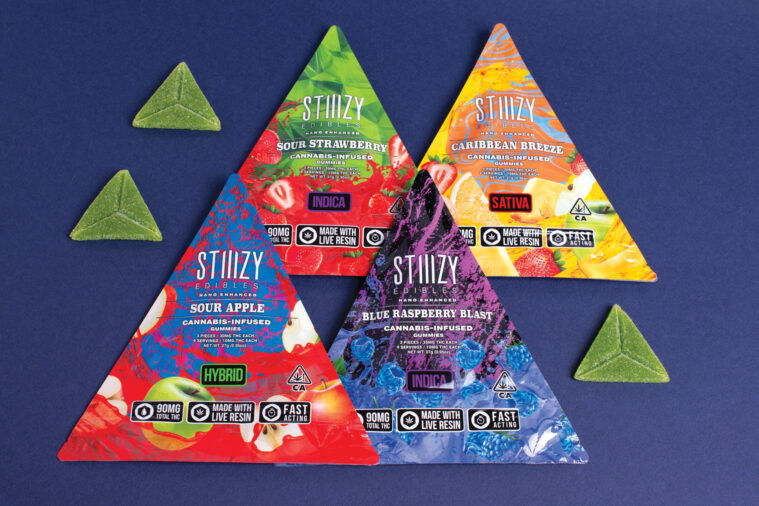 ---
Dee-licious Dee
Thai Gummies
10mg THC/serving, 100mg THC/package
With ties to Thailand, Dee-licious Dee draws heavily from its associations, adding vibrant, unique flavors to the lineup of top-notch edibles coming out of the Natura kitchen. The lineup proudly showcases flavors that might seem esoteric and exotic to the American palate, such as jackfruit, lychee, and mangosteen – which is Thailand's national fruit. These gummies don't shy away from Cannabis flavor, instead choosing to accent the strong dankness with complimentary fruit flavors.