Junk
Strawberry Popping Candy Dynamites!
4.35mg THC/serving, Up to 50mg THC/package
junkworldwide.com | @eatmorejunk
Created by Leif Goods, Junk offers a variety of stoner-friendly edibles, including their Marshmallow Bon-Bons and Holy Moly-O's. Their Dynamites! are a nostalgic blast from the past, as is that pop and fizz in your mouth. The strawberry flavor had me smacking my lips and stoned in a matter of minutes.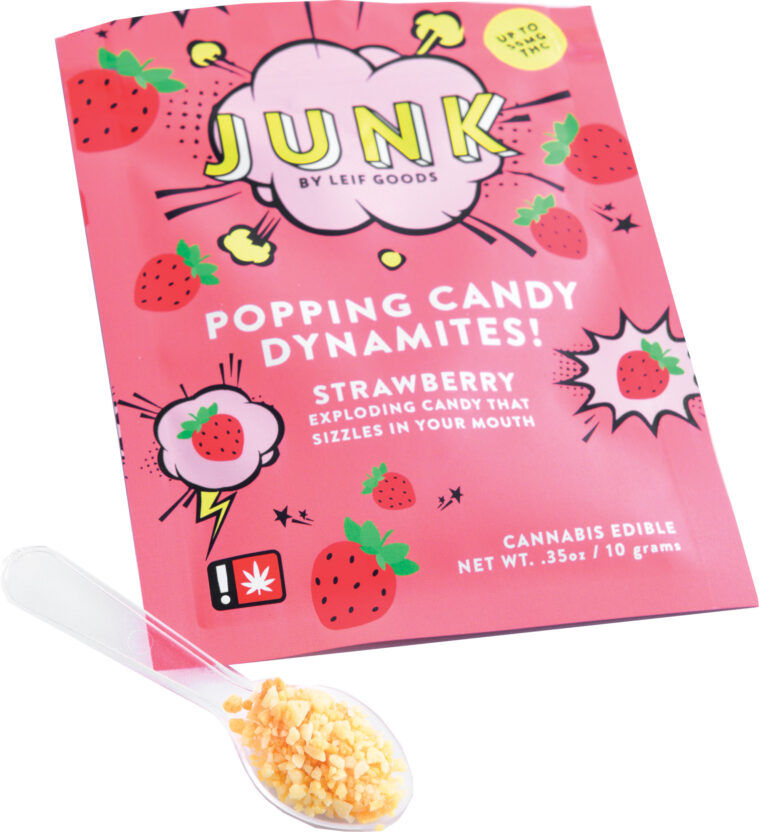 ---
Tasty's
Watermelon Haze Hard Candies
5.47mg THC/serving, 54.78mg THC/package
We appreciate the slick packaging and terpene info on Tasty's hard candy packs. Bright pink and bursting with watermelon candy flavor, they've found that balance of accentuating and masking the Cannabis notes. These individually packaged, 5mg pieces are absorbed sublingually and take effect much sooner than most edibles. Great when you need a quick solution and can't step out and smoke.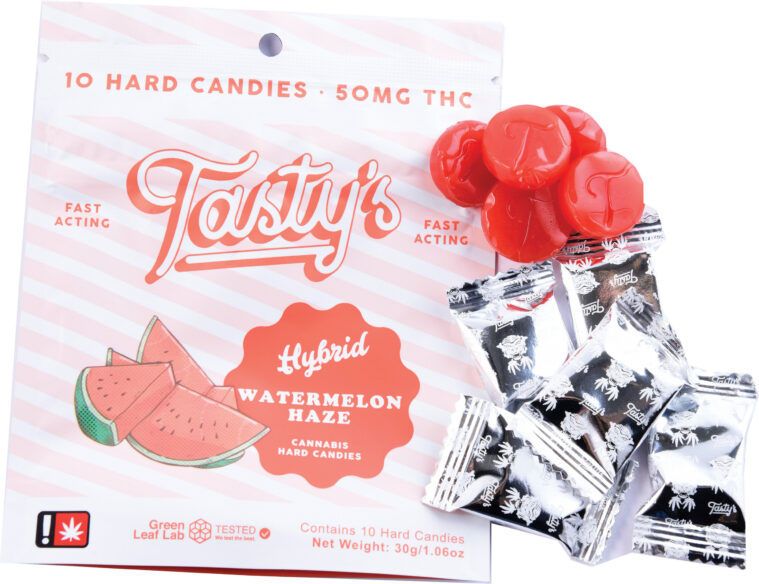 ---
Sun God Medicinals
Sandie's Candies Peanut Brittle
4.75mg THC/serving, 47.5mg THC/package
sungodmedicinals.com | @sandiescandiesoregon_
As someone who has never tried peanut brittle before, this was certainly a delight! Sandie's Candies crafted a beautiful rendition of a classic treat – the peanut brittle snaps and the crunchiness is perfect! As the holidays are just around the corner, this is a wonderful treat to share with loved ones around a fire!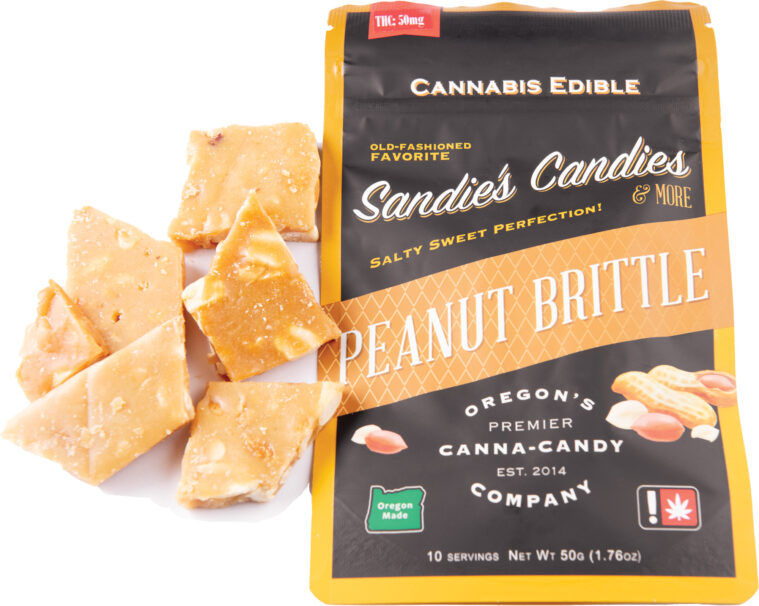 ---
Green State of Mind
Grapefruit Sour Botz
4.92mg THC/serving, 49.2mg THC/package
greenstateofmindinc.com | @sourbotz
Sour Botz from Green State of Mind is one of the longest-running edibles in the Oregon marketplace. These delectable gummies are not only tasty, but also fast acting! Being a single rectangular shape, Sour Botz are fairly easy to split into smaller serving sizes for those who wish to microdose. These gummies are perfect for on the go, as their packaging is relatively small and flat!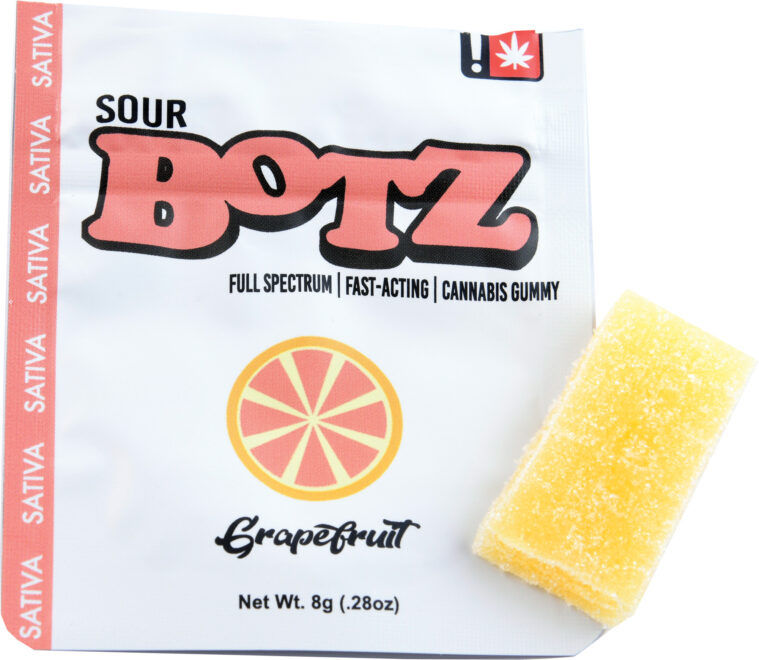 ---
Hellavated
Strawberry Haze Gummiez
10mg THC/serving, 100mg THC/package
hellavated.com | @hellavatedvapes
Ready to get hella elevated? We love this punny brand, their yummy gummiez and flavored vapes. The Strawberry Haze gummiez have a sweet and sour strawberry effervescence that melts into the palate, with a sugar rush that delivers a floaty, happy buzz so tasty we floated off with a whole package in one sitting!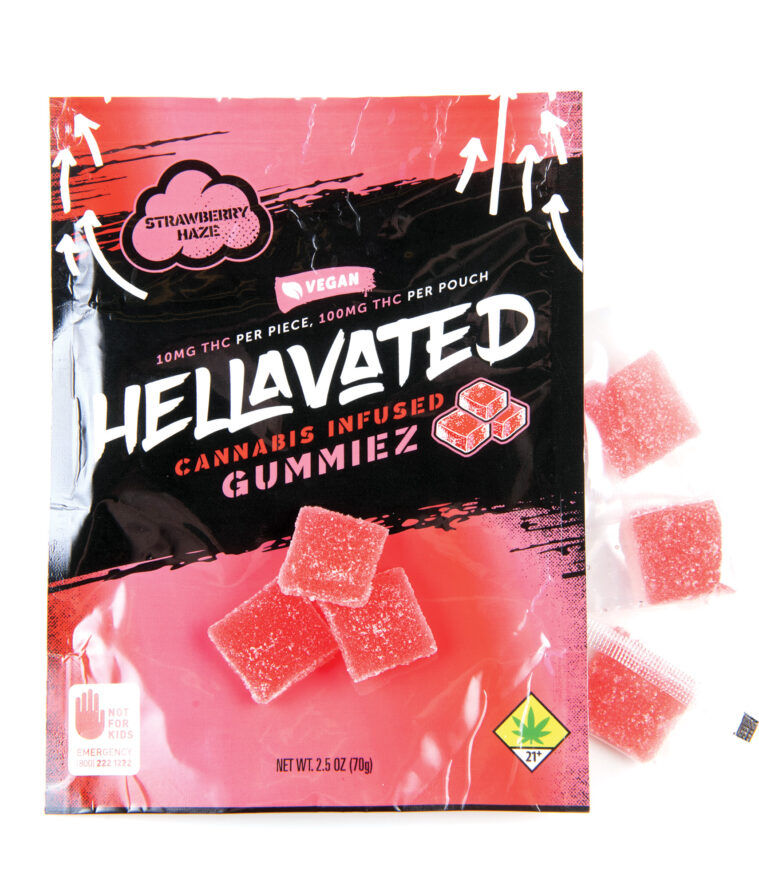 ---
Hush
Marionberry 1:1 Gummy
4.76mg THC and 5.15mg CBD/serving, 47.56mg THC and 51.45mg CBD/package
hushcanna.com | @hushcannaoregon
Beginning by dominating the more affordable dab scene, Hush has branched out to create other Cannabis products such as this 1:1 marionberry gummy. This chewy treat provides a well-rounded effect, soothing the body and stimulating the mind. Edibles containing both THC and CBD are becoming increasingly popular. I feel the included CBD can help to either enhance your experience or help to keep down the general anxiety Cannabis can sometimes bring on.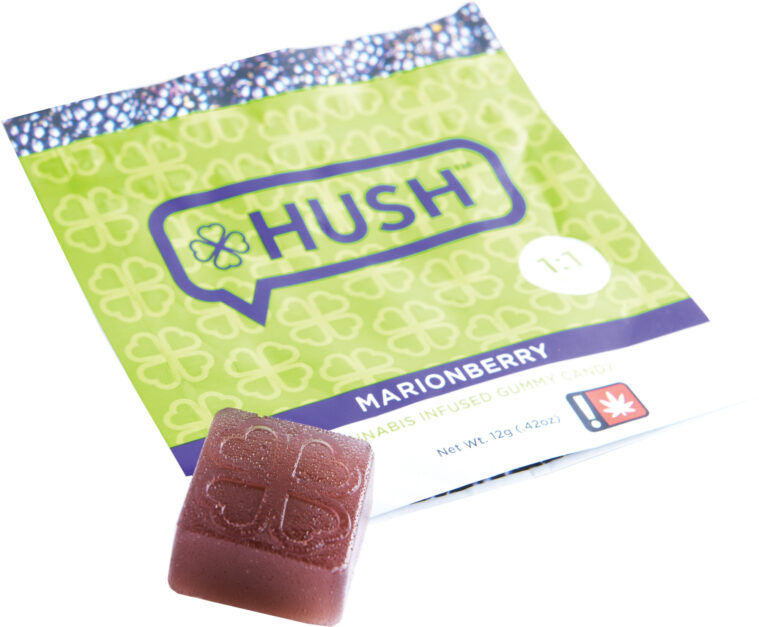 ---
Astral Treats
Strawberry Supernova
2.08mg THC/serving, Up to 50mg THC/package
Get ready to go to infinity and beyond with Astral Treats' Strawberry Supernovas. The crunchy and chewy candies satisfy all of your senses with a burst of flavors and consistencies. The contrast in sour and sweet was the perfect match, making it hard not to eat both gummies in one sitting!
---
Wana
Strawberry Margarita
4.68mg THC/serving, 46.80mg THC/package
I would like to think Jimmy Buffet would approve of this version of a strawberry margarita. Wana created a juicy and chewy gummy for those who appreciate that it is indeed five o'clock somewhere. Even though the serving size says one piece, I gladly savor two 2 pieces and enjoy the very comfortable high that accompanies them just 15 minutes later. Classic taste and satisfying high.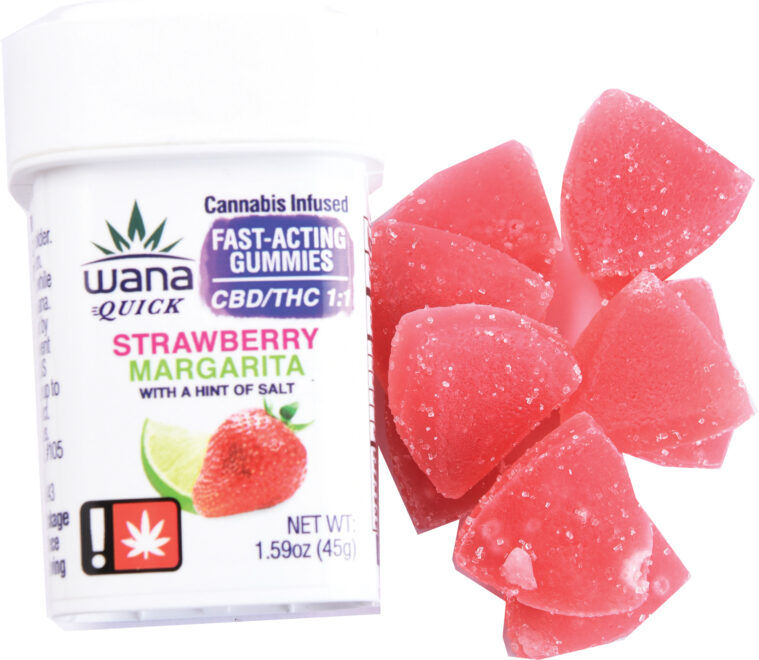 ---
Oregon Original
Kotton Mouth
4.79mg THC/serving, 47.9mg THC/package
Oregon Original's cherry limeade Kotton Mouth gummies are absolutely mouth watering! Well, maybe not after they kick in, but this flavor mix had me salivating big time. The combination of cherry and lime makes for a refreshing and slightly sour explosion in your mouth. These gummies are a perfect treat for a stoned and fun afternoon!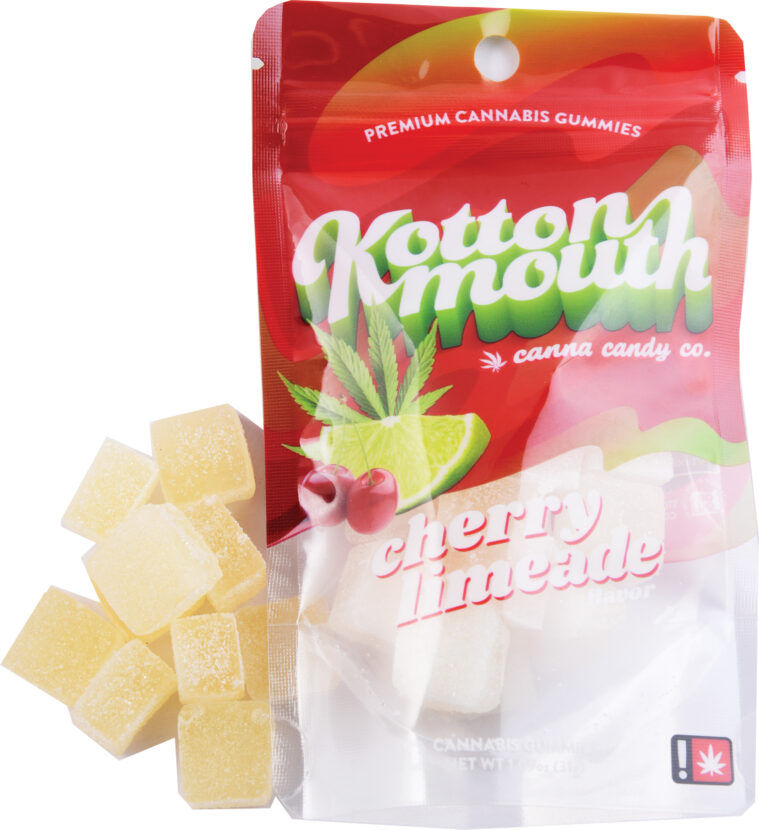 ---
Ganja Gummies
Melon Cucumber Serrano
5.30mg THC/serving, 53mg THC/package
pdxdabs.com | @pdx_dabs
Like a grown-up watermelon candy, PDX Dabs gets playful with these gummies flavored with melon, cucumber, and serrano. We found that though serrano is featured prominently on the package, they were thankfully not spicy. Wash a couple down with your next michelada and tell them we sent ya.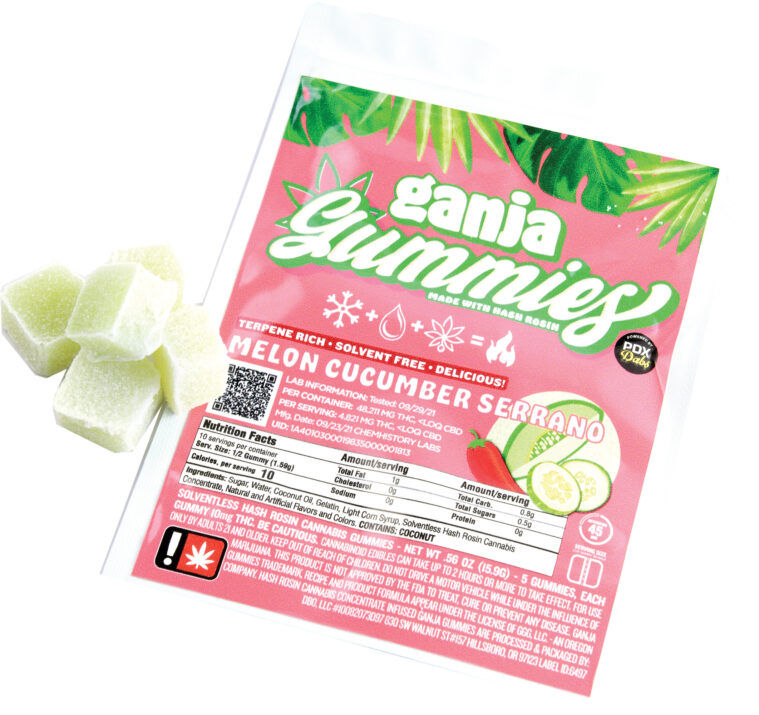 ---
That Taffy
Mystery Taffy
5.23 mg THC/serving, 52.37mg THC/package
When you're holding a 50 mg THC taffy covered in question marks, your experience is in your own hands. You'll have to guess the flavor That Taffy used in this batch of Mystery Taffy. The package is white, the taffy is white, and the flavor is anyone's guess. We won't ruin the suspense by offering our guess – simply get a handful and get started on your own detective work.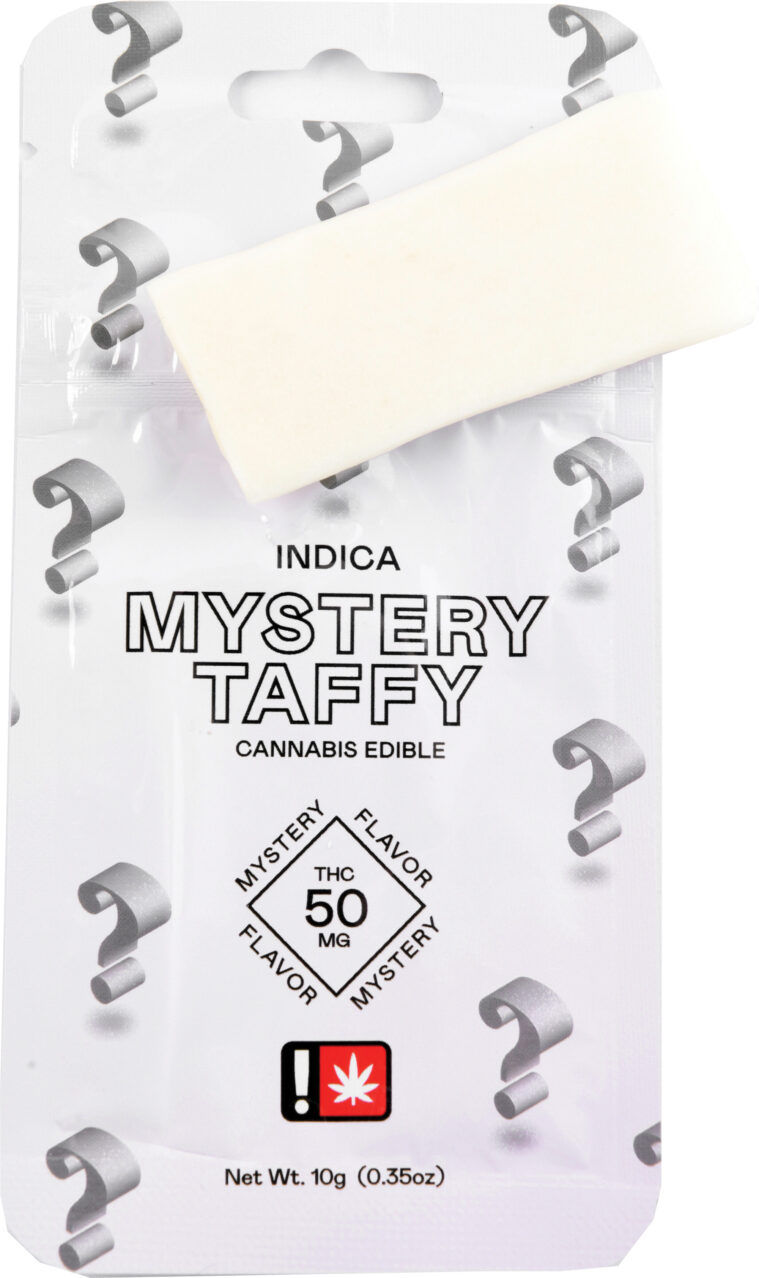 ---
Laurie + Mary Jane
Bleublees Gummies
5mg THC/serving, 50mg THC/package
laurieandmaryjane.com | @laurieandmaryjane
Bleublees include a helpful pronunciation guide (bloo bleez, natch). Though, any way you'd like to say it, Laurie + Mary Jane have created something tasty. Each 5mg gummy is covered in a sugary sweet coating that gives a little texture to these soft treats. Tangerine and lime flavors eliminate any Cannabis notes. Not to mention, L+MJ donates a portion of all sales to the National Breast Cancer Coalition. Feel-good treats all around.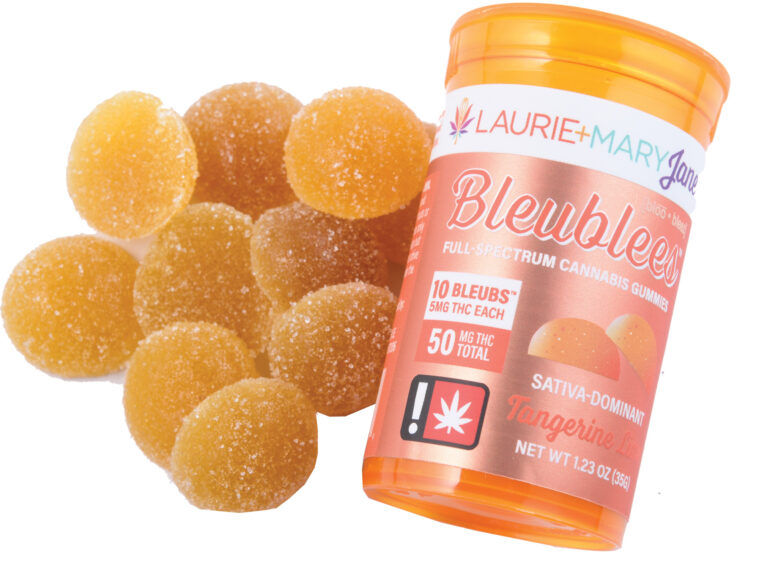 ---
Herban Tribe
Mango Cannabis Fruit Chews
5mg THC/serving, 50mg THC/package
herbantribe.com | @herbantribe
It's wonderful to see mango puree as the star ingredient in an edible with just six components. Eugene company Herban Tribe creates these soft, vegan fruit chews to make your trip to the dispensary an easy one. In bright colors with sharp contrasting iconography, the packaging grabs our attention first and the real fruit flavor has us coming back for more.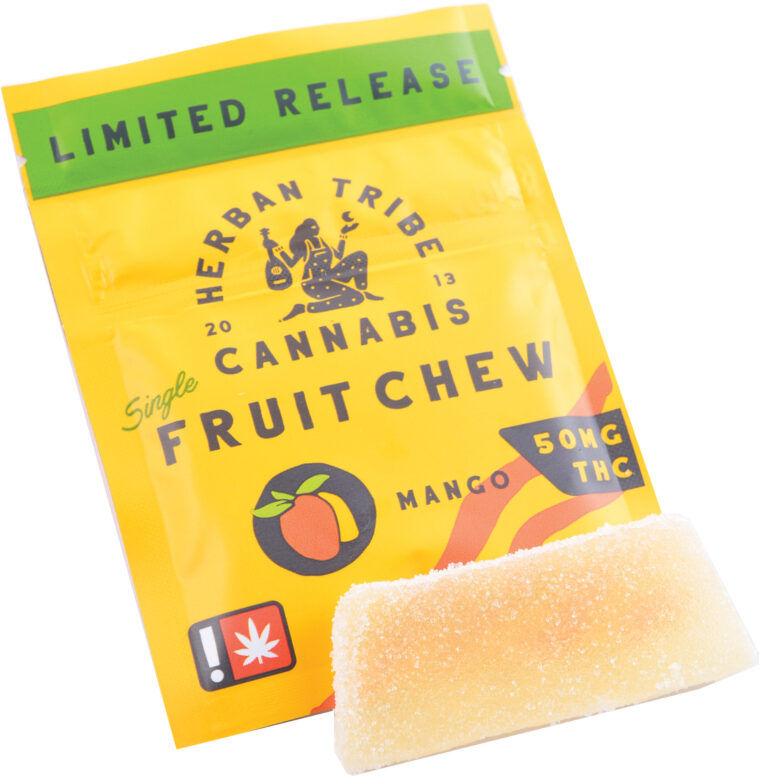 ---
Drops
Raspberry Jellies
5mg THC/serving and 7.5mg per CBD/serving, 50mg THC/package and 75mg CBD/package
Drops are softer than the ultra chewy gummy bears we grew up with, though they're still tough enough to keep their cute little cube shapes if you pack them along for a long hike. Intensely flavored, just one tiny cube was enough for me to feel satisfied and judge the bubble-bath-relaxed feeling of this CBD-forward edible.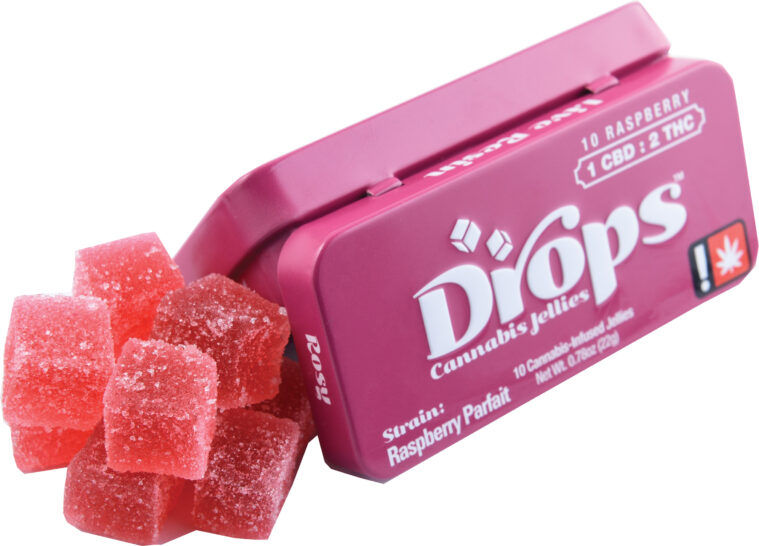 ---
Grön
Blueberry Lemonade Pearls
4.81mg THC and 14.17 CBG/serving, 48.12mg THC and 141.75mg CBG/package
One of the first companies to take advantage of minor cannabinoids, Grön has found an excellent way to introduce CBG to their customers. These blueberry lemonade pearls have a big fruit flavor with a sour kick. Though, the real magic is the THC to CBG ratio. A cannabinoid known to reduce inflammation and increase appetite – ff that rings your bell, this might be the start of a beautiful friendship.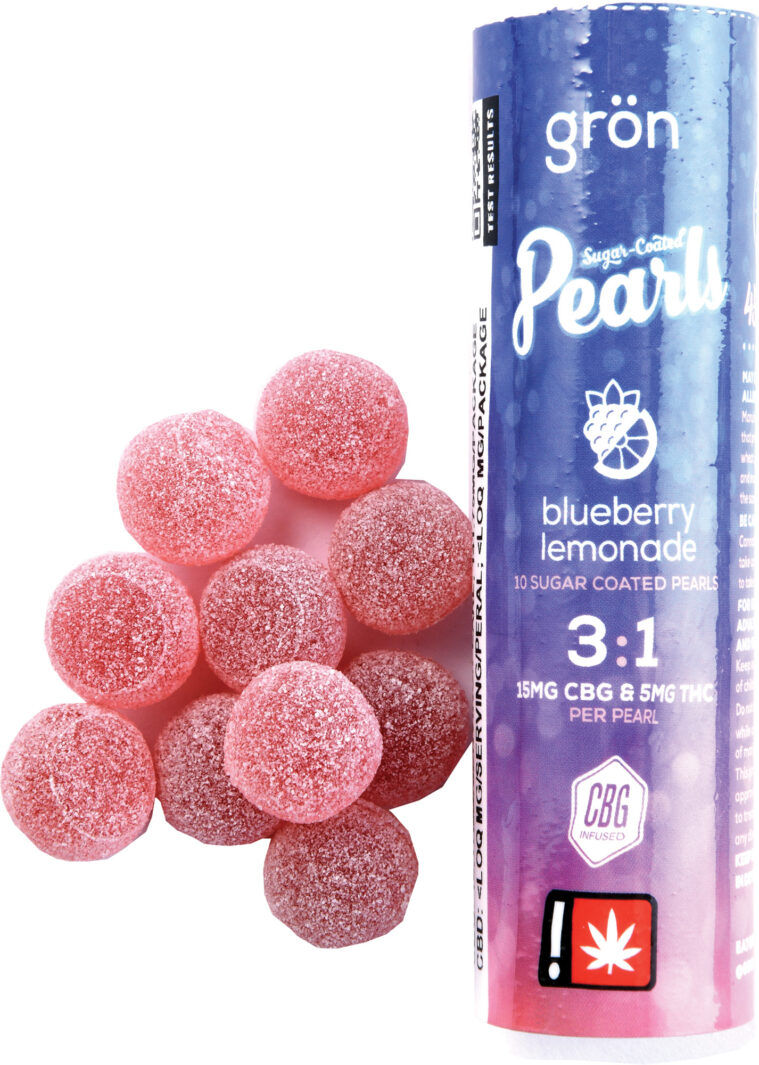 ---
Highland Provisions
Blackberry Lemonade Gummies
5mg THC/serving, 50mg THC/package
highlandprovisionsco.com | @highlandprovisions
The beauty of owning a solventless hash company is using that rosin in the house-made edibles as well. We love Highland's refined gummies, with an airy texture and fun swirl of both the blackberry and lemonade flavors. With almost no discernible Cannabis taste and supreme packaging, we'll be gifting these gummies throughout the holiday season.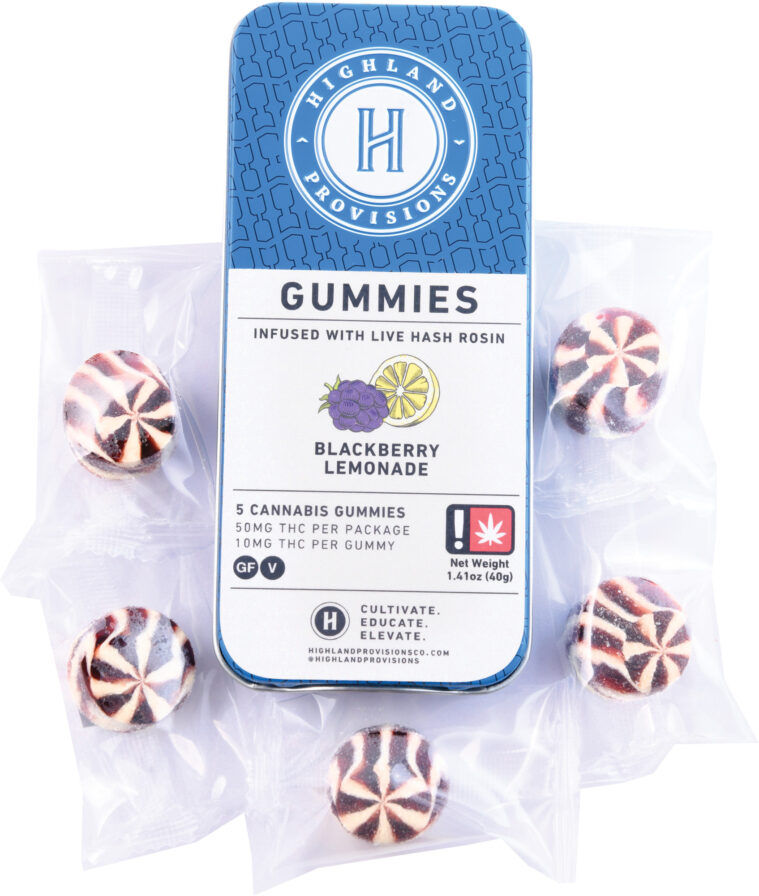 ---
Nelson and Co. Organics
Carefree Jellies
4.78mg THC/serving, 47.79mg THC/package
nelsonandcompanyorganics.com | @nelsonandcompany_
Carefree is the perfect name for these solventless hash rosin gummies. Always perfectly potent, we reach for this variety pack any time we need an edible with a pronounced effect. Vegan, gluten-free, solventless and long-lasting, these gummies are hard to beat. With five flavors in each pack, you can snack your way through while trying to pick a favorite.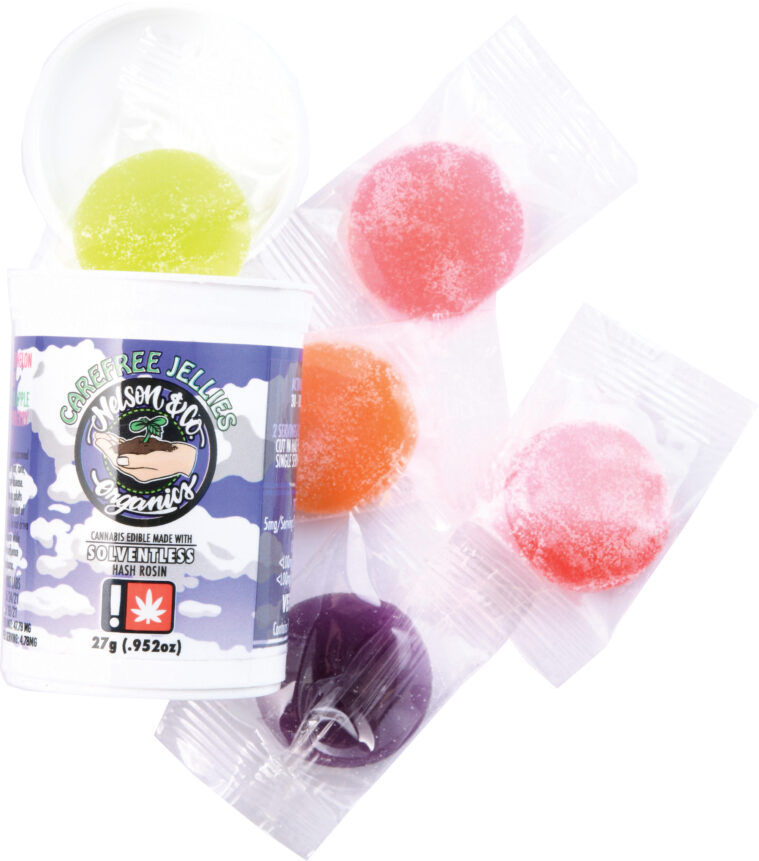 ---
WVA
Retreats
4.55mg THC/serving, 50mg THC/package
retreatsedibles.com | @retreats_wva
Infused with GMO and Sunset Octane solventless hash rosin processed by WVA and grown by Rogue Farmer, it's no wonder why these gummies smack so hard. Enjoy flavors like Passionfruit Punch, Blueberry Bliss and LaLa Lychee made with real fruit puree. Their tins are also refillable, depending on where you live!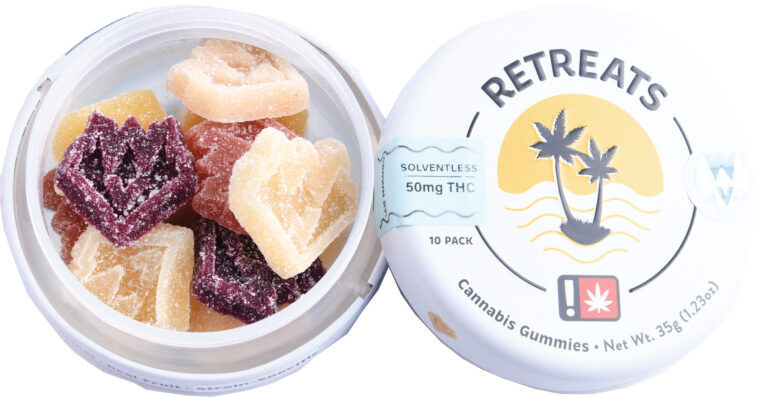 ---
Periodic Edibles
Relax Cannabis Caramel
4.8mg THC/serving, 48mg THC/package, 6mg CBN/package
periodicedibles.com | @periodicedibles
Utilizing science, Periodic Edibles has been well known in the Oregon Cannabis industry for their efficient and effective edibles. Their canna-butter-infused caramels are a one-way ticket to sleepy town, as this particular caramel has 6mg of CBN in it as well as 48mg of THC. Eat the whole treat and sleep like a baby, trust us.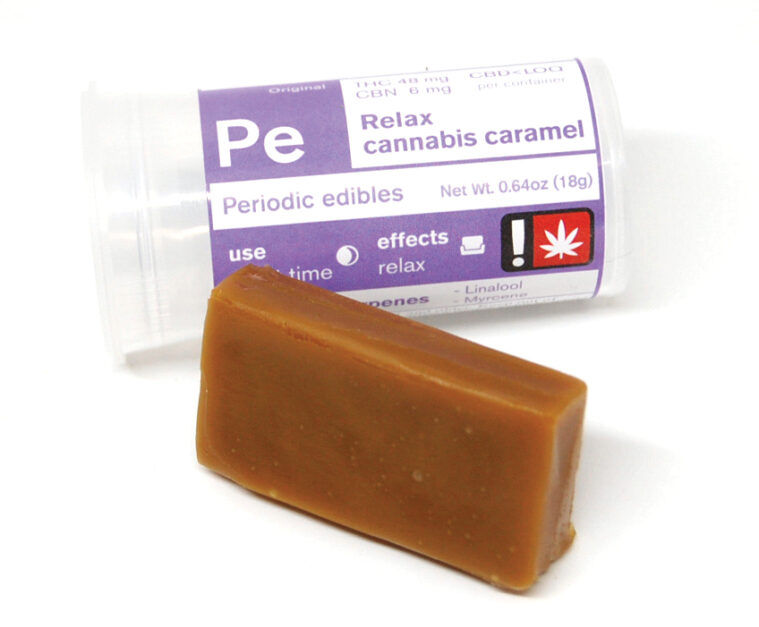 ---
Rebel Spirit
Pineapple Pucker Gummy
5mg THC/serving, 50mg THC/package
rebelspiritcannabis.com | @rebelspiritfarms
Live free and fly high with Rebel Spirit Cannabis' Pineapple Pucker vegan gummy. This fruity and flavorful candy comes in one solid 50mg serving, making it ideal for those aiming to knock back a hefty amount in one mouthful. Be sure to check out their high quality flower and pre-rolls as well!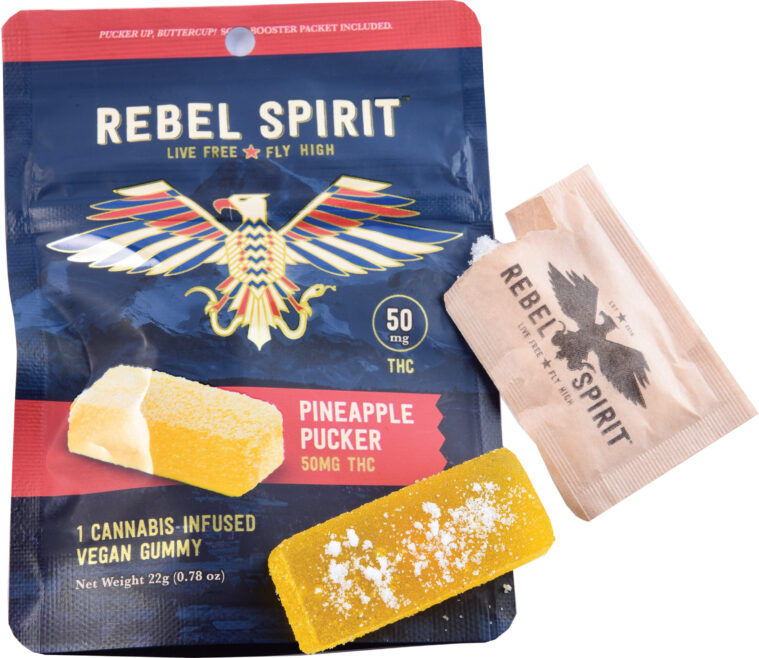 ---
Cannavore
Strawberry Lemonade Fruit Jellies
4.54mg THC/serving, 46.44mg THC/package
Cannavore does a lot with these soft and chewy fruit jellies. They're keto-friendly, gluten-free, vegan, and did we mention zero calories? These strawberry lemonade gummies are two servings each and have a texture like high-quality dried fruit. Individually wrapped, the pack of five chews fits neatly into the gym bag for a pre-workout, or slyly snuck into the theater for guilt-free snacking.