Chalice
Elysium Fields Mob Boss 1:1 tincture
10.17mg THC and 10.56mg CBD/serving, 601.88mg THC and 624.59mg CBD/package
chalicefarms.com @elysiumfields_official
Elysium Fields is Chalice's brand of live resin strain-specific tinctures and cartridges. As we begin to learn more about the entourage effect, we are seeing an increase in products containing other cannabinoids in tandem with THC. This Mob Boss 1:1 tincture was perfect to use in my coffee in the morning. I typically do not smoke immediately upon waking, so it was nice to start my day with a little edge off to calm my coffee jitters. —Makani Nelson (@choicenug)
---
Happy Cabbage
Turbo Solventless Syrup
95.94mg THC/package
happycabbagefarms.com | @happycabbagefarms
A solventless hash syrup is almost unheard of, particularly one that tastes and performs like this. Happy Cabbage goes above and beyond with this potent syrup using nano-enhanced hash oil for a quick onset. The addition of real fruit puree, and the decision to eschew food coloring, give this syrup a natural color and flavor. Served on its own, as a mix-in, or poured over ice cream – there's no wrong way to enjoy it. —Ryan Herron (@theloud100)
---
High Desert Pure
Hibernate Tincture
17.5mg CBD, 5.75mg THC, 2.1mg CBN/serving
875mg CBD, 287.5mg THC, 106mg CBN/serving
highdesertpure.com | @highdesertpure
Get ready to get some of the best sleep of your life with High Desert Pure's Hibernate Tincture. This unique product offers a 15:5:2 ratio of CBD:THC: CBN, making it beyond ideal for nighttime usage. For an even deeper night of sleep, be sure to try their bath soak and bombs.
---
Siskiyou Sungrown
1:1 Mint MCT Oil
3.15mg THC and 3.04mg CBD/serving, 402.75mg THC and 388.70 CBD/package
siskiyousungrown.com | @siskiyousungrown
Like all of Siskiyou Sungrown's choice products, their 1:1 Mint MCT Oil is the perfect way to get your foot in the door with edibles. Simply take a dropper full of this perfectly balanced mixture of THC and CBD, and slip away into a world free of stress and worry.
---
Medicine Farm Botanicals
Lunar Elixir
7.52mg THC, 5.22mg CBD, 2.52mg CBN/serving
902mg THC, 626mg CBD, 302mg CBN/package
mfbotanicals.com | @medicinefarm
Brace yourselves as your mouth enters a botanical adventure with notes of lavender, chamomile and elderberry. Created with the utmost care and intention, Medicine Farm Botanicals' Lunar Elixir is one of the best ways to end your day, alleviating all worries and helping you float away on a cloud. This small bottle packs a whopping 900mg of THC, 600mg of CBD and 300mg of CBN.
---
Luminous Botanicals
Universal Cannabis Tonic
5.4mg THC and 5.1mg CBD/serving, 202.5mg THC and 192.0mg CBD/package
luminousbotanicals.com | @luminousbotanicals
This tonic has a variety of applications: under the tongue, added to food or beverage, or applied liberally to yourself or a partner. Finally! An edible that encourages you to play with your food. An almond and coconut oil base provide a silky smooth texture. The addition of Cannabis and cinnamon complements with a light flavor and clean finish.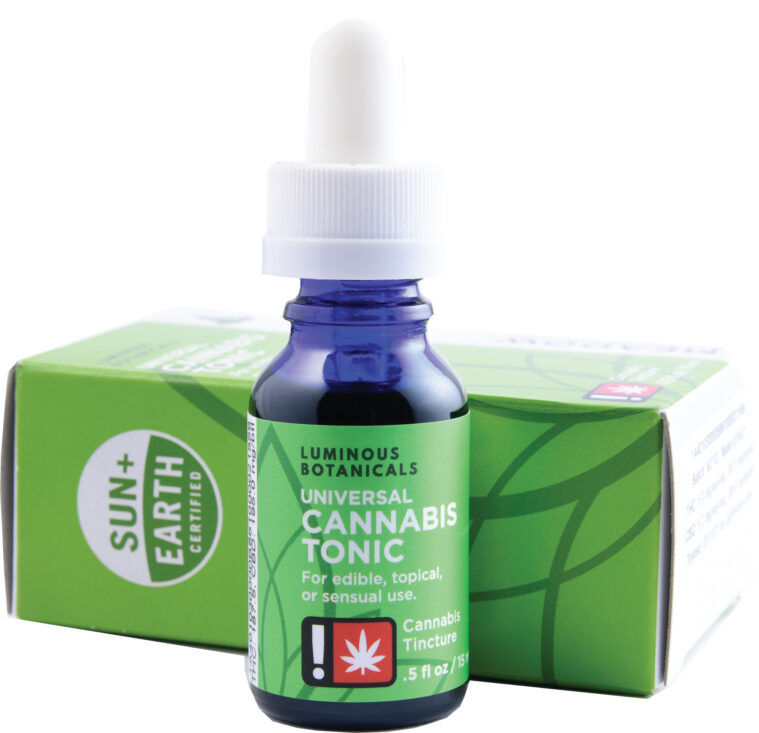 ---
Mellow Vibes
Strawberry Kiwi Mojo
41.64mg THC and 39.54mg CBD/serving, 249.84mg THC and 237.24mg CBD/package
mellowvibes.com | @mellowvibesedibles
This elixir by Mellow Vibes is exactly what an "elixir" should be. It's tasty, potent, and the bottle gets points for being the sort of thing that would be a conversation starter at your next cocktail mixer. With flavors like pineapple, concord grape, and mango guava, this potent potable easily mixes in or stands out on its own.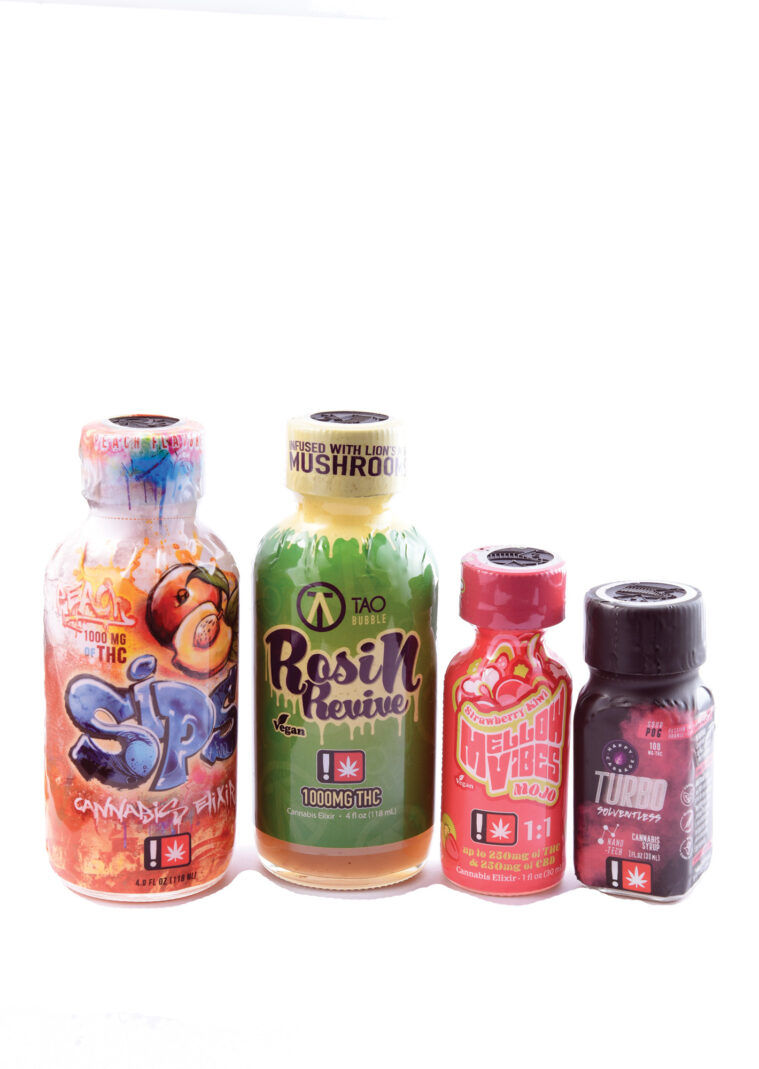 ---
Sips! Cannabis Elixir
Peach Flavor
40mg THC/serving, 1000mg THC/package
Talk about an edible that packs a punch and provides a killer cost-to-effect ratio. Sips! offer a sugar/gluten-free, vegan, bioavailable Cannabis elixir that tastes wonderful on its own or pairs well with your favorite sparkling beverages. Pour their mouth-watering peach flavor into a Sprite and unlock a world of tastes and effects you never knew existed.
---
Tao Bubble / Hyphae Wellness
Rosin Revive Cannabis Elixir
42.9mg THC and 0.46mg CBD/serving, 1029.60mg THC and 10.92mg CBD/package
taogardens.com | gethyphae.com | @tao.bubble | @hyphaewellness
Tao Gardens (Tao Bubble) and Hyphae Wellness have teamed up to produce this raspberry limeade rosin and mushroom elixir. Each bottle is packed with in-house cultivated and concentrated inputs, from fruited-body Lion's Mane to biodynamically grown Cannabis. This vegan formula with real fruit puree packs a 40mg punch per teaspoon.