CO2 extracts are considered one of the cleanest forms of concentrates because by nature, CO2 is a gas at room temperature – meaning your end product is guaranteed to be residual solvent free. CO2 extracts generally retain a fuller and more complete profile than their hydrocarbon counterparts.
Varinator EVFO from Puffin Farm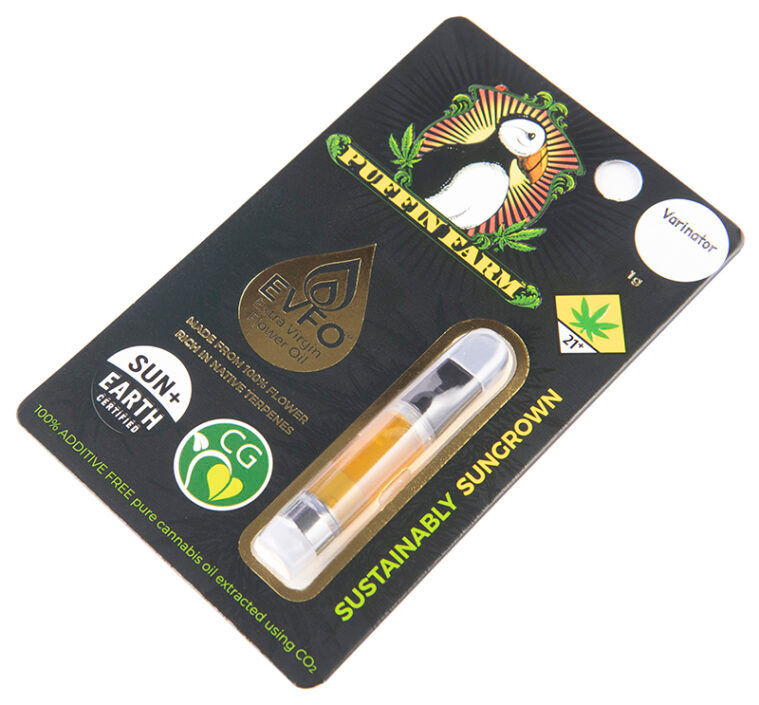 The Varinator chemovar (strain) took three years of R&D to deliver an extract that is rich in naturally occurring minor cannabinoids and terpenes. These rare Varin Cannabinoids (CBDV and THCV) are chemically similar to THC/CBD, but have different molecular structures that result in unique medicinal and recreational effects. THCV has been hailed as "diet weed" for it's appetite suppressing properties, which makes it the perfect summertime buzz whether consumed from the tanker for dabs or through a cartridge. Tokes at low temp have a citrusy and fresh, earthy-floral flavor that is delicious and light on the palate, exhaling like a sweet kiss from a piney Cannabis plant that went from soil to oil perfectly. Effects start quickly, easing cranial pressure and sharpening vision, as the CBD and CBDV combine for an electrified relaxation that sends tingles through the mind and body. Our experience found a sativa style high that was uplifting without being too stoney, and perfect for daytime or nighttime use due to the beneficial blend of cannabinoids and terpenes.
---
EVFO from Puffin Farm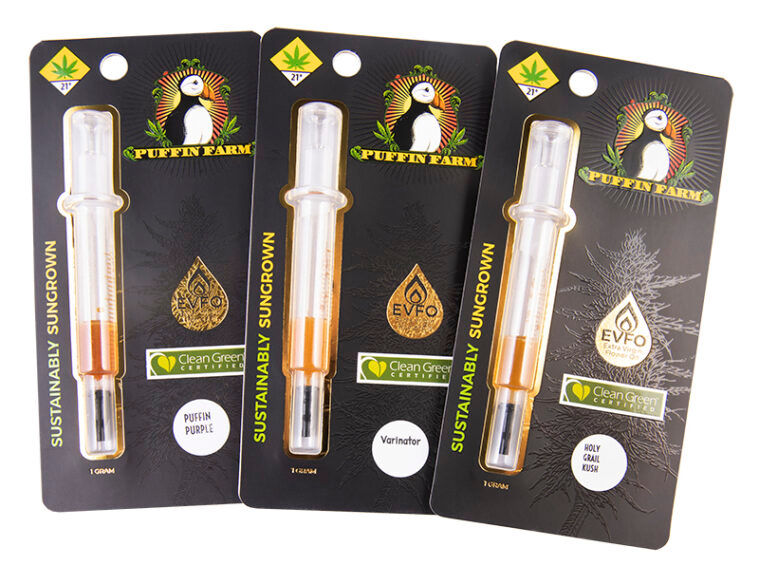 Holy Grail Kush
Powered by the sun and Clean Green Certified, the Holy Grail Kush has gone from soil to oil to deliver a high that is as rare as the name suggests. This cross of Kosher Kush with OG-18 has a deliciously sweet and creamy hash-fuel inhale that tastes like a fresh squeezed dab from the plant itself. The EVFO delivers such beautiful terpenes and full-plant flavor for an exquisite tasting experience, and strong effects that sedate the mind while relaxing the body with a buzz that is both chill and euphoric.
Puffin Purple
Puffin Purple is a pure indica strain bred and created by the team behind this amazing organic-style farm. Grown in Eastern Washington in living soil, Puffin is known for their clean sungrown Cannabis and their high terpene Extra Virgin Flower Oil extract, which captures a stunning array of terps that add strain specific flavor and a powerful high when dabbed at low temperatures. Sweet and skunky with strong notes of hashy berries, the vapor is incredibly light on the lungs, full of terpenes and flavor that coats the palate long after exhale – lingering like a terpy, after-dab mint. Effects are heavy and heady, building in the brain and crashing down into the body, making movement and thoughts slow in a beautiful, relaxing buzz.